Are you celebrating an anniversary or a honeymoon? Or maybe you just want to get away from the stress of daily life and reconnect with your partner? In that case, you have to check out the incredible romantic getaways in Tennessee!
With gorgeous mountains, and sprawling cities bursting at the seams with music, there's nowhere better for an ideal holiday. The quiet retreats will blow you away! Before you start planning, let us do the work for you.
Our guide is complete with the best places to stay, the must-see attractions of the city, and even an itinerary (and budget) to help you get started.
What Makes Tennessee Perfect For A Romantic Getaway?
Are you looking for a cozy cabin with a backdrop of the Smoky Mountains National Park? Or an exciting five-star hotel in the heart of Nashville? Either way, there are hundreds of romantic getaways in Tennessee for couples to enjoy.
Tennessee has the ideal spot for every type of couple. With outdoor adventures, incredible music, hidden gems, and historic sites at every turn. The natural romance of the smaller towns and the cozy cabins around the Great Smoky Mountains National Park also makes it perfect for romantic escapes.
Most Romantic Getaways in Tennessee
Known for its famous southern hospitality, Tennessee has quickly become one of the best couple's destinations in the U.S.
So it's not hard to imagine why there are so many ideal spots for romantic getaways in Tennessee. From the jaw-dropping views of the Great Smoky Mountains in Downtown Gatlinburg to the hidden five-star gems like Blackberry Farm, Tennessee is full of wonderful surprises!
Nashville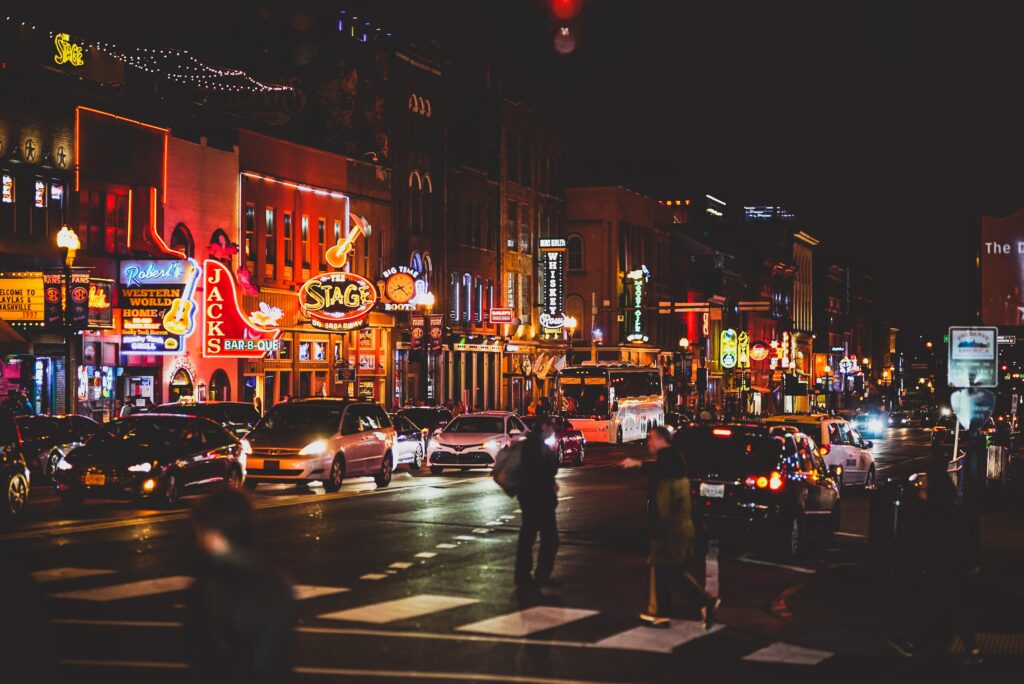 Nashville is by far one of the most well-known destinations in Tennessee. 'Music City' is the perfect location for music-loving couples. Explore the history of country music and the legends who built the genre from the ground up.
There are attractions like the Country Music Hall of Fame and Museum, the Grand Ole Opry at Ryman Auditorium, the Johnny Cash Museum, and much more. Here, you'll get a glimpse into what makes Nashville one of the most lively places on the planet! And don't be surprised to hear music everywhere you go!
It's important to note that accommodation in Nashville isn't cheap – particularly during peak seasons like spring and fall! If you're looking for more affordable hotels and stays, you may want to contact a holiday home rental agency like Music City Loft.
Best Accommodations in Nashville: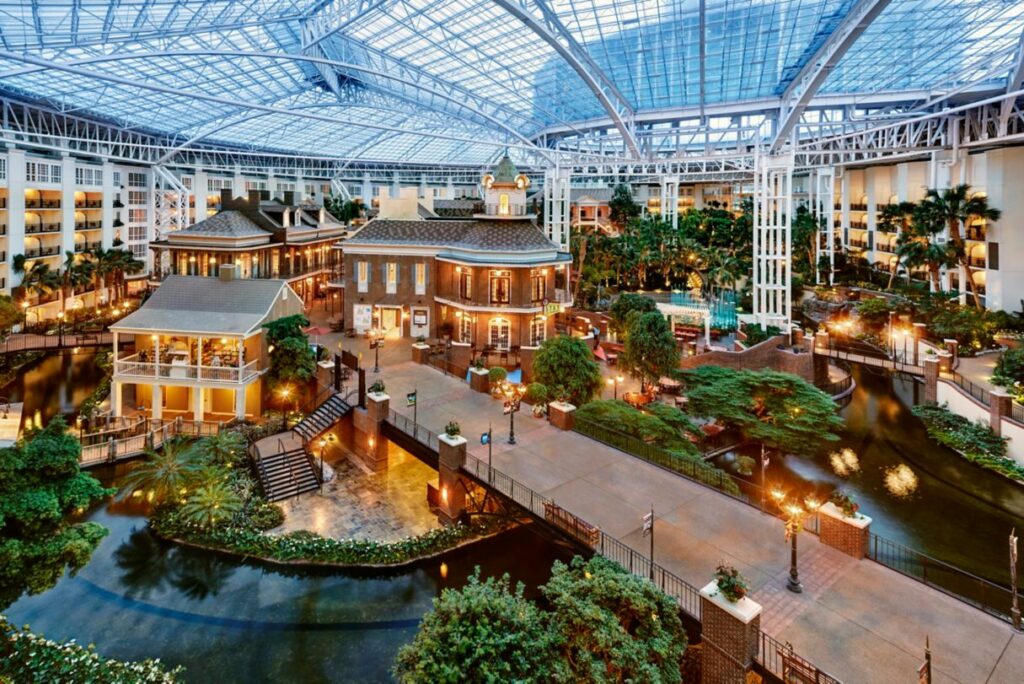 Price per night: $225 – $560
The Gaylord Opryland Resort & Convention Center is a must-see for first-time travelers. The resort is known for its range of activities and offerings. They include the SoundWaves aquatic attraction to the indoor garden atriums that span a whopping nine acres. The resort also has award-winning restaurants, a full-service spa, and much more to explore.
Whether you're visiting the resort with your honey or planning a family vacation, the Gaylord is the ultimate destination for Tennessee weekend getaways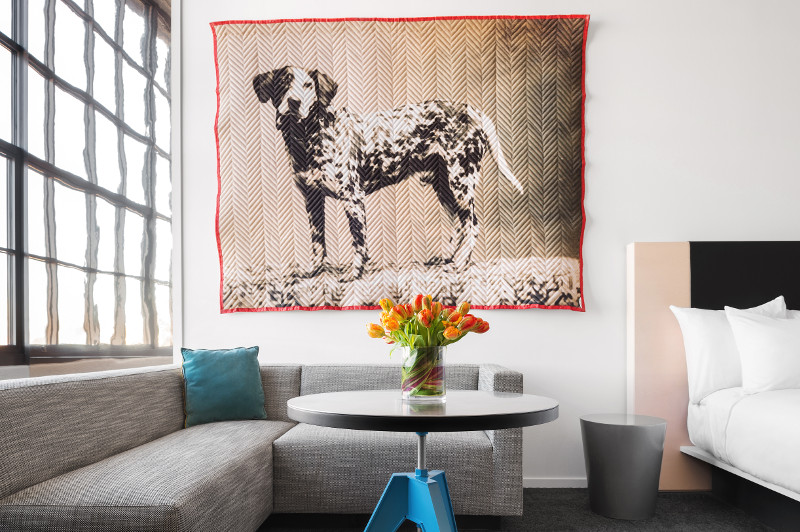 Price per night: $296 – $1,415
Have you ever stayed in a hotel that doubled as a museum? We bet you haven't! With the 21C Museum Hotel, you'll have your chance to experience a unique getaway that you won't get anywhere else.
With an on-site spa and restaurant, stepping into this hotel is like stepping into a dream! And there's nothing more romantic than perusing the art exhibits when the other guests have all gone home.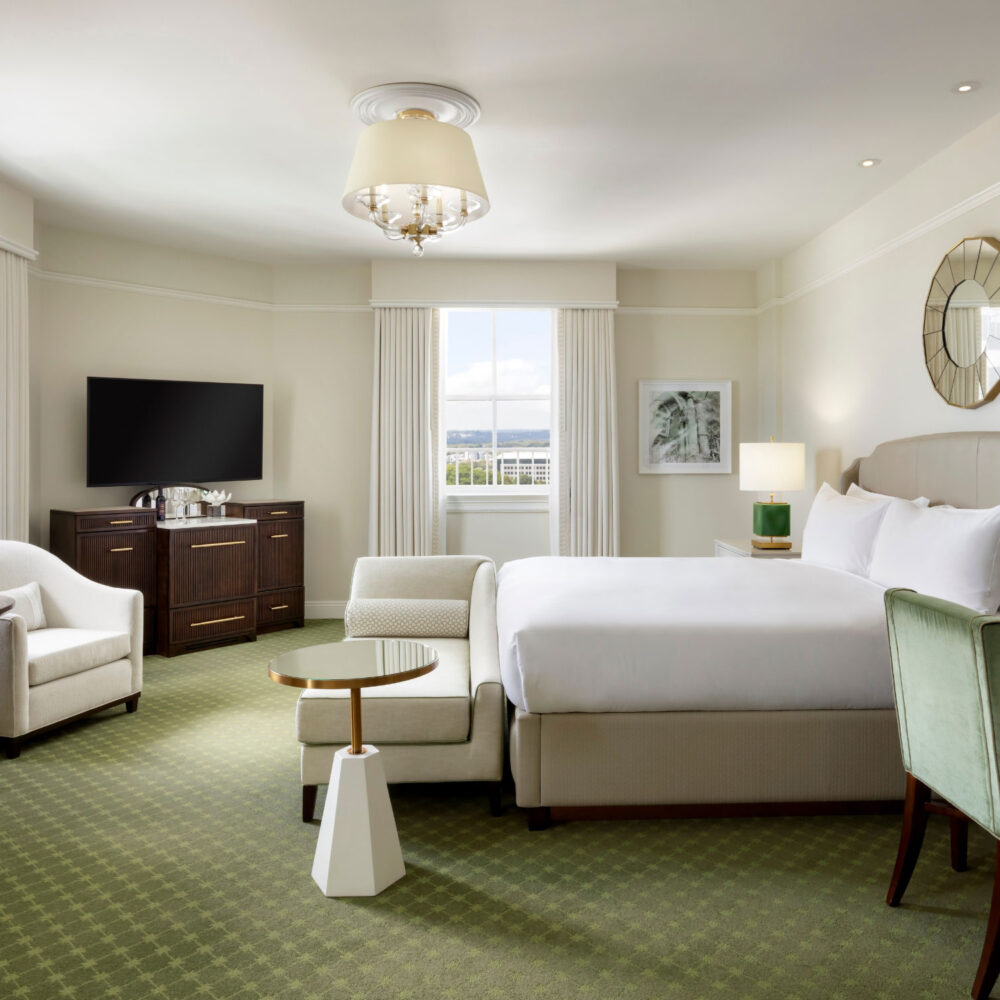 Price per night: $420 – $6,000
The Hermitage Hotel is the crème de la crème of hotels that are perfect for romantic getaways. This luxurious hotel has earned every one of its five stars and has guest rooms and suites to die for. The perfect blend of comfort and modernity, you're ensured a great night's sleep and complete privacy.
The rooms and on-site restaurant also have fantastic views of Downtown Nashville. So, you can watch the sunset as it lowers over one of the liveliest capital cities around.
Knoxville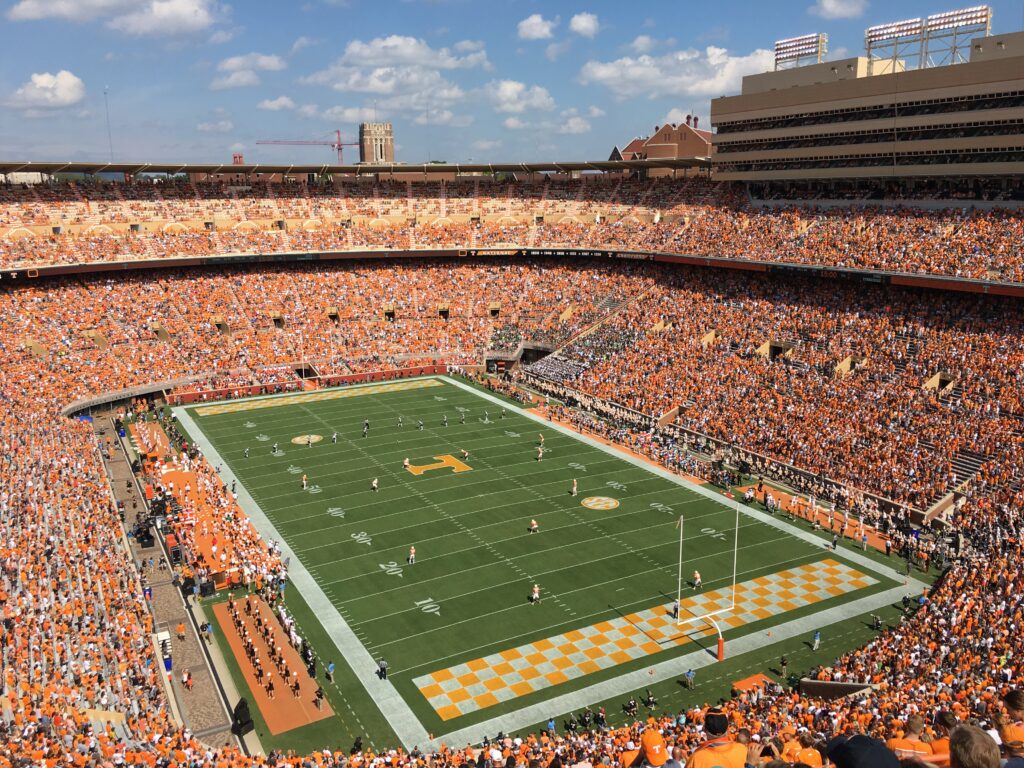 Couples looking for an urban, metropolitan destination within Tennessee will find their ideal getaway in Knoxville! Home to the Knoxville Museum and World's Fair Park, this trendy city has a rich history and fun outdoor activities.
Knoxville is found along the Tennessee River in Eastern Tennessee. It's usually a quieter holiday spot, perfect for relaxing with your honey. There's also a great variety of budget and luxury accommodations to suit your needs.
Best Accommodations in Knoxville: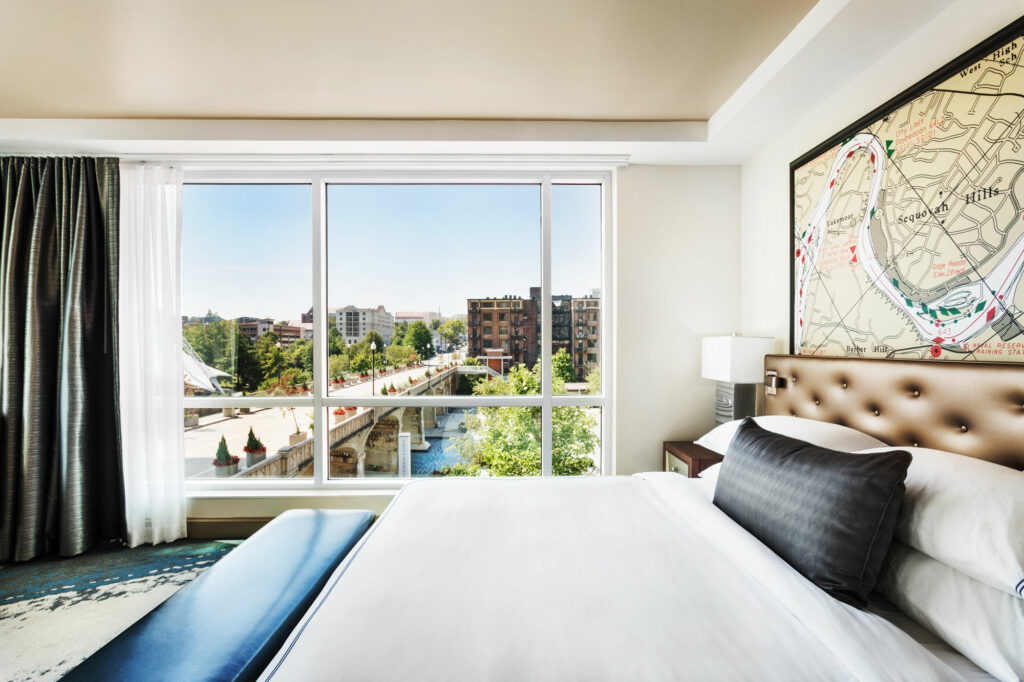 Price per night: $229 – $554, excluding the Governor Suite
There's no arguing that the Tennessean Hotel is one of the best romantic getaways in the Volunteer State. The award-winning hotel has made a name for itself among families and couples alike and is one of the most elegant hotels in Knoxville.
The spacious rooms and suites have some of the finest linen, so you can enjoy in-room dining while snuggling up in luxury bedding with your partner! There's also plenty to do Downtown when you leave the hotel, so try not to get too comfortable in your room. You'll never want to leave!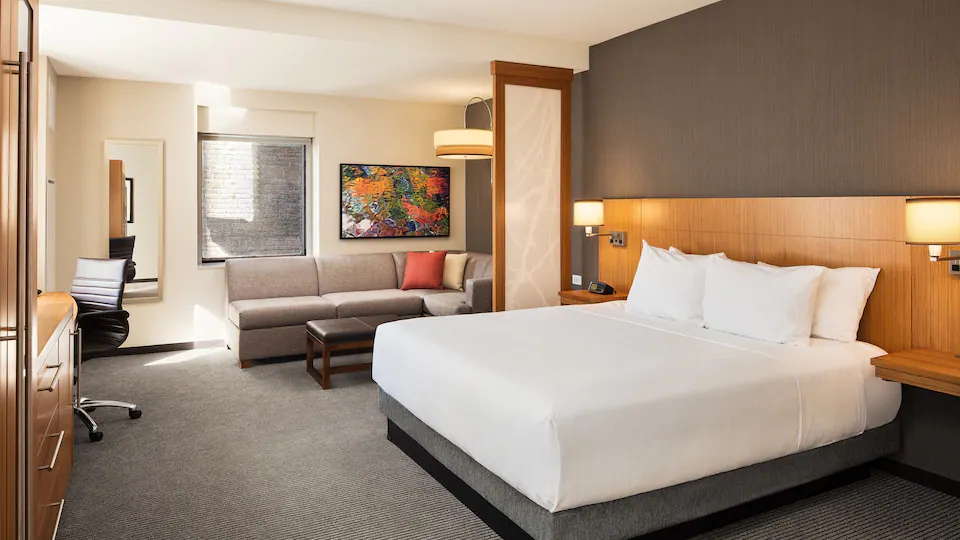 Price per night: $198 – $298
Hyatt Place is a great spot to settle in if you're looking for a trendy yet romantic hotel. With comfortable rooms and plenty of dining options, you'll love resting your head here after seeing the sights of Downtown Knoxville! The hotel is close to several attractions, including the World's Fair Park.
Grab a snack before you head out for the day at The Market. Savor a hearty breakfast at the Breakfast Bar, or reserve a table at The Placery for a romantic meal for two. And, if you're looking for extra pizazz, grab a cocktail with your partner at the Five Thirty Lounge.
The Lounge offers expertly mixed drinks and has panoramic views of the Tennessee Mountains. It's the ideal way to end your evening!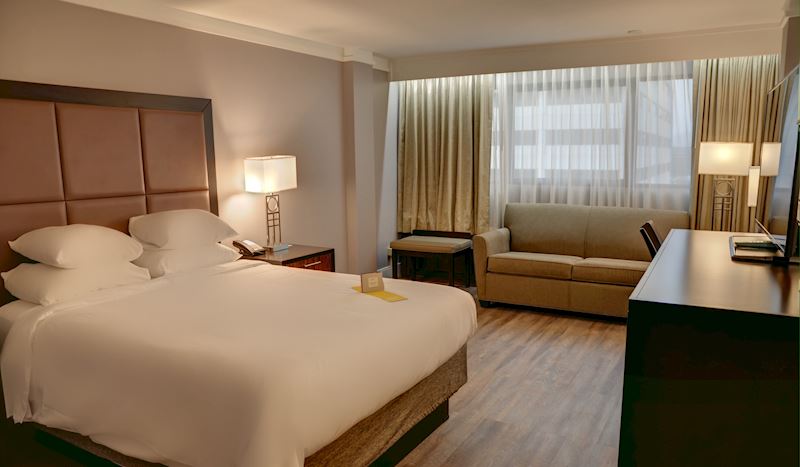 Price per night: $139 – $179
The best way to describe the Crowne Plaza is 'sweet and simple,' which is exactly what you want on a weekend getaway! The hotel has stunning rooms that are uncomplicated and attractive. They have soft linens and are a super place to lounge around when you feel like staying inside.
If you want to explore what your hotel offers, you can head to the fitness center to work up a sweat before taking a dip in the heated indoor pool. The on-site restaurant also has a breakfast and dinner service for convenient dining options.
Pigeon Forge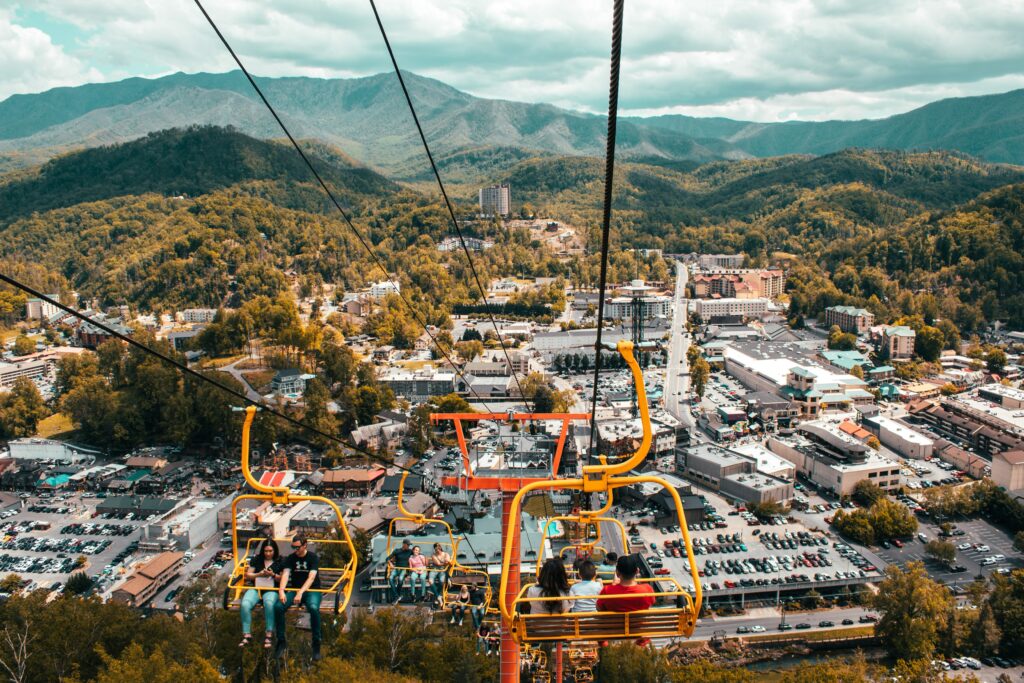 Pigeon Forge is a resort and holiday destination nestled perfectly at the foot of the Great Smoky Mountains National Park. It's the ideal location for an action-packed getaway for sporty or adventurous couples. But there are still a few quiet cabins that are great for couples looking to get away from the city lights.
It's also home to the iconic Dollywood for fans of the Country music legend. If you want to have a good time rather than spend your weekend getaway sightseeing, then this is the place for you!
Best Accommodations in Pigeon Forge: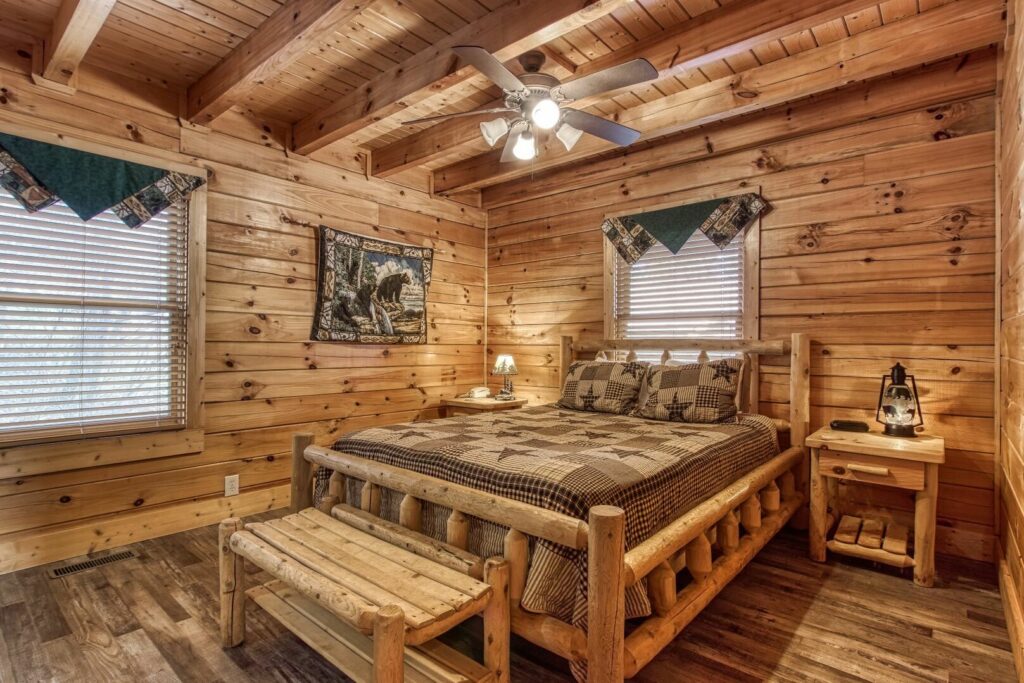 Price per night: $115 – $1,080
Eagles Ridge is the definition of a romantic retreat! The resort offers cozy cabins complete with hot tubs and total privacy. So you and your partner can unplug, reconnect, and reignite your spark in the perfect mountain hideaway.
You can curate your stay, too, with several cabins to choose from. And if you want the height of Eagles Ridge luxury, you can even spring for a cabin with an indoor pool! With views of the mountains and the soothing bubbling of the hot tub, this has to be one of the most spectacular getaways in Tennessee.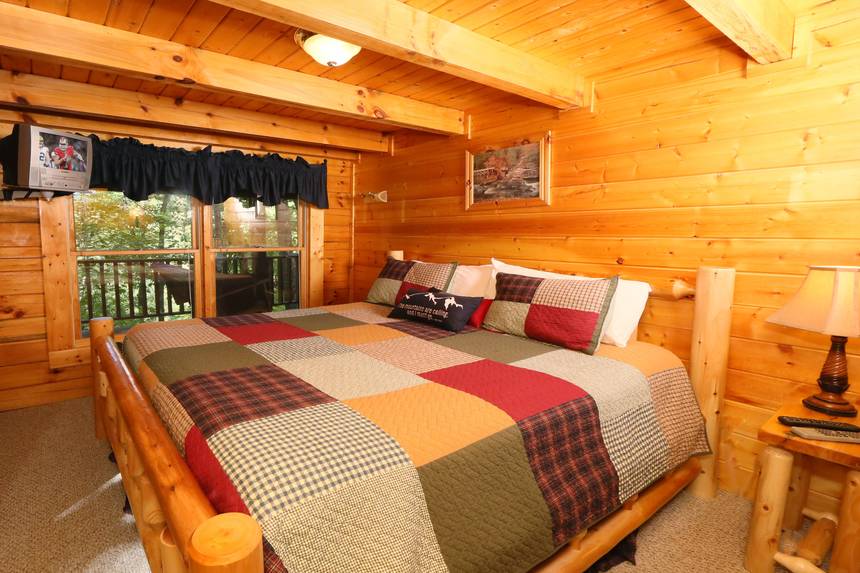 Price per night: $225 – $420
The best romantic getaways have something to do with being in the mountains. The natural romance of the scenery with the cool breezes makes for great opportunities to cuddle up and enjoy an intimate evening.
Little Valley has more than seventy cabins to choose from, so you can pick the perfect spot for your weekend away. The cabins have fireplaces in the living rooms, and some have a private jacuzzi for a relaxing soak.
Gatlinburg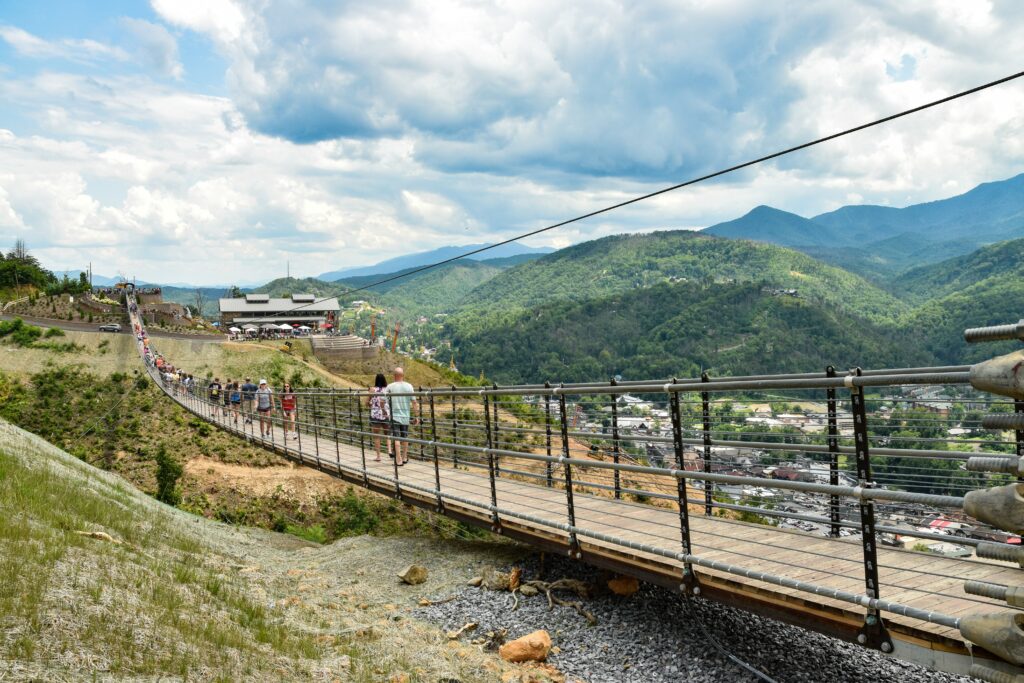 Gatlinburg is the little mountain hamlet of Tennessee and is home to the 520,000-acre Great Smoky Mountains National Park. It's the ideal spot for first-time travelers who love outdoor adventures. It includes the 407-foot Space Needle observation tower and the Sky Lift cable car.
The Sky Lift is a 2.1-mile aerial lift that connects Downtown Gatlinburg with the amusement park and skiing mecca, Ober Gatlinburg Ski Resort. Gatlinburg is known for being the hub of romantic getaways in Tennessee. Its scenic views of the Great Smoky Mountains will help set the tone for a passionate weekend trip with your sweetheart.
Best Accommodations in Gatlinburg: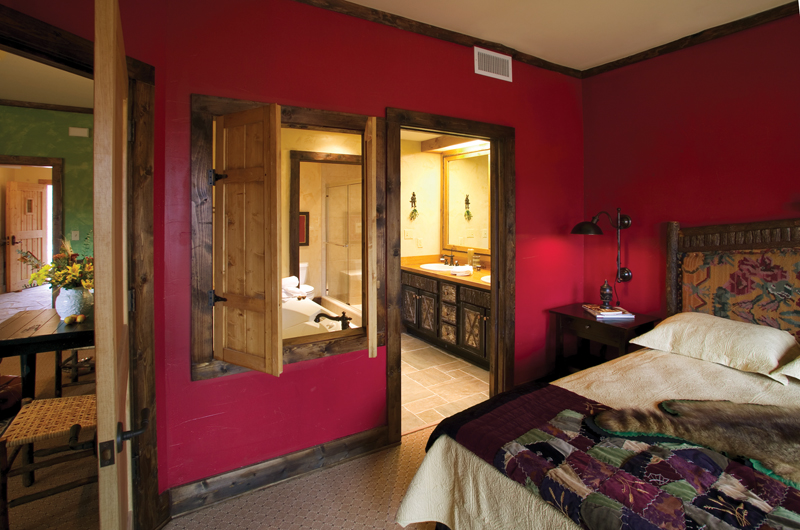 Price per night: $$ – $$$. Prices are available on request. Requires direct reservation with the Lodge for the best available rates.
Some of the best romantic getaways in Tennessee are in the gorgeous mountains, far away from the booming sounds of the cities. And if you're looking for a getaway close to all the outdoor activities Ober Gatlinburg offers, then you're in luck!
With indoor fireplaces and tubs with jacuzzi jets, the Lodge is a quiet reprieve for couples to focus on what matters most: each other!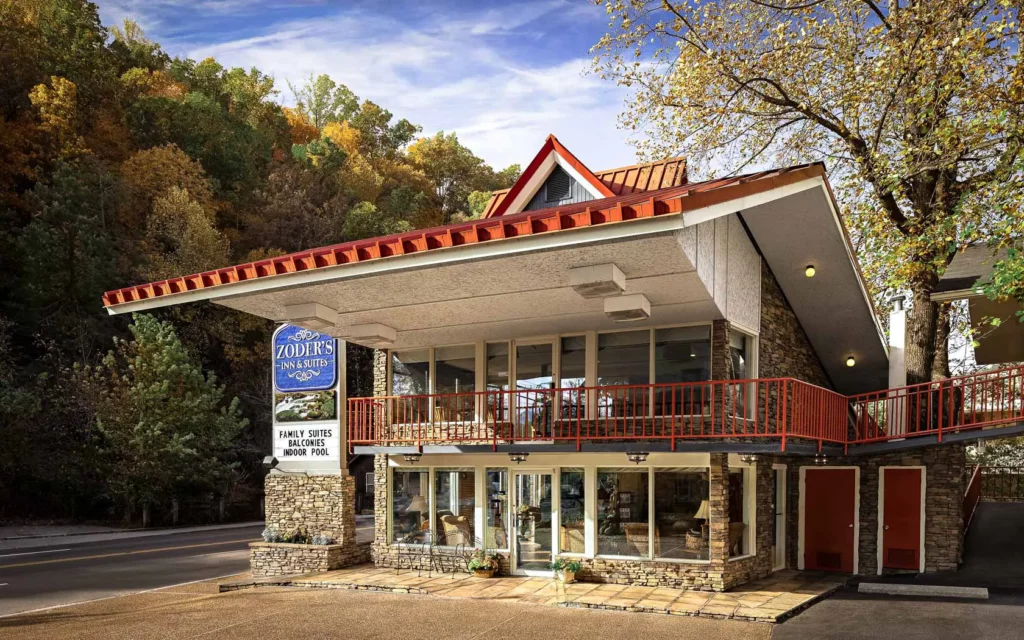 Price per night: $135 – $250
Gas fireplaces, indoor jacuzzis, and views that will take your breath away. That's what Zoder's Inn is all about! The inn has an antique charm that creates an inviting and romantic atmosphere, so you and your partner can enjoy a quiet evening in.
When it comes to romantic hotels, nowhere does it better than Zoder's! With an indoor and outdoor pool, picnic areas, a fitness center, and a full-service spa, you'll have a hard time finding better lodging than this!
Chattanooga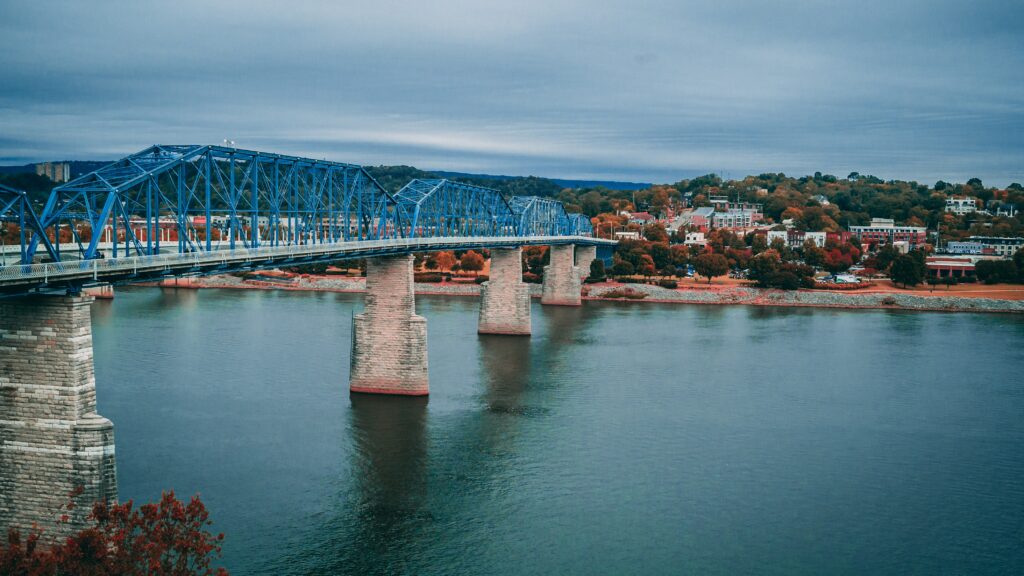 History buffs and nature lovers rejoice! The gorgeous town of Chattanooga awaits! Found in Southeastern Tennessee along the Tennessee River, you'll find everything you need here for a romantic weekend vacation.
The Incline Railway is your guide to some of the best views in the state, including Ruby Falls and the famous Rock City Garden on Lookout Mountain. If you want the best holiday snapshots, you need to take them on Lookout Mountain! And when you're on the ground, be sure to check out the Tennessee Aquarium!
Best Accommodations in Chattanooga: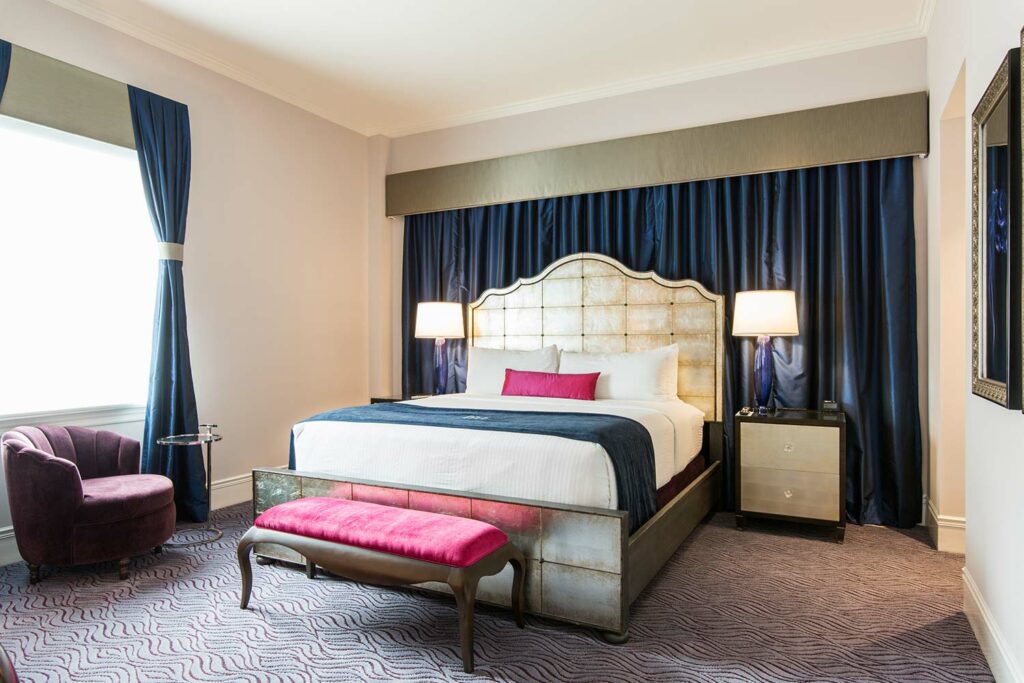 Price per night: $189 – $289
History lovers will love the Read House. With an exciting history and backstory, the hotel offers couples a chance to learn more about what inspired the speakeasy-style decor and feel. And, if you're feeling brave, you can always check out Room 311.
Travelers and locals alike believe the room to be haunted by the spirit of Annalisa Netherly. Rumor has it that the spooky spectral was a guest murdered in the tub by a jilted lover in 1927.
Countless visitors have claimed to experience paranormal activity in Room 311. The room is open for tours for those who dare to disturb Annalisa!
Top Excursions & Activities To Do On A Tennessee Romantic Getaway
Great Smoky Mountains National Park
If you want adventure as far as the eye can see, you're going to the right place. There's plenty to do in the Great Smoky Mountains National Park. Go horseback riding, chase waterfalls with your loved one, or challenge yourself to spot some local wildlife while on a hiking trail.
Remember to check the Park's website for any closures due to hazardous weather conditions!
Dollywood
Your trip to Tennessee wouldn't be complete without a trip to Dolly Parton's world-renowned theme park! Rides and attractions will keep you entertained, and dining areas will satisfy your hunger cravings. With much more also on offer, you're sure to have a fantastic time!
Graceland
Owned by the King of Rock himself, Elvis Presley, the Graceland mansion is a sight to behold! The museum houses all things Elvis, and the grounds are enough to take your breath away. Checking out the grand estate with your sweetheart is a bucket list-worthy stop if you're in Memphis.
Sample Itinerary & Budget For Your Romantic Getaway In Tennessee
The price of your trip to Tennessee will depend on where you stay, the activities and attractions that are on your itinerary, and where you dine. Tourist hotspots like Nashville and Gatlinburg also charge higher prices for food and accommodation. So be sure to keep an eye out for great packages and deals the hotels offer!
The average couple's trip to Tennessee usually includes the following:
| | |
| --- | --- |
| Activity | Price |
| Accommodation: | $100 – $1,000 per night |
| Flights: | $20 – $40 daily taxis |
| Food and Drinks: | $80 per day |
| Country Music Hall of Fame and Museum: | $28 per adult for general museum entry |
| Grand Ole Opry: | $50 – $350 per adult, or take a backstage tour for $30 each |
| Belle Meade Historic Site & Winery: | Tours start at $28 – $40 per ticket, while food and wine experiences start at $60 – $98 per person. Outdoor activity prices vary and range between $20 – $40. |
Assuming you're spending your retreat in Nashville, we've put together a mock itinerary to make the most out of your stay! However, with our list of the best attractions and the ideal accommodations, you can put together your perfect itinerary in no time.
Day 1:
Arrive at your hotel and get unpacked. Then, take a drive to the Belle Meade Historic Site and Winery. This short yet scenic drive will help to get you excited about your incredible trip! Make sure to reserve your spots for a wine-tasting and segway vineyard tour. End your excursion with a romantic stroll around the grounds.
Day 2:
It's time to explore Downtown Nashville! Book a romantic carriage tour ride, or walk hand-in-hand around the booming district. Most attractions are within walking distance of one another, so you won't have to worry about tiring yourself out, either!
Go on a tour of the Johnny Cash Museum or spend your day touring the Ryman Auditorium before taking in a show at the Grand Ole Opry.
Alternatively, you can grab a bite before driving to Percy Warner Park. Here, you can go horseback riding or simply enjoy the view in one of the most romantic places in Tennessee.
Day 3:
Grab your winter coat and head over into the Great Smoky Mountains. You may need to wake up extra early for this, and be sure to rent a car! The drive is just under four hours long, so you may also want to opt for accommodation in Gatlinburg for your last night in Tennessee.
We encourage you to enjoy as many activities as possible when you're at the resort. After all, you don't get to experience outdoor adventure in the Great Smoky Mountains every day!
Day 4:
Complete your romantic Tennessee getaway with a relaxing spa day before packing your bags and heading to the airport. Don't forget to look around the local stores and gift shops for souvenirs for your friends and family (or yourself!).
Frequently Asked Questions
How much does a Tennessee romantic getaway cost on average?
Romantic getaways in Tennessee can cost anywhere from $1,500 to $7,000 for a week-long stay. Your budget will depend on your destination, hotel cost, dining choices, and the excursions and attractions you plan to visit. Budget holidays can cost as little as $1,000 for a week-long stay, depending on where you're staying!
When is the best time to visit Tennessee?
Tennessee romantic getaways are ideal in the spring and fall months of the year. But if you're planning a cozy winter retreat, plenty of mountain cabins and resorts offer year-round entertainment and activities for couples.
How long do people typically spend in Tennessee on a romantic getaway?
Couples usually spend around one to two weeks on their Tennessee romantic getaways. This allows for enough time to visit different towns and cities without missing out on any major attractions! Couples typically spend around 2 – 3 days at different locations to make the most of their trip.
Start Planning The Ideal Romantic Getaway
Now that you're an expert on the greatest romantic getaways in Tennessee, it's time to reserve your stay! Don't forget to pack your camera, and practice your harmonies to sing in tune with the music. Perfect your Elvis poses for those all-important holiday snaps!
And if Tennessee isn't your scene, don't worry! We have plenty of other getaway guides to walk you through planning your stay at almost any destination.