Are you and your loved one looking to plan a honeymoon in New Jersey?
If yes, we have you covered! New Jersey is a wonderful honeymoon destination for a variety of reasons. Mainly because there are plenty of romantic places to see and romantic activities to do. There are also some incredible honeymoon resorts that look like they come straight out of a fairytale.
In this article, we will cover the best areas and honeymoon resorts to stay at in New Jersey. We will also suggest some amazing activities and excursions that are not to be missed.
Why Honeymoon in New Jersey?
New Jersey is an easily accessible honeymoon location for many couples in the United States. Being on the East coast of the US, it is relatively close to major cities like New York and Philadelphia. This means you can save costs on traveling to your location and have more money to spend while you're there.
The state offers a wide range of options for honeymooners. Whether you're looking for a romantic, laid-back beach getaway, or a jam-packed sightseeing adventure, New Jersey has it all: pristine beaches, casinos, amusement parks, outdoor activities, art galleries, historic sites, honeymoon resorts, and more.
No one likes spending hours driving around to see different attractions on their vacation. Fortunately, New Jersey is a relatively small state. This makes it easy for couples to explore different areas without wasting half their day getting there.
Best Areas to Stay in New Jersey
Some of the best areas in New Jersey are Atlantic City, Cape May, and Jersey City.Each area has something different to offer – a true display of New Jersey's diversity.
Atlantic City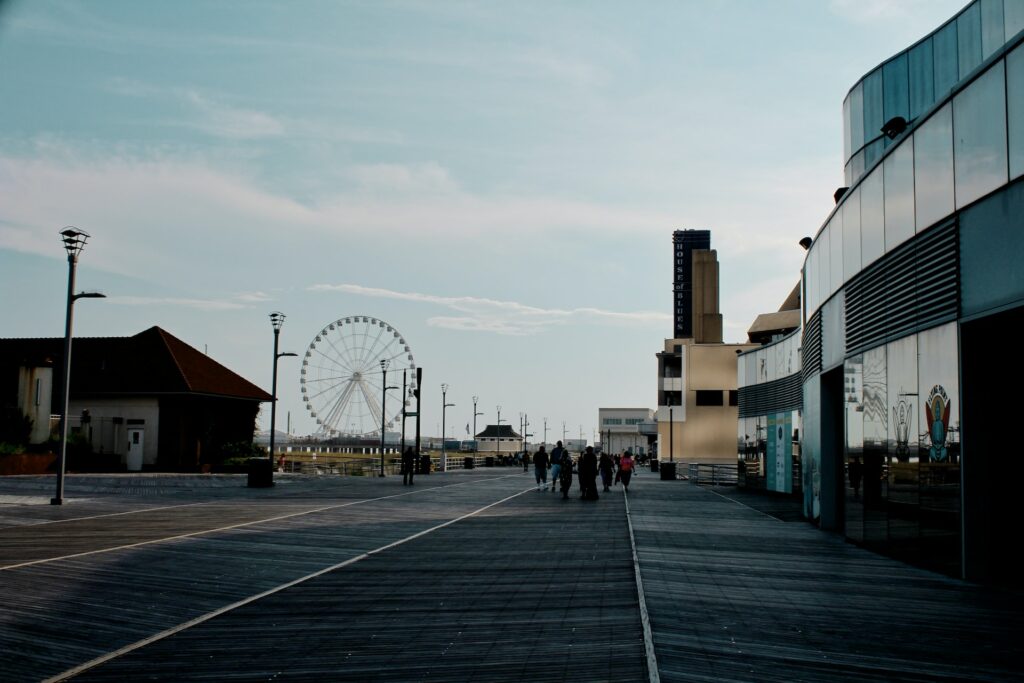 Atlantic City is a popular tourist destination located on the coast of New Jersey. It is known for its boardwalk, beaches, and casinos.
The boardwalk is a must-visit landmark in Atlantic City. It stretches for 4 miles along the beach and offers a variety of shops, restaurants, and attractions.
Another popular landmark in Atlantic City is the casinos. The city is home to several casinos, including the Borgata, Harrah's, and the Tropicana. Visitors can try their luck at slot machines, table games, and poker rooms. Many of the casinos also have live entertainment, nightclubs, and high-end restaurants.
You're never too old to enjoy an amusement park. The Steel Pier amusement park in Atlantic City has a variety of rides and attractions. Visitors can enjoy the roller coaster, carousel, and other classic amusement park rides. There is also a Ferris wheel which gives a panoramic view of the city and ocean.
Cape May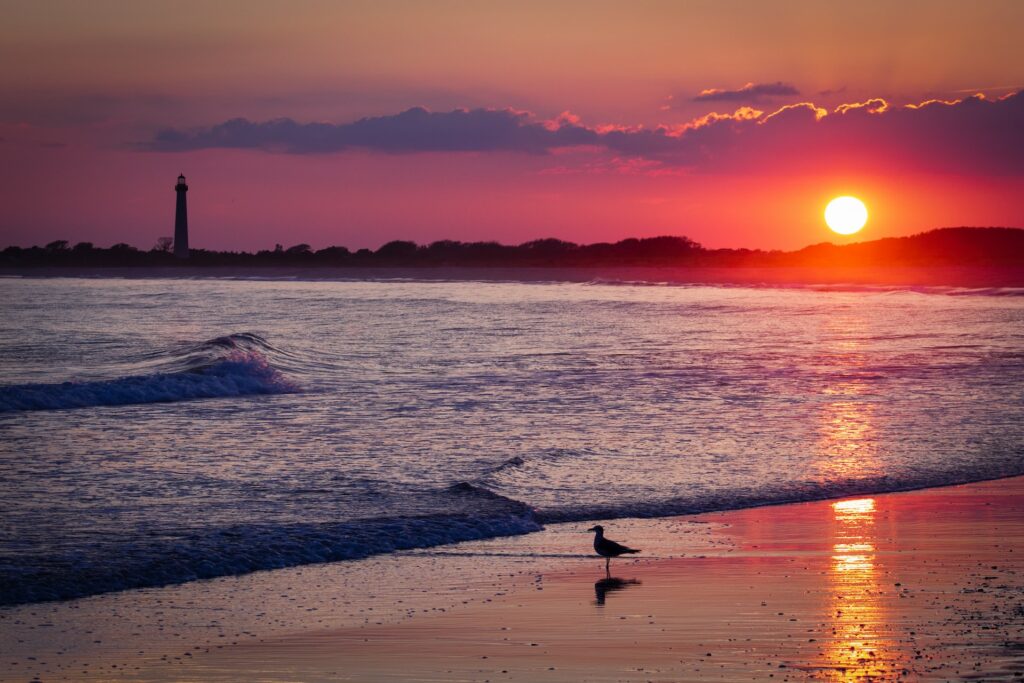 Cape May is located on the southern coast of New Jersey. This seaside town is known for its beautiful Victorian architecture, romantic bed and breakfasts, and charming atmosphere. This is what makes it a very popular destination for honeymooners.
One of the most popular landmarks in Cape May is the Cape May Lighthouse. Visitors flock here to climb its 199 steps to the top for a panoramic view of the surrounding area. Visitors can also explore the adjacent museum that tells the history of the lighthouse and the people who have lived and worked there.
One of the popular excursions or activities people love to do in Cape May is visiting the Cape May Winery. The winery offers a variety of tastings and tours that allow visitors to learn about the winemaking process and sample the wines.
Jersey City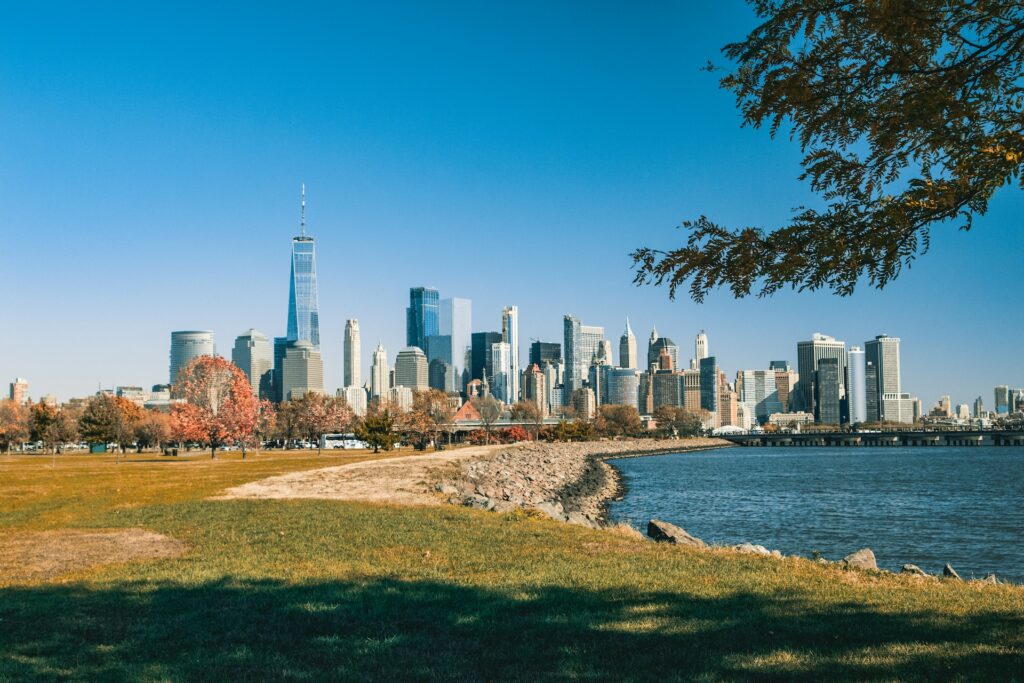 Jersey City is a vibrant and diverse city located on the banks of the Hudson River. Some popular landmarks in Jersey City include Liberty State Park, the Liberty Science Center, and the Colgate Clock.
Two popular activities in Jersey City are visiting Liberty State Park and the Liberty Science Center. Visitors can take a ferry to Liberty Island or Ellis Island for a closer look at the Statue of Liberty. They can also explore the park's hiking trails. The Liberty Science Center offers interactive exhibits and live science demonstrations that are guaranteed to "wow" you.
Best New Jersey Honeymoon Resorts, Hotels, and Other Stays
We have compiled a list of the top seven New Jersey honeymoon resorts, hotels, and other stays. Our list caters to every budget, including both affordable and luxury stay options.
It also includes stays in different areas of New Jersey – from the fast-paced, buzzing atmosphere of Atlantic City to the small and friendly beach town of Cape May.
Read below to find your perfect romantic getaway!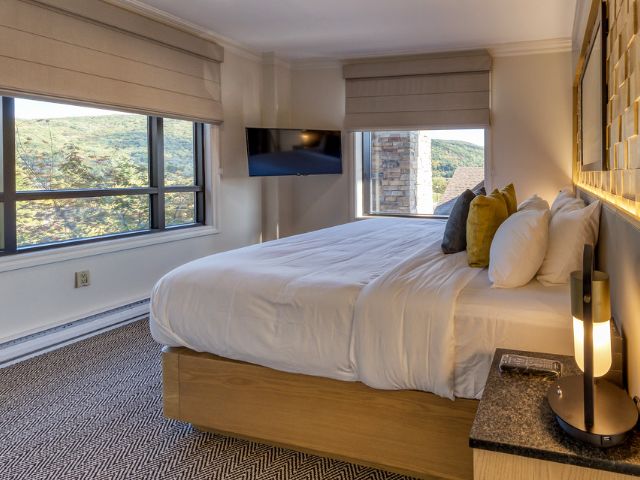 Price per Night: $459 – $1,126
Best For: Younger couples, Older couples, Long stays
Availability: Easy to book
Grand Cascades Lodge at Crystal Springs Resort offers a luxury hotel stay with spectacular views of the Appalachian Mountain Range and world-class hospitality.
The lodge offers a "Fall In Love" Package that is perfect for honeymooners. This includes accommodation, a 50-minute 'Art of Reflection' massage per person, sparkling wine and strawberries delivered to your room, a 7-course wine pairing dinner for two at the 4-star Restaurant Latour, and full access to pool complexes, Minerals Sports Club facilities and more.
The rooms at Grand Cascades Lodge are spacious and extravagant. Book a room with a private balcony, gas fireplace, and jacuzzi tub to enjoy a stay fit for a king and a queen.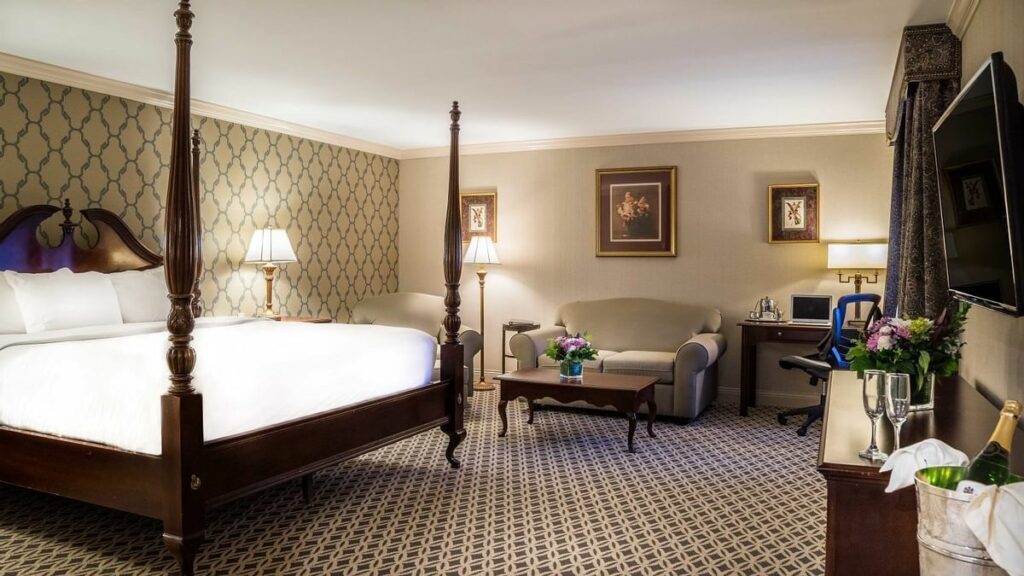 Price per Night: $174 – $409
Best For: Older couples, Short stays, Long stays
Availability: Easy to book
The Madison Hotel in Morristown has an old-style look and feel and friendly staff. Being 1.9 miles from the Community Theater and the Morris Museum, this stay is ideal for couples who enjoy everything artsy and cultural.
You can choose between a double room or a suite room for your stay. The rooms are designed to give you everything you need for a relaxing vacation. All rooms offer air conditioning, a private bathroom, black-out drapes, and a flat-screen HD TV.
There are also various amenities at the hotel. This includes a fitness center, an indoor pool, and a spa. Guests can also eat at the on-site restaurants, Rod's Steak & Seafood Grille, and GK's Red Dog Tavern.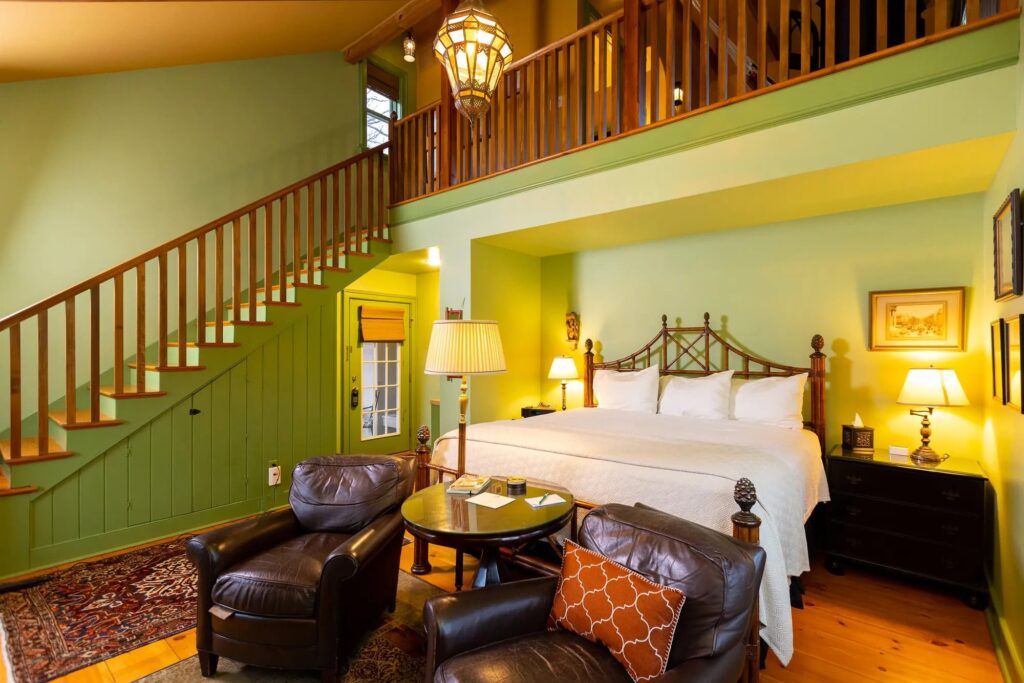 Price per Night: $199 – $319
Best For: Younger Couples, Older Couples
Availability: Limited availability
The Woolverton Inn is a romantic bed and breakfast located along the Delaware river. Surrounded by acres of lush farmland, the inn is home to a flock of curious sheep who love to meet and be fed by guests.
The inn offers a honeymoon package for newlyweds. Priced at $250, guests can enjoy chilled champagne, locally-made chocolate truffles, a bouquet of roses waiting in their room, and a large "sheep" cheese platter.
The cottages and suites feature double whirlpool tubs, private porches with pasture views, and gas or wood-burning fireplaces. This is perfect for couples who are looking for a private and cozy stay.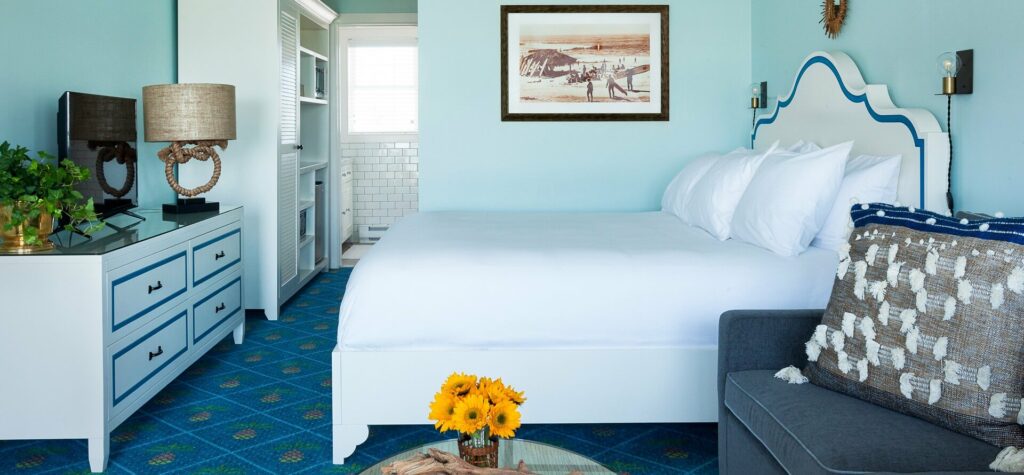 Price per Night: From $66 upwards
Best For: Younger Couples
Availability: Easy to book, Closed during out of season
Beach Shack is a casual 3-star hotel located just a few steps away from the Atlantic ocean. This is the place to be for couples looking to stay in Cape May, with Sunset Beach and Cape May Lighthouse both being within 3 miles away.
This hotel is also perfect for lounging under the warm sun around the outdoor pool or at the nearby beach. Beach attendants are at service, setting up umbrellas and loungers and bringing refreshments. Additionally, the on-site restaurant and bar, The Rusty Nail, offers a lively ambiance and great seafood cuisine.
The rooms feature a fun, beach-chic décor. Guest rooms are equipped with plush beds, sleeper couches, and kitchenettes. Suites are equipped with the same but also feature flat-screen TVs and private baths.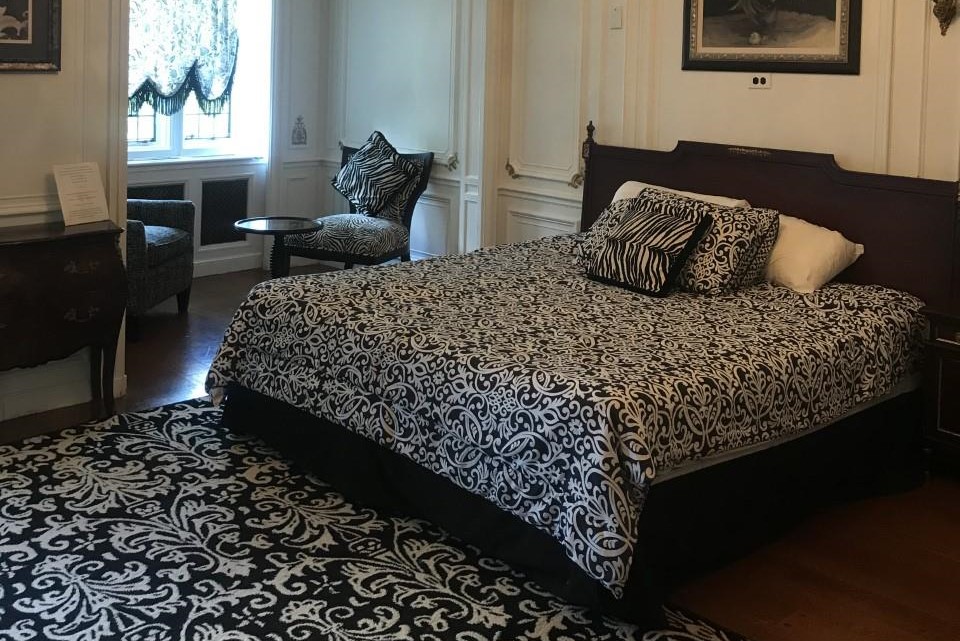 Price per Night: $130 – $310
Best For: Older couples, Short stays
Availability: Easy to book
The Castle at Skylands Manor is a romantic castle-style bed and breakfast. Located in Ringwood State Park, the property features beautifully landscaped gardens. The park is also a great place for guests to bird watch, hike, and picnic.
The rooms are spacious and elegantly decorated. Guests can enjoy a flat-screen TV, air conditioning, and free internet access. Some rooms feature a terrace, where guests can take in the breathtaking views of the gardens and Bald mountain.
A nearby attraction that is loved by guests is the Ringwood Manor. Ringwood Manor is a historical mansion with Georgian architecture dating back to the last 1700s. The mansion is open to the public for tours and is a short 5-minute drive from The Castle at Skylands Manor.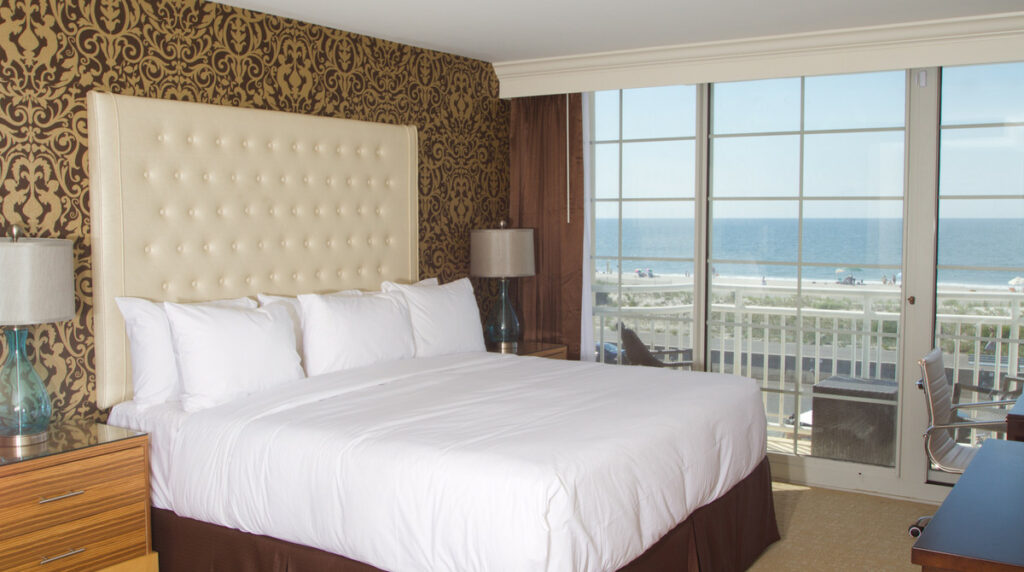 Price per Night: $205 – $270
Best For: Younger Couples, Older Couples, Short stays
Availability: Easy to book
The Ocean Club Hotel is a modern seaside resort located in Cape May. The hotel boasts elegant and chic furnishings and panoramic ocean views. The hotel also has its own pool and sundeck, perfect for guests who love to lounge in a sunbed with a drink in hand while admiring the stunning ocean view.
The Cape May Boardwalk is just steps away, and the Cape May Lighthouse is a 4-mile walk or drive from the resort. Guests can also enjoy the on-site restaurant, SeaSalt, which offers outdoor seating and exquisite seafood.
The rooms at the Ocean Club Hotel are stylish and sophisticated. They are furnished with custom chic decor and equipped with luxurious beds, flat-screen TVs, and iPod docking stations. Some rooms also feature balconies and soaking tubs.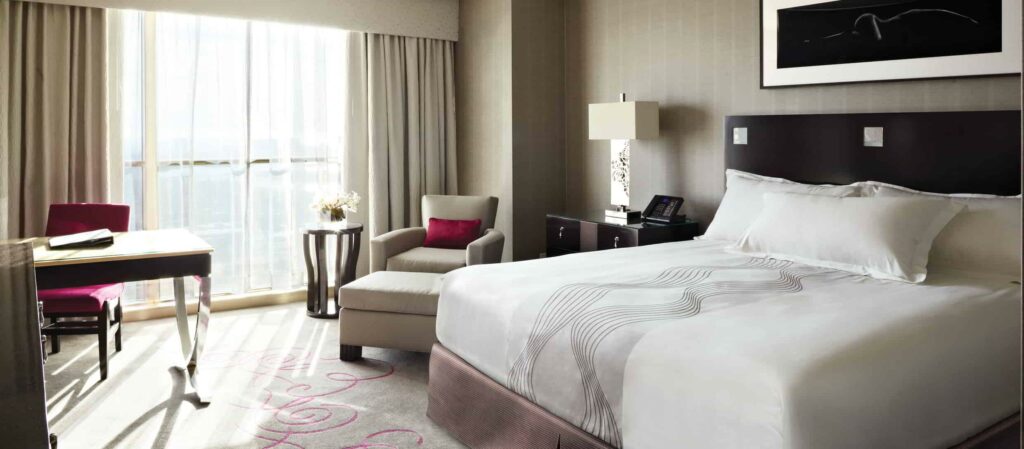 Price per Night: $109 -$799
Best For: Older couples, Short stays
Availability: Easy to book
The Water Club Hotel at Borgata is a 5-star hotel located in Atlantic City. The hotel features 800 guest rooms and suites, all with views of the city or the marina. Amenities include a private pool and spa, a fitness center, and a variety of dining options. The hotel also has a casino on-site, as well as a variety of entertainment and shopping options.
This hotel stay is perfect for couples who enjoy nightlife, luxury accommodation and experiences, and high-end dining. While there is plenty to do on-site to keep guests entertained, there are some other nearby off-site attractions worth visiting. These include Gardner's Basin, Absecon Lighthouse, and the New Jersey Korean War Memorial.
The rooms are designed to offer a comfortable and elegant experience. All rooms have flat-screen TVs, air conditioning, and black-out curtains. Free wifi is also available.
Top Excursions & Activities To Do On A New Jersey Honeymoon
There is no shortage of day trips and excursions in New Jersey. There is a range of activities to do with your loved one, and we have listed a few of the best below for you to enjoy during your romantic getaway.
Skiing at Mountain Creek
Mountain Creek is the largest ski resort in New Jersey. The resort features a variety of slopes for skiers and snowboarders of all abilities, including beginner, intermediate, and advanced runs. The resort typically opens in December and stays open until March, depending on weather conditions.
For just $139.99 per person, you can purchase a day pass that includes a full-day lift ticket, full-day equipment rentals, and a self-guided skiing and snowboarding lesson. This is a great day trip for couples looking for a bit of adventure (and for those who are beginners – a bit of a challenge.)
A Visit to Delaware Water Gap National Recreation Area
The Delaware Water Gap National Recreation Area is a stretch of protected land along the Delaware River. It is known for its scenic beauty, recreational activities, and historical significance.
Spend a day here with your spouse if you crave time in nature. There's plenty to do: hike to a waterfall, rent a raft and canoe in the river, or set up a tent and camp beneath the stars.
Admission is free, and the area is typically open all year long. However, some campgrounds and picnic areas close during the winter.
A Night of Entertainment at Tropicana Casino
Tropicana Casino is a casino in Atlantic City that offers a wide variety of gambling options, including slot machines, table games, and a poker room.
Apart from gambling, Tropicana Casino offers a variety of dining options, including fine dining, casual eateries, and quick service options. The casino also regularly hosts live entertainment and shows that you and your spouse can enjoy together.
Whale and Dolphin Watching Cruise at Cape May
Whale and dolphin-watching cruise is a popular activity that takes visitors out on a boat to see whales, dolphins, and other marine life in their natural habitat.
Day cruises are available from $40 per person. If you are willing to pay a bit extra for a cruise with some special add-ons, book the "Wine it Down"cruise that includes three wine tastings by a local vineyard. Or, try the "Grand Lighthouse" cruise, which includes a tour of nine lighthouses across New Jersey's shoreline.
Sample Itinerary & Budget For Your Honeymoon To New Jersey
Below is an ideal 4-day sample itinerary for your honeymoon in New Jersey. We've made sure to include a variety of romantic places for you and your loved one to enjoy. The trip starts in Cape May and works its way up the coast to end in Jersey City.
Sample Itinerary
Day 1: CAPE MAY
Start off your day with a visit to the Cape May winery. Here, you will learn about the winemaking process. You can also sample a variety of wines while taking in the beautiful scenery.
Cape May is the best place to visit a romantic restaurant. For dinner, book a table at Peter Sheilds Inn and Restaurant. Try the four-course chef's tasting menu, or if you like – order from the ala carte menu. Just be sure to end off with the warm date pudding – drizzled with caramel sauce and served with vanilla ice cream. Delish!
DAY 2: Ocean City
Head out to Ocean City beach for the day. This is about a 40-minute drive from Cape May.
Ocean City beach is very popular during the summer months and is known for its cleanliness and safety. Visitors can enjoy swimming, sunbathing, and playing beach games. The beach also has a boardwalk that has amusement park rides, games, food stands, and souvenir shops.
Consider visiting the Art League of Ocean City if you get tired of the beach. This is a non-profit organization that promotes and supports local arts. Take a look at the art exhibitions on display. Or, if you want to get involved, attend an art class with your spouse
Day 3: Atlantic City
On day three, take a quick 30-minute drive to Atlantic City from your stay in Ocean City. Take a stroll on the Atlantic City boardwalk and visit the Absecon Lighthouse. During the day, you can also pay a visit to the Pier amusement park, Ripley's Believe it or Not, and the Atlantic City Historical Museum.
End off your day at the Tropicana Casino for a night of dining, entertainment, and gambling. This is arguably one of the best casinos in Atlantic city, so you should be in for a treat.
Day 4: Jersey City
Day four can be spent exploring Jersey City. Getting to Jersey City is a 2-hour drive from Atlantic City, so be sure to wake up early to begin your journey.
Visit the Hudson river walkway for magnificent views of the Manhattan skyline. Add a bit of fun to the mix and rent a bike for both you and your spouse. This way, you can do two things at once – cycling and sightseeing! Watch out for popular landmarks along the way, like the Liberty Science Center and the Colgate Clock.
Don't forget to pay a visit to the Statue of Liberty. Book your tickets in advance for a ferry ride from Liberty State Park to Ellis island. Note that ferry schedules often change during busy seasons, so remember to check the schedules posted on the Statue City Cruises website before planning your visit.
Sample Budget
Below are the estimated amounts to be put aside per couple per day.
Accommodation: $100-$300
Dining and drinks: $100-$150
Car rental: $40-50
Excursions or activities: $150
Frequently Asked Questions
How much does a New Jersey honeymoon cost?
Honeymoon resorts can cost anywhere from $200 to $500 per night. A New Jersey bed and breakfast or vacation rental usually costs less. Meals range between $30 and $100 per person, depending on the restaurant. Putting aside $150 for activities per day should suffice, and rental cars cost around $40-50 per day.
When is the best time to visit New Jersey?
Spring and summer are the best months to visit New Jersey. This means anywhere between May and October. However, if you're into skiing and snowboarding, it's best to go in the winter months, from late November to mid-March.
What is the best way to travel around New Jersey?
NJ Transit operates buses and trains that connect many towns and cities in the state. This can be a cost-effective option for getting around to and from honeymoon resorts or main centers. It's also easy to get around by car. However, traffic can be heavy during rush hour, and parking can be difficult in some areas.
How long should you spend in New Jersey for a honeymoon?
Seven days should be ideal for a honeymoon in New Jersey. This gives couples enough time to relax and unwind at honeymoon resorts. It's also a good amount of days to explore the main attractions like the Atlantic City Boardwalk, Liberty State Park, the Jersey Shore beaches, and the Victorian houses in Cape May.
Start Planning The Perfect Romantic Honeymoon Getaway
Ready to book your New Jersey honeymoon yet? New Jersey has beautiful scenery, plenty of activities, and incredible honeymoon resorts. So start saving up and planning now for the honeymoon of your dreams!
Make sure to check out Couples Travel for all the top tips and tricks for planning your next romantic getaway!