When people hear North Carolina, they don't often think of a "romantic destination." What they don't know is that North Carolina is one of the most amazing destinations for a romantic getaway where newlyweds can start making memories as they enjoy their honeymoon.
Whether you're looking for adventure or relaxation, there is something for everybody in North Carolina. The breathtaking views of the Great Smoky Mountains and majestic Blue Ridge Mountains, buzzing cities, and a vast array of fun activities make knowing where to start difficult. This is where we come in.
Planning a romantic getaway is hard enough, so we've created a comprehensive guide on everything you need to know about honeymooning in North Carolina, along with a basic itinerary and budgeting guidelines.
What Makes North Carolina Perfect For A Honeymoon?
North Carolina is famed for its southern hospitality or, in other words, displays of kindness and warmth to visitors. This mindset is evident in how North Carolina stays are run. When you and your loved one visit, you'll find that most of the resorts and hotels pride themselves on making guests feel at home, which, in turn, leads to excellent service. This holds true for every area of the state, whether you're staying in the Emerald Isle, Smoky Mountains, or at boutique hotel near the beach.
Apart from the friendly locals, a honeymoon in North Carolina means basking in rolling hills, sandy beaches, epic vistas, and everything they hold. Some popular activities in North Carolina include 4×4 off-road adventures, tours to see wild horses, kayaking, hiking, and biking. As we said, this destination truly has something for everyone, whether you stay along the North carolina coast – a stone's throw from Ocean Isle Beach – or on the doorstep of the Great Smoky Mountains in Western North Carolina.
Best Honeymoon Resorts, Hotels, And Other Stays In North Carolina
There are plenty of North Carolina honeymoon resorts on offer, and one of the best things about them is that they come with a great degree of variety. Two things that most of the stays have in common are that many come with magnificent views of the state's natural beauty and are practically made for romantic getaways.
Do note that North Carolina is quite popular for tourists all year round. So be sure to plan your trip and book your accommodation in advance.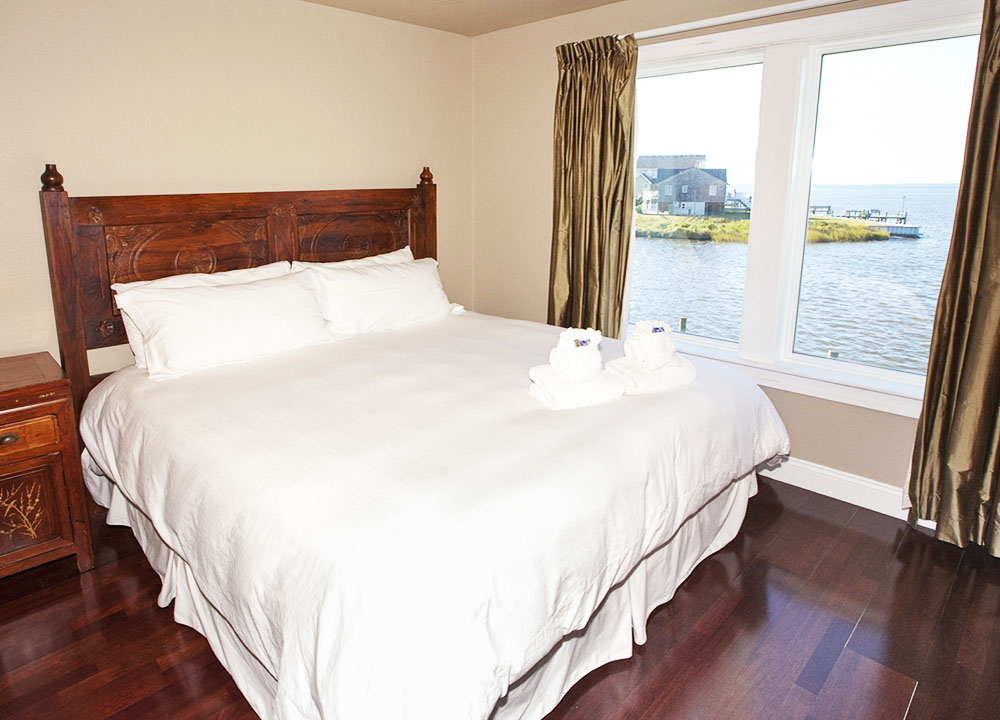 Price per Night: $175 – $225
Best For: Older couples
Availability: Limited
Known for its friendly staff, Oasis Suites is the only boutique hotel in Nags Head. Rooms come full of modern amenities, such as a jet-inspired tub, a full kitchen, a private balcony, and tasteful furniture to ensure optimal comfort.
In addition, all suites have a view of the water, a gazebo, and a dock that extends the length of the hotel. Oasis Suites is within walking distance of a golf course, adventure golf course, and Full Throttle Speedway. This is the perfect spot for newlyweds who enjoy being out and about.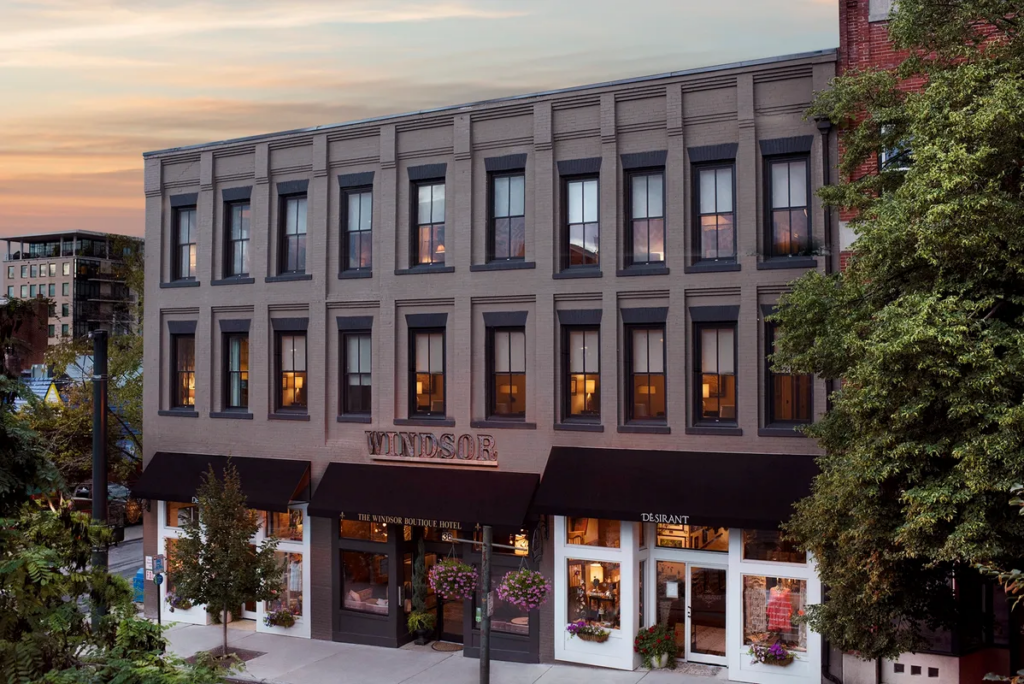 Price per Night: $579 – $719
Best For: Young couples
Availability: Easy to book
The Windsor offers upscale accommodation in the middle of downtown Asheville. The property features couples' massage facilities, laundry areas, board games, and 14 uniquely decorated suites.
To add to its appeal, the hotel has a plethora of action attractions nearby, such as the Asheville Theatre, Vadim Bora Studio-Gallery, and Pack Square.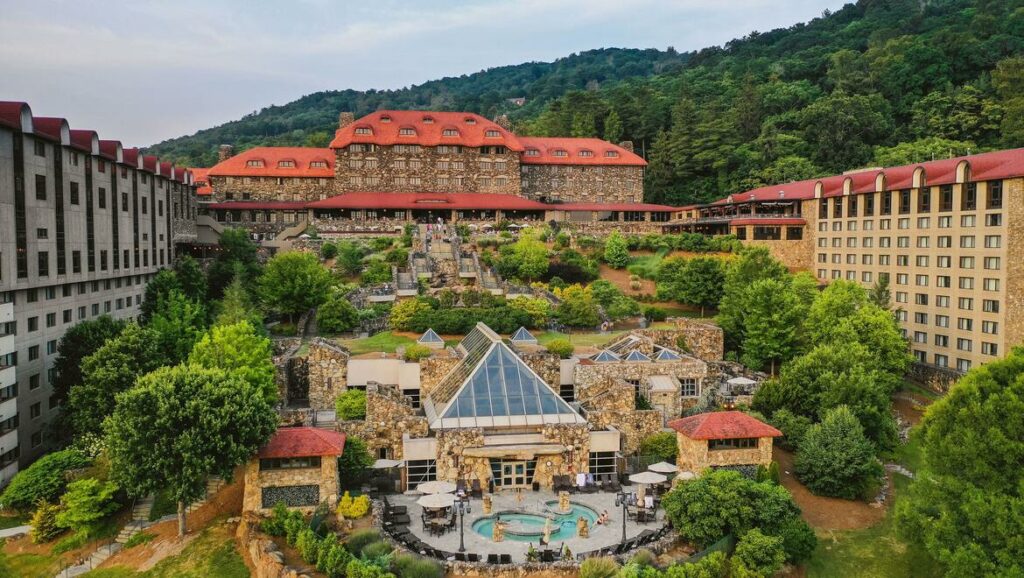 Price per Night: $685
Best For: Golf lovers, families
Availability: Easy to book
This historic golf resort is a beloved southern retreat with an award-winning subterranean spa. Apart from the retail promenades and high-class restaurants, the hotel features a heated indoor pool, bar, a fitness center, and specially designed golf courses.
The Omni Grove Park Inn often offers packages suitable for a honeymoon or general weekend getaway, so be sure to check various sites for offers.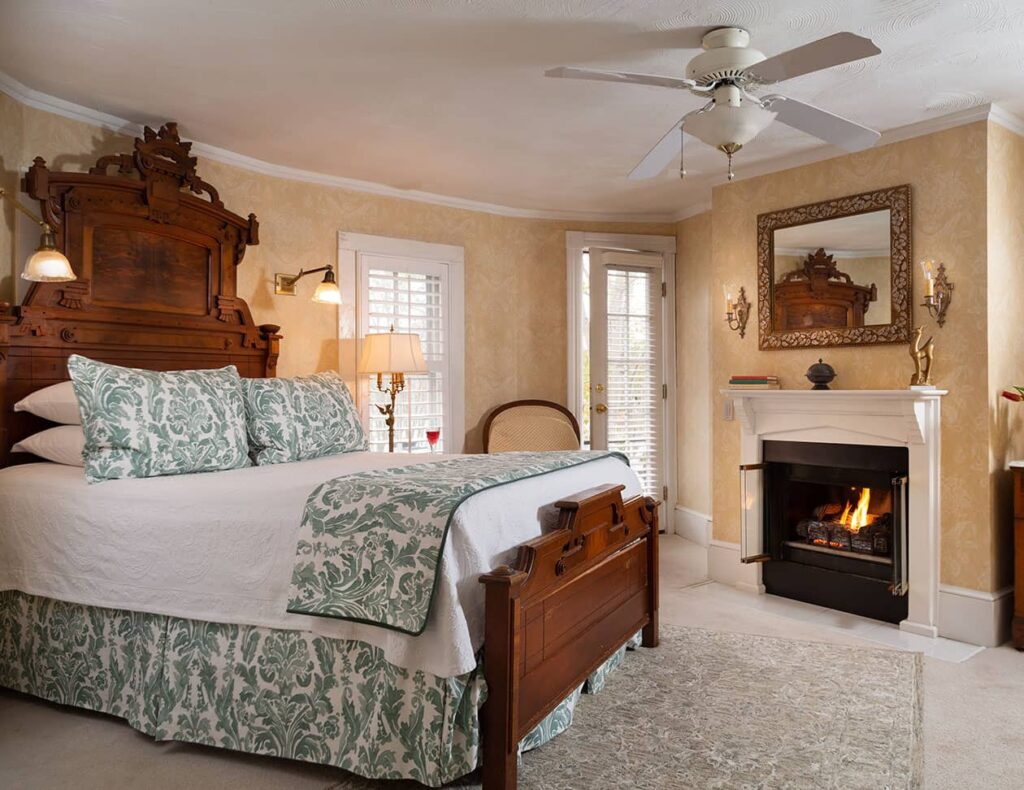 Price per Night: $443
Best For: Older couples, privacy
Availability: Limited
This North Carolina retreat is the epitome of southern hospitality. Each morning in this renovated 19th-century home comes with warm smiles from staff and a four-course breakfast: a necessity before heading out for an adventure.
Rooms have fireplaces, are air-conditioned, and come with all the creature comforts you'd expect. Other property features include a full body massage, board games, and a gift shop where you can find something special for your life partner.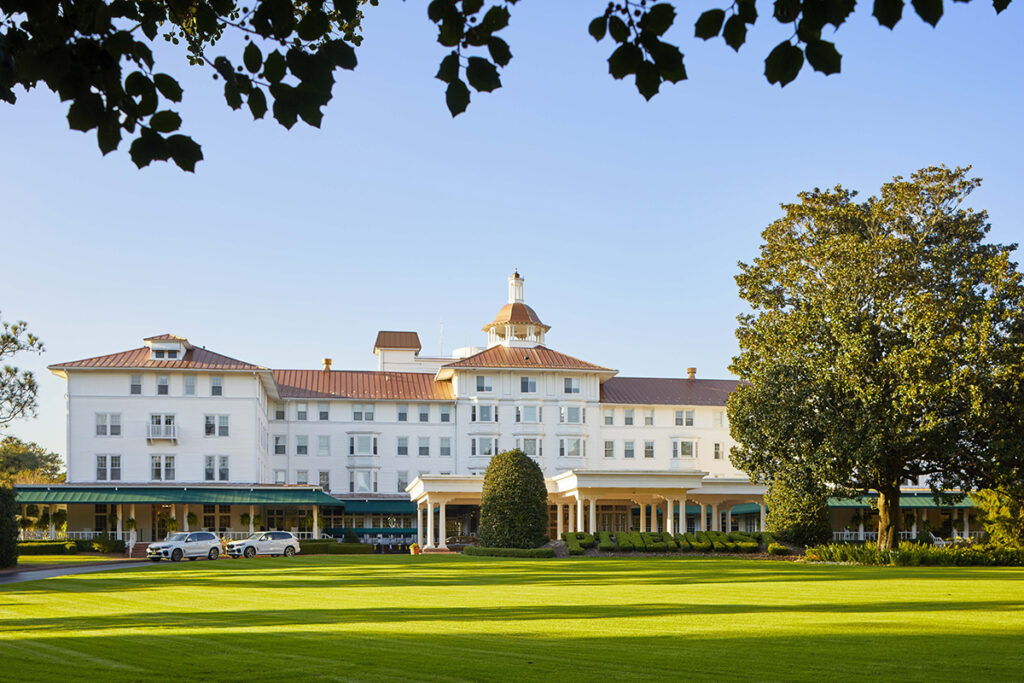 Price per Night: $120 – $470
Best For: Older couples
Availability: Limited
This prestigious golf resort has hosted high-profile golf events such as the US Open and Ryder Cup, so it's safe to say that standards are pretty high there. Upon arrival, it's easy to see why this stately century-old hotel is nicknamed the "Queen of the South."
There are 380 modern rooms on the property with nine golf courses, an acclaimed spa, a fitness center, a tennis court, and a beach club. As with most North Carolina hotels and resorts, this accommodation has something that everyone will enjoy.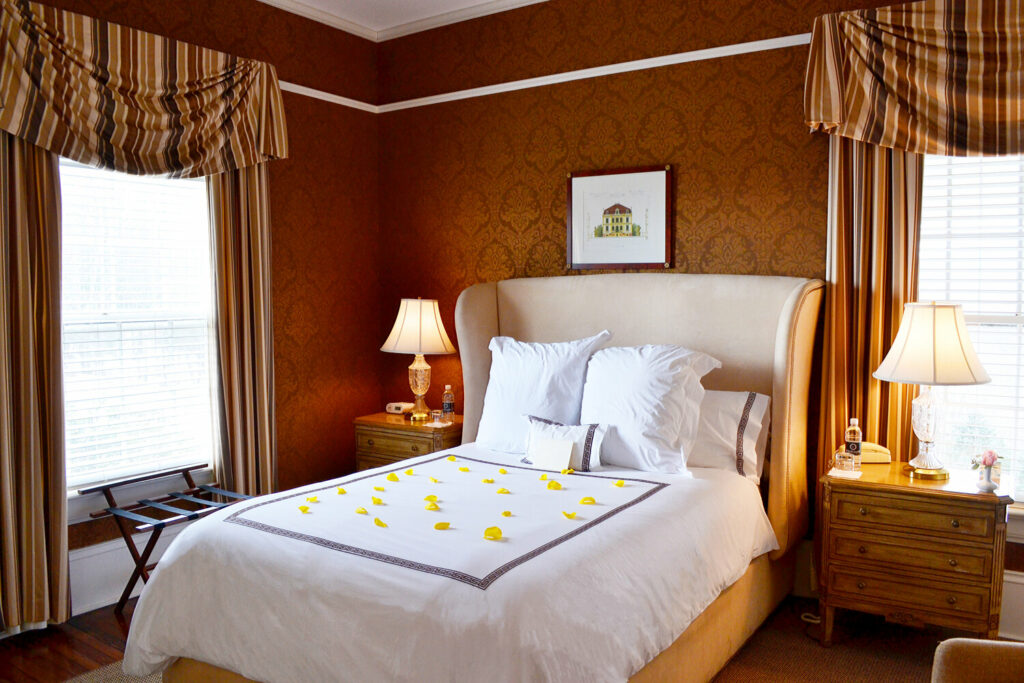 Price per Night: $350 to $410
Best For: Longer stays
Availability: Limited
The Westglow is a hotel in Blowing Rock that is a brilliant option for honeymooners in search of a culturally-rich experience. Besides being near notable landmarks such as Top Manor and Moses H. Cone Memorial Park, Westglow does a lot to ensure guests' comfort during their stay.
The hotel has comprehensive room service, and each suite is well-maintained. If you choose Westglow for your honeymoon accommodation, check out popular restaurants nearby, such as the well-known Foggy Rock Eatery and Pub.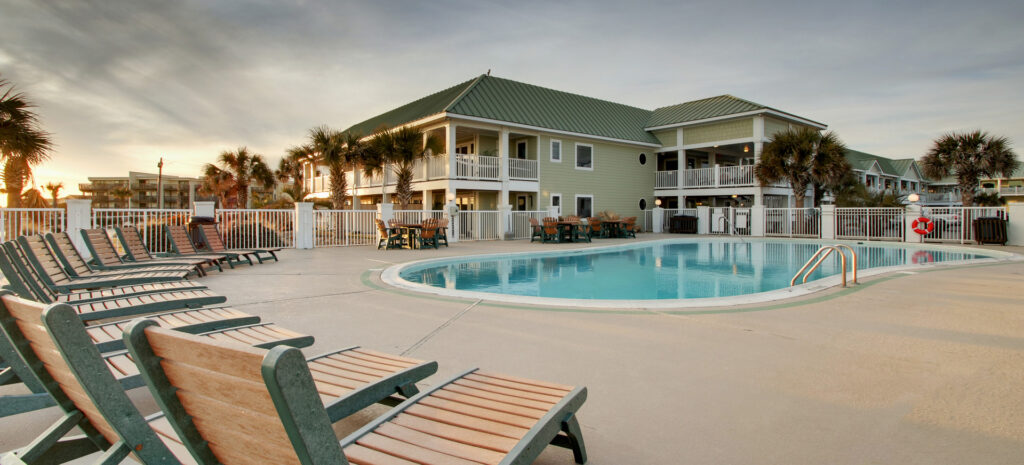 Price per Night: $150 – $170
Best For: Young couples, longer stays
Availability: Easy to book
Located on Emerald Isle and designed to make long-lasting memories, The Island Hotel & Resort is full of energy, experiences, and, of course, ocean views.
The resort features a 24-hour help desk, business center, and comfortable rooms that could be ideal for a long stay. Overall, the resort has a very laid-back feel, so it might be best suited to couples looking to keep their honeymoon at a slower pace.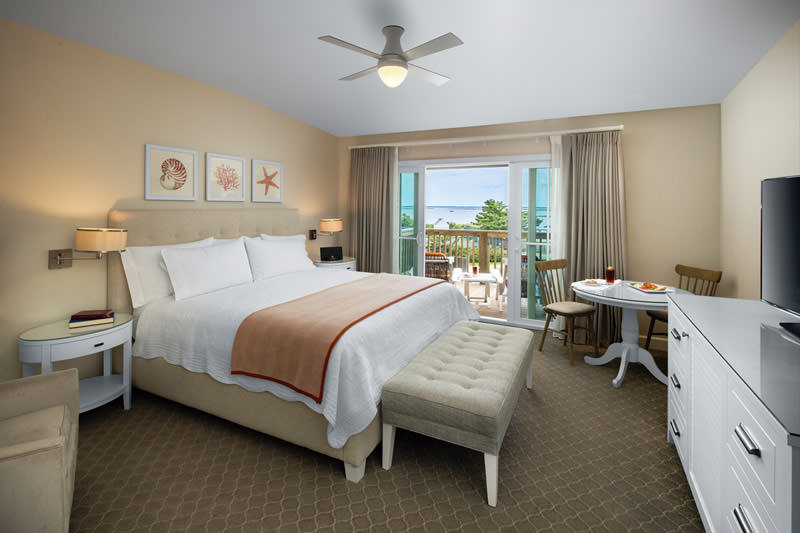 Price per Night: $200 – $650
Best For: Young couples, short stays
Availability: Easy to book
The Sanderling Resort is a gem located on North Carolina's outer banks designed to blend seamlessly with the beautiful surrounding landscape. While there, guests can expect to enjoy spectacular views of the Atlantic Ocean and Currituck Sound from the comfort of a generously sized deck.
The property is home to first-class amenities such as a spa, pool, and fine dining restaurants where you can enjoy perfectly prepared coastal cuisine.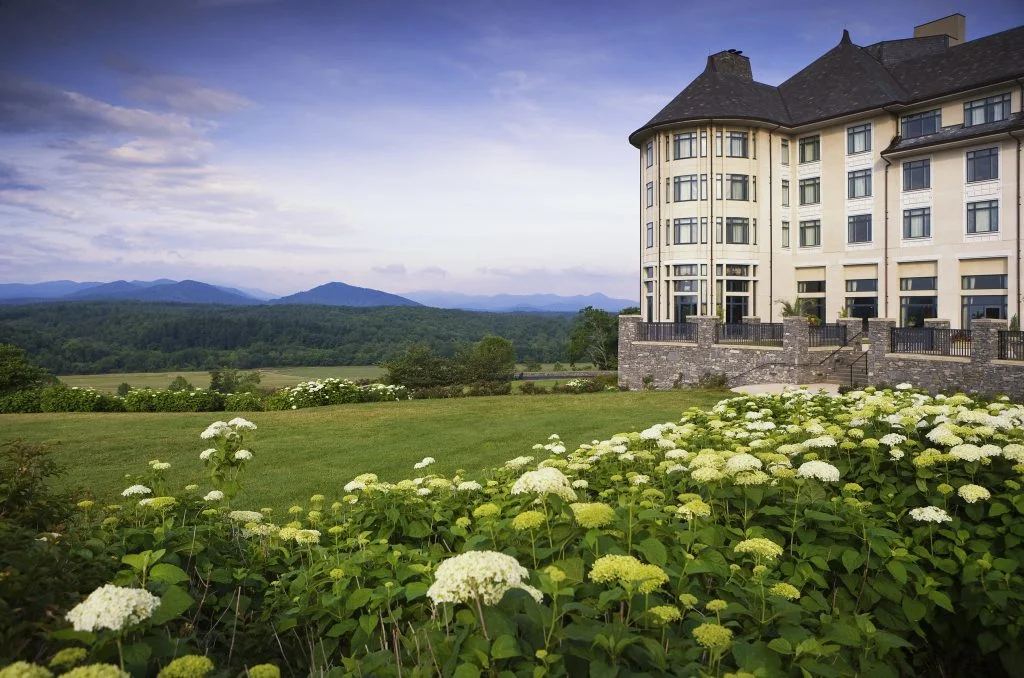 Price per Night: $450 – $685
Best For: Luxury suites, short stays
Availability: Easy to book
The Inn on Biltmore Estate offers guests world-class service that can make your honeymoon experience that much more memorable. Gracious hospitality, fine dining, and exquisite views of the Blue Ridge mountains make the inn a popular escape.
Whether relaxing in your flawless suite or exploring the stunning building, you can expect stellar service. Facilities on the property include a fitness center, pool, hot tub, and stress-free transportation around the 8000-acre estate.
What Area Should You Stay In During Your North Carolina Honeymoon?
North Carolina visitors are spoiled for choice when it comes to choosing an area for their stay. Each top city has a unique charm that can make settling on a destination much more difficult than one might think.
If you decide to take your festivities to North Carolina, don't forget to consider small towns like Kitty Hawk, Chapel Hill, Bald Head Island, and Hatteras Island, as they all make good alternatives to the typical big cities. Also, if your budget allows, think about spending a day or two in different cities to broaden your experience.
Asheville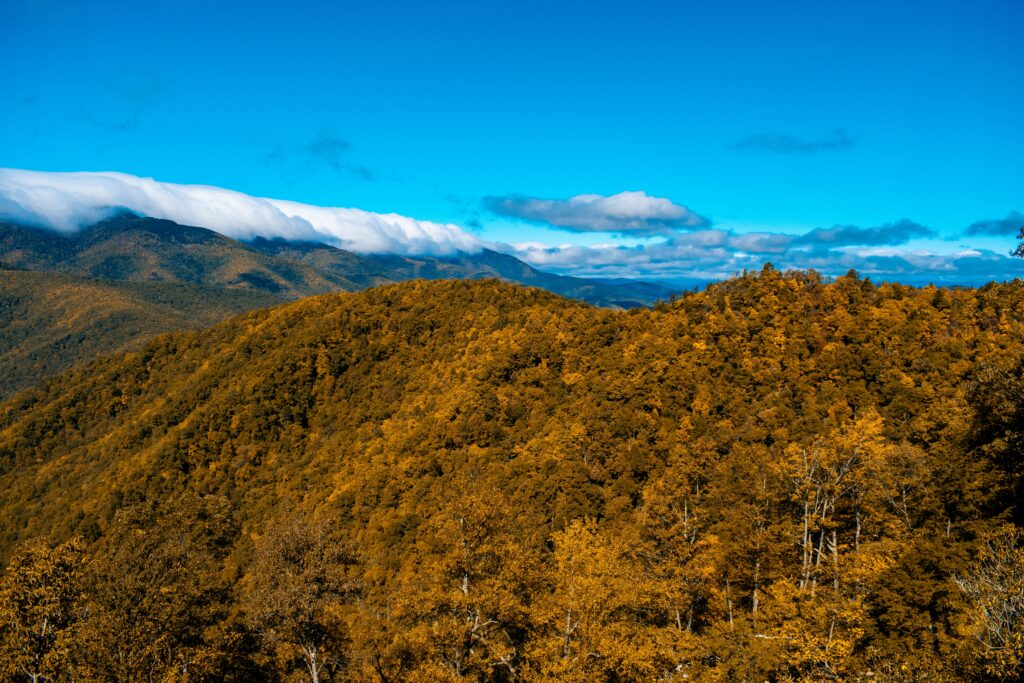 Asheville is a beautiful city nestled in the Blue Ridge Mountains. The city offers spectacular views throughout and is widely known for having an abundance of entertainment in and plenty to look at in term of art and culture. Having a good meal while enjoying some live music is just one great way to spend quality time with your new spouse.
For those who like to be active while on holiday, there are plenty of outdoor activities to enjoy. Kayaking, mountain climbing, and rafting are all possibilities in Asheville. Once you've settled down, the many museums are a good way to spend a day.
Charlotte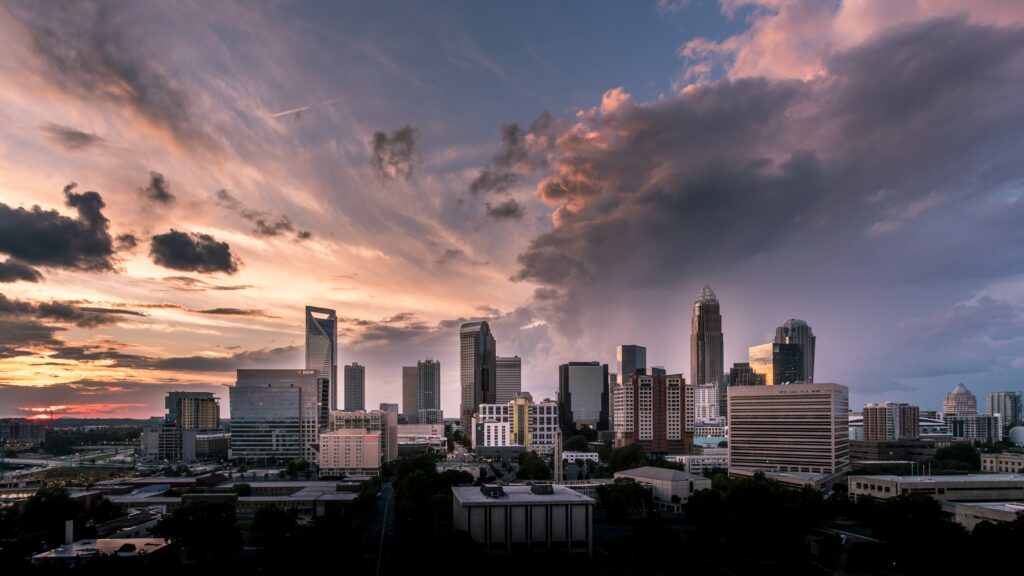 This commercial hub is the main city in North Carolina and one of the spiritual homes of NASCAR. If fast cars aren't your thing, then you can always check out the civil war museum or go for a romantic dinner for two at Sea Level, one of Charlotte's best-rated seafood restaurants.
Charlotte is also home to a number of popular breweries with engaging social atmospheres. A visit to one or more of these breweries presents a good chance for you to mix with the locals and enjoy a wide selection of craft beers.
Greensboro
Greensboro is a verdant city with many nearby forests, mountains, and public parks. Additionally, Greensboro is home to many luxury hotels and restaurants specializing in farm-to-fork cuisine. This is the perfect place for honeymooners looking for a laid-back and relaxing getaway.
Like many others in North Carolina, the city is historically rich, but when you aren't checking out the historical sites with your loved one, you can choose between over 25 courses to play a round of golf on.
Ocracoke Island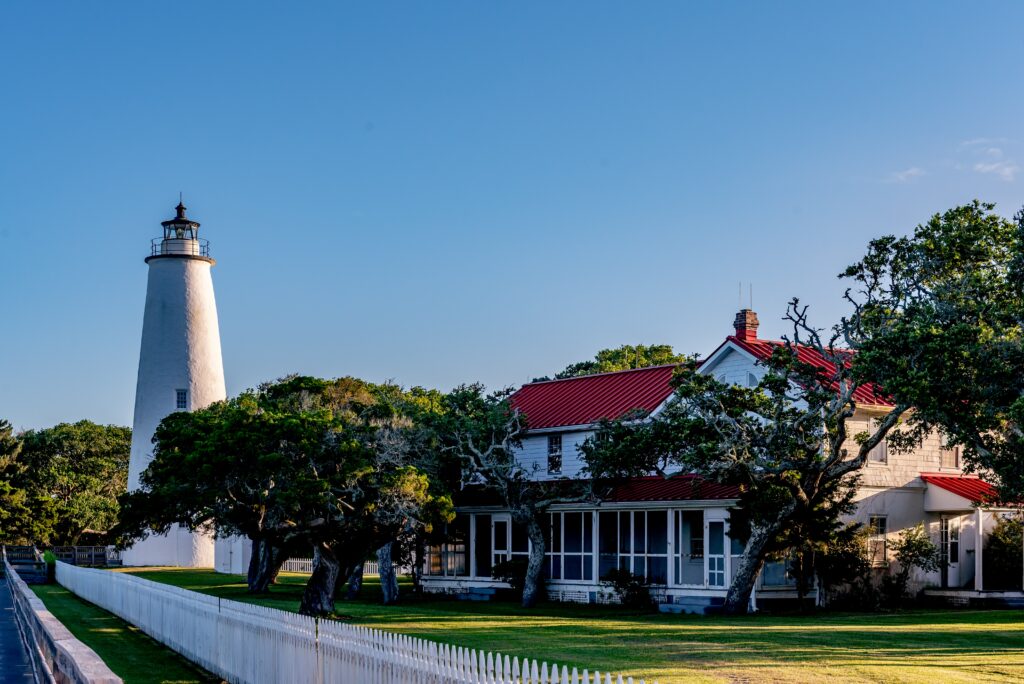 Ocracoke Island is an enchanting village on North Carolina's coastal outer banks. The island features 16 miles of pristine beach that make the ideal spot for long walks, fishing or frolicking within the crashing waves. If you're getting married in spring or summer, Ocracoke Island should be near the top of your list of honeymoon destinations.
Ocracoke is also known for its unique culture that visitors enjoy immersing themselves in. As far as stays on the island are concerned, Castle on Silver Lake is a good option that most locals would probably recommend.
Emerald Isle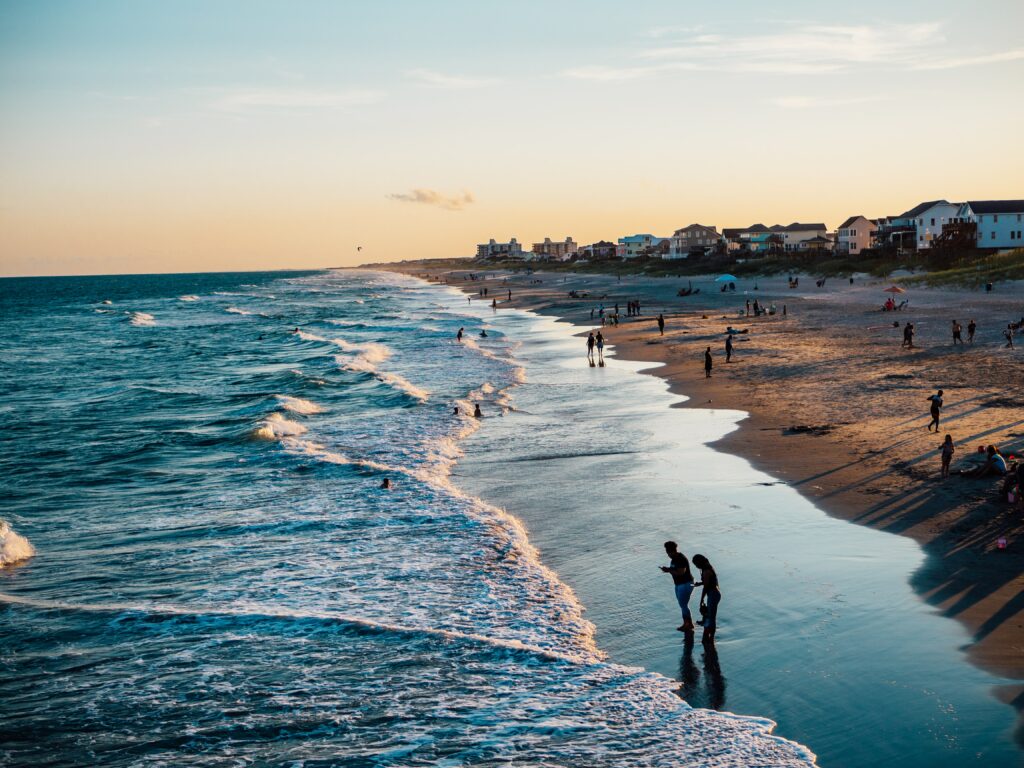 Emerald Isle is easily one of the most romantic destinations in North Carolina and is a beach lover's paradise.
Besides being home to North Carolina Aquarium, Emerald Isle provides ample opportunity for fun activities such as scuba diving, kayaking, and paddle boarding. When you aren't engaging in adrenalin-inducing activities, you'll be beguiled by the sheer beauty of the environment around you.
Bryson City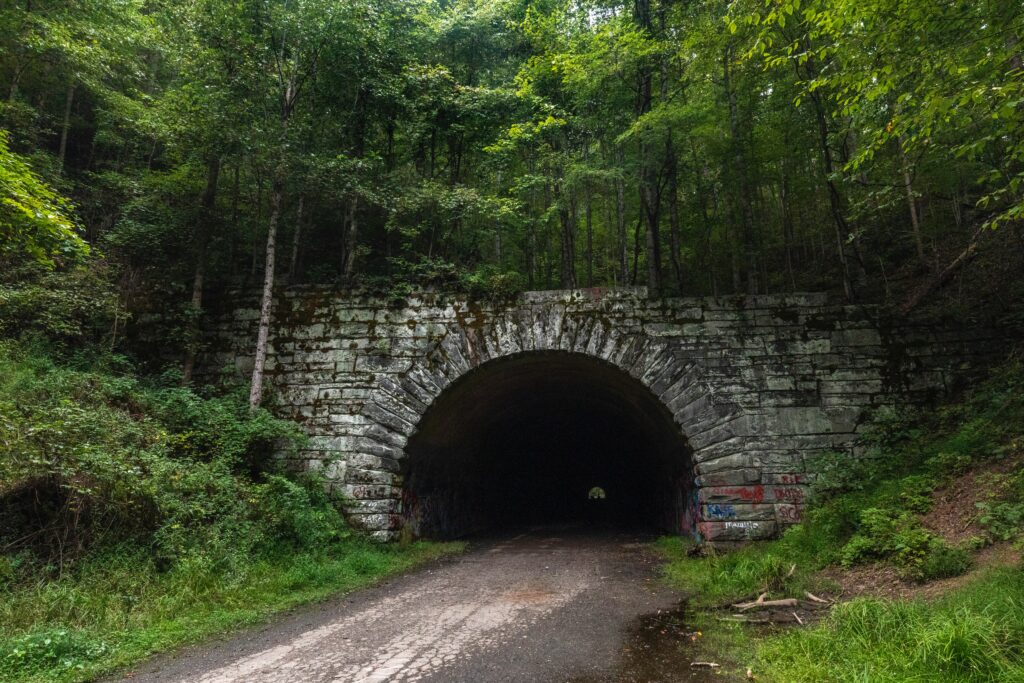 Bryson City is an easygoing town that borders the southern side of the Great Smoky Mountains. Despite not being a very popular destination for tourists, Bryson City works well as a romantic destination.
The wide open spaces and fresh air make the city the ideal location for those seeking to enjoy their honeymoon at a slower pace, away from the hustle and bustle of the big cities. Noteworthy entertainment options include picturesque hiking trails, whitewater rafting through the Nantahala River, and epic train excursions – so you're free to take your pick.
Sample Itinerary & Budget For Your Honeymoon To North Carolina
The following itinerary and budget are guidelines; never be afraid to spend less or more. Remember that a honeymoon is a shared experience, so if you don't like the same activities as your significant other, find a way to meet in the middle to ensure your romantic getaway is as enjoyable as possible.
Please note that the prices listed below are per person and subject to change, so budget wisely.
| | |
| --- | --- |
| Activities | Cost |
| Accommodation | $57 to $719 |
| Flights | $269 |
| Food & Drink | $36 |
| Transport | $29 |
| Great Smoky Mountains National Park Thru-Hiker Permit | $40 |
| Lunch at the Beachside Bistro | $9 to $13.50 |
| Wright Brother's National Memorial | $10 |
Here's how you can space out your activities:
Day 1: Starting your honeymoon off in Charlotte is probably the best idea. It's the state's major city, so you'll easily be able to find familiar establishments upon arrival. Spend the first day briefly exploring the city after settling into your accommodation.
Day 2: You can spend the first part of this day exploring any of the amenities available at your accommodation. The Charlotte historical city tour should be next on your agenda. After this, you can take a trip to the NASCAR Hall of Fame. End this day by checking out one of Charlotte's rooftop bars to catch another glimpse of the Great Smoky Mountains.
Day 3: You probably saw them yesterday, so today would be the perfect day to take a trip to the Great Smoky Mountains National Park. There are many activities on offer at the national park, so that you can pick between hiking, horse riding, fishing, and picnicking. Please note that entry to the national park may come at a cost that varies according to your activity.
Day 4: On your fourth day, you'll probably be ready for a faster-paced adventure. Head to North Beach to indulge in one or more of the many sports on offer. You can go kayaking, windsurfing, or go for a simple boat cruise.
Day 5: Use this as an opportunity to venture out a little bit more. In this regard, the North Carolina Aquariums are a good place to start. You can travel to the Kure Beach, Roanoke Island, or Pine Knoll Shores branch. This activity will provide a nice change of pace.
Day 6: Climbing to the top of Currituck Beach Lighthouse is a must for day six. This trip will give you a very simple yet highly romantic moment as you get to observe the glorious landscapes of North Carolina.
Day 7: Wake up early to make the most out of your stay and North Carolina. Day seven is a good time for a couple's spa day or to take a leisurely stroll on the beach. You can conclude your stay with a romantic dinner for two at one of the farm-to-fork restaurants.
FAQs
When is the best time to visit North Carolina?
The best time to visit any place largely depends on personal preference. Tourism is frequent throughout the year, but people often believe the period between April and May as the best time to go. This is on the basis of key aspects such as weather and the cost of both flights and accommodation.
It's worth noting that North Carolina days are the longest in July, so this may be the best time to go if you love the idea of sightseeing during the day. August is the wettest month of the year in North Carolina, so avoid traveling there during that time unless you're looking to get wet.
How much does a North Carolina honeymoon cost?
On average, a honeymoon in North Carolina will cost you around $4000, which is very close to the US average of $4800. Remember that this estimate varies according to the time of year, how long your honeymoon will be, your daily expenditure, and how many activities you and your loved one choose to try.
North Carolina honeymoon resorts typically cost around $116 per night, so this could be a good figure that you could use to budget.
How Can I Make My North Carolina Honeymoon Affordable?
Many newlyweds are put off honeymooning altogether because of budgetary restrictions, but this doesn't have to be the case. Planning a honeymoon can be a truly enjoyable experience if you know how to budget correctly. Here are a few things you can do:
Book well in advance – Booking your trip at least six to nine months in advance is a good way to take advantage of the best discounts. To make this easier, you can use dedicated sites to track prices and set alerts.
Shop around for deals – Never rush to make a booking. Instead, look on several websites first to compare prices until you find the best one. This includes both flights and accommodation.
Be reasonable and realistic – One of the reasons why so many honeymoon trips fail is because couples aren't realistic in terms of what they can actually afford. It's important to remember that your partner's mere presence during your honeymoon is more important than having an expensive room with needless amenities.
Wait it out – You don't necessarily have to have your honeymoon immediately after your wedding. Weddings typically cost a lot of money, so waiting for a bit afterward is a good way to save up enough money for the honeymoon you truly want.
What Is The Blue Ridge Parkway?
The Blue Ridge Parkway is a national park famous for its scenic beauty. In addition, at 469 miles, it is America's longest linear park, mostly running through the Blue Ridge, a major mountain chain and part of the Appalachian mountains.
The parkway is currently the most visited unit of the National Park System, so it's worth checking out if you decide to honeymoon in North Carolina.
Begin Planning Your Romantic Honeymoon To North Carolina Today
While North Carolina may not have the same levels of excitement as your more common honeymoon destinations, its ability to bring couples closer together should not be understated.
Going on a honeymoon is an immense investment in your happiness, so don't rush any decisions you make, and always be conscious of how your partner feels about something.
Lastly, people will always have their preferences as far as relaxation and enjoyment are concerned – and maybe a North Carolina honeymoon just doesn't sound like your cup of tea. If that's the case, then make sure you see our other guides on top honeymoon destinations to find the best one for this new chapter of your life.