The state of Oregon is home to some of the safest and greenest cities in the United States. Despite this, it is an often overlooked destination for those looking to celebrate their nuptials. Between the rugged cliffs and imposing cascade mountains, a plethora of activities promises to be the ideal way to get closer to your loved one and make long-lasting memories.
To make a romantic trip there even more appealing, Oregon boats a variety of stays and honeymoon packages that can suit everyone's style preferences, needs, and, most importantly, budget.
The following guide will tell you everything you need to know about planning a romantic getaway to Oregon. Plus, if you're not one for planning your trips, you can check out our sample itinerary, which does all the work for you.
What Makes Oregon Perfect For A Honeymoon?
Oregon can be best described as picturesque. Unique rock formations and azure tide pools, not to mention the many verdant state parks, are just a few reasons Oregon makes the perfect backdrop for romance. But when you aren't gazing in awe of Oregon's beauty, there are plenty of things for you and your loved one to do.
Whether you're looking for rustic or luxury, fast-paced or slow, you're bound to find something to your taste in Oregon. Additionally, locals have a reputation for being progressive and friendly, so, for those concerned, marijuana is legal in the state.
Lastly, one of the state's greatest selling points is the proximity between the coastline and the mountain ranges, meaning that you won't have to rush through activities just to fit them into your travel plan.
Best Honeymoon Resorts, Hotels, And Other Stays In Oregon
Luckily for newlyweds, there are plenty of accommodation options, each providing a unique way for couples to experience Oregon and make loving memories.
Always remember that when choosing your accommodation, you aren't necessarily restricted to having to stay in one place for the entire duration of your trip. It might be a good idea to book for more than one place and to make that booking according to the activities within the surrounding area.
Here are some of the best stays for an Oregon honeymoon: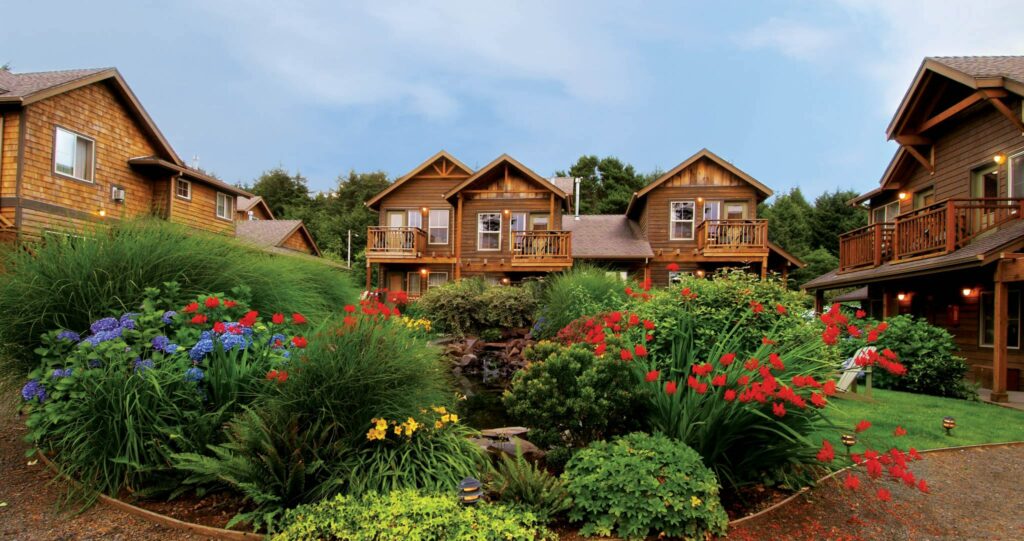 Price per night: $150 – $250
Best for: Young couples, budget options
Availability: Limited
This gem, located on the North Oregon coast, has an unmistakable charm. The wooded property and fragrant gardens give a rustic feeling and do a good job of bringing couples even close together.
Guest rooms at the Inn at Cannon Beach are warm and cozy, but when you aren't relaxing in your room, you can enjoy the magical courtyard, which attracts small wildlife and a variety of bird species.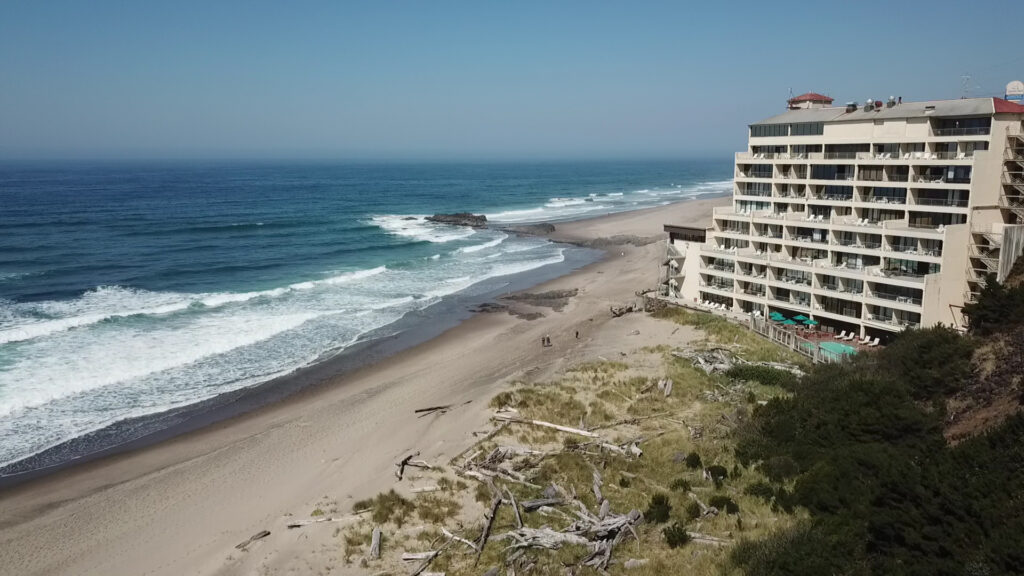 Price per night: $276
Best for: Private rooms, long stays
Availability: Limited
Like most stays in this region, this exceptional lodging on the Oregon coast boasts incredible views of the pacific ocean. But what makes it special is that it is the only hotel built directly on the beach.
Most hotel rooms come with a private balcony and full kitchen, thus making them ideal for long stays. Other facilities include an oceanview spa, outdoor heated pool, restaurant, and bar.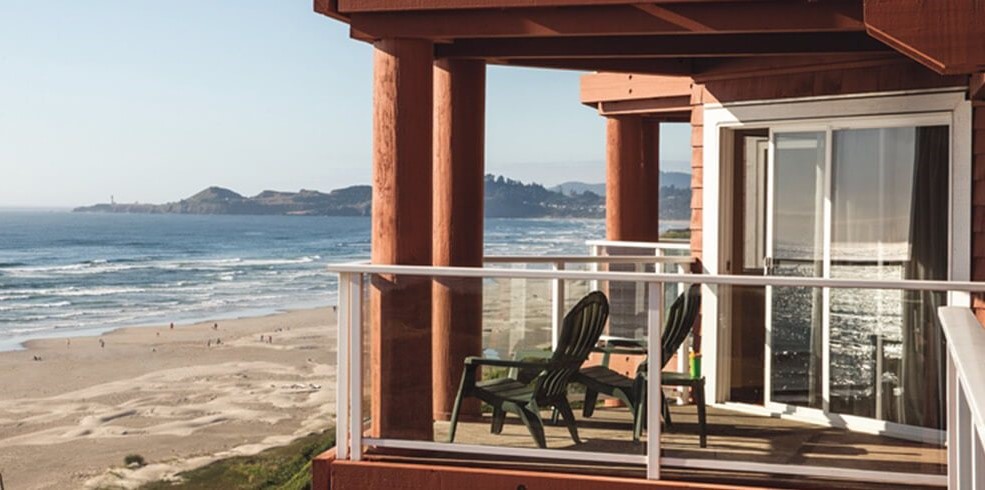 Price per night: $229
Best for: Young couples, long stays
Availability: Limited
The Hallmark Resort is ideal for a romantic getaway in the Pacific Northwest. While staying at the full-service resort, you'll have dramatic ocean views made even better by the sunsets.
Noteworthy features include Georgie's Beachside Grill, a recreation center with a heated pool and spa, and various room styles. The resort is also pet-friendly and has fully-equipped guest rooms.
Price per night: $400 – $830
Best for: Long stays, private rooms
Availability: Limited
This romantic lodging is a leading Cannon Beach hotel that rarely disappoints newlyweds. The comfort and elegance complement the myriad of features on offer.
The Stephanie Inn comes with a full range of spa, specialty, and dining experiences. While you're there, you'll also be able to enjoy the beautiful mountain and ocean views for which Cannon Beach hotel is known.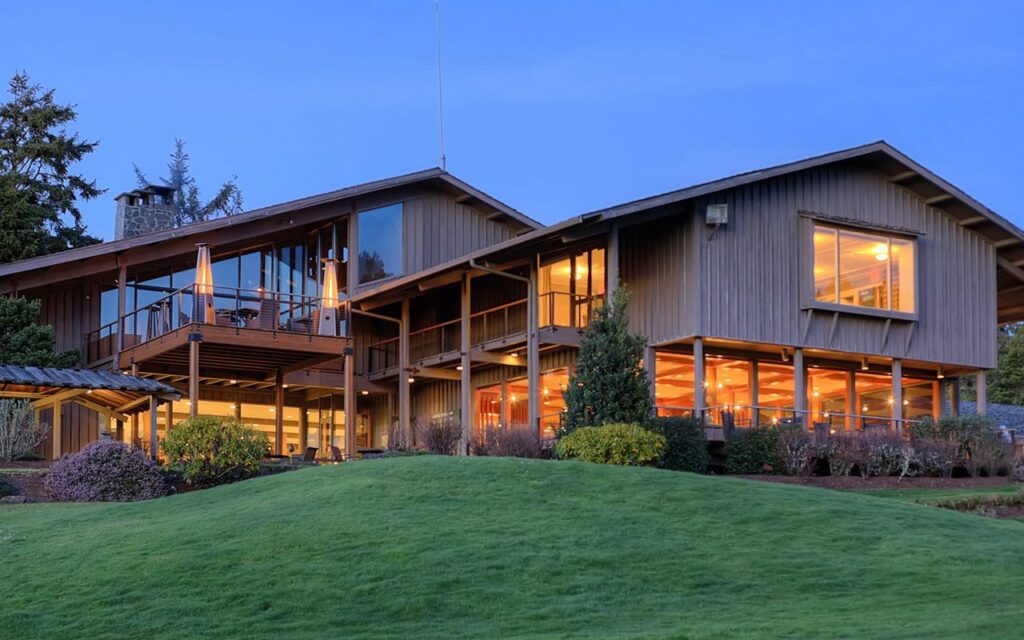 Price per night: $200 – $550
Best for: Young couples
Availability: Easy to book
The Salishan Coastal lodge has it all: an indoor pool, tennis pavilion, sauna, on-site dining options, and luxurious hotel rooms. The lodge is designed to ensure that guests never have or want to leave.
Besides having easy access to the beach, you'll be able to enjoy epic ocean views from the comfort of your room. Rooms come with all the standard comforts and extras, such as a fireplace, blackout curtains, and wake-up service.
The lodge also has a number of outdoor activities, such as an aerial park, golf course, and pump track.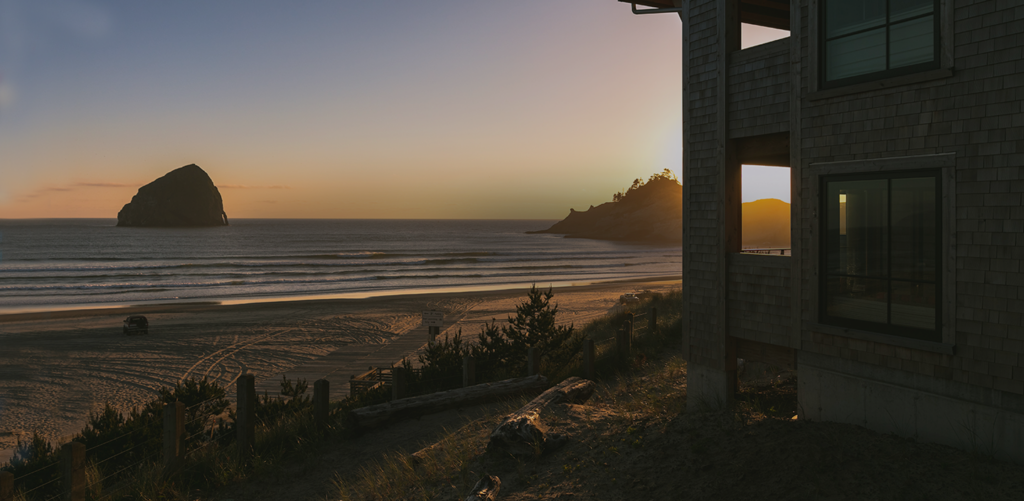 Price per night: $1160 (Min. 2 nights stay)
Best for: Adventurous couples
Availability: Limited
The highly popular Headlands Coastal Lodge & Spa is a peaceful escape on the Oregon coast and one of the main attractions of Pacific City. The hotel has a fitness center, a lounge, ocean views, and a hot bath.
This is the ideal stay for adventurous couples, given the availability of activities such as surfing, kayaking, biking, and clamming.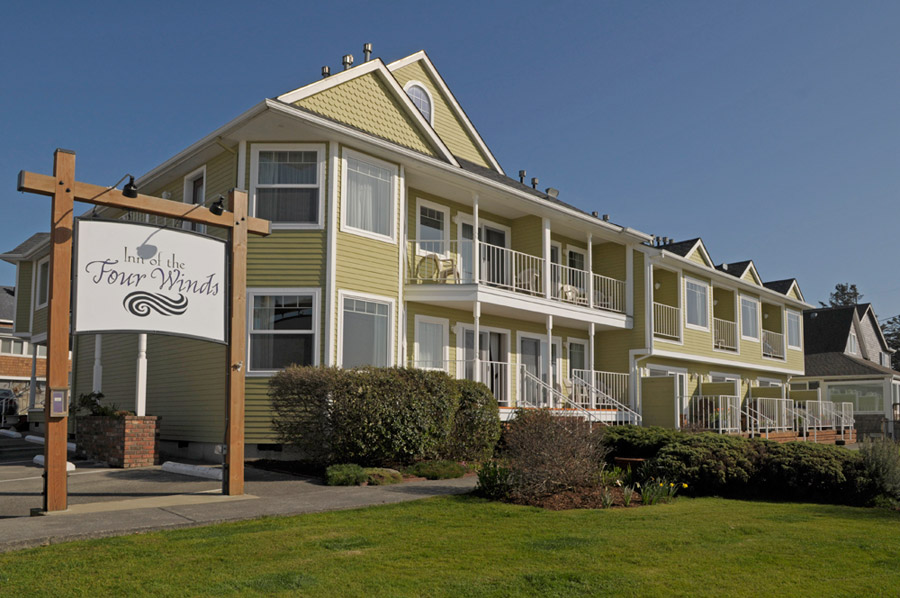 Price per night: $139 – $159
Best for: Beach access, families
Availability: Limited
The Inn of the Four Winds is a staple feature of the pacific northwest. Guests enjoy basking in the many comforts and astonishing river views this hotel offers.
When you're not relaxing in your room, you can take a short walk to the family-friendly beach, where you can walk barefoot on the cool sand and breathe the fresh air.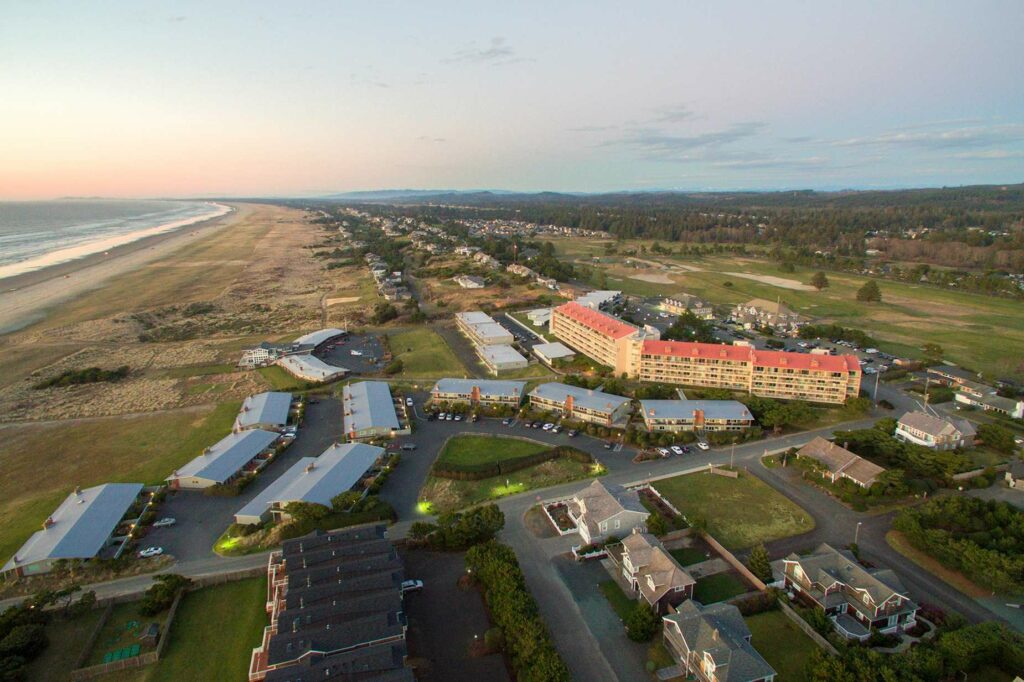 Price per night: $195
Best for: Older couples, families
Availability: Limited
Gearheart is perfect for beach and golf lovers. The resort has two pools, a hot tub, and an exercise room. Their accommodation is also pet-friendly, so you can bring your furry friend along.
With luxury amenities and well-equipped guest rooms aside, the resort is within walking distance of the beach and hosts highly popular seasonal events, which you won't want to miss.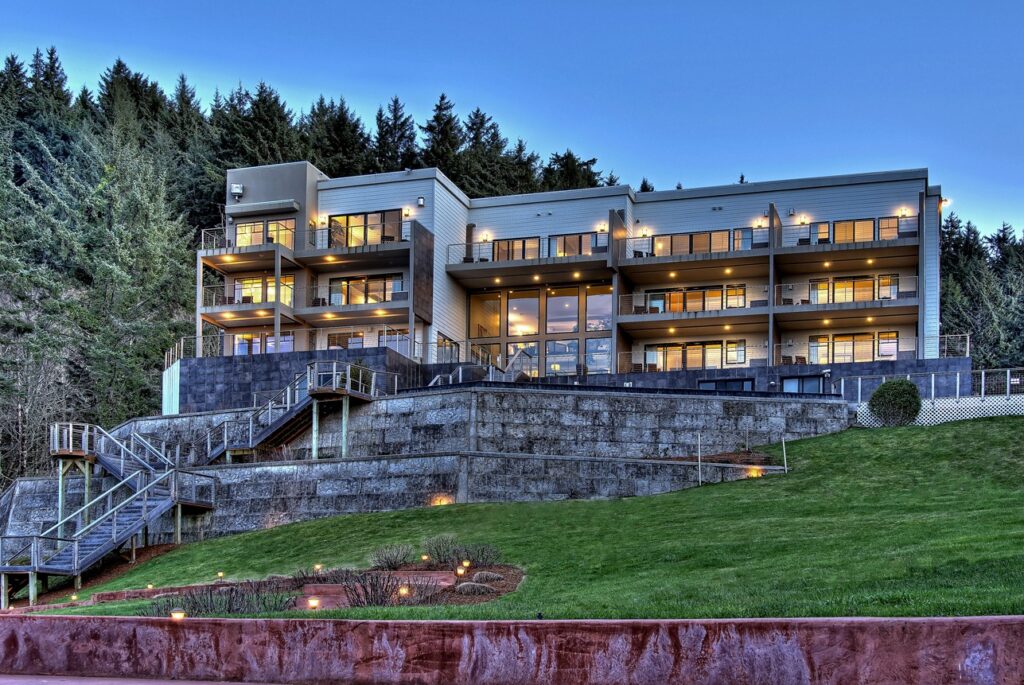 Price per night: $76 – $134
Best for: Older couples, budget options
Availability: Easy to book
This boutique hotel's spacious rooms and surroundings are perfect for a romantic getaway.
This romantic lodging provides its guests with stellar service. Most rooms at the hotel come with a private balcony from which you can enjoy an expansive view of the Oregon coast and are fully equipped to encourage optimum comfort and longer stays.
Some of their luxurious rooms even come with a hot tub, so be sure to book well in advance to secure one.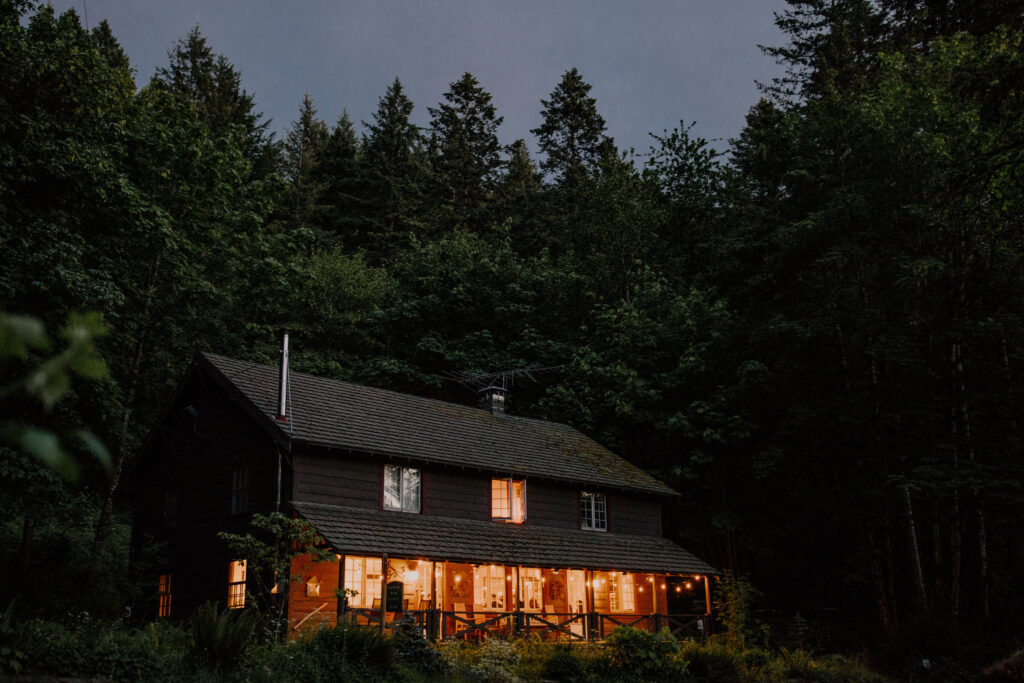 Price per night: $350 – $1020
Best for: Older couples
Availability: Limited
Located 30 minutes outside of Portland is a renewed historic lodge that puts couples in the mood for romance. The private rooms are encapsulated by trees and boast amazing forest views.
Bridal Veil is also just a few minutes away from the icon Multnomah Falls and couples can expect to enjoy a farm-to-table breakfast made from locally sourced ingredients every morning.
What Area Should You Stay In During Your Oregon Honeymoon?
Every corner that you turn in Oregon's cities has the potential to take your breath away simply because of how scenic the state is. This doesn't make choosing a place to stay for your honeymoon any easier, but many choices are always better than very few.
This is why spending some time in different areas can make things easier, but this is largely subject to whether or not your budget will allow such.
The following descriptions will give you a good understanding of what each area offers so that you can choose one or more for your Oregon honeymoon.
Portland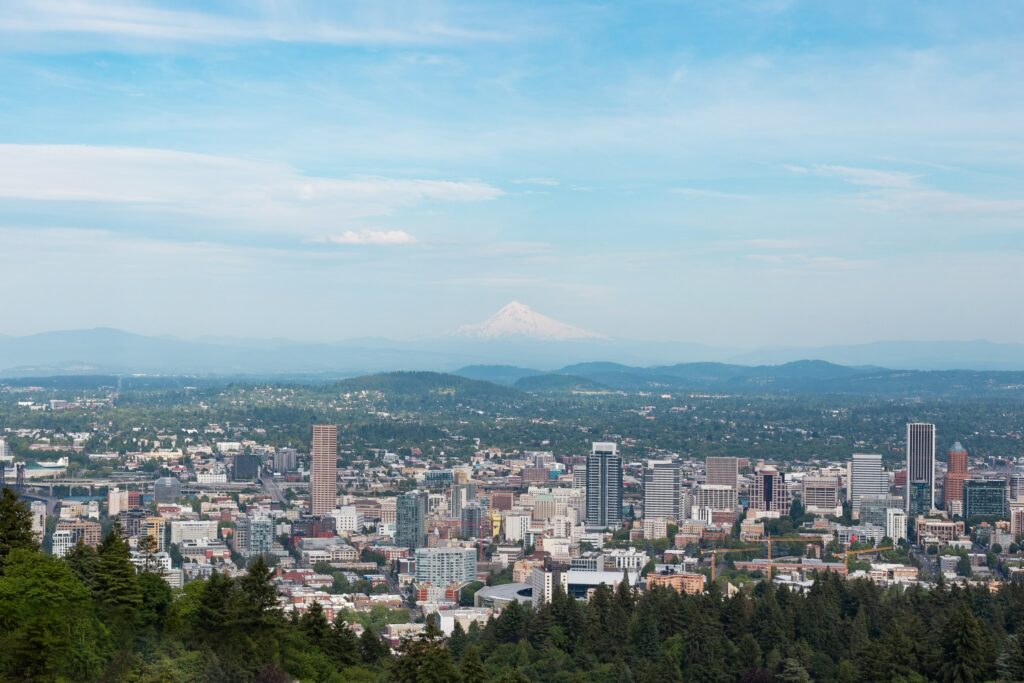 Oregon's largest city is probably the most obvious destination for those visiting. Known for its eccentric vibe and wealth of cultural experiences, you're short of things to do in Portland.
Some of the most noteworthy activities include visiting the International Rose Test Garden, embarking on a tour of Willamette Valley Wine Country, and taking up the challenge of a Columbia River Gorge and Waterfall hike.
Portland also offers some of the best views of the Oregon coast and mountains without you having to compromise on the creature comforts of your typical concrete jungle.
Pacific City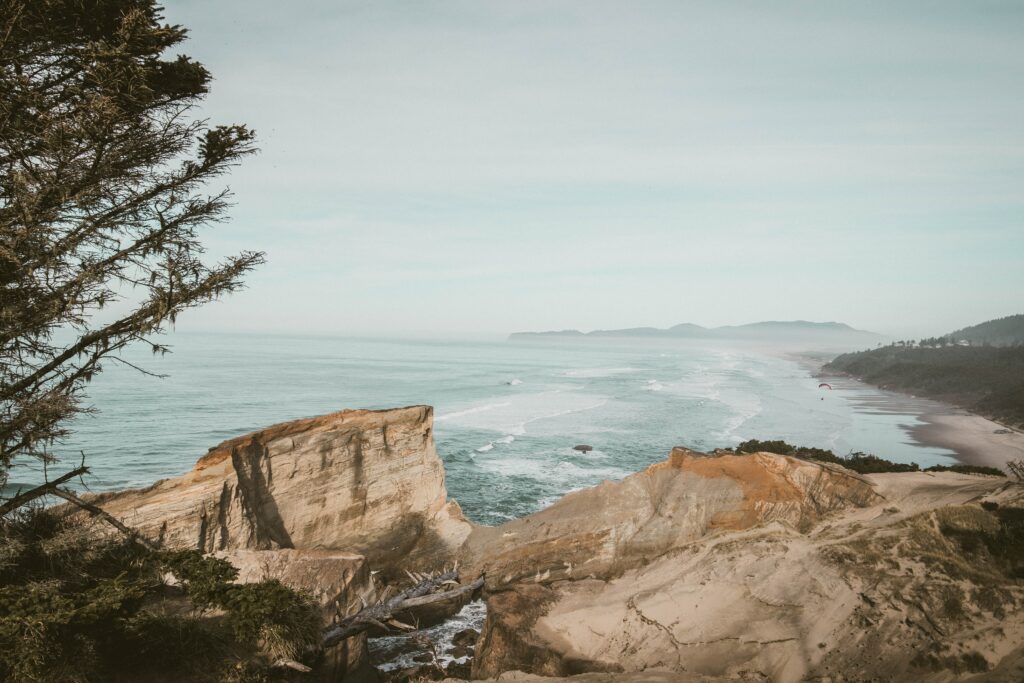 Pacific City is a beach town with an unmistakable charm. The long stretches of beach make it the perfect destination for ocean lovers.
Visitors find the town an excellent spot for fishing, surfing, and looking on from the comfort of a patio or cafe as dorymen launch their boats on the beach.
The stays in Pacific City are best-suited to those who are looking for something slightly more laidback and long-term.
Lincoln City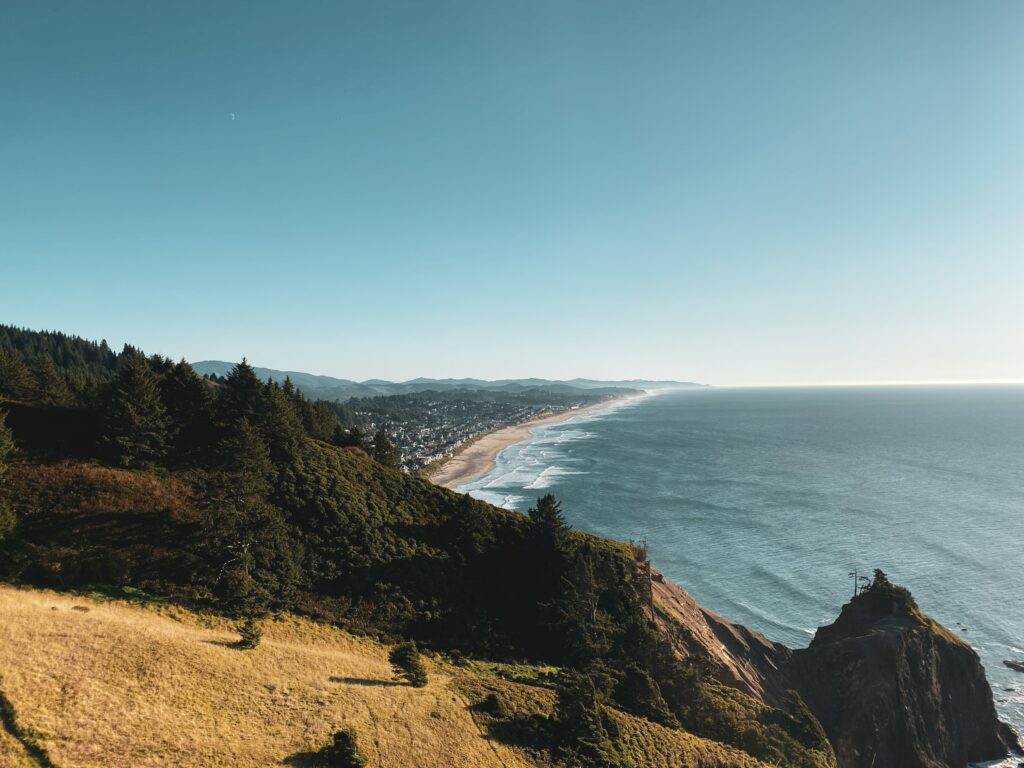 With a strong personality and affinity for anything nautical, this is a city that is practically made for couples who are adventurous at heart. Lincoln City has over seven miles of soft-sand beaches, hidden treasures, and memories just waiting to be made.
When you aren't hiking through the beautiful coastal forest, you can enjoy the splendor of world-class kite festivals that garner thousands or participate in the many water sports on offer, provided the locals don't tell you about the sea monster tales beforehand.
Gleneden Beach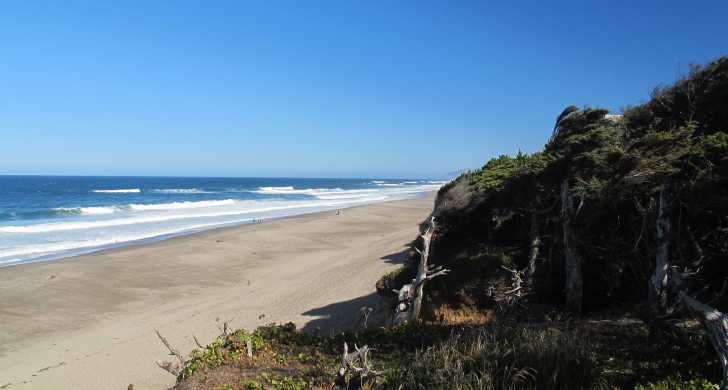 Located on the Oregon coast just five miles outside of Lincoln City, Gleneden Beach is known for having many signature experiences and comfy stays.
Couples can take a trip to the Beachcrest Brewing Company to sample their artisanal ales, play a round of golf at Salishan Golf Links, or stroll around Gleneden Beach State Park.
Gleneden Beach is also home to the highly rated Salisha Coastal Lodge, making it an ideal place for honeymooners wanting to see the Oregon coast up close.
Willamette Valley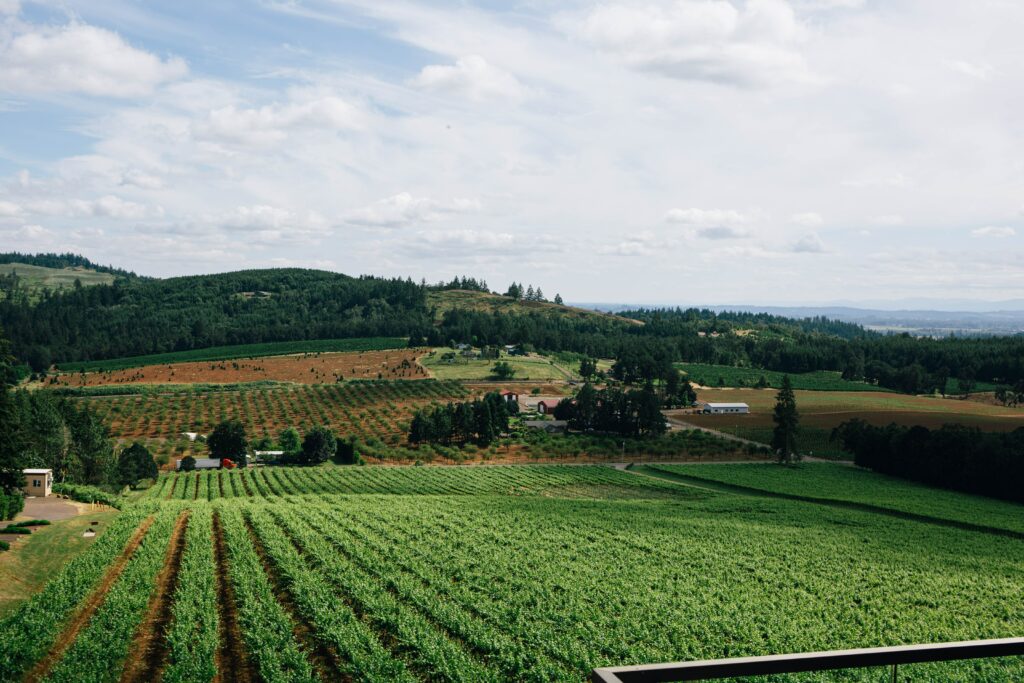 With over 600 wineries and expansive vistas, Willamette Valley is widely known as Oregon's wine country but is home to much more.
When you aren't biking or hiking through the state parks, you can explore the many waterways and trails. If adventure isn't your thing, you can always indulge in the farm-to-fork food scene or discover the local history.
Hood River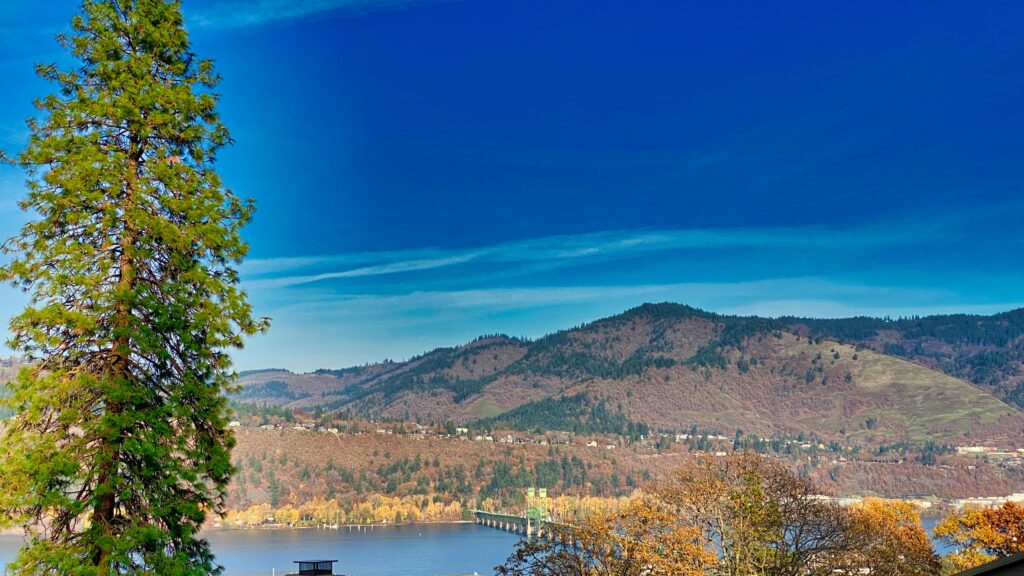 Hood River is located a mere hour's drive from Portland. Locals will swear that their city offers some of the Pacific northwest's best wineries and breweries. In addition to having a crisp glass of sparkling wine or a cold glass of beer, you can enjoy a relaxing day of fishing or exhilarating sports such as rafting, off-road trail riding, and kayaking.
If you time your visit correctly, you may also experience a Hood River event or two, which will provide you with a nice opportunity to mingle with the locals. Do note that most events are beer-related, so they might not be all that romantic.
Top Excursions & Activities For Your Oregon Honeymoon
Oregon's warm sunsets and healing ocean breezes are easy to get lost in, so much to the extent that couples may forget their honeymoon itinerary altogether. Although that may sound incredibly enticing and romantic, it's always good practice to maximize your time in a destination by exploring the activities on offer.
Willamette Valley Wine Country
Visiting Willamette Valley Wine Country is always a good place to kick off or conclude your Oregon honeymoon. Besides being famed for its Pinot noir and golf courses, the vast and varied terrain of the Willamette Valley makes every sip of wine that you take much more memorable.
Astoria Column
The Astoria Column is another must-see for couples visiting Oregon. The tower was built to commemorate Astoria's role in facilitating the success of the Astor family. If you aren't hindered by a fear of heights, this 125-foot monument offers 360-degree panoramic views, which are hard to find anywhere else.
Columbia River Gorge
A romantic getaway to Oregon is not complete without visiting the striking Columbia River Gorge. The river runs for 80 miles and offers some amazing views, more than 90 waterfalls, and breathtaking adventure trails. Along the way to the Columbia River Gorge, you can expect to find plenty of historical landmarks, small towns, and places to rest.
Oregon Shakespeare Festival
Ashland plays host to the Oregon Shakespeare festival. The festival offers a wide range of classic and contemporary plays that are not just limited to Shakespeare. Honeymoon couples tend to forget that shows can make for a good change of pace without having to lose that feeling of romance.
Bay House
The Bay House is an acclaimed fine dining restaurant that should be on the itinerary of anyone visiting Lincoln City. Nothing says romantic getaway than a pairing of award-winning cuisine and sparkling wine.
Crater Lake
Famed for its clear, deep blue water, Crater Lake is the main attraction of Crater Lake National Park. It's the deepest lake in the USA and widely recognized as one of the most pristine in the world. The awe-inspiring natural feature makes the perfect backdrop for a honeymoon selfie, so be sure to add Crater Lake to your list of stops during your honeymoon.
Sample Itinerary & Budget For Your Honeymoon To Oregon
Honeymoons are meant to be blissful and stressless experiences; however, they can turn into the exact opposite, especially if they haven't been planned out properly. Because you probably have a bunch of other things to worry about now, we have created a sample itinerary and budget to save you the hassle of doing so yourself.
The expenses listed below are per person, and do bear in mind that they are subject to change according to availability and the time of year.
| | |
| --- | --- |
| Activity | Weekly cost |
| Accommodation | $76 (budget) to $1100 (high-end) per person per day |
| Flights | from $300 (round trip) per person |
| Food & Drink | $35 to $70 per person per day |
| Transport | $23 to $50 per person per day |
| Visit Astoria Column | free ($5 parking fee) |
| Dinner at The Bay House | $120 |
Here's how you can fit some key activities into your honeymoon schedule:
Day 1
Although it may be tempting to go off exploring upon arrival, it's generally best to spend your first day in town getting used to your honeymoon resort or accommodation. Instead, explore the accommodation and adjoined amenities. You could top off this day with a simple dinner for two, nothing too fancy, though.
Day 2
Take a trip to the Portland city center. The culturally rich city center never fails to leave visitors spoiled for choice. You can visit the scenic International Rose Test Garden, see the works on display at the Portland Art Museum, or check out the famous Voodoo Doughnuts if you've got a sweet tooth.
Day 3
A day trip from Portland to Hood River is next on the agenda. Like most of Oregon, Hood River has a lot to offer, so to make your life easier, start this day with a hike at the picture-perfect Multnomah Falls. After this, you can take a relaxing drive along the Columbia River Highway scenic byway.
Day 4
Day four will keep you in Hood River. To follow up on yesterday's viewing of the Columbia River, go back to enjoy the exhilaration of either kiteboarding or windsurfing. This will provide a much-needed change of pace and probably some laughable memories. You can finish this day by driving through the Fruit Loop, a lovely stretch of orchids, forests, and small towns.
Day 5
Explore the offerings of Lincoln City. You can visit the glass center to witness the mesmerizing process behind creating glass art or take a glass art class. After the glass center, you can go shopping in the city center. Conclude this day with a romantic dinner for two at the acclaimed Bay House restaurant.
Day 6
Take a trip to Willamette Valley wine country, where you'll be spoiled for choice in terms of wineries. Go for a romantic wine tasting, after which you can relax at The Allison Inn & Spa. You can finish the day by eating your way through the valley. With all the fine dining restaurants on offer, even the fussiest eaters will find something to their taste.
Day 7
On the final day of your honeymoon, it's best to be back at your accommodation in Portland. You might not want to do too much, so you aren't tired for your trip back, so you can start the day with a romantic breakfast, after which you can take a leisurely stroll on the beach – taking in the beauty of the Oregon coast one last time.
FAQs
Is Oregon expensive?
In 2021, Oregon was ranked as the fifth most expensive state to live in, having a cost of living that is 31% higher than the national average. This obviously won't affect those simply visiting as it would a resident, but you'll still have to budget quite wisely if you visit.
If you're unsure how to budget for your Oregon honeymoon, check out our sample itinerary, which can give you a good idea of how to do so.
How much does an Oregon honeymoon cost?
On average, an Oregon honeymoon will set you back around $5000. Don't be discouraged if this number is not what you expected, as you can probably still enjoy a honeymoon in Oregon while paying significantly less.
This estimation is based on a couple staying at a honeymoon resort, eating at a restaurant with average prices, and spending an average amount of money on activities.
Nightly rates from honeymoon resorts in Oregon typically start at around $150, so you can use that number as a foundation for your budgeting.
When is the best time to visit Oregon?
The Pacific Northwest is often seen in a negative light where the weather is concerned, but Oregon's climate varies greatly according to the season and location. Tourists primarily visit in the summer due to the warm weather, but if that isn't a concern of yours, then fall might be the ideal option.
Besides fall being ideal for avoiding hordes of tourists, it also provides good weather and crisp air in which you can hike and explore the mountains.
Winter may not be the best time to visit as Oregon can get quite cold during that season, and dense snowfall is likely. So, if you're planning a trip there, September might be the best time to visit, as the combination of warm weather, minimal rain, and thinner clouds will give you a much wider range of options.
What is the most romantic beach in Oregon?
An Oregon honeymoon is not complete without a stroll on Cannon Beach. Cannon Beach is often seen as the most romantic due to having largely unrivaled views of the Pacific Ocean and being home to the iconic natural landmark, Haystack Rock.
Additionally, USA Today named Cannon Beach one of America's ten most romantic coastal destinations. So, if you're considering taking a long romantic stroll during your honeymoon, Cannon Beach is probably your best bet.
Start Planning Your Romantic Honeymoon To Oregon Today
The sheer beauty of Oregon's ocean views, enchanting forests, and snow-capped mountains are enough to make time stand still. Before looking at more typical honeymoon destinations, couples should always consider Oregon a viable option for a romantic getaway.
The number of stay options available can leave you feeling overwhelmed, so if that is the case, consider choosing according to the romance packages.
Ultimately, we know that some destinations might not work for some people, so be sure to check out our other guides on the best honeymoon destinations worldwide.