Are you looking to get away for an anniversary, a break from the duties of family life, or just to reconnect with your partner? The Buckeye state has plenty of options for couples who are seeking romantic getaways in Ohio.
For those that live in Ohio or come from near and far to book some well-deserved romantic time off, we have compiled this list of the best romantic getaways in Ohio. We will walk you through all the best places to visit when in the Buckeye state and provide you with the most romantic hotels to stay in!
We all know that the last thing a couples getaway needs is more planning-induced stress. So we took the liberty to set up a sample itinerary as well as a budget for a romantic weekend getaway. So get ready, grab your loved ones and pack your bags for your romantic escape to Ohio!
What Makes Ohio Perfect For A Romantic Getaway?
Ohio is filled with romantic nooks to spend some quality time with your partner. Whether you are here for a weekend getaway or a longer stay, there will be plenty of activities for you to enjoy.
Thanks to the beautiful nature and more than just one national park, you can be sure to spend lots of time in the great outdoors stargazing, exploring hiking trails, or simply cuddling up in a romantic yurt in front of a bustling fire.
On top of that, there is plenty of beautiful lakes and ample restaurants for fine dining. Castles and historical buildings will also add to the romantic flair of the Buckeye state.
Ohio basically has something on offer for every type of couple, and there is no reason why you shouldn't consider it for your next romantic getaway!
Most Romantic Getaways in Ohio
Because Ohio has so much to offer, it can be daunting to figure out where to go best. Lucky for you, we have put together the most romantic getaways in Ohio and added the best hotels to stay in for each area as well.
Hocking Hills State Park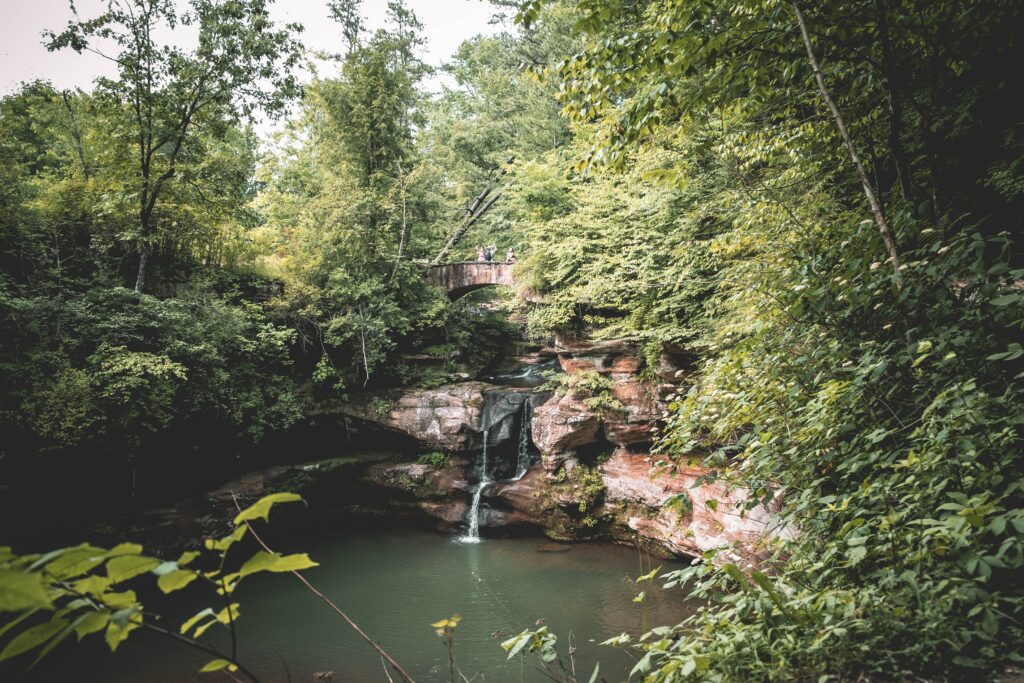 This stunning and nature-filled state park offers plenty of activities for an outdoorsy couple. Amongst those are some of the best hiking trails in Ohio. We recommend checking out Conkle's Hollow, Old Man's Cave as well as Ash Cave if you are into hiking.
On top of that, you will find a lot of lovely restaurants and super cute antique shops to take some souvenirs of your romantic getaway with back home.
Thanks to being surrounded by nature, Hocking Hills State Park offers a lot of cute and cozy cabins to stay in that will make you feel like the only two people on the planet. What more could you want for romantic getaways?
Best Accommodations in Hocking hills state park: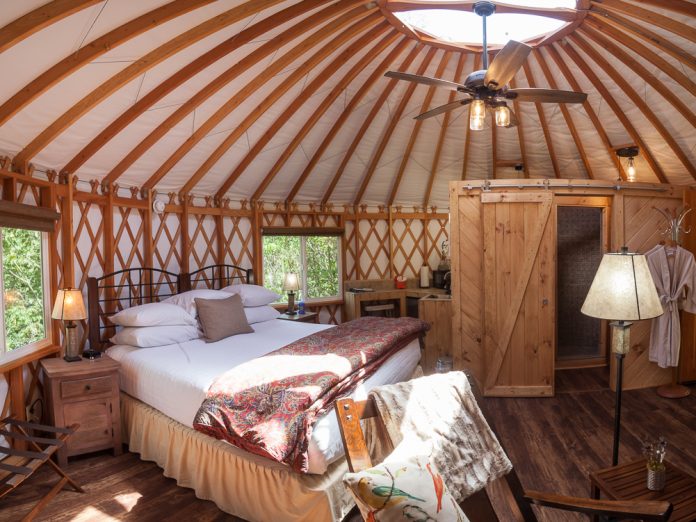 Price per Night: from $356
The Inn & Spa is set in the beautiful forests of the Hocking Hills near Cedar Falls. This serene getaway offers beautiful cabins and yurts for the perfect glamping experience. The cottages at Cedar Falls come with your very own in-room hot tub and private deck, a full bathroom as well as a kitchenette, and stunning views into nature.
You can book yourself some in-room spa services (especially their couple's massages are highly rated by visitors). Alternatively, you can hike through the forests of the Hocking Hills state park or visit the Kindred Spirits restaurant for some good food and a drink in front of a fireplace.
Naturally, paying Cedar Falls a visit should be on your to-do list while staying at the Inn as well.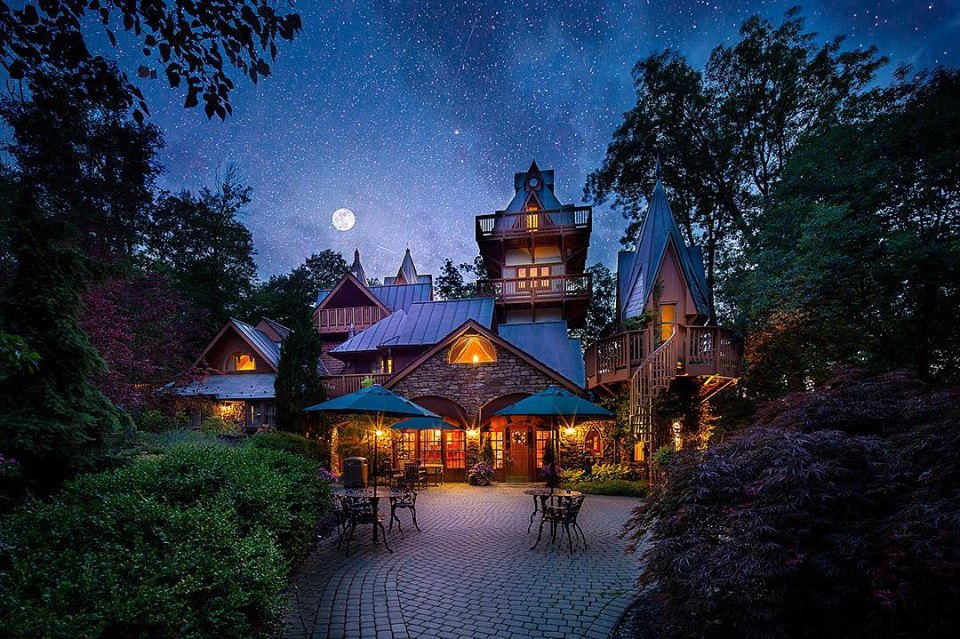 Price per Night: from $230
The majestic Castle-themed hotel in Loudonville provides a unique experience for couples that are looking for something a little bit different from your normal accommodation. The beautifully restored castle rooms come as Castle, Stable or Highland suits, and there is a possibility to rent out cabins as well.
Each of the rooms comes with a jetted hot tub as well as a cozy fireplace.
Guests have the possibility to book a romance package that will include wine or champagne, chocolates, and roses, as well as a lover's card game.
If you want some extra thrill, you can go on a guided ghost hunt through the Heyd Cemetery.
Columbus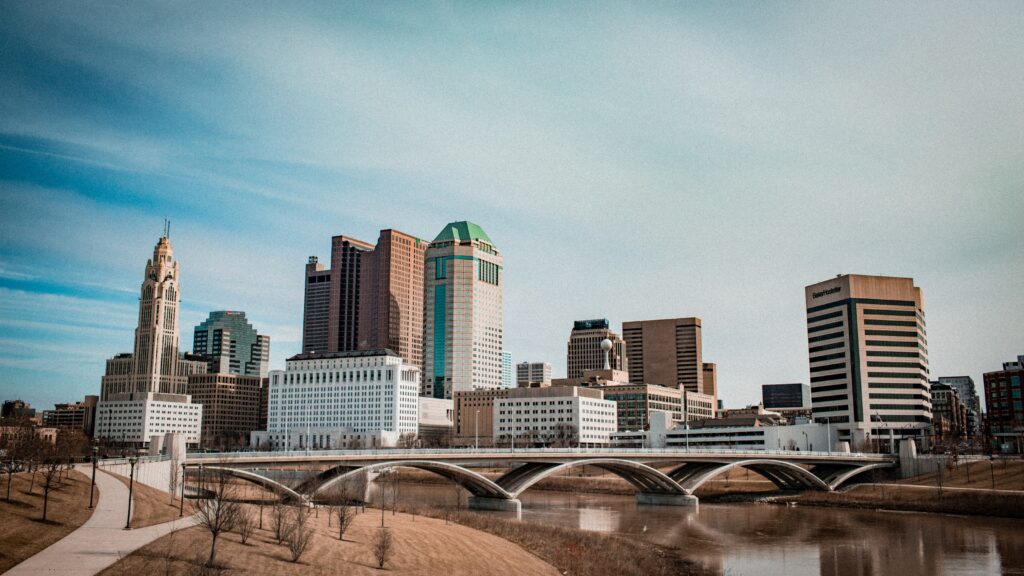 If you are a metropolitan couple, then Columbus is a must-visit for your romantic getaway!
The capital of Ohio offers lots of fun activities and restaurants. Plus, the German-inspired village is a must-see. Book your and your s/o a walking tour through the quaint neighborhood, visit Schiller Park and refresh yourself with some good German beer while munching on a Schnitzel! Sounds like lots of fun, right?
If you want to snap some cute couple pics among the flowers, why not visit the Franklin Park Conservatory and Botanical garden in Columbus?
If you get a little sleepy and don't want to miss a single second with your loved one, go on the Columbus Coffee trail before buying fresh local produce at the North Market.
Similar to its plenty of attractions, Columbus has lots of wonderful accommodations on offer that are perfect for romantic getaways in Ohio.
Best Accommodations in Ohio: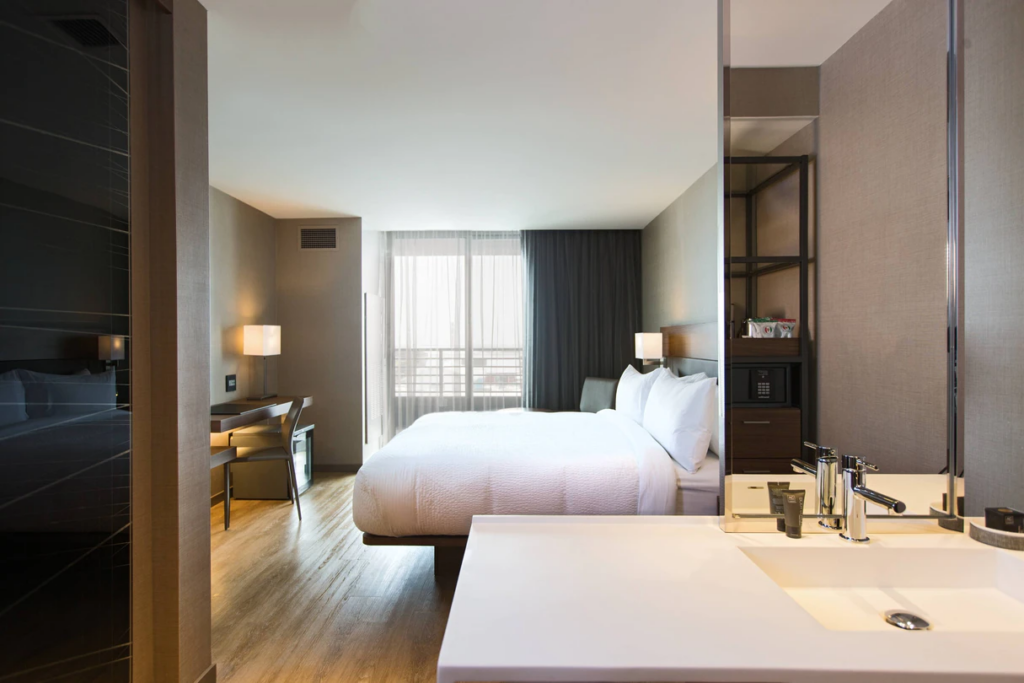 Price per night: from $280
This newly opened Marriott in Columbus provides sophisticated rooms and stylish amenities to its guests. Take your loved ones for a romantic dinner on the rooftop after a sunset city walk.
Thanks to the vicinity of all the fun things to do in Downtown Columbus, this hotel is perfect for a little romantic city trip!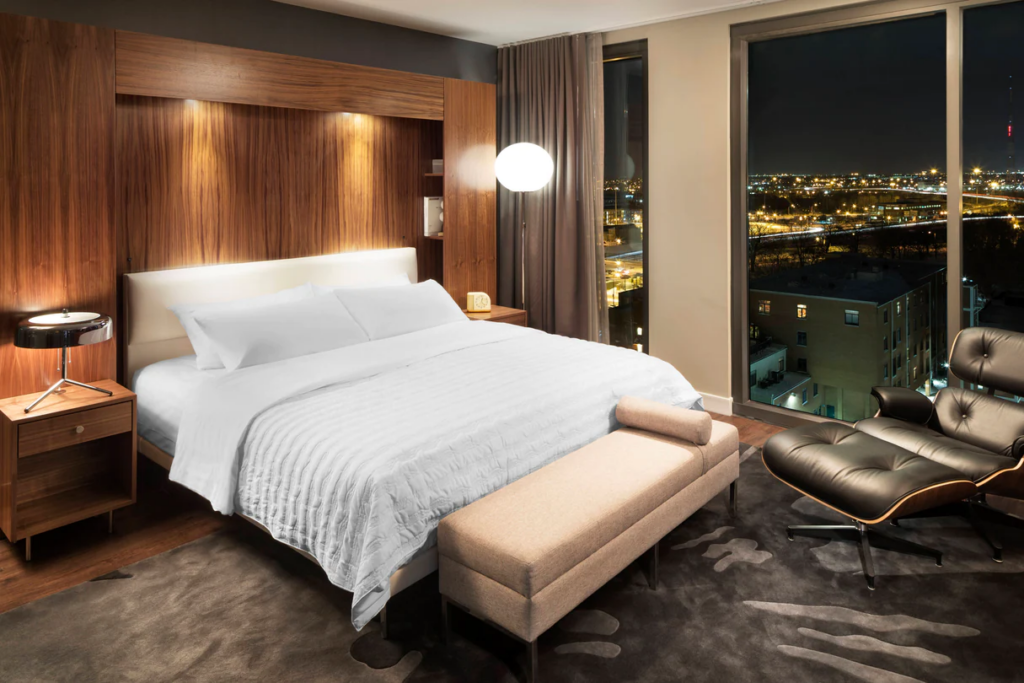 Price per Night: from $279
For some stunning views of the city, book a room at Le Meridien! Each will come beautifully furnished in neutral tones and is equipped with all the amenities you need for a city stay:
coffee machines
refreshment centers
luxury linen
Wifi
Fitness Center
Spa treatments for a surcharge
On top of that, there is an onsite eatery to fuel up before hitting the town with your special someone!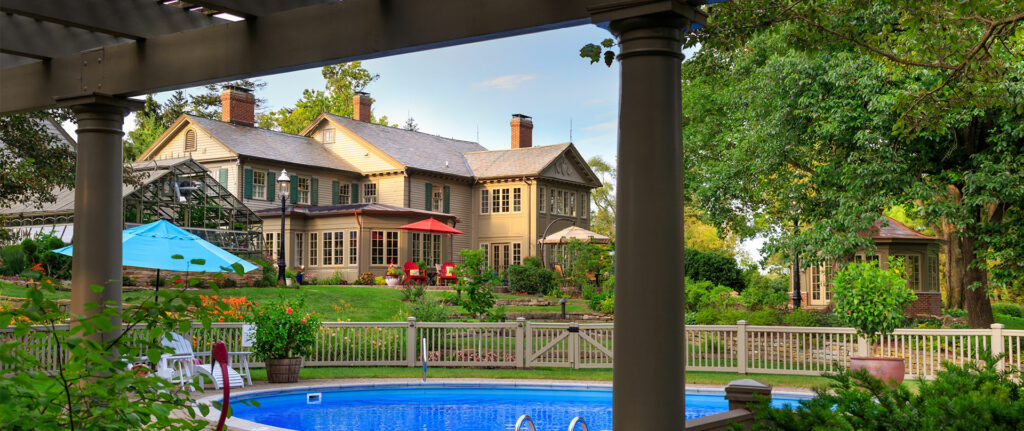 For those that wish to stay a little bit away from the hustle and bustle of Ohio's capital, the Timbrook House is perfectly located. About 10 miles north of Columbus, you will find this beautiful 4-acre property boasting tropical trees and stunning orchids! Be careful; your loved one might also just get chatted up by one of their five flirty parrots.
This stunning accommodation offers guests an outdoor pool, a hot tub, and a cozy commons and reading room with a fireplace and some games.
If you wish to make your stay extra romantic, make sure to book the East Wing Suite. It comes with its own fireplace, your private patio, and several other stunning amenities. You can also book several add-ons from their romantic packages, such as picnic baskets, chocolates, and roses or a homemade cake to surprise your partner.
Cleveland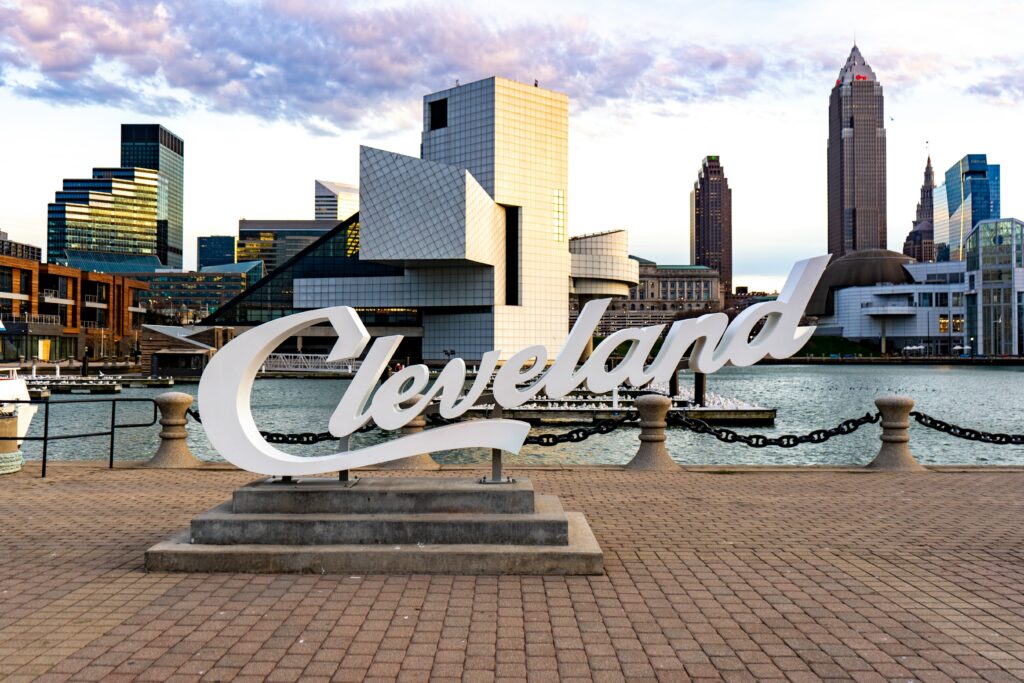 The largest city in Ohio doesn't necessarily scream romantic getaways right away, but you might be surprised by what you can get up to in and around Cleveland.
For starters, watching the sunset over Lake Erie is an experience no couple should miss. Oh, there are beautiful beaches around Lake Erie as well! The exciting West Side Market provides you with lots of local produce and the opportunity to shop for souvenirs. And the Rockefeller Park Greenhouse offers lots of great photo opportunities for you and your loved one.
If you are into a more cultured romantic getaway, then visiting some of the plenty museums in the city will be right up your alley. And you can sip on some sophisticated cocktails while reminiscing about what makes you both love each other in one of the many trendy neighborhoods of the city.
Best Accommodations in Cleveland: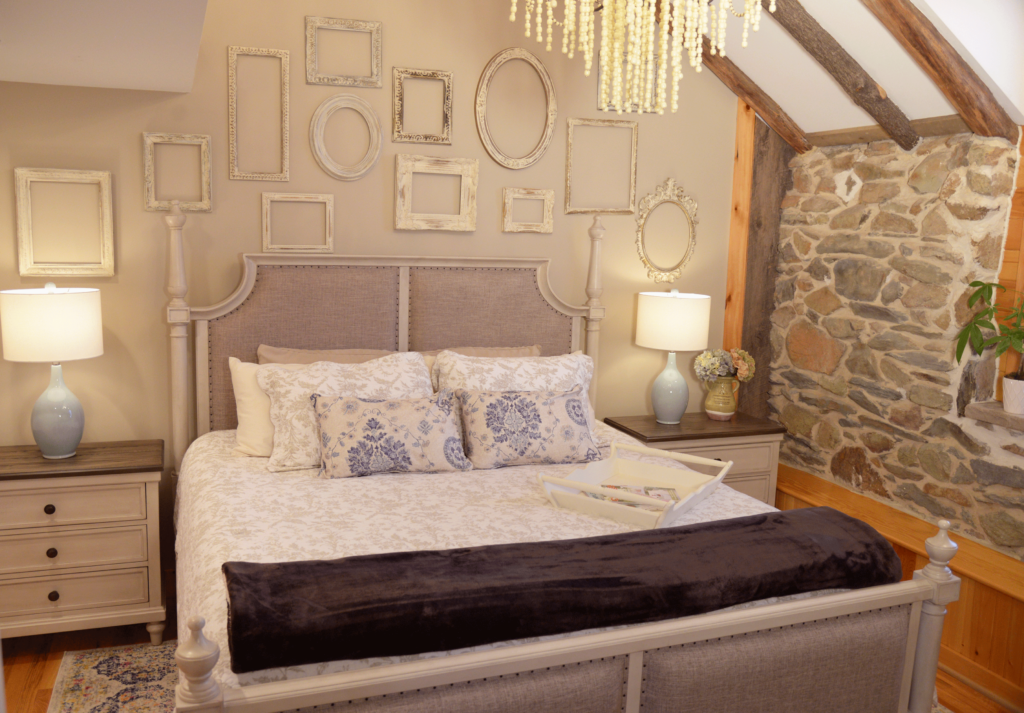 Price per Night: from $150
You will be provided with an elegant and romantic stay at the Stone & Gables Bed and Breakfast in Cleveland.
The restored historic mansion offers romantic rooms in a trendy city setting. Each room offers private hot tubs and a complimentary continental breakfast. Plus, you are just a stone's throw away from all the bustling markets and cafés of the city.
Cincinnati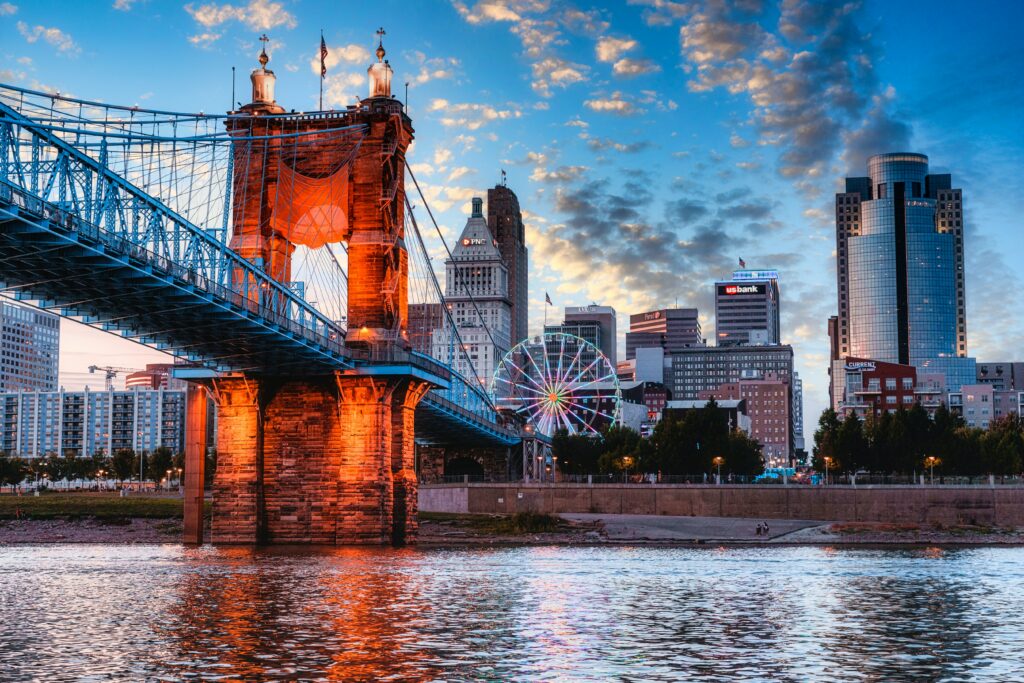 If you are seeking stunning architecture and a culinary experience for your romantic getaways in Ohio, then Cincinnati is an excellent choice.
Set on the Ohio river, this city offers a lot of cultures, arts, and activities for everyone. Explore Findlay Market or the Overrhine neighborhood that offers a lot of local artisan sellers. Alternatively, you can visit the Botanical Garden, Eden Park, or one of the many amazing museums in the city.
Culinary-wise, the city has lots to offer. You can visit one of the many local breweries for some craft beer tasting or learn how to make customized candles at the Manitou Candle Co.
A romantic dinner for two is definitely on the cards in Cincinnati, thanks to plenty of options such as the Italian eatery Sotto or the stunning steakhouse The Precinct.
Best Accommodations in Cincinnati: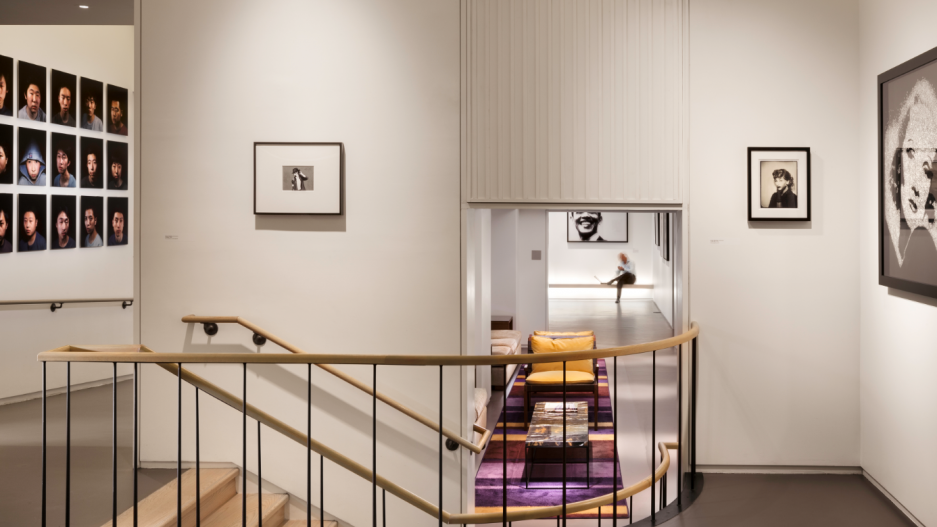 Price per Night: from $205
The 21c Museum Hotel is for arts and culture fans who don't even want to leave their hotel grounds to have a good time. The museum within the hotel offers a wide variety of contemporary artists to enjoy.
On top of that, the rooms are decorated stylishly and come with features such as your very own Nespresso Coffee makers and luxury toiletries. You can enjoy a sweaty session in the onsite fitness center or book a couple's massage at their spa.
On top of that, their onsite restaurant offers fresh and local produce and extremely friendly staff.
Geneva-On-The-Lake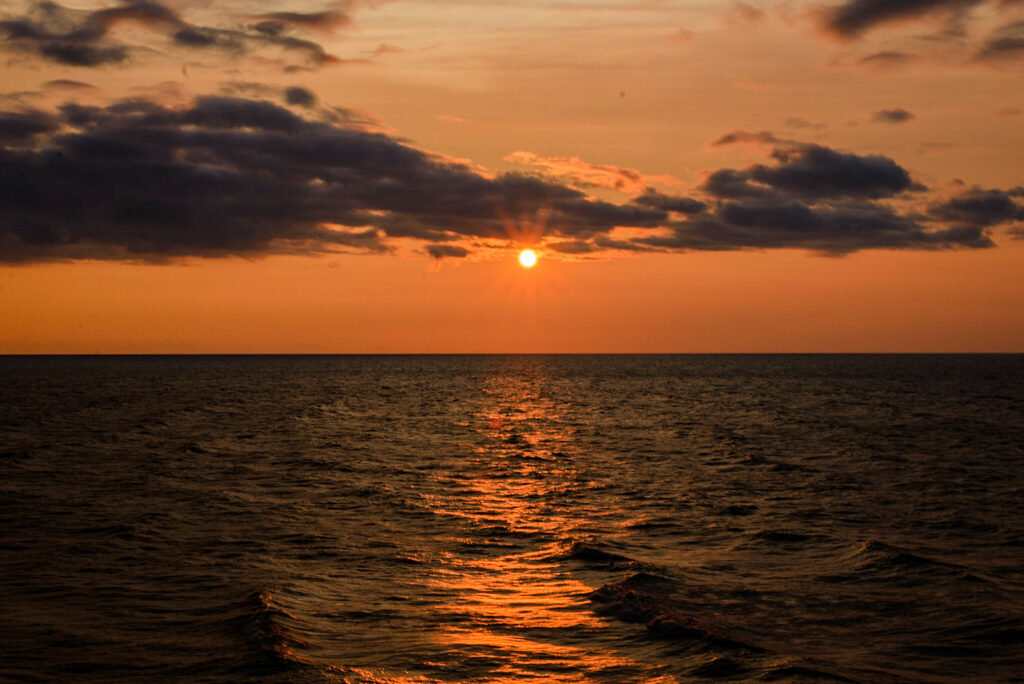 On the banks of Lake Erie, you will find this stunning little town.
About 50 miles away from Cleveland, this beautiful town on Lake Erie is a popular destination for people from Ohio and all across the US during the summer months. This is not least because of its ample outdoor activities.
On top of that, the area is host to plenty of events during the year. You can enjoy live music, beer festivals, and lots of markets in Geneva-On-The-Lake. Or just enjoy one of the many winery tours in the nearby wineries around Lake Erie.
Best Accommodations in Geneva-On-The-Lake: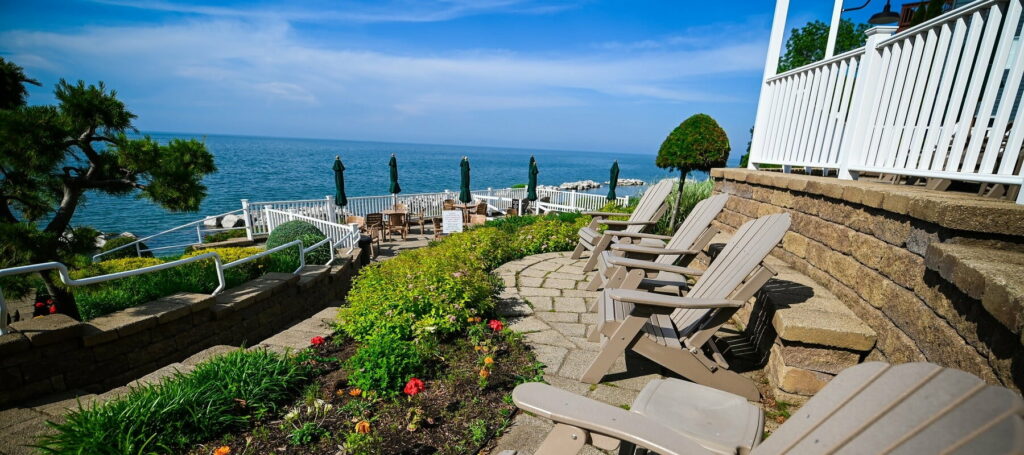 Price per Night: $129
Date Night Package: $150
Check into Lakehouse in if you are looking for one of the best romantic getaways in Ohio. As if holidays by the lake don't already sound romantic enough, their infamous spa will make sure your partner will feel like you just booked into cloud nine itself.
The tranquil Lakehouse Inn offers the perfect venue to reconnect with your loved one over a glass of wine while enjoying a farm-to-table romantic dinner. Oh, and did we mention it is all-inclusive?
If you have exerted yourselves enough during one of the ample outdoor activities, book a spa package for couples and wind down and relax. Of course, you can book extras such as a Champagne bubble bath or a picnic for two as well. This place offers you everything your heart might desire.
Best accommodation in other parts of Ohio
Some other stunning romantic getaways in Ohio are just worth a visit by themselves. Therefore we needed to list these gems, too:

Price per Night: from $87
The Lafayette Hotel is a historic building in downtown Marietta. This beautifully restored manor house offers beautiful rooms that come in an antique-style riverboat decor. Everything here has a bit of a Nautical design, thanks to being so closely located to the Ohio River.
There is a typical American-style restaurant for all meals during the day, and you are just a short walk away from the beautiful Riverfront Park.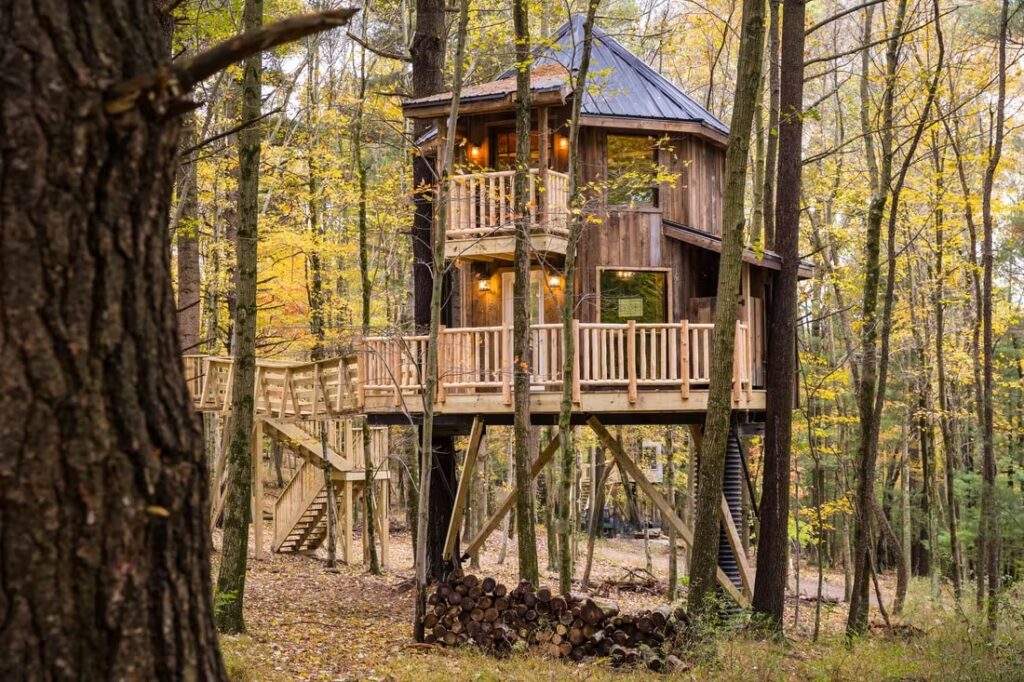 Price Per Night: from $299
If you are looking for the best romantic cabin getaways, then look no further. This stunning cabin and treehouse accommodation in the middle of the wilderness offers you the most secluded and romantic stay in Ohio.
Apart from their full indoor bathrooms, the treehouses also feature an outdoor shower!
Enjoy a romantic stroll through the forest or go on an exhilarating canopy zip-line tour with your partner from here.
Top Excursions & Activities To Do On A Ohio Romantic Getaway
Now that you are spoiled by choice when it comes to places to stay, here is some more inspiration on what to get up to during your romantic stay in Ohio.
Cuyahoga Valley National Park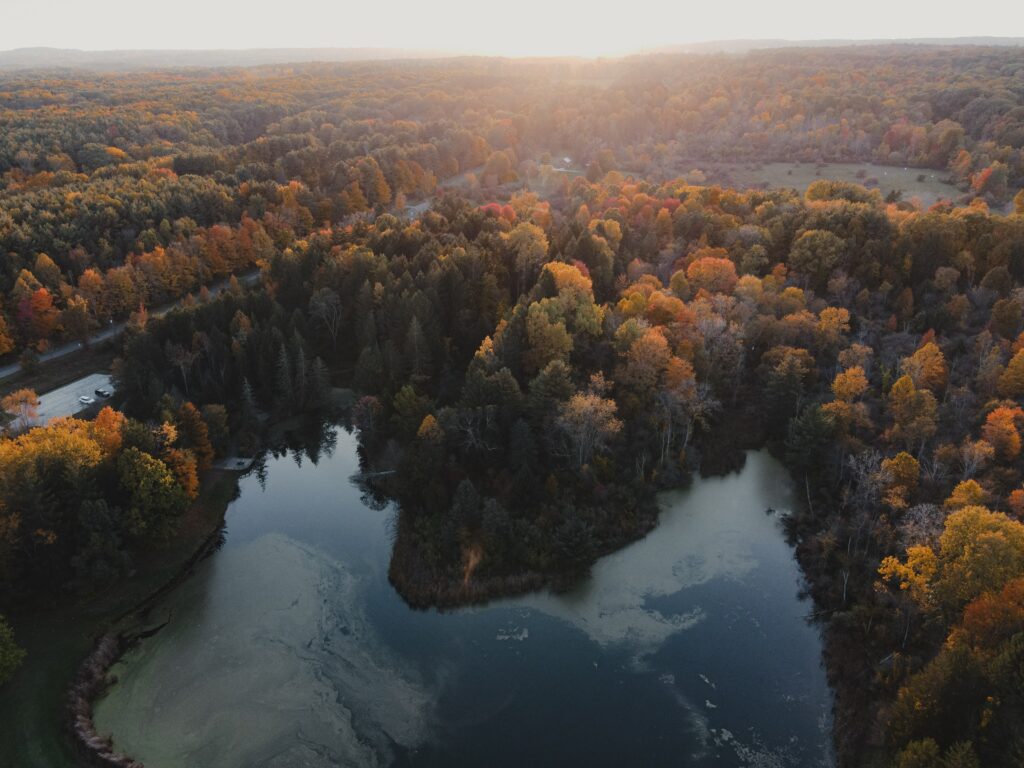 The Cuyahoga Valley National Park is one of the most romantic getaways in Ohio and is perfect for a trip to immerse yourself in nature as a couple. Here's what to get up to in Cuyahoga Valley National Park:
Hiking
Biking
Hop onto the Cuyahoga Valley Scenic Railroad
Visit Brandywine Falls
Geneva-on-the-Lake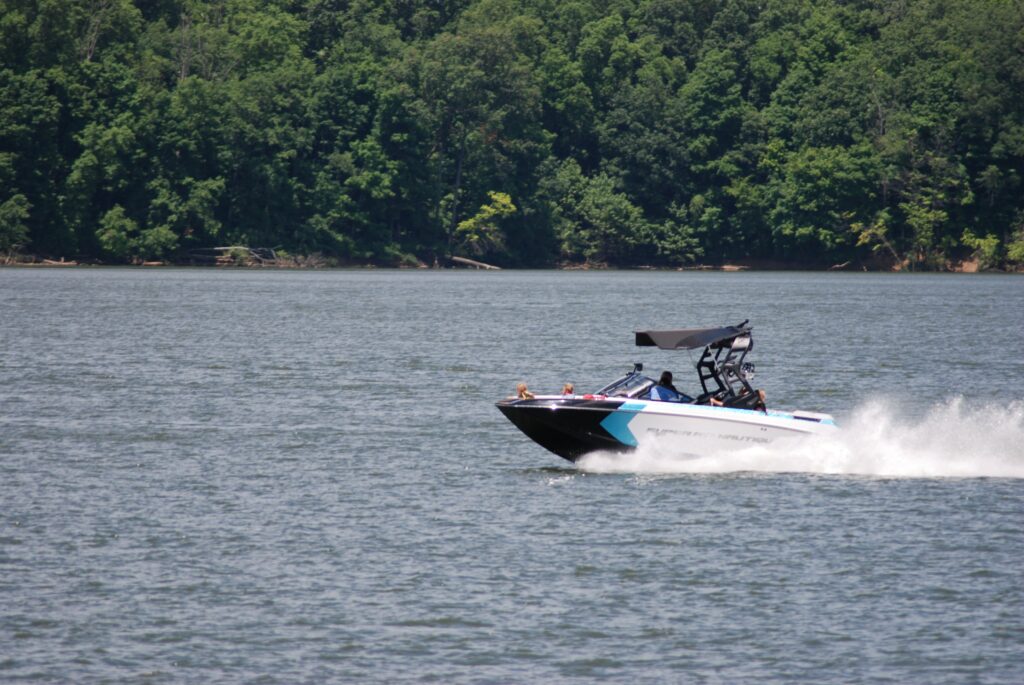 Apart from the many festivals to visit throughout the year, Geneva-on-the-Lake is famous for its plenty of outdoor and watersport activities, for instance:
Kayaking
Boating
Paddleboarding
Relaxing on the beach
Swimming
Zip Line Canopy Tour
Go-Karting
Bumper Boat Rides
Ohio's Amish Country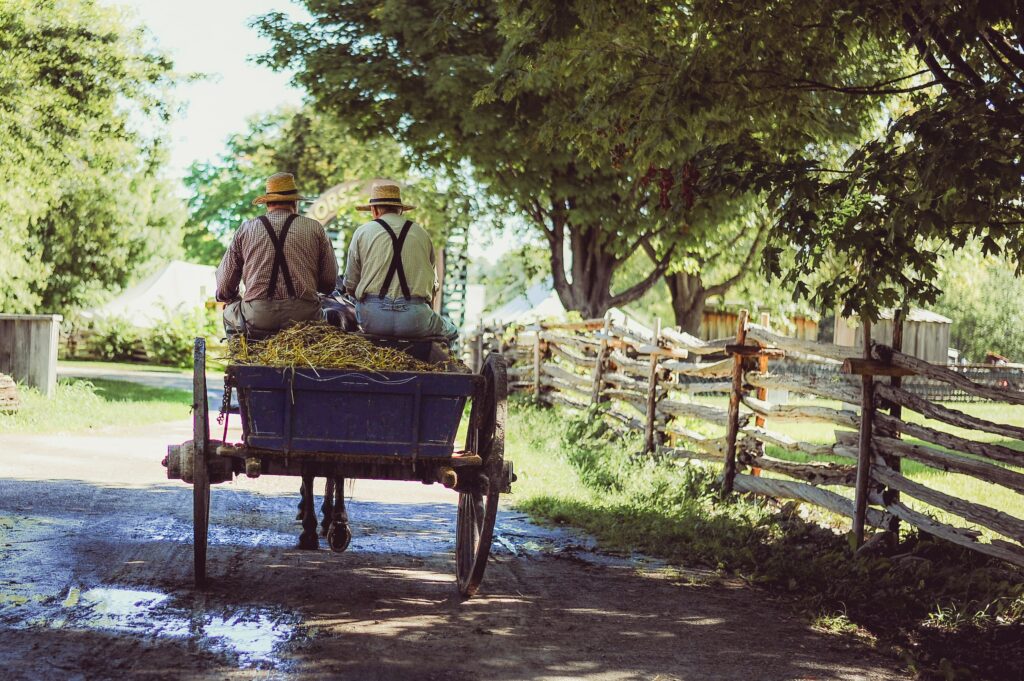 The Buckeye state has quite a large percentage of Amish people, most of which are living in the area of Holmes County.
In Ohio's Amish county, you can get a taste of the different and much more simple way of living the Amish prefer to lead. This can make for a perfect time to reconnect with your loved one and unplug from the rest of the world. Why not take one of the traditional Amish cooking classes and try their world-famous farm-to-table cuisine out yourself?
After this, you can take a romantic bike ride through the Amish country, shop at their stores and make sure to purchase one of the infamous Amish quilts!
A trip to Ohio's Amish country will make for a one-of-a-kind romantic getaway in Ohio.
Kelleys Island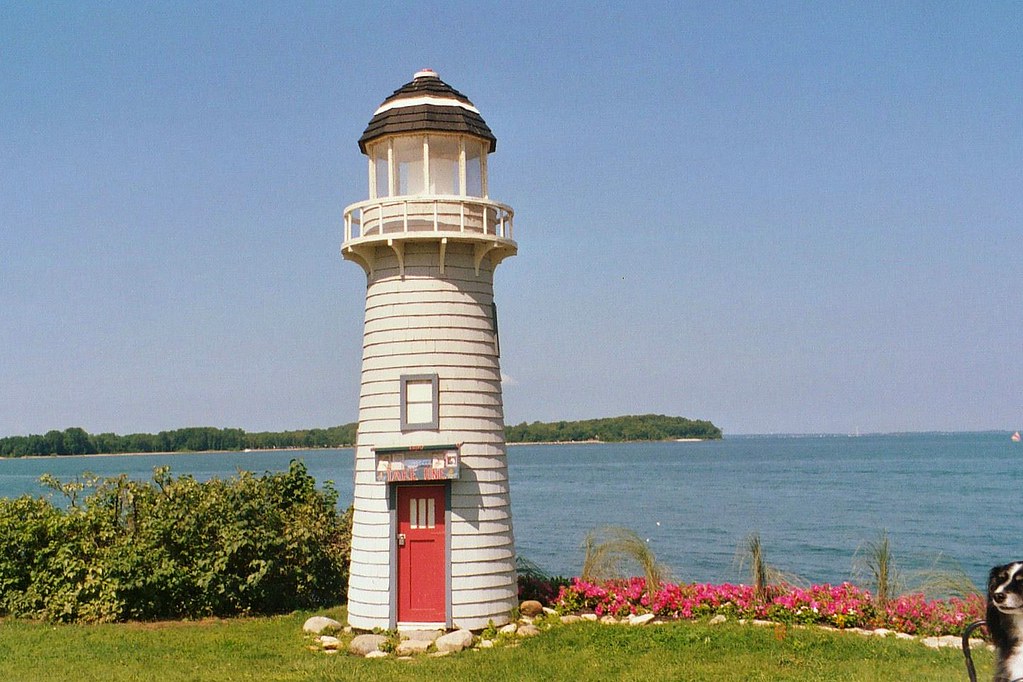 A visit to Kelleys Island is a wonderful idea for your romantic getaways in Ohio. The island is car-free, so you will be getting there on a fun ferry ride with your loved one, where you can pretend to be Jack and Rose at the front of the ship!
The tiny island has only 150 permanent residents, so there's lots of space for privacy and a romantic stroll along the beach by Kelleys Island State Park.
Sample Itinerary & Budget For Your Romantic Getaway In Ohio
Because of the sheer size of the state, here are two options for your romantic weekend getaway in Ohio:
Arrive in Columbus:
New York to Columbus: about $170 per person
LA to Columbus: about $270 per person
Orlando to Columbus: about $250 per person
Day 1: Check into your Hotel of choice for the weekend and enjoy a drink at the rooftop bar of AC Hotel before your romantic dinner for two. This will cost you about $70.
Day 2: Either decide to explore the city and the German Village and learn something about the world-famous poet Friedrich Schiller. Alternatively, take a drive to Hocking Hills State park and go for one of the many hiking trails through the breathtaking nature. You might spend about $40 for the day when staying in Columbus, for food, etc., but the hike in Hocking Hill comes for free. You can decide to return to your hotel in Columbus or stay in one of the beautiful cabins in the park itself for some extra romance in front of the fireplace. This will ultimately influence your prices a bit.
Day 3: No matter where you staid, a romantic package for the weekend wouldn't be complete without a champagne breakfast before you leave. Make sure to book this option with your accommodation and surprise your loved one. Expect to pay about $70 for this.
Arrive in Cleveland:
New York to Cleveland: about $200 per person
LA to Cleveland: about $290 per person
Orlando to Cleveland: about $90 per person
Day 1: Check into your Hotel of choice for the weekend and freshen up. Head to town for a romantic dinner to ring in your romantic getaway. This might cost you between $60 and $80.
Day 2: Decide whether you want to take a drive to Geneva-On-The-Lake and get up to one of the many outdoor activities there or take a ferry ride to Kelleys Island ($22 per person) and spend your day there before you head back to your hotel and book a couple's massage. Renting kayaks or paddleboards in Geneva-On-The-Lake costs between $15 and $30 per person. On top of that, you might spend between $30 and $70 for food and drinks that day.
Day 3: Enjoy a lavish breakfast in bed with some champagne (about $60) followed by some in-room yoga (about $30) for you and your loved one. Enjoy the red of the day while exploring Cleveland. Visit the West Side Market or the Rockefeller Green House (free admission) and fuel up in one of the many funky cafés before you head back home.
Frequently Asked Questions
How much does an Ohio romantic getaway cost on average?
This depends very much on various factors. For instance:
Travel Distance and mode of transport
The hotel you stay in
How many times you decide to eat out
Whether you book any extra packages
The number of excursions
But generally, on average, for a romantic getaway in Ohio for a weekend, you are likely to pay about $800.
When is the best time to visit Ohio?
The best time to visit Ohio is between late April and late October. Ohio has lots to offer during the summer months, but avoid the summer holidays if you don't want it to get too crowded.
How long do people typically spend in Ohio on a romantic getaway?
Normally people spend about a weekend to a week in Ohio for a romantic getaway.
Start Planning The Ideal Romantic Getaway
Ohio has lots of nature as well as a quirky culture on offer, and there are plenty of reasons why you should visit the Buckeye state for your next romantic trip!
Whether you wish to stay in a cozy cabin or are looking for stylish rooms in the city, you can be sure that romantic extras such as champagne and chocolate will make any trip to Ohio unforgettable.
Visit our website for more inspiration on making your next couple's trip unforgettable!