If you want a European honeymoon featuring beautiful beaches, quaint architecture, delicious food, and fine wines, then a Portugal honeymoon is a great choice for you.
The temperate climate means you'll experience warm summers and mild winters, making it a great destination year-round.
What Makes Portugal Perfect For A Honeymoon
This small and stable nation offers a wide variety of experiences that will appeal to almost everybody. You're guaranteed to have a good time in this wonderful country with stunning scenery, a magnificent coastline, and world-renowned wineries.
You can wander along the capital city's riverside streets or visit one of the region's hilltop towns that feature medieval castles. Enjoy some delicious Portuguese pastries on the beach after a dip in the Atlantic. There are plenty of romantic options when choosing to honeymoon in Portugal.
Best Honeymoon Resorts, Hotels, And Other Stays In Portugal
A wide variety of accommodations are available in Portugal – anything from converted busses to 5-star luxury hotels or seaside villas.
Many prime Portugal honeymoon spots are located on the country's beautiful coast, with the Algarve region being the most popular. Lisbon is great for a city stay, while Porto is perfect for wine lovers. If you're more of a history buff, you'll love staying in the ancient Roman city of Evora.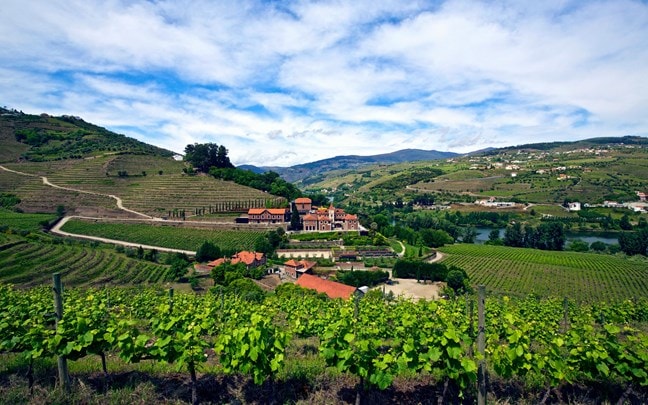 Price per Night: $600+ per night
Best For: all-inclusive, younger couples, older couples, long stays, short stays
Availability: Easy to book
This resort is set in the Douro Wine Valley, the oldest dedicated wine region in the world. Surrounded by lush gardens and charming woodlands, it is a great spot for a relaxing and romantic honeymoon.
With a variety of well-appointed rooms, suites, and villas, ranging in size from 363 sq ft to 4171 sq ft, you have your choice of luxury accommodation at this stunning resort.
This region is known for its port wine; there are many wineries and wine cellars to visit during your stay. We also highly recommend taking a river cruise on the Douro river to appreciate the area's beauty.
If you'd like to take in some interesting architecture while getting a workout in, a trip to the Santuário de Nossa Senhora dos Remédios would be up your alley. The Douro International Natural Park is also worth seeing and forms part of the undisputed border between Portugal and Spain.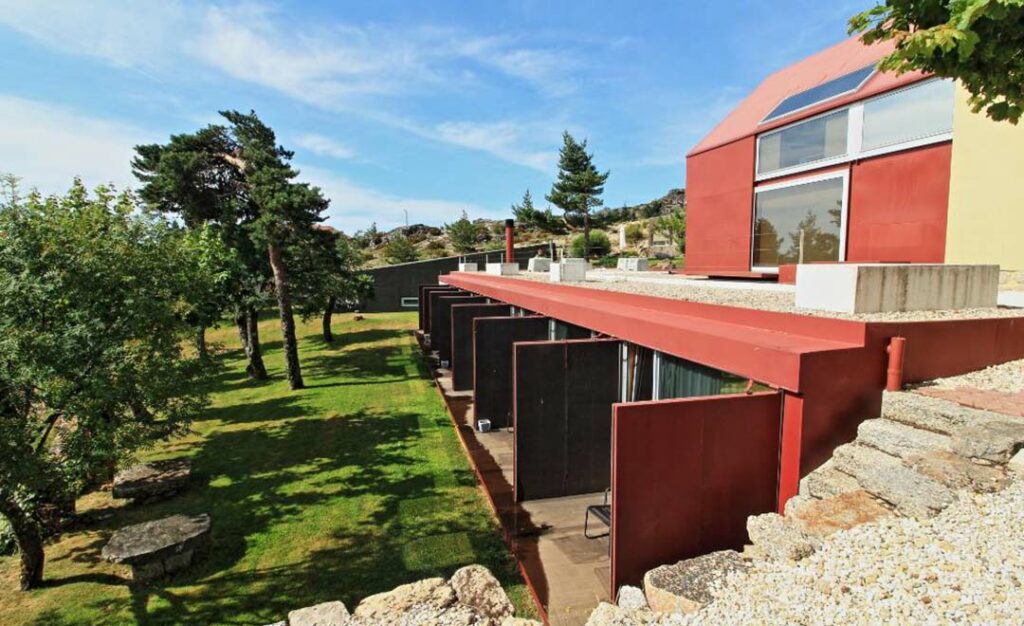 Price per Night: $565 – $735 for 2 nights Honeymoon Package
Best For: All-inclusive, younger couples, older couples, long stays, short stays
Availability: Easy to book
Situated in the Serra da Estrela Natural Park, this gorgeous hotel is 1500m above sea level and is the perfect spot for couples who enjoy nature and hiking. The national park boasts more than 250km of hiking trails, featuring glaciers, remote valleys, sheep, and phenomenal views.
If you're looking for a more relaxing excursion, you can enjoy a visit to the Burel Factory, a historic wool factory that utilizes machines from the 19th century.
After your excursions, you can have a dip in the hotel's swimming pool or relax in the sauna or whirlpool – all included with your stay, along with a hand massage. The Honeymoon Package includes a couples massage, gourmet dinners, breakfast, and afternoon snacks.
Casa das Las Penhas Douradas has various rooms, from a superior double room to a full suite, each of which features large windows and feels like a luxury mountain home. Robes and slippers are provided, as well as free wifi, luxury linens, and a smart TV.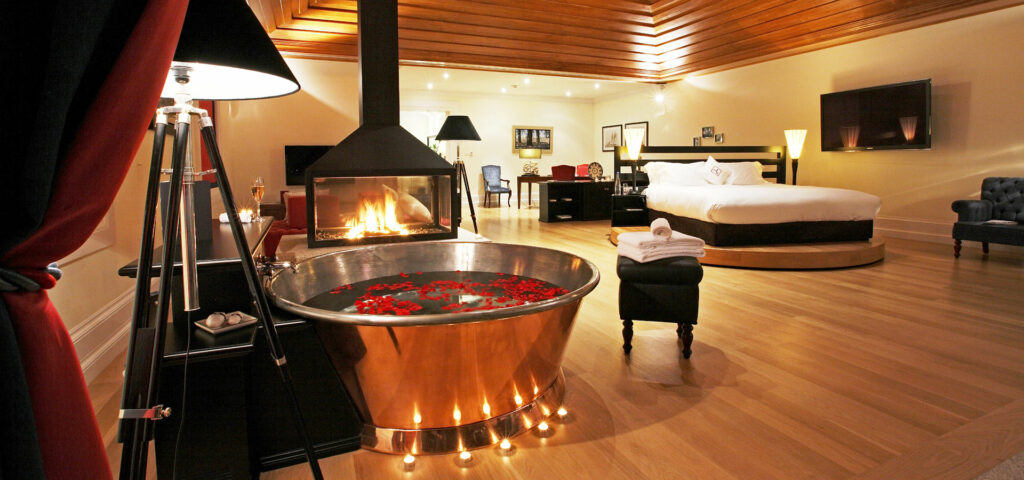 Price per Night: $327 – $765 per night for the Romantic Experience Package
Best For: All-inclusive, adults-only, younger couples, older couples, long stays, short stays
Availability: Limited/Easy to book
With a variety of comfortable rooms and eclectic, port-themed suites available, you must include the Yeatman Hotel in your Portugal honeymoon itinerary.
The Romantic Experience includes a welcome drink at the bar, a treat in the room upon arrival, and access to the various indoor and outdoor pools and wellness areas. Late checkout and discounts for the spa and restaurant are also included.
If you want to splurge, consider booking the Artist, Bacchus, or Presidential Suite Romantic Experiences – note that these are priced differently.
During your stay, you'll want to explore Porto. This beautiful city has lots to offer – from plenty of wine tasting, to river cruises, to stunning bookshops and historical buildings and museums. You can even take in a soccer game at the Dragão Stadium!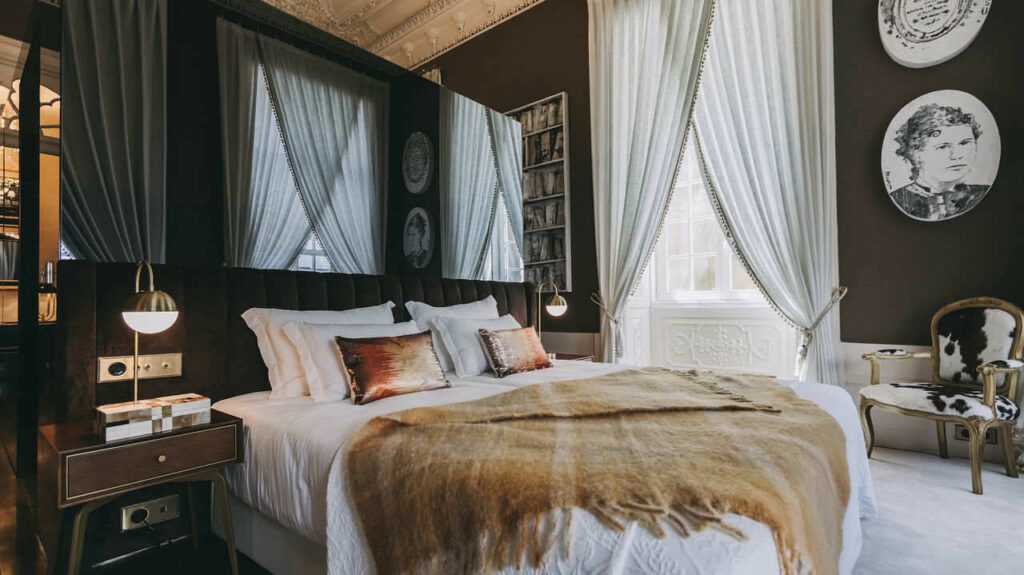 Price per Night: $220 – $610 per night
Best For: Younger couples, older couples, long stays, short stays
Availability: Easy to book
This luxurious five-star hotel is located in a converted mansion in the heart of Porto. The hotel and the town are among the best Portugal honeymoon destinations.
The hotel pays homage to Portugal's literary greats, with the rooms and suites named after some of the country's most praised writers and a literature theme evident throughout the hotel.
All rooms and suites feature double or twin beds, a Nespresso machine, free wifi, television, and a fridge or minibar. They also all have their own private bathrooms.
This luxury hotel is within walking distance of the majestic Sáo Joáo National Theatre and the Santo Ildefonso Church.
The Bolháo market area is also close by and worth a visit – it features a variety of traditional cheese, pastry, and liquor stores and will give you a great feel for the city. You also can't visit Porto without having a coffee break at the famous Majestic Café.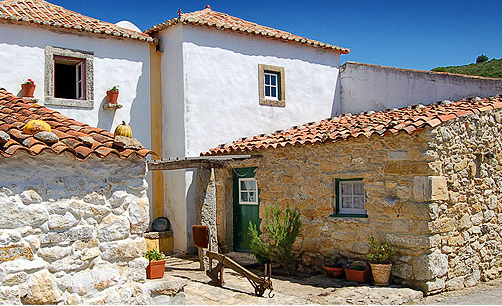 Price per Night: $80 per night
Best For: Younger couples, older couples, long stays, short stays
Availability: Easy to book
This rural village in the agricultural area outside of Lisbon features several quaint and cozy traditional homes that have been carefully restored. All cottages feature a double bed, fully equipped kitchen, and full bathroom, as well as either oil heaters or a fireplace to keep you warm in the colder months.
A perfect destination for the outdoorsy couple, there is much to explore in the area, with many biking and hiking trails, as well as opportunities to visit local farms where you can learn about the old customs of the area and interact with the farm animals.
A visit to the Tapada Nacional de Mafra is also highly recommended – originally a park for royal and court recreation, this 800+ hectare park is home to a wide variety of wildlife. It features many hiking, biking, and walking trails. You can even have an archery or crossbow lesson here!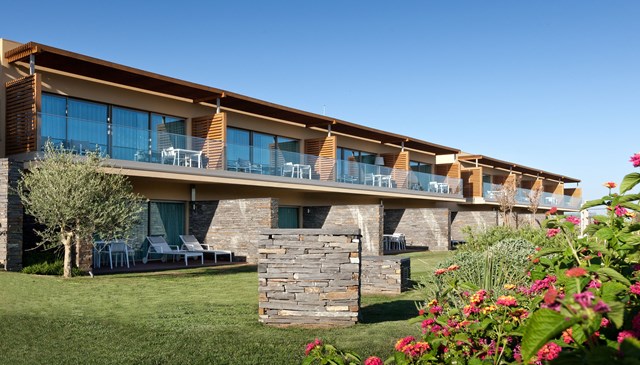 Price per Night: $894 per night for Honeymoon Package
Best For: All-inclusive, younger couples, older couples, long stays, short stays
Availability: Limited/Easy to book
Situated in the Algarve region (a must-see area when you visit Portugal), this all-inclusive seaside hotel is an epic location for a Portugal honeymoon. Close to many pristine beaches and interesting coastal caves, there is plenty to explore when staying at Epic Sana.
If you want a day away from the sand or need a break from swimming in the Atlantic Ocean, you can visit the local towns and learn more about Portugal's interesting history.
The Epic Sana honeymoon package includes a VIP welcome experience, a daily breakfast buffet, a couples massage, a tasting menu experience at the Al Quimia restaurant, and access to the Sayanna Wellness SPA, among other lovely perks. It really is one of the best Portugal honeymoon resorts.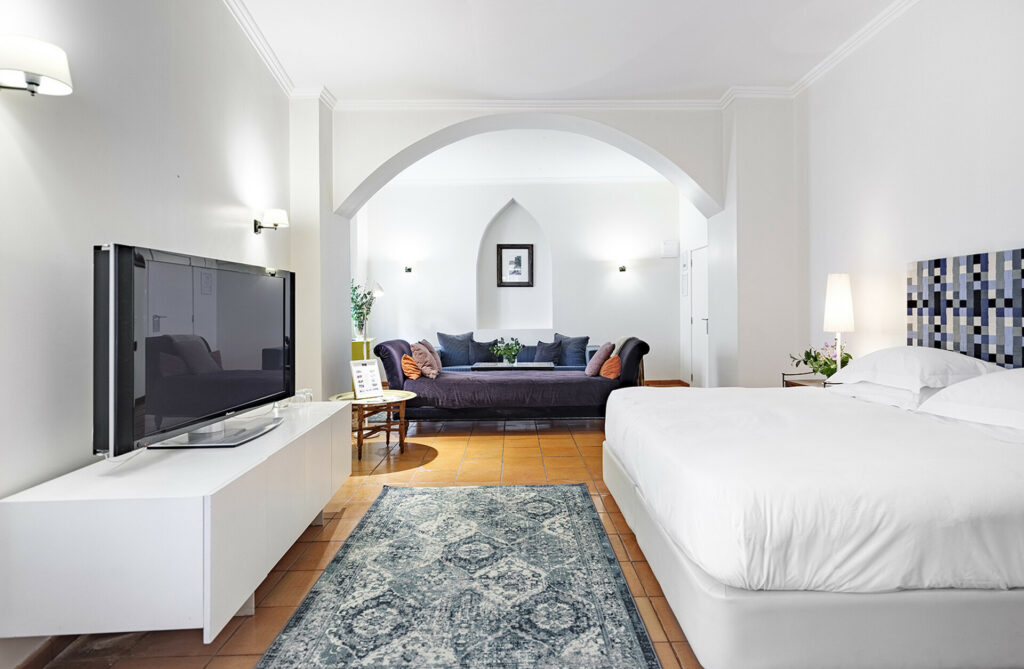 Price per Night: $89 – $165+ per night
Best For: Younger couples, older couples, long stays, short stays
Availability: Easy to book
Situated in the historic center of Evora city, the Albergaria do Calvario is located in a converted Olive Oil production facility and is now a stunning boutique hotel that features local artwork and provincial furniture.
The Albergaria do Calvario offers a romantic package, which includes champagne and chocolates in the room on arrival. All rooms and suites have an en suite bathroom and free wifi, television, minibar, and room service.
The region has a rich history, and there is much to explore both in the city and countryside. There are various megaliths, caves, and burial chambers just outside the city, and you can also visit the site of prehistoric Evora. To get the best view of the city, we recommend a climb to the Torre da Sé Catedral roof.
For a day trip, a visit to Monsaraz and Arraiolos is a great option. Monsaraz is home to a stunning walled village and castle, and Arraiolos is a city dating back to the bronze age.
Best Areas To Stay In Portugal
If you're looking for one of the best honeymoon destinations that offer a wide variety of activities, we recommend you visit Portugal. This European country has a lot to offer, rich in history, full of natural beauty, and renowned for its world-class wine.
If you're looking for beautiful beaches, then it's worth visiting the Algarve region and the main cities of Lisbon and Porto. If you're more interested in ancient history and natural parks, heading inland is a good idea, where you can visit towns like Evora.
As the country is quite small, it is easy to visit many different spots on your Portugal honeymoon.
Porto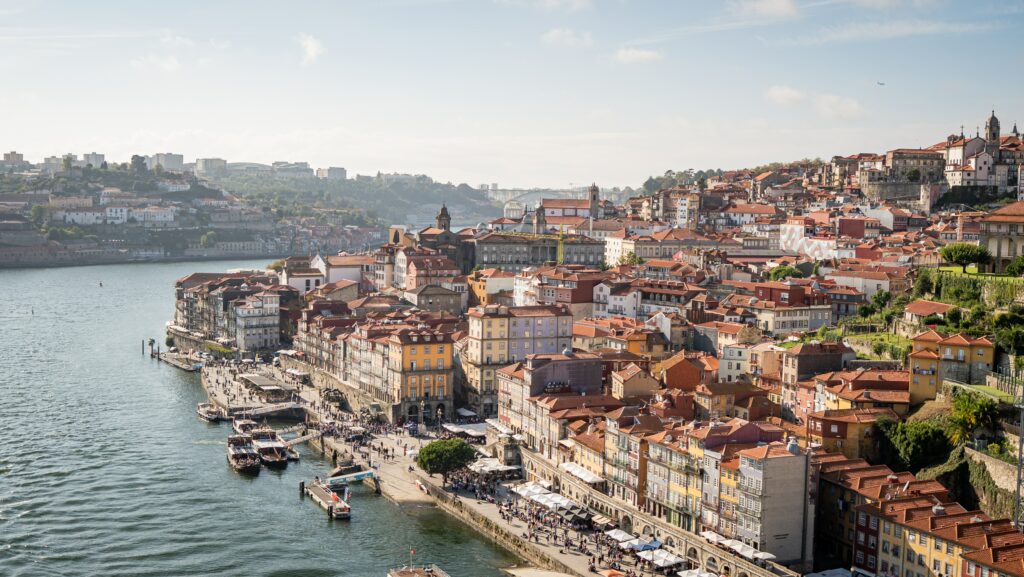 Originally a Roman outpost, Porto is one of the oldest cities on the Iberian Peninsula and is recognized as a world heritage site. It is best known for its Port wine exports and its interesting historical buildings and colorful architecture.
There is plenty to do when staying in Porto. Not only can you enjoy a range of wine tastings in the local wine region, but also spend the day on the one of the many beaches, or wander the cobblestone streets to take in the beautiful and historic buildings.
Cruise along the Douro river for a relaxing break before exploring the valley, or try one of the many watersports on offer, such as SUP rides or kayaking.
Algarve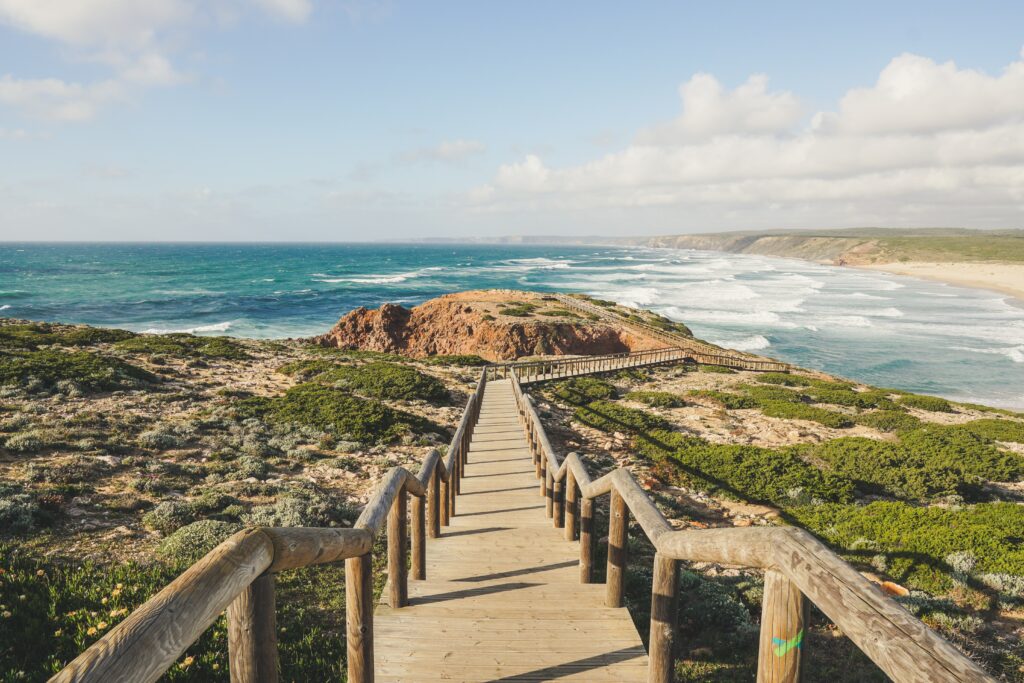 This southern province, bordered by the Atlantic Ocean, is known for its temperate climate, mild winters, pristine beaches, and relaxed lifestyle. It is economically reliant on tourism, fruit production, and fishing.
You can't visit this region without enjoying a delicious seafood meal at a local restaurant, followed by a romantic stroll on one of the many beaches.
This is one of Portugal's best destinations for a romantic seaside honeymoon.
Lisbon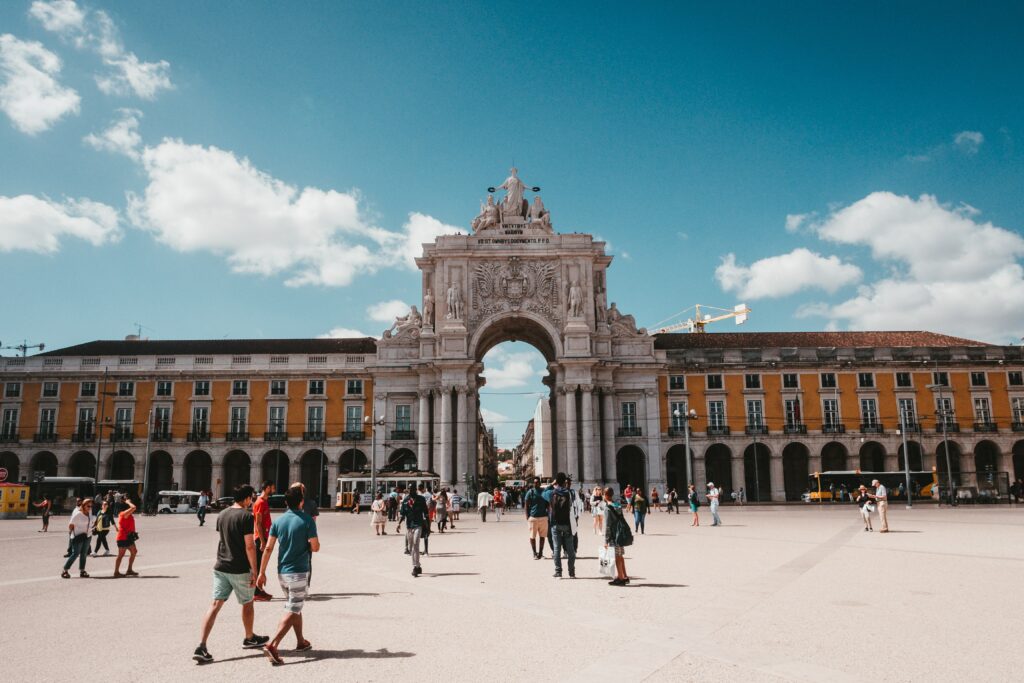 Lisbon, Portugal's capital city, is busy and has lots to offer. From vibrant nightlife to a rich traditional history, there is something for everyone in this beautiful city.
Lisbon is an up-and-coming wine region of the biggest of Portugal's beautiful cities, and visiting the various wine cellars for wine tastings is an activity you must include on your itinerary. After a day trip visiting the wineries, taking a romantic stroll along the Tagus river will give you some fresh air and help clear your head.
You can also spend the day lying in the sun on one of the many beaches or swim in the Atlantic ocean. Alternatively, you can wander the cobblestone streets, acquaint yourself with the local restaurants and take in the ancient ruins and majestic cathedrals – and don't forget to visit Pena Palace!
Evora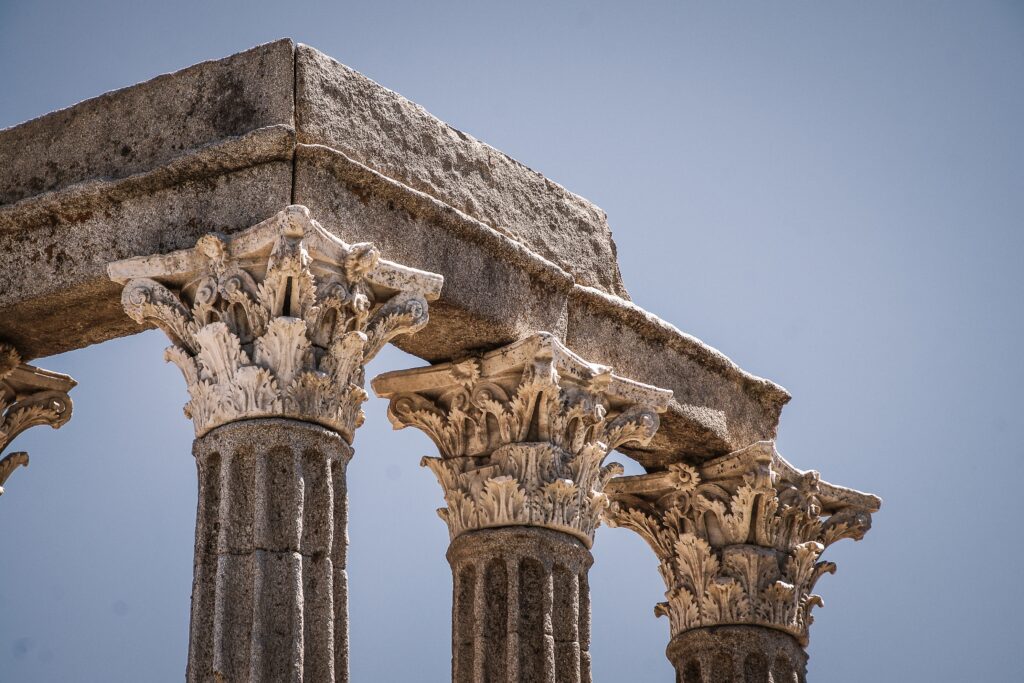 This ancient Roman city is a must-see for history buffs. Surrounded by rolling hills, this agricultural trade center has much to offer. Spend the day walking through the city to discover its rich heritage, and be sure to visit the many museums, art galleries, and historic buildings.
Visiting some of the many megaliths surrounding the city and ancient castles will make for an interesting day trip, as will a visit to the local woodlands and nature parks.
The gastronomy of the region is some of Portugal's most well-known, so make sure to visit as many local restaurants as possible. The lamb stew and gazpacho are particularly delicious.
Top Excursions & Activities To Do On A Portuguese Honeymoon
Perfect for beach lovers, city slickers, and history buffs, Portugal has something for everyone to enjoy.
Wine tasting: Portugal is well known for its wine, especially its Port wine. If you enjoy wine tasting, don't skip Porto, the Douro valley, and the various Lisbon wineries – a perfect way to unwind and relax with your loved one.
Beach trips: The Iberian Peninsula is famous for its many beautiful beaches and makes for a perfect beach holiday. As one of Europe's smallest countries, Portugal has some of the best beach honeymoon destinations on the continent. Whether you want to catch a tan, swim in the Atlantic, go surfing, or visit the interesting caves on the coast, a Portugal honeymoon has got you covered.
History tours: Portugal is well-known for its extensive history, which can be seen everywhere you look. There are plenty of fascinating historical buildings to visit in most towns and cities, as well as a variety of interesting museums showcasing the rich history of this European country.
Hiking and walking: There are many hiking trails in Portugal's various National Parks and along its coast. If you're looking for something a bit more relaxed, the town and cities are all pedestrian-friendly, with quaint cobblestone streets and views of the region's beautiful rivers.
Sample Itinerary & Budget For Your Honeymoon To Portugal
A Portugal honeymoon can be affordable, especially if you opt for self-catering accommodation and plan your own trip. The all-inclusive hotels and resorts can be quite pricey and don't allow you to see as much of the country; however, they are ideal for a relaxing seaside honeymoon and reduce the stress of planning activities yourself. Have a look at our all-inclusive and budget-friendly itineraries below:
Five-Night Luxury All-inclusive Honeymoon Budget:
| | |
| --- | --- |
| Activity | Price |
| Flight | $2000+ per couple |
| Accommodations | $894 honeymoon package |
| Vehicle Rental | $51 per day |
| Food and Beverages | $200 per person per day |
| Excursions | $200 per person |
| | Total Price: $9125 |
Sample Itinerary
Day 1 – After arriving at the hotel and settling into your room, enjoy a relaxed dinner at one of the hotel's restaurants before getting some much-needed rest.
Day 2 – Today, you'll explore the vast grounds of the hotel, spend some time on the beach, and take a dip in the Atlantic. In the evening, you'll enjoy the tasting menu at Al Quimia restaurant.
Day 3 – Time to explore some of the surrounding villages and beaches further away – stop at a local restaurant along the way for lunch, and return to the hotel to enjoy dinner at one of their restaurants.
Day 4 – A visit to the local caves is always fun, so be sure to do that before enjoying your picnic on the hotel grounds.
Day 5 – You'll spend your last day tanning on the beach, enjoying a massage, and relaxing in the spa. Have some sundowners together while watching the sunset before turning in for the night.
9-night Budget-Friendly Honeymoon Budget
| | |
| --- | --- |
| Activity | Price |
| Flight | $2500 per couple |
| Accommodations | $390 per night |
| Food and Beverages | $150 per person per day |
| Excursions | $500 per person |
| | Total Price: $6750 |
Sample Itinerary
Day 1 – Check into your modern apartment before picking up a few supplies at a local market. Go for a walk to find a local restaurant for dinner and take a stroll along the riverbank before heading to bed.
Day 2 – Make breakfast together in the kitted-out kitchen; before spending the day exploring Lisbon – make sure to stop at some of the historical churches and eat some of the local cuisines for lunch.
Day 3 – Today, you'll spend the morning exploring the river via SUP, Kayak, or boat cruise. In the afternoon, drive to some local wineries for a wine tasting. Be sure to use the sauna and heated pool before going to sleep!
Day 4 – Time to travel to the next destination, which is a short 45km away. After a slow morning enjoying your last hours in Lisbon, you'll head to Aldeia Da Mata Pequena. Remember to stop and enjoy your picnic lunch at the Jardim do Cerco on the way!
Day 5 – Spend the day exploring the Tapada Nacional de Mafra, take a hike or two, and remember to bring along a packed lunch and snacks to enjoy out in nature.
Day 6 – After a relaxing morning at your accommodation, you'll visit some of the local farms to learn about the local customs and meet the various farm animals and the famous pack donkeys.
Day 7 – Another travel day, heading to your fun converted bus accommodation in Arrabal. It's a slightly longer drive, 1.5 hours, and you'll stop along the way for lunch at Jardim das Portas do Sol in Santarem. Once settled in at the accommodation, you can enjoy a soak in the hot tub.
Day 8 – Time to explore some of the local monasteries and visit some of Portugal's oldest fishing villages!
Day 9 – Enjoy the last day of your Portugal honeymoon by relaxing at your accommodation and enjoying the pool, hot tub, and barbeque.
The amount your spend on a honeymoon in Portugal will depend on whether you want to explore the country or relax near the sea in an all-inclusive resort. Both options are great, but a DIY trip can be more interesting and allows you to spend more time in the country for less money.
Frequently Asked Questions
How much does a Portugal honeymoon cost?
A Portugal honeymoon can vary in price quite drastically, depending on factors such as length of stay, type of resort/hotel, and what excursions you decide to partake in. They are one of the more affordable honeymoon destinations, with a 9-night DIY trip costing just under $7000 all-inclusive and a 5-night stay at a luxury resort at about $9000.
When is the best time to visit Portugal?
Thanks to the temperate climate, Portugal is a great spot to visit year-round. However, it is especially lovely in the summer months. It can be particularly busy in July and August, as many Europeans head here for their summer holidays. If you'd like a quieter time, May, June, and September are good options for your Portugal honeymoon.
What is the best way to travel around Portugal?
Hiring a car will give you the most freedom, but there is a good public transport system. Trains go to most of the country's beautiful cities and some of the smaller towns. Busses travel to more places still. If you're honeymooning in the city, you'll be able to walk to most places or use trams and trains.
How long should a Portugal honeymoon be?
If you want to visit many cities during your Portugal honeymoon, then 10-14 days would be best, so that you have time to explore and plenty of time to rest and enjoy each other's company. If you want to stay in one place, 5-7 days will allow you to thoroughly enjoy your time at the chosen accommodation.
Start Planning The Perfect Romantic Honeymoon Getaway
Not only is a Portugal honeymoon an affordable option, but it also appeals to a wide variety of tastes or interests. No matter the time of the year, you're likely to have a great time, and its extensive beauty guarantees a romantic experience – in other words, one of the best honeymoon destinations in Europe.
A Portugal honeymoon requires extensive international travel, so if you'd prefer to stay States side, why not browse through our wide selection of honeymoon guides to find somewhere closer to home?