The Poconos are a picturesque mountain range located in northeastern Pennsylvania, known for its natural beauty and abundance of outdoor recreation opportunities.
Whether you're a couple looking for a romantic getaway or simply want to escape the hustle and bustle of everyday life, the Poconos offer something for everyone. From luxury resorts and spas to quaint bed and breakfasts and charming inns, the region is home to a wide range of accommodation options.
In this article, we'll take a look at some of the best places to stay for a romantic getaway in the Poconos, as well as some of the top things to do and see while you're there. From hiking and skiing in the winter to swimming and boating in the summer, there's no shortage of activities to enjoy with your significant other in this beautiful part of the country.
What Makes Poconos Perfect For A Romantic Getaway?
Nestled in the rolling hills and forests of northeastern Pennsylvania, the Poconos provides the perfect setting for romance. When you aren't marveling at the sheer beauty of the region, you'll be able to enjoy a plethora of activities that can suit any budget or taste.
You can go on various hiking trails through the Pocono Mountains, saunter around a luxury golf resort, or go fishing. The Poconos are also a popular destination for skiing and snowboarding in the winter, with several ski resorts offering a range of runs for all ability levels.
In addition to its outdoor attractions, the Poconos are home to a wide range of dining and nightly entertainment options, such as fine dining restaurants, cozy pubs, and live music venues. You'll also find a fair amount of spas and wellness centers. Whether you're in the mood for a candlelit dinner for two or a night out on the town, the Poconos have you covered.
Couples with children also shouldn't worry, as the Poconos boasts several family-friendly attractions, such as theme parks, water parks, and animal sanctuaries. No matter what your interests are, you'll find something to enjoy in there. All of these factors combine to make the Poconos an ideal destination for a private romantic getaway.
Most Romantic Getaways In Poconos
The Poconos is the epitome of a romantic destination. It has a number of romantic areas and accommodation options, making it perfect for couples looking for a private getaway. The problem with having many options is that it can make deciding on one thing incredibly difficult.
This is why it's important for couples to remember that they're not in any way restricted to staying in one area during their getaway. As you know, this does depend on your budget and how much you're willing to spend. But if you have the means, we recommend spending a night or two in one area and then moving to another afterward.
Here are some of the most romantic areas in the Poconos, in addition to the best stays:
Cresco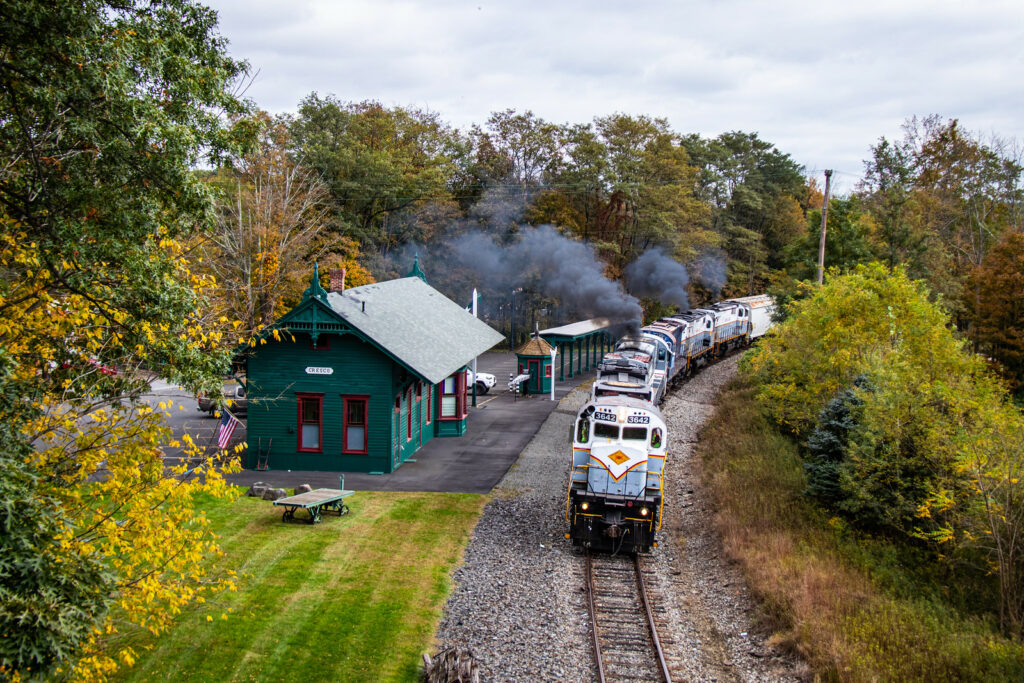 Cresco is a town surrounded by beautiful mountains and forests, offering a peaceful and secluded setting for couples. The charming stays in Cresco provide couples with an extremely intimate experience.
Stays aside, it's located near several outdoor recreation areas, including state parks, lakes, and ski resorts, meaning couples will have plenty of opportunities to enjoy the great outdoors together. Lastly, Cresco is home to many restaurants, wineries, and breweries, making it a great destination for foodies looking to indulge in local flavors.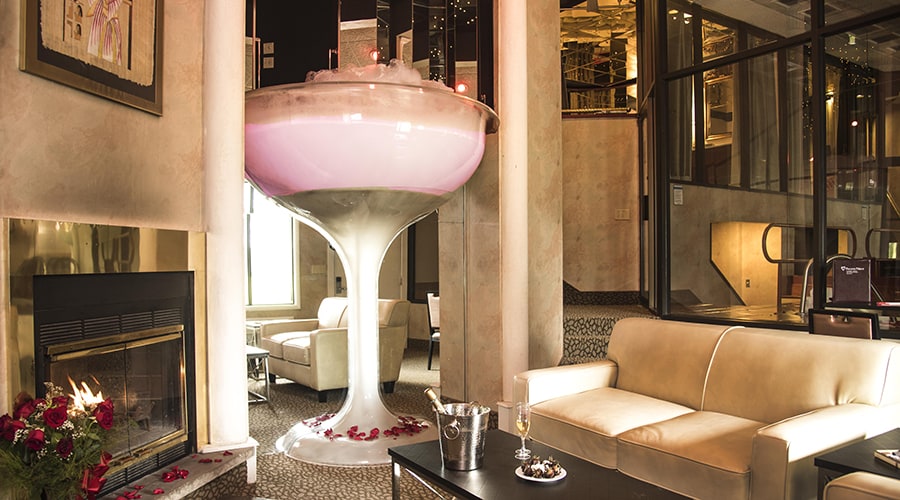 Paradise Stream Resort is a romantic escape located on the private Lake Eden. Naturally, the stay has some of the best views of the Poconos mountains. Paradise Stream Resort features 143 suites, two restaurants, two bars, and even a nightclub. You'll also find rooms with heart-shaped hot tubs at Paradise Stream Resort.
Pocono Mountains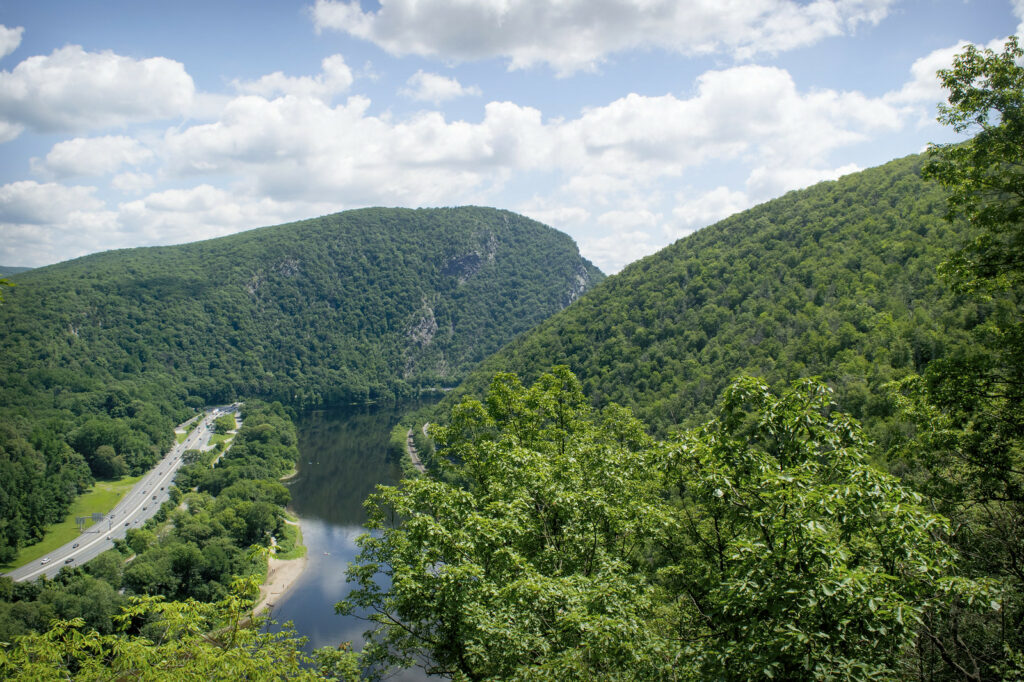 You can't go to the Poconos and not stay in the Pocono Mountains. Naturally, there is a wide range of things for couples to do in and around the Pocono Mountains. This is especially the case for active couples who love experiencing a surge of adrenalin.
Hiking, biking, fishing, and skiing are all very popular options, but if you're not seeking a thrill, you can always relax and be pampered at one of the local spas or wellness centers. In short, the Pocono Mountains are the perfect backdrop for romantic memoirs.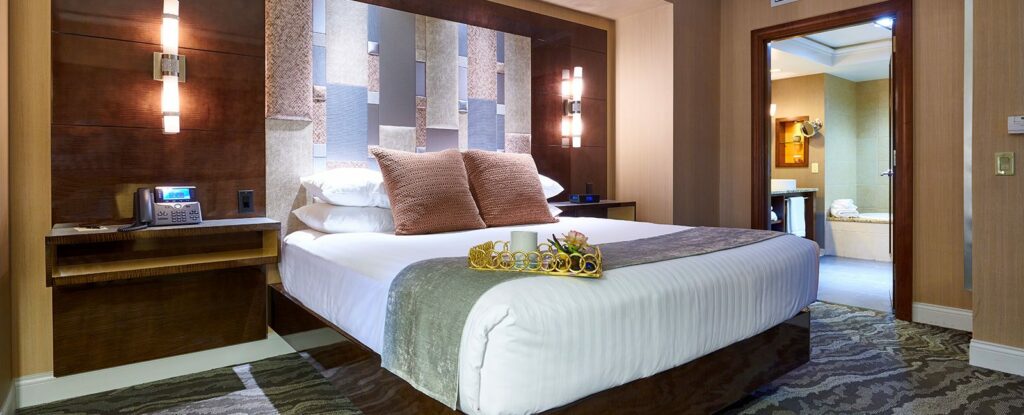 Mount Airy truly has it all. 1,800 slot machines, a variety of table games, as well as a full-service spa, a golf course, and several dining and entertainment options. Accommodation at Mount Airy Casino Resort includes a range of guest rooms and suites, offering a variety of amenities such as flatscreen TVs, mini-fridges, and Wi-Fi.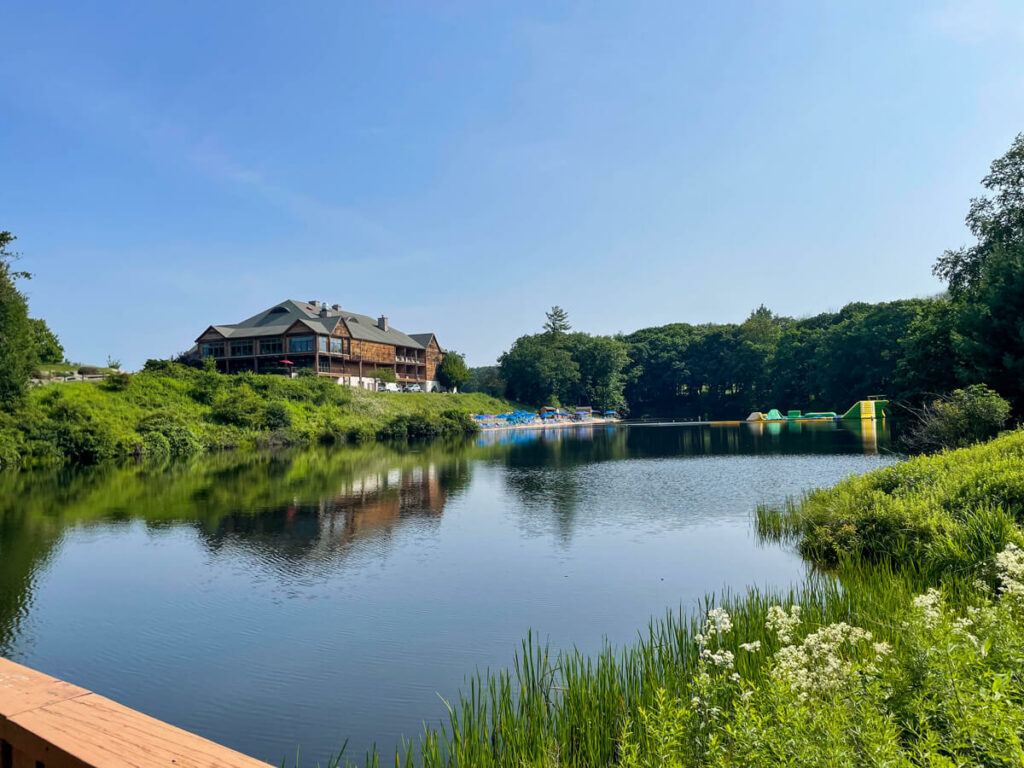 Skytop Lodge is a grand destination that exudes luxury. When you aren't enjoying a decadent meal, you can make the most of the Adventure Center. Skytop Lodge is highly rated and has been making long-lasting memories since 1928.
Hawley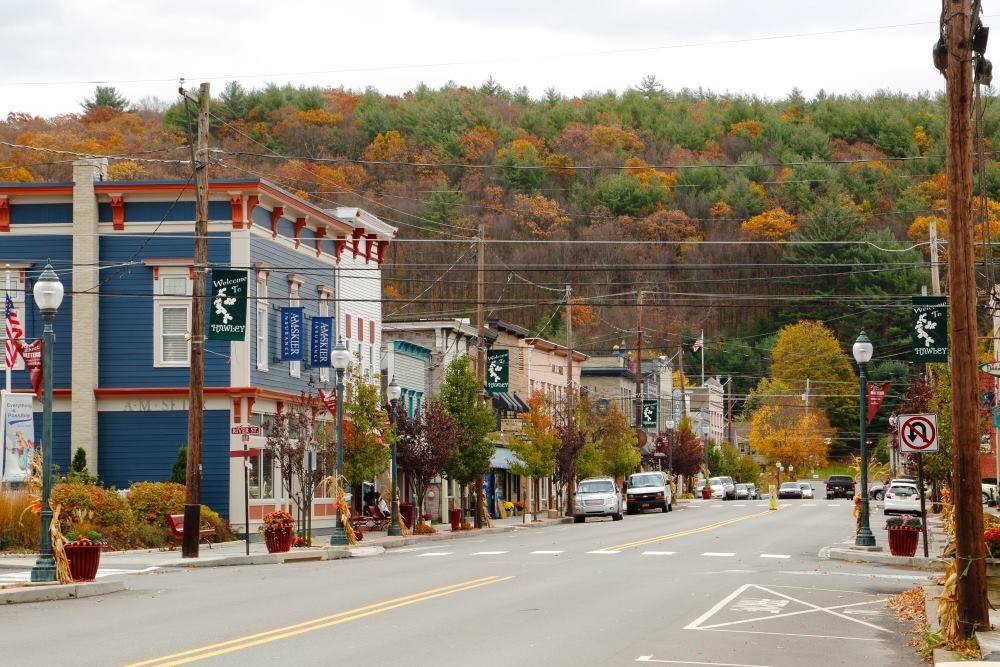 Hawley is another small town in the Poconos. Like most areas in the Poconos, Hawley has its fair share of verdant forests and scenic lakes, but it also has a number of enchanting cafes and restaurants.
You can also expect to find a number of cultural attractions in Hawley, such as the Hawley Silk Mill, a historic textile mill that has been converted into a shopping and dining destination. While in Hawley, we also suggest checking out Dorflinger-Suydam Wildlife Sanctuary, a beautiful nature preserve with hiking trails and a variety of wildlife.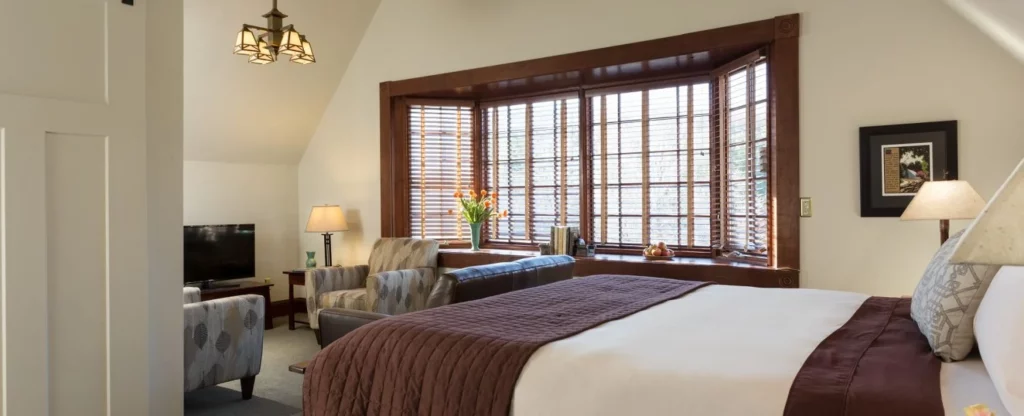 Settlers Inn is an authentic 1920s-inspired lodge. Despite the old-fashioned style, rooms come with the expected creature comforts such as a flatscreen TV, high-speed internet, and air conditioning. Settlers Inn is particularly popular for its farm-to-fork dining.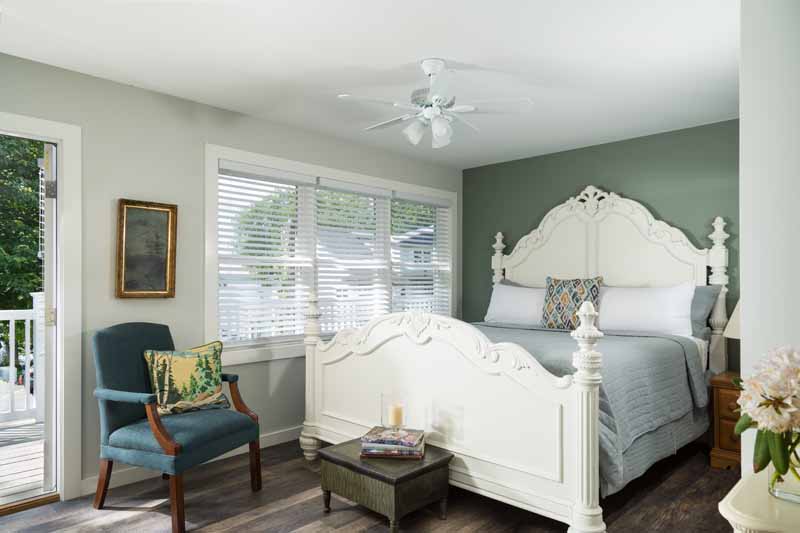 Silver Birches Resort is a waterfront stay that has a variety of room options for guests. Every room has good views of Wallenpaupack, which can also be enjoyed by the warmth of a campfire. It has a variety of activities, so you're likely to find whatever you're looking for.
Cove Haven Resort makes a good alternative to Silver Birches, and it's also one of three couples-only resorts.
East Stroudsburg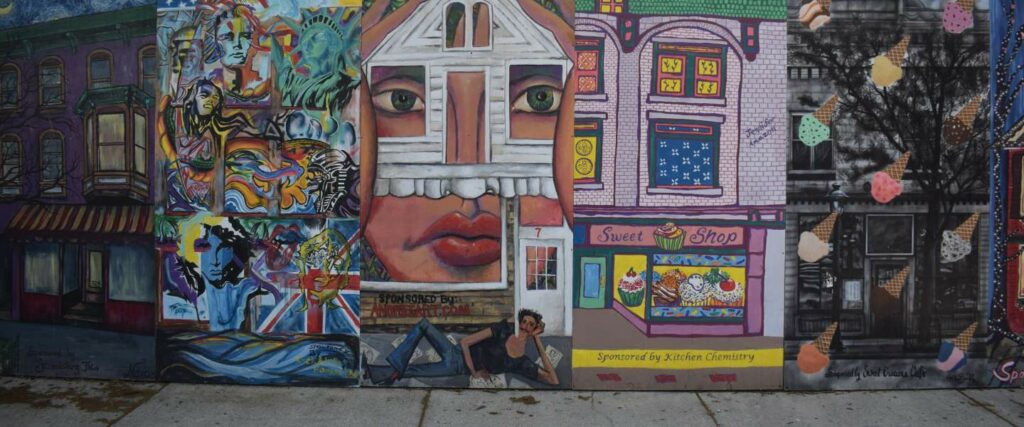 Stroudsburg is a small town situated in the heart of the Poconos. It has a walkable downtown, historic buildings, unique shops, and amazing community events. With so much to discover, Stroudsburg is well worth visiting.
Popular attractions in Stroudsburg include the Sherman Theater, a popular venue for live music and performances, and the Pocono Snake and Animal Farm, a family-friendly attraction featuring a variety of reptiles and other animals. You can also visit the Applause Nightclub, which has live nightly entertainment.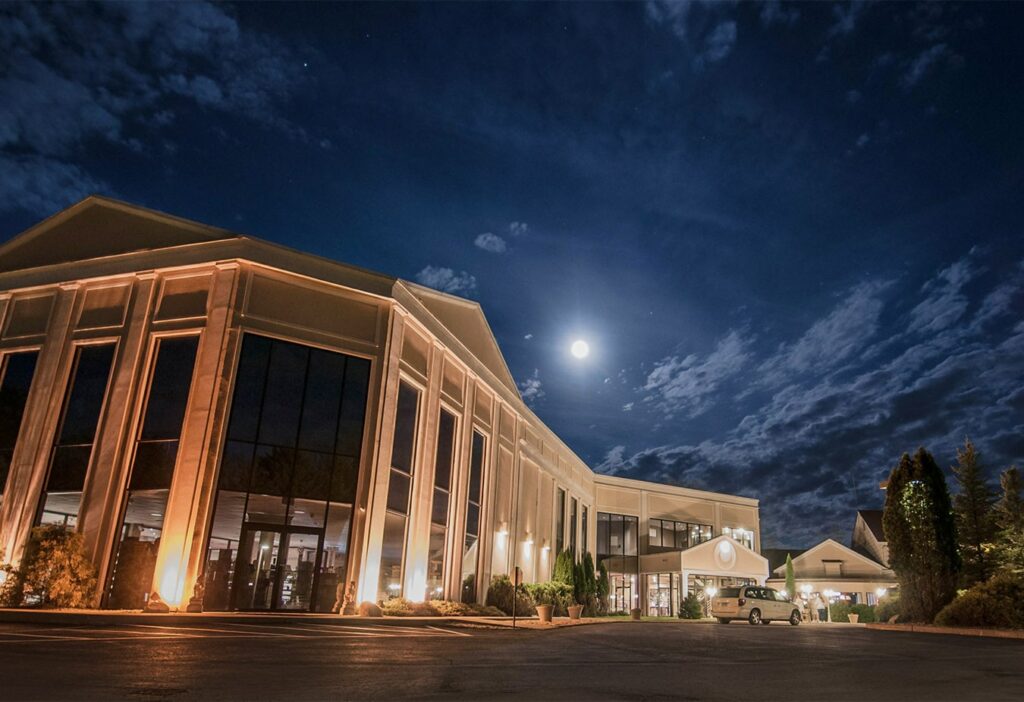 Pocono Palace Resort provides a relaxed atmosphere. Pocono Palace Resort is a favorite of couples due to the quality of the service and the sheer amount of amenities. One notable feature is the Outdoor Adventure Zone which is perfect for active couples. It features mini golf, paintball, and many other fun activities.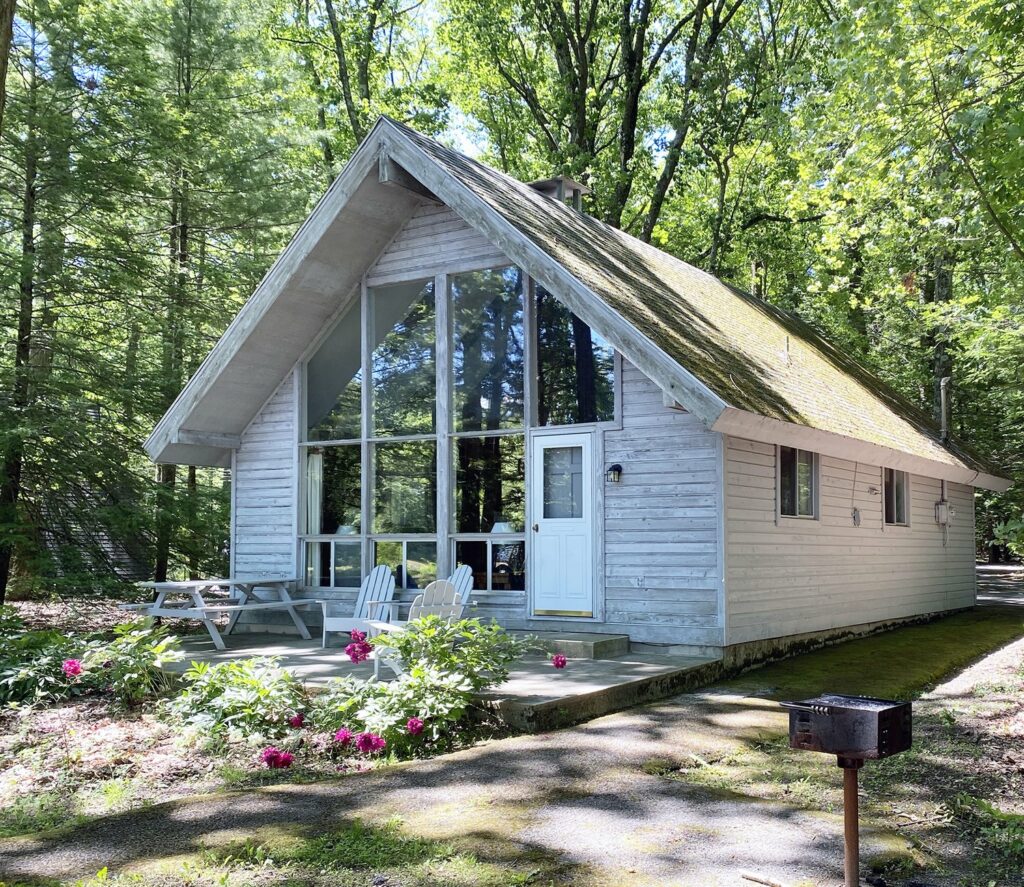 This is a secluded and romantic resort that boasts amazing views of Mount Pocono. It has an indoor saltwater pool and hot tubs, as well as plenty of opportunities for fishing and boating. You'll also be able to enjoy a free private beach, free Wi-Fi, and secure parking.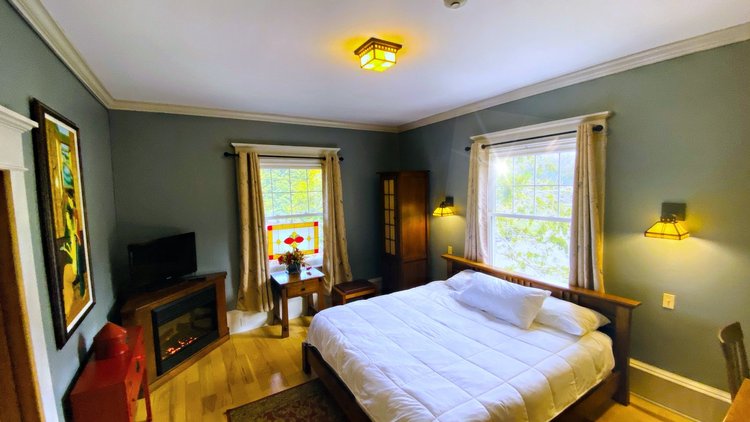 The Shawnee Inn and Gold Resort is a stay that pretty much has it all. Shawnee Inn and Golf Resort are well-placed on the banks of the Delaware River, offering guests stunning views. Rooms are incredibly cozy and have plush furnishings. When you're not enjoying your room's offerings, Shawnee Inn and Golf Resort also has an indoor pool.
We highly recommend spending a night or two at Shawnee Inn and Golf Resort.
South Sterling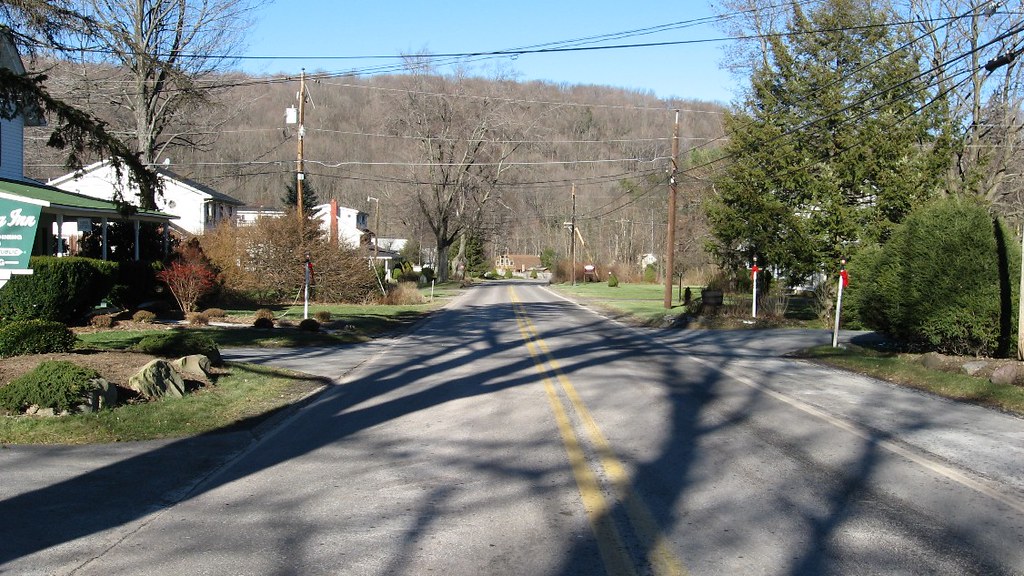 South Sterling is an unincorporated community with a lot of hidden gems. Because it's relatively small, South Sterling is ideal for couples seeking a laid-back vibe. While it doesn't have as much in terms of activities on offer, the town compensates by offering stunning views and stress-free relaxation.
Be sure to spend at least one night in South Sterling to give yourselves a change of pace.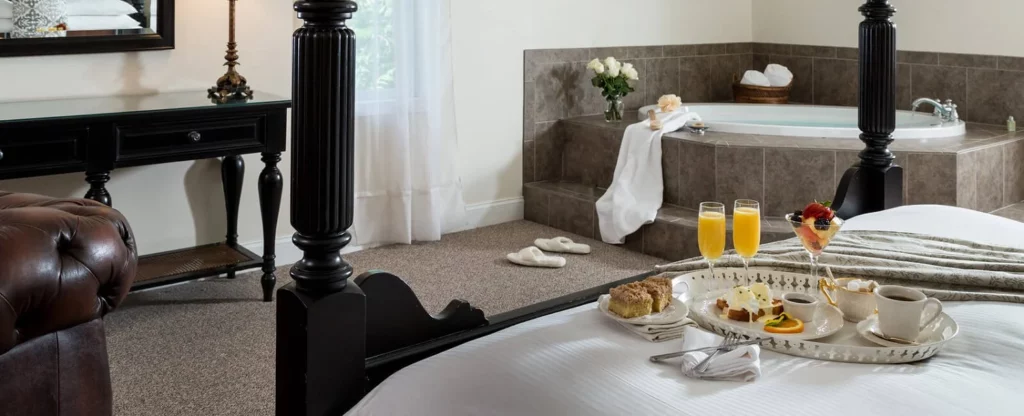 French Manor Inn is a boutique hotel set in a stone chateau that provides a luxury bed and breakfast experience that's sure to ignite more than a few sparks. The elegant rooms at the French Manor Inn come with a fireplace, hot tub, and private balconies from which you can enjoy a delicious breakfast. The French Manor Inn also has a fine dining restaurant on-site.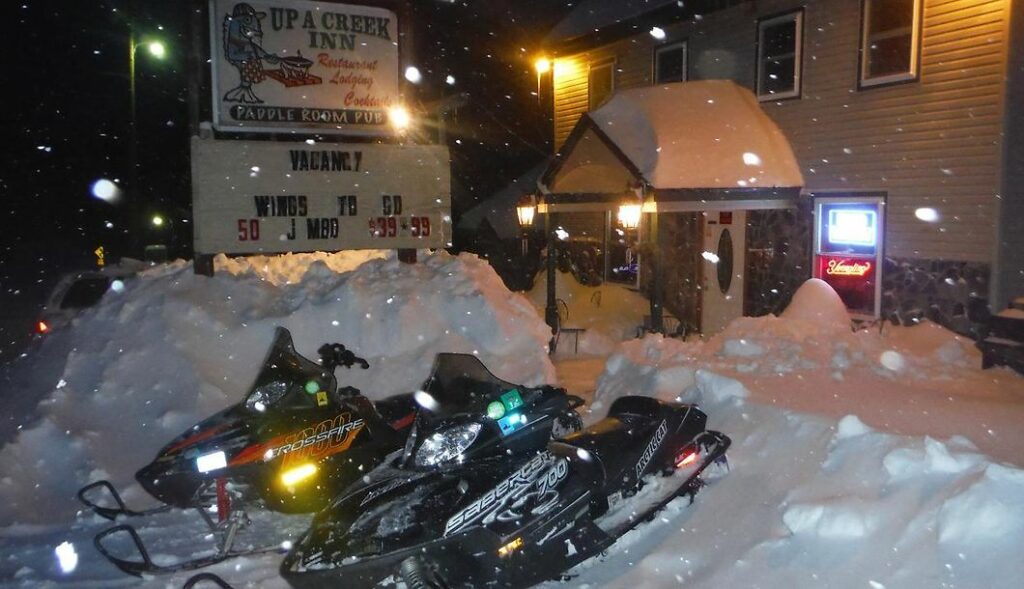 If you're not looking for a bed and breakfast type of accommodation, then Up A Creek Inn is a good option. The hotel has six rooms, each of which is kitted out with the necessary creature comforts. Staff at the hotel are said to be very friendly and provide attentive service. The pub also makes a good location for late-night drinks with the locals.
Top Excursions & Activities To Do On Romantic Getaways in Poconos
As we said, the Poconos have something for every type of traveler. So, it's a great destination for avoiding needless bickering over activities. Here are a few activities that are guaranteed to strengthen your bond and create long-lasting memories:
Horseback riding
A horseback ride is an ideal way to immerse ch yourselves in the beauty of Mount Pocono. What's great about this activity is that it doesn't even require people to have any riding experience, and most stables are incredibly welcoming of beginner riders.
Watch a live show
The Poconos are home to a number of venues that offer live entertainment, making it a great destination for couples who enjoy seeing a show. You can expect to encounter concerts, plays, comedy shows, and many other types of performances. Some of the best places to see a live show in the region include the Sherman Theater, Penn's Peak, and the Kalahari Resort.
Test your luck at Mount Airy Casino Resort
Mount Airy Casino Resort is a must-see for couples visiting the Poconos. The Casino offers a myriad of amenities and activities for couples, including a casino, spa, golf course, and several dining and entertainment options.
Mount Airy Casino is home to more than 1,800 slot machines, as well as a variety of table games such as blackjack, roulette, and poker, so be sure to test your luck there.
Unwind with a game of 18-hole golf
Engaging in physical activity is a good way for couples to bond. Additionally, they can create some highly memorable and laughable moments that you'll remember for years. Golf provides a good balance as far as physical activities are concerned. Luckily, has many golf courses with breathtaking vistas and courses for a variety of skill levels.
We recommend trying out Paupack Hills, a championship golf course designed by renowned architect Tom Fazio.
Sample Itinerary & Budget For Your Romantic Getaway In Poconos
There are a number of reasons why you should plan your trip to the Poconos in advance. Planning ahead will help you get the most out of your visit to the region. By researching your options and making reservations for activities and accommodations, you can ensure that you have everything you need for a smooth and enjoyable trip.
So, to avoid disappointment and to help you save money, here's a detailed budget and itinerary:
| | |
| --- | --- |
| Activity | Price |
| Accommodation | $100 (budget) to $500 (high-end) |
| Flights | from $64 (round trip) |
| Food & drink | $13 to $32 (Per day) |
| Car Rental | $50 (Per day) |
| Horseback riding | $20 (Per person) |
| Dinner at Spoon and Stable | $24 (Per person) |
| Tickets for a live show | $15 to $30 (Per person) |
Here's a guideline that you can use to fit the best activities in your schedule:
Day 1
The first day always means arrival and check-in at your accommodation. Because you're likely to be tired from traveling, spend the afternoon exploring the local area and getting settled in. We recommend starting your getaway by staying in the mountain region. In the evening, consider dining at a local restaurant or getting something to take back to your accommodation.
Day 2
Spend the day exploring the great outdoors with a hike in one of the Poconos' many state parks or forests. This will serve as a good way to familiarise yourself with the region and to reconnect with nature. In the evening, relax at your accommodation or visit one of the region's wineries or breweries for a tasting.
Day 3
Spend the day at the spa, enjoying a couples' massage and other pampering treatments. After your spa treatment, you can head out for a horseback ride to see the Poconos in style. If you'd prefer to see the Poconos from a different perspective, a scenic helicopter tour is a good alternative. Tours are based out of the Pocono Mountains Municipal Airport.
Finish the day with dinner at one of the local restaurants. You could also check out Echo Lake Lounge.
Day 4
By day four, you should start to feel more comfortable in your environment, thus meaning it's time for a change of pace. Head to the slopes for a day of skiing or snowboarding at one of the Poconos' ski resorts. In the evening, warm up by the fireplace at your accommodation or visit a local bar or brewery for live music and drinks.
Day 5
Take a scenic drive through the Poconos and visit some of the region's charming small towns and villages. Stop for lunch at a local restaurant or café and do some shopping at the local boutiques. This may also serve as a good opportunity to check out cultural hotspots such as Hawley Silk Mill and Dorflinger-Suydam Wildlife Sanctuary.
Day 6
Enjoy a leisurely day at your accommodation, taking advantage of the amenities such as the pool or hot tub. Or you could enjoy a laidback activity such as mini golf.
In the evening, head out for a romantic candlelit dinner at a local restaurant or try your luck at one of the region's casinos. Alternatively, you could do both in one place if you book a stay at Mount Airy Casino resort.
Day 7
Since this will be your last day, you won't want to commit to anything too hectic. Spend the morning packing and checking out of your accommodation to see if it has anything else to offer. Consider stopping for one last activity or meal in the Poconos before heading home.
Frequently Asked Questions
How much does a Poconos romantic getaway cost on average?
The cost of a romantic getaway to the Poconos can vary widely depending on a number of factors, including the time of year you visit, the type of accommodation you choose, and the activities you plan to do while you're there.
Accommodation ranges from $100 to $500 per night. Overall, you should expect to budget at least $1,000 for a long weekend getaway to the Poconos.
When is the best time to visit Poconos?
The best time to visit the Poconos depends on your personal preferences and what you're hoping to do while you're there. In the summer months, the region is a popular destination for outdoor enthusiasts, with warm temperatures and plenty of opportunities for activities such as hiking, biking, and swimming.
How long do people typically spend in Poconos on a romantic getaway?
Some people may choose to spend just a long weekend in the Poconos, while others may opt for a week-long or longer trip. Three to four days is a good amount of time to spend in the Poconos, allowing you to experience a variety of activities and attractions without feeling rushed.
What is the best way to travel around Poconos?
This depends on your specific needs and preferences. However, navigating the small towns and villages can be challenging if you don't have a car. Renting a car is highly recommended, but if that's not a viable option, you may find that your stay has its own shuttle service or other transportation options available for guests.
What is the best way to travel to Poconos?
The Poconos are located about a two-hour drive from New York City and Philadelphia, so driving is a good option and can be highly romantic. You may also be able to use public transportation to get to the Poconos, as both New York and Philadelphia have bus and train stations that offer service to the region.
Start Planning The Ideal Romantic Getaway
Planning a romantic getaway with your loved one can be easy and enjoyable, especially with the wide range of accommodation options and activities that the Poconos offers. Whether you're looking for a luxurious resort experience or a more rustic and intimate bed and breakfast, you're guaranteed to find a perfect place to stay in the Poconos.
To make the most of your time in the region, it's a good idea to plan ahead and make reservations for activities and dining in advance. The destination is becoming increasingly popular, so you'll want to ensure that you have everything you need for a smooth and stress-free trip.
Once you've arrived in the Poconos, be sure to spend some time exploring the local towns and villages to discover some of the region's best-kept secrets. And, of course, don't forget to take some time to relax and enjoy each other's company in this beautiful and peaceful part of the country.
If the Poconos still doesn't sound like it's for you, then that's completely understandable. In that case, be sure to check out our other guides on the best romantic getaway destinations.