Tahiti is one of the most popular honeymoon destinations on earth, and it's not hard to see why. It's the jewel in the crown of the enchanting islands of French Polynesia and is by far the most visited island of them all.
From spectacular mountain ranges and pristine lagoons to mouth-watering local cuisine and hospitable locals, you'll never find yourself short of something to do while honeymooning in Tahiti.
In our detailed Tahiti honeymoon guide, we've taken an in-depth look at some of the best resorts, excursions, locations, and activities that this beautiful paradise has to offer as well as offering some helpful advice about budgeting for your trip.
What Makes Tahiti Perfect For A Honeymoon
The enchanting South Pacific island of Tahiti is bursting with local culture, exciting activities, and sheer natural beauty, as well as some of the best honeymoon resorts in the world.
There are options that are suitable for most budgets, and you can choose to stay in an overwater bungalow, a romantic lodge, or even your own private island resort.
Although the main attraction is the breathtaking beaches, there are also plenty of opportunities for activities like scuba diving, hiking, and taking a romantic sunset cruise. Inter-island flights and ferries also make it very easy to travel to the other islands of French Polynesia at an affordable price.
Best Honeymoon Resorts, Hotels, And Other Stays In Tahiti
Your dream honeymoon in Tahiti wouldn't be complete without the perfect place to stay, and there are many stunning resorts dotted across the island to choose from.
As the Pacific Ocean, known to locals as 'Moana', plays such a key role in Tahitian culture, the most popular types of accommodation are overwater bungalows which give honeymooners a unique and supremely relaxing vacation experience.
This romantic island has something for everyone, whether you want to kick off your sandals and relax on a white, sandy beach or take an exhilarating hike through the local jungles.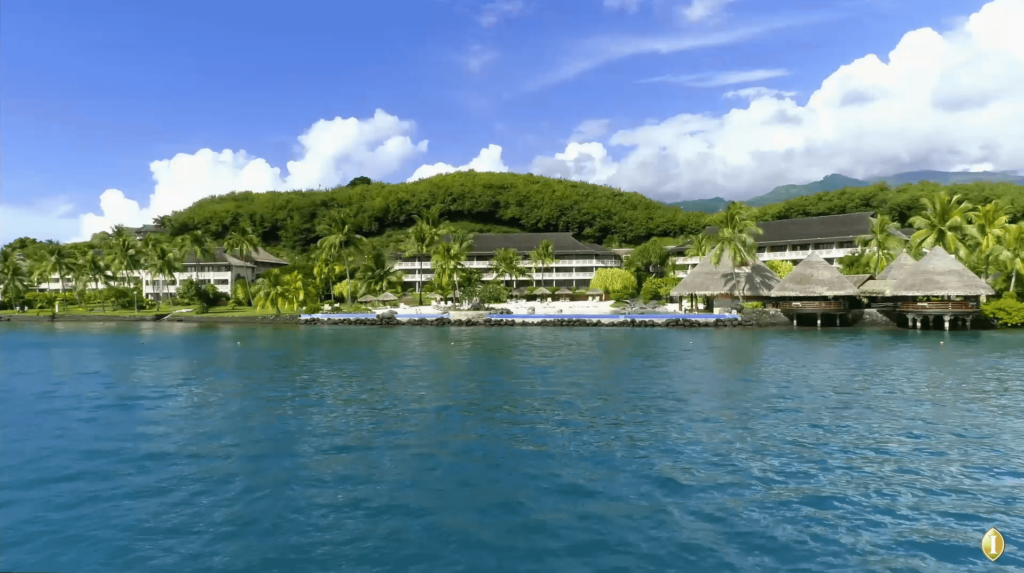 Price per night: $339 – $519
Best For: Romantic vacations and long stays
Availability: Easy to book
The InterContinental has a private lagoon, a huge 60-acre tropical garden, and gives you the choice between beach bungalows and overwater bungalows.
The resort has a wide range of accommodations from standard rooms to executive suites and offers a romance package for honeymooners. It also features two top-quality restaurants to satisfy your gastronomical desires, and meals can be enjoyed alongside traditional dance and music.
Relaxation is paramount at The InterContinental. You and your partner can indulge yourselves with visits to the exclusive Deep Nature Spa, located in the heart of the resort.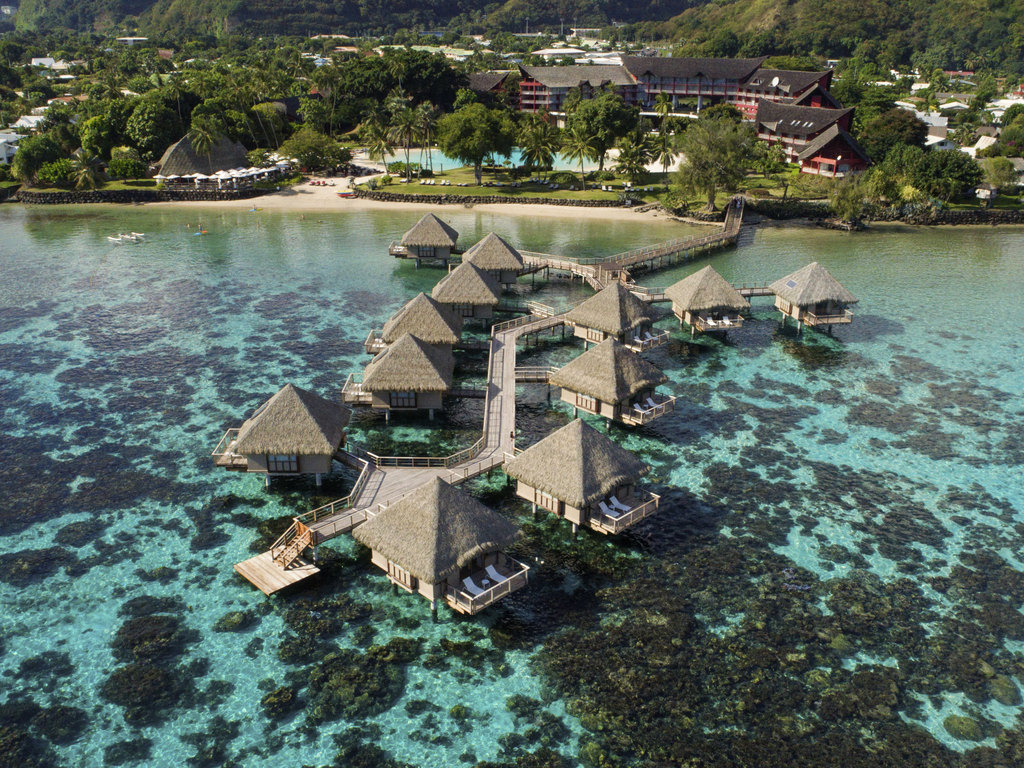 Price per Night: $250 – $390
Best For: Couples of all ages
Availability: Easy to book
Tahiti La Ora Beach Resort is one of the more affordable options for honeymooners on the Society Islands, but this doesn't mean that it skimps on quality or luxury. You can choose from one of its 146 rooms with tropical garden views or one of 12 bungalows that sit atop the turquoise Pacific Ocean.
The resort itself is situated on a picture-postcard, white sandy beach and gives guests access to the nearby lagoon where you can snorkel with a wide array of tropical fish.
The dining options include two fantastic restaurants and bars where you can enjoy local cuisine beneath the clear, blue skies. There are no honeymoon packages or all-inclusive deals at this resort, but its affordable rates mean you should have something left over to indulge yourselves during your honeymoon.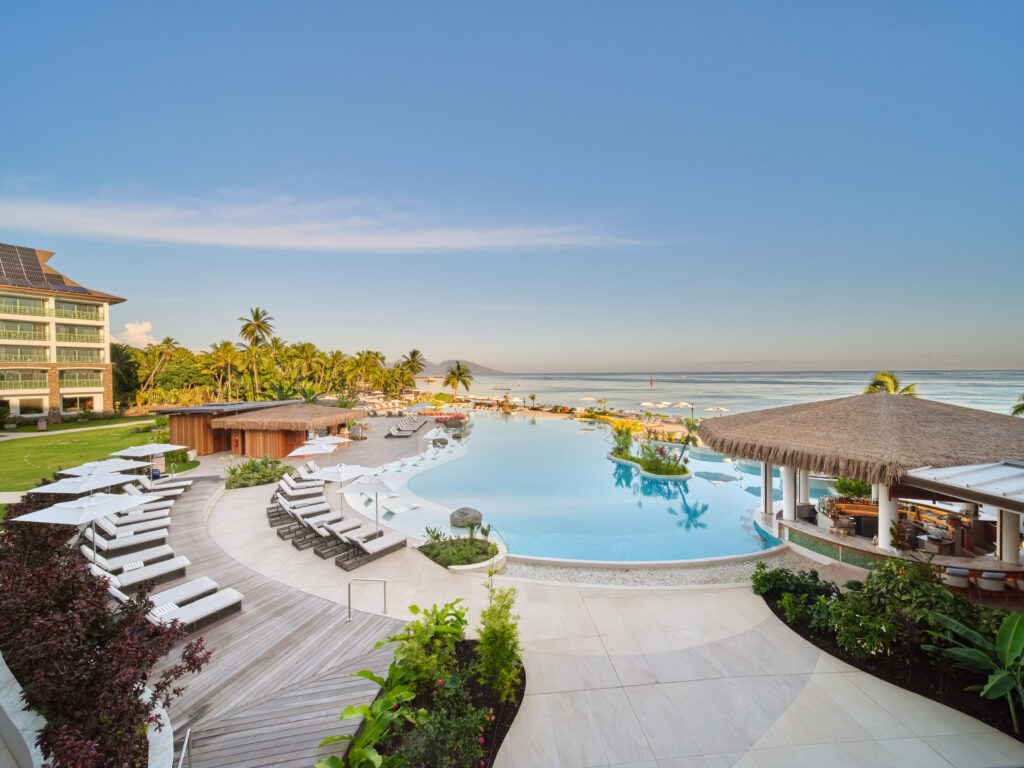 Price per Night: $333 – $519
Best For: Short Stays
Availability: Easy to book
The beautiful Hotel Hilton in Tahiti is just five minutes away from Faa'a International Airport making it a very convenient location for honeymooners.
Its luxurious rooms come in many sizes, from private cabanas to spacious suites. They feature excellent amenities like walk-in showers, satellite TVs, and soundproofing.
Guests have the option of dining in one of three exquisite restaurants and also have access to a large outdoor pool that overlooks Morea Island.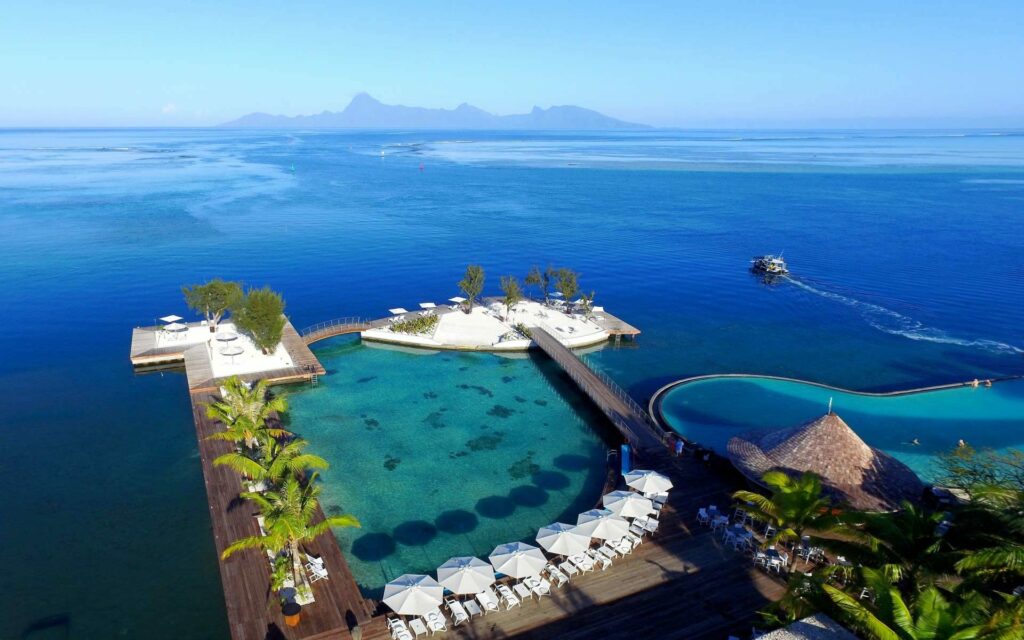 Price per Night: $234 – $299
Best For: Couples
Availability: Easy to book
Located in the capital city of Pape'ete, Te Moana has 120 rooms featuring views of the South Pacific Ocean and the nearby mountains. Each room has authentic Polynesian decor with full amenities to provide supreme comfort.
Honeymooners can relax in the exclusive spa and wellness center and float in the infinity pool that looks out over a tranquil lagoon. You can also take advantage of the fitness center and the two on-site bars.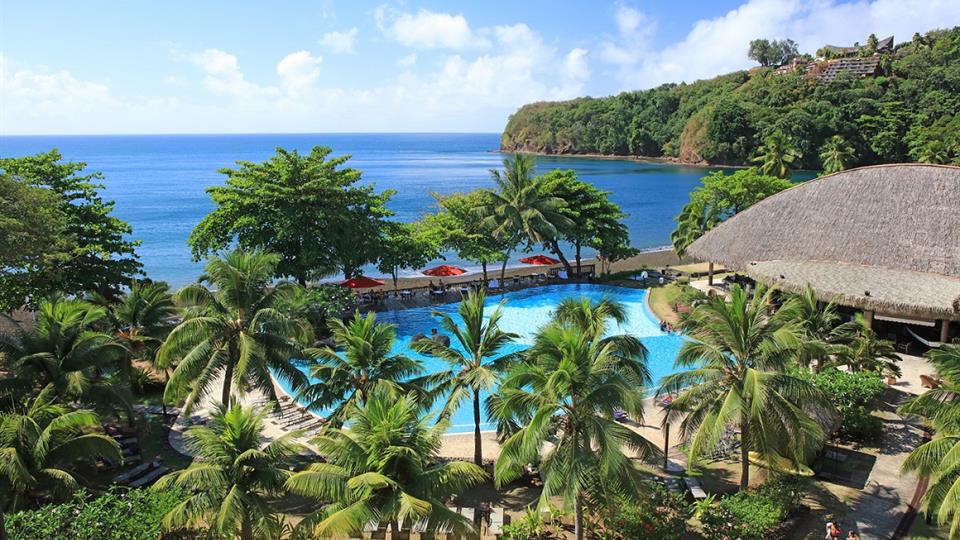 Price per Night: $316 – $434
Best For: Romantic Vacations
Availability: Easy to book
This oceanfront hotel is located on the stunning shore of Lafayette Beach, overlooking Matavai Bay. Nestled in its luscious, tropical surroundings, Le Tahiti offers honeymooners blissful relaxation and easy access to ocean swimming.
Guests can also unwind in the Tavai Spa and choose from one of the many rooms, including oceanview suites with hot tubs.
Best Areas To Stay In Tahiti
One of the reasons Tahiti is such a popular destination is the incredible amount of variety that it offers to visitors. There is a vast abundance of things to see and do, and lots of stunning resorts to pick from.
In this list, we'll take a closer look at the best places to stay in Tahiti for newlyweds based on the activities, excursions, ease of access, and accommodation that each location has to offer.
Tahiti Nui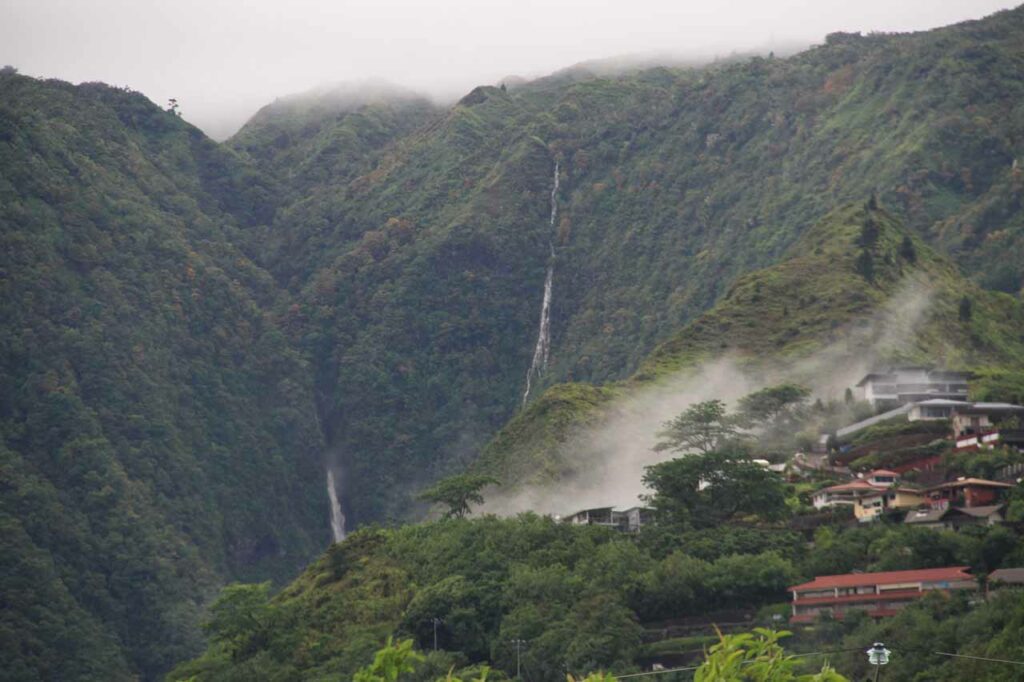 The island of Tahiti is essentially split in two and Tahiti Nui, also known as Big Tahiti, is home to the airport, most major attractions, and the capital, Pape'ete.
Tahiti Nui has some of the best resorts on the island, where you can soak up the local Tahitian culture. Hopping between other islands is straightforward, with Moorea only a 30-minute ferry ride away.
Some of the best activities and excursions you can experience while in Tahiti Nui include:
Guided whale tours where you can view the incredible humpback whales that migrate to Tahiti's waters to breed and give birth. Prices start from $75 per adult.
Hike to the top of Mount Aorai on your own or with a guide and take in some of the best views in the South Pacific.
Sample the incredible local cuisine which is a mixture of traditional Tahitian produce and French-influenced cooking techniques. There are plenty of fine-dining restaurants to experience, but some of the best Tahitian cuisine can surprisingly be found in seriously affordable roadside food trucks.
Tahiti Iti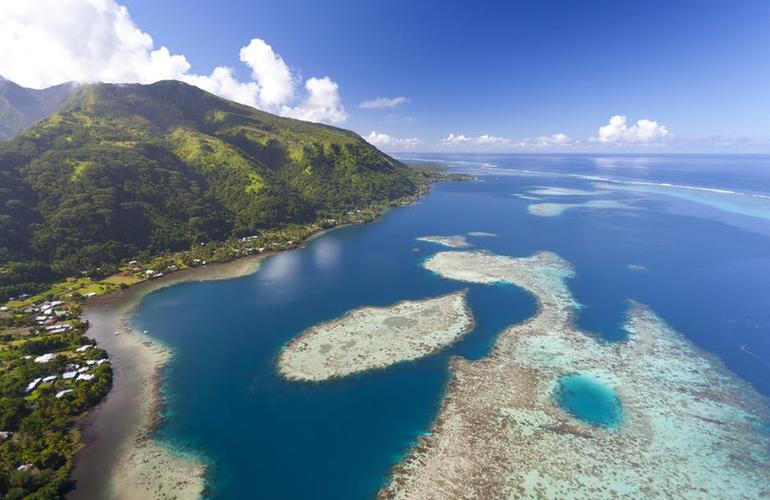 Tahiti Iti, also known as Small Tahiti, is much less developed than Tahiti Nui which makes it ideal for couples looking for a break from the hustle and bustle of the more well-known areas on the island.
Despite being less popular amongst tourists there is still plenty to see and do in Tahiti Iti and spending time here will also give you more of a chance to interact with the locals.
Some of the best activities and excursions in Tahiti Iti include:
Teahupo'o boat tours, during which you will watch surfers tackle the waves of the legendary Teahupo'o reef break before taking in the magnificent landscape of Fenua Aihere, which is only accessible by boat. Prices start from $95 per adult.
Swimming and relaxing with the locals at Toouo beach. This white sandy beach is very popular amongst Tahitians and you will most likely find locals there eating together as the water laps gently against the shore.
Pape'ete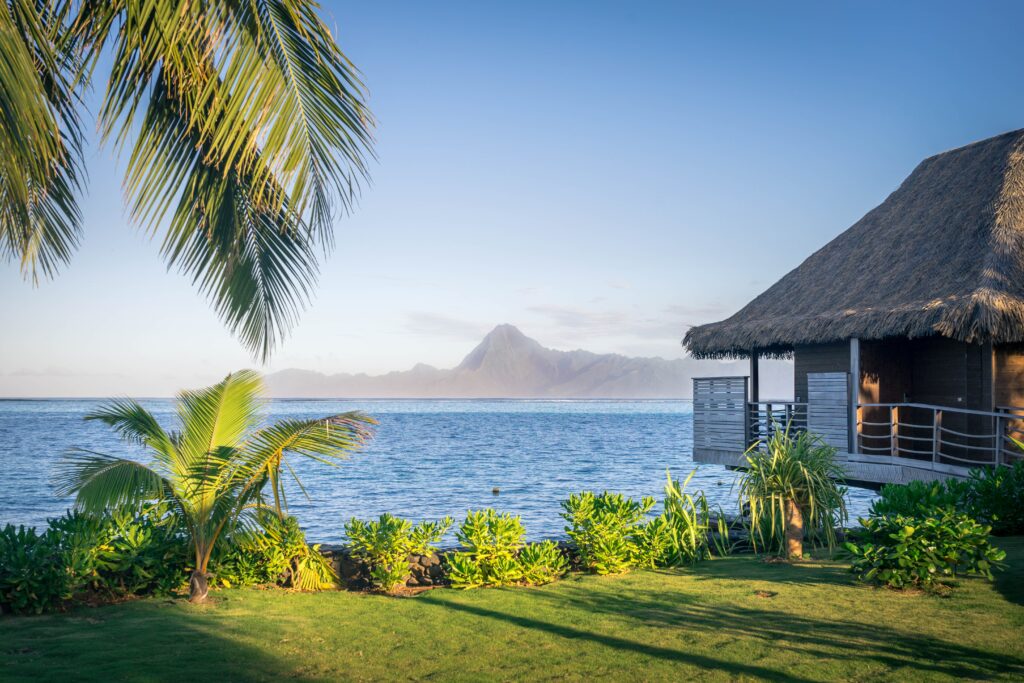 The historical capital of Tahiti, Pape'ete, features a busy harbor, bustling boulevards, and waterfront promenades. There are many intriguing museums and vibrant markets within the city and many of the best bars and restaurants in Tahiti are to be found there.
Some of the most popular activities and excursions in Pape'ete include:
The Robert Wan Pearl Museum, where you can learn about the history of pearl-fishing on the island and even buy a black pearl. Entry is free for everyone.
Manua Tahitian Art Gallery which features amazing works of art by local Tahitian artists. This is a great way to absorb the local culture and learn all about Tahitian art. Manua doesn't charge for entry to the gallery.
Top Excursions & Activities To Do On A Tahiti Honeymoon
Your honeymoon in Tahiti is guaranteed to involve endless stunning scenery, placid lagoons, welcoming locals, and incredible wildlife but natural beauty is not the only reason that this island is so popular amongst newlyweds.
There are also plenty of excursions and activities for you to take part in, ranging from adventurous experiences such as scuba diving and parasailing to more relaxing endeavors like spa treatments and sunset dining.
Scuba diving
Tahiti offers amazing diving experiences for both seasoned divers and first-timers alike. The best spots for diving are Papa Whisky and The Marado, where you can swim alongside manta rays and sea turtles and also take lessons to become a certified scuba diver.
Polynesian spa treatments
Polynesians are known for having some of the best spa treatments in the world and these treatments usually involve the use of traditional massage oils such as tamanu and monoi. Most resorts offer spa treatments so be sure to indulge yourself in this relaxing, local tradition.
Lagoon tours at sunset
There are few things in life more romantic than a Tahitian sunset, and while on your honeymoon, you can take one in as you float gently atop a traditional outrigger canoe. You can also find canoe tours that end with dinner on a private island.
Learn the ukulele
One of the most well-known Tahitian traditions is playing the ukulele, and many resorts offer lessons from locals on how to master this charming instrument. Imagine serenading your partner as you listen to the waves gently lapping against the beach with the sun setting in the distance!
Secluded romantic dinners
Polynesian cuisine is unique and delectable, and the islands of French Polynesia offer some of the most secluded and romantic locations for you to enjoy it. If eating dinner on your own private beach sounds appealing, there will be many opportunities for you to arrange this during your stay.
Sample Itinerary & Budget For Your Honeymoon To Tahiti
When planning your honeymoon, one of the most important things you'll consider is how much the trip will cost you. You need to take into account various things that will increase the cost of your honeymoon, such as travel, accommodation, activities, and dining.
One factor that will greatly influence the overall cost of your honeymoon is whether you travel during high-season or low-season. For instance, flying to Tahiti from Los Angeles in August with Air Tahiti costs around $2,000, whereas flying in May or September costs around $950.
The type of accommodation you choose will also have a big impact on your budget. Staying in one of the highest-quality, luxury villas will cost you around $3,500 a day but if you choose a more standard room you can expect to pay around $250 a day.
In terms of dining out, if you choose to eat at mid-range restaurants, you should expect to pay around $40 for a meal for two. However, there are many cheaper, local restaurants and food trucks dotted around the islands where it is possible to have a meal for two for around $12.
Below we've listed some of the most popular excursions for honeymooners, along with the average prices.
| | |
| --- | --- |
| Activity | Average Prices |
| 4×4 tour of Tahiti – this tour takes you deep into the heart of Tahiti, where you can see natural pools, hidden waterfalls, and impressive mountain ranges. You'll also be able to observe the local wildlife and swim in some of the crystal-clear pools that are hidden off the beaten track. | $130 |
| Sea Scooter snorkeling excursions – this guided snorkeling tour in the ocean waters of Punaauia gives you the opportunity to explore beautiful coral reefs and to swim with various forms of sealife such as turtles, stingrays, and even humpback whales. | $151 |
| Walking tour of Pape'ete – during this tour, you'll spend half a day discovering the capital of Tahiti with a local guide. You'll learn about the city's history, culture and all about local life. | $36 |
For a seven-day honeymoon in Tahiti, here's a sample itinerary:
Day 1: Upon arriving at your resort, take some time to unpack, relax, and check out all that's on offer! Take a dip in the pool, or simply relax the evening away at the bar.
Day 2: Spend your second day exploring Pape'ete. Take a walking tour of the city, or just enjoy things at your own pace. The Pape'ete Municipal Market is the perfect spot for lunch, and you'll find it busy with locals. You can also watch how traditional goods such as leave purses are made.
Day 3: Take an excursion to swim with dolphins, go snorkeling, take a glass-bottomed boat tour or explore on dry land by taking an ATV tour. It's entirely up to you!
Day 4: Spend the day relaxing on the beach with your new spouse, before watching the sunset over dinner.
Day 5: After a relaxing day, time for another adventure today. Take a ferry or use an inter-island air service to visit another nearby island. Moorea is the closest if you don't want to spend too long traveling.
Day 6: On your last full day, make the most of your resort's amenities. Enjoy the private pool if you have one, or treat yourselves to a massage at the on-site spa.
Day 7: Spend the final day visiting any other attractions you might have missed before picking up any souvenirs and heading to the airport.
FAQs
How much does a Tahiti honeymoon cost?
The overall cost of your honeymoon will be greatly affected by the time of year, the type of accommodation you choose, the number of activities you take part in, and the places where you choose to eat.
On average, if you take part in three activities and stay in mid-price accommodation during the low season you should expect to pay around $4,500 for a 7-day honeymoon. If you decide to travel during the high season or choose a more expensive hotel you might pay a great deal more than this.
When is the best time to visit Tahiti?
Visiting Tahiti is always pleasant, but the most popular travel season is November through April. This is Tahiti's winter season when the temperatures are slightly lower and there is far less rain and humidity.
What is the best way to travel around Tahiti?
On the island of Tahiti, one of the best ways to travel is to rent a car or scooter so that you can take in the surrounding nature at your own pace.
If you want to visit several of the islands of French Polynesia, there are ferries that run between many of the islands such as Moorea and Tahiti. Places such as the Marquesas Islands can only be reached by plane.
What is Tahitian cuisine?
Tahitian cuisine is an eclectic mix of local, traditional ingredients and flavors with a heavy French influence. It's most famous for containing lots of fresh fish and locally sourced exotic fruits.
Start Planning The Perfect Romantic Honeymoon Getaway
Choosing Tahiti as the destination for your honeymoon means that you and your partner will be setting foot in one of the most romantic and versatile vacation spots the world has to offer.
It's the ideal choice if you want to relax, explore or do a bit of both, all against a backdrop of jaw-dropping scenery, inviting lagoons, and idyllic sunsets.
If you're currently planning your honeymoon, be sure to check out our Couples Travel guides and start preparing for your romantic getaway anywhere in the world.