Planning romantic getaways in Utah? We don't blame you. This state is one of the most beautiful in the United States and has so much to offer you won't know where to start. That's where we come in.
We've broken down the best areas and accommodations for your romantic holiday. Whether it's for a weekend getaway or a few weeks. Hiking, skiing, river rafting, rock climbing, riding horses, and exploring incredible canyons are on our list.
So, grab your hiking boots and skis while we dive into what Utah has in store.
What Makes Utah Perfect For A Romantic Getaway?
Utah is the most amazing romantic holiday for those enjoying the outdoors and a little more adventure.
You can experience some once-in-a-lifetime views of the stunning landscapes from a hot air balloon. Mountain biking, hiking, skiing, and horseback riding are all on offer in this beautiful state.
You can choose your style of getaway. There are log cabins, luxury hotels, and even a castle bed and breakfast. So whether you're an adrenaline junkie or looking to put your feet up and enjoy the fresh air. Utah has it all.
Most Romantic Getaways in Utah
If you're planning romantic getaways in Utah, you'll need our guide to help determine where might be best. Salt Lake City is the place to be for good food and exploring the history of Utah. Moab is an area for hiking, mountain bikes, and taking in the desert landscape.
On the other hand, Park City is where you want to be for snow sports like skiing and snowboarding. Provo and Zion National Park offer expansive canyons and trails to pump the adrenaline.
Let's take a closer look at each area.
Park City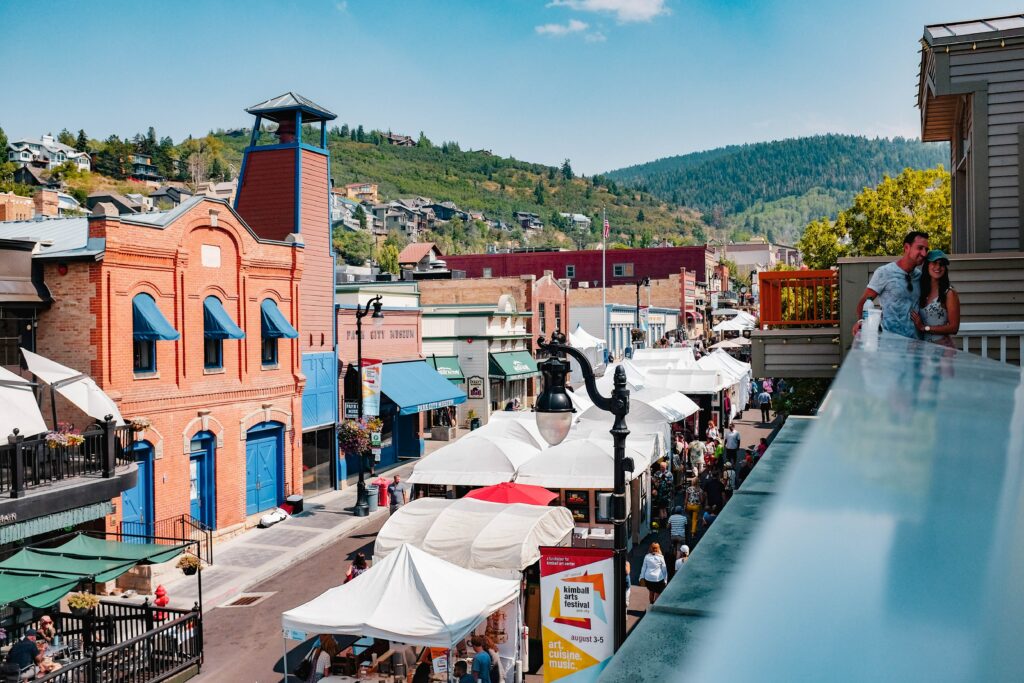 Park City is mainly situated in Summit Country. It is 32 miles from Salt Lake City and has two ski resorts. This makes the perfect addition to romantic getaways in Utah for couples that enjoy some snow sports.
If you're looking for a place to bundle up with a good book, hot chocolate, and maybe some relaxation in the hot tub, then Park City is the place to be. But you can also enjoy this destination during the summer, with most large accommodations having pools.
Hiking in Park City is popular during the summer and makes for a beautiful day out with the one you love. The scenery and views in this destination are unmatched.Plus, downtown Park City offers an old-town feel that looks like something out of a Christmas movie.
Best Accommodations in Park City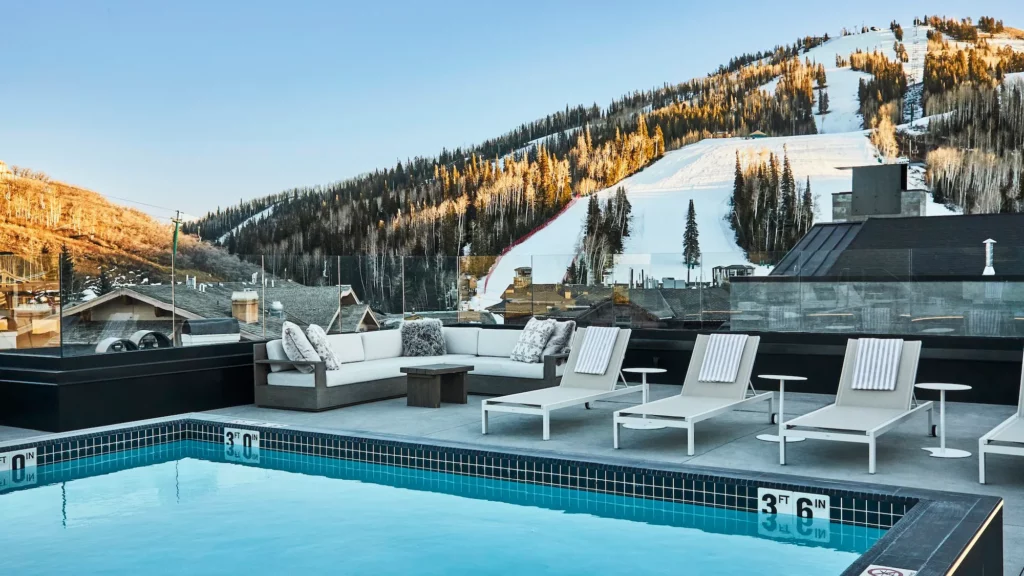 Price per Night: $399-$1,599
The Goldener Hirsch Inn is a boutique hotel huddled in the middle of the mountain. It offers luxury accommodation with even better surroundings and views. It might be challenging to choose between staying in or going out.
After a good rest, you can dive into the hot tub, get a workout at the fitness center, and enjoy a fabulous meal at the award-winning restaurant onsite. You can also venture out and have some fun in the snow. The resort offers skiing, snowmobiling, and snowboarding during the winter.
You can enjoy magnificent views in the summer with horseback riding, biking, and hot-air balloon rides. All this and more make this Park City Hotel one of the best romantic getaways in Utah.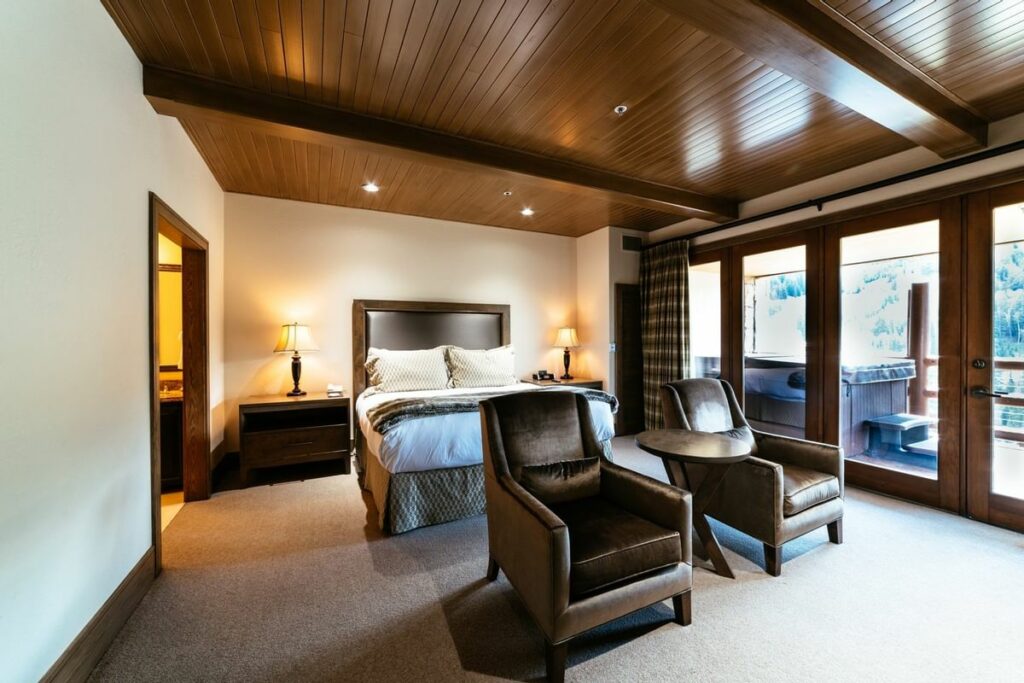 Price per Night: $899-$1176
The Stein Eriksen Lodge is the ultimate place to be if you and your partner enjoy snow sports. The lodge was founded by an Olympic Gold Medalist, after all.
It is situated in the Deer Valley Resort within Park City. The lodge offers a romantic getaway experience with a European-style spa, a heated pool, a hot tub, ski-out access, an indoor pool, and a sauna to keep you warm when returning from your day in the snow.
There is ski-out access from the lodge, and ski attendants are onsite to help with all your equipment needs. During the summer, you can soak up the sunshine on horseback rides, fly fishing, white-water rafting, and fly fishing. While in winter, skiing, snowboarding, and other snow activities are where the fun is at.
After your busy day on the slopes, relax at the spa or swim in the indoor pool with your partner. Next, a fine dining experience awaits at the two onsite restaurants with some delicious cuisines.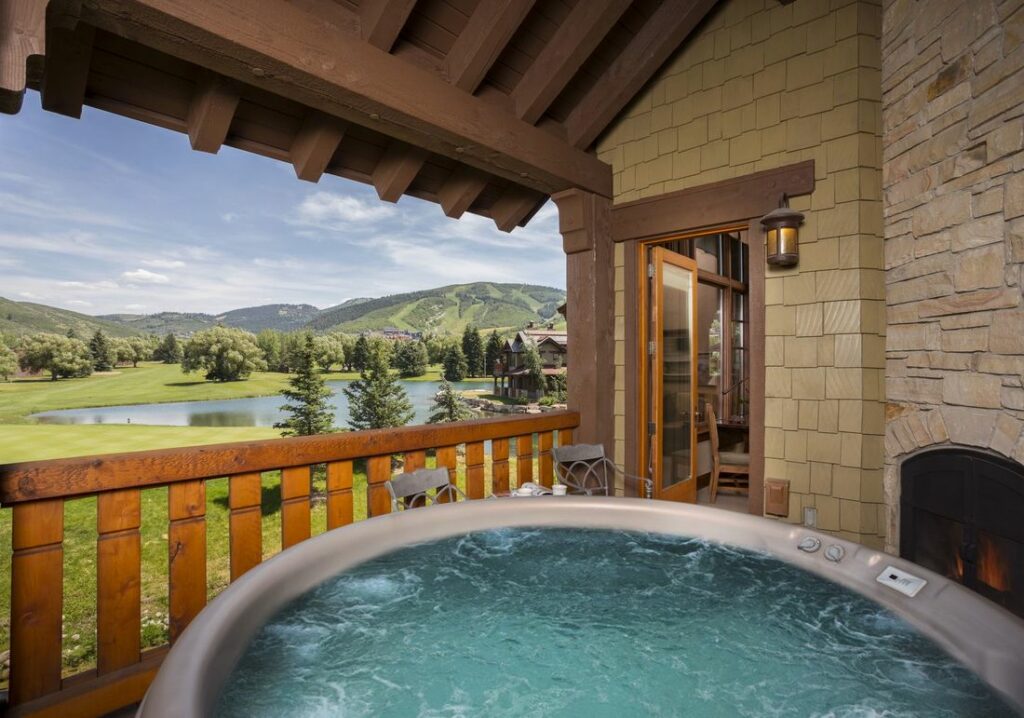 Price per Night: $254-$1,059
Hotel Park City offers romantic getaways in Utah with amazing views of the surrounding mountains.The biking trails will set your cycle soul on fire. After a beautiful ride, you can jump in the outdoor hot tubs or snuggle up by the fireplaces. Plus, the spa treatments at Hotel Park City will keep your muscles loose.
You and your partner can soak in the quiet of the Wasatch mountains while enjoying the delicious food at the onsite restaurants. This ski hotel is a truly romantic destination in Utah. It gives you the all-around experience of wonderful landscapes with all the modern amenities to keep you comfortable.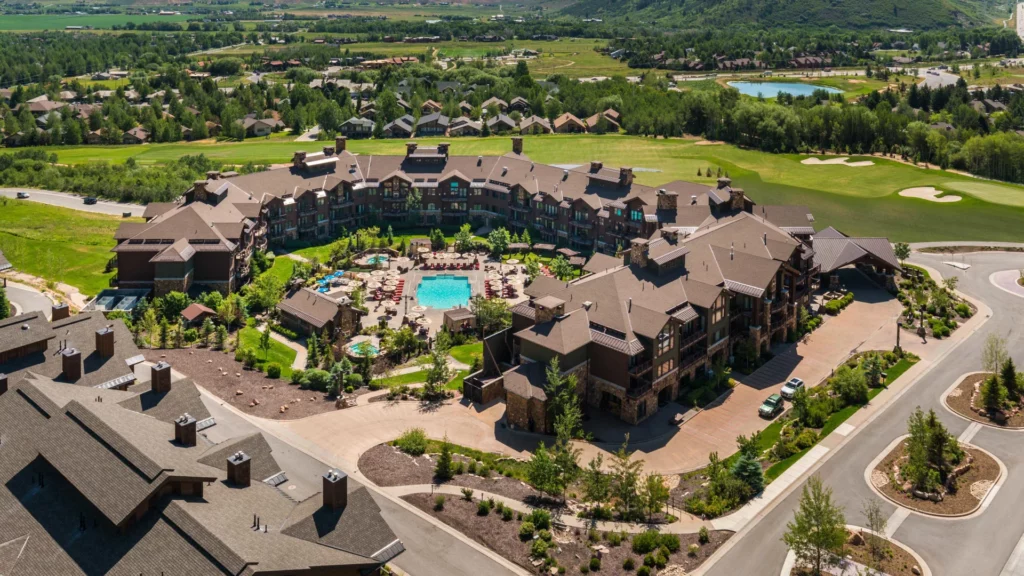 Price per Night: $490-$3,214
The Waldorf Astoria Park City is the biggest ski resort in America. It is the perfect addition to romantic getaways in Utah for couples looking for a snowy outdoor adventure.
The accommodation options are luxurious, with fireplaces and amazing views of the surrounding mountains.
If you're visiting during the summer, the hiking and biking trails offer you the chance of a lifetime. The views of the natural surroundings are incredible.
Moab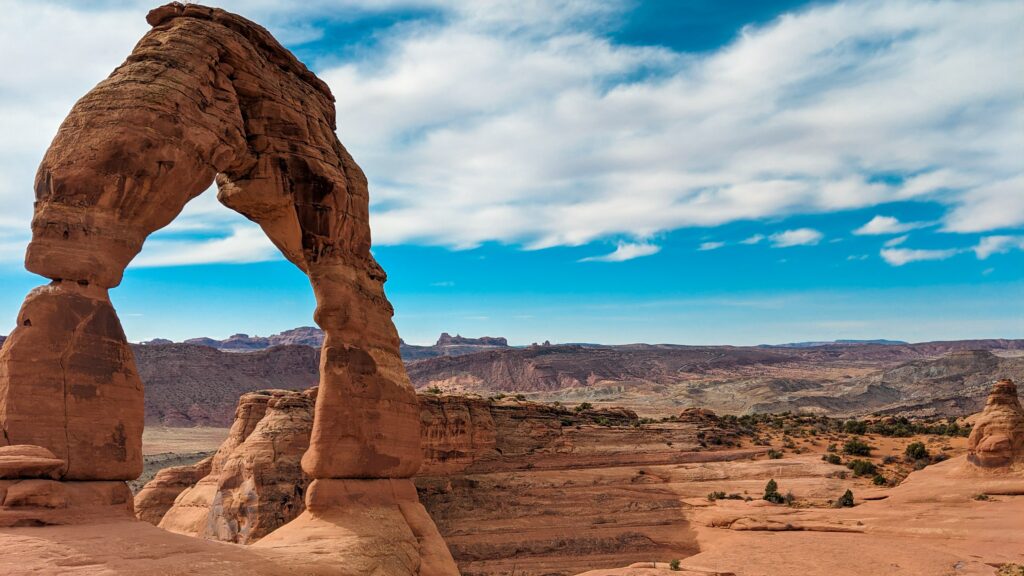 Moab is a city in Eastern Utah. It offers terrific romantic getaways in Utah for couples looking for exciting outdoor adventures.
The desert scenery is secluded, quiet, and full of wonder. You can hike the amazing trails, take a biking adventure, or go old school with some horseback riding.
The Corona Arch Trail is a great hiking trail that runs along the Colorado River. Plus, if you're into 4×4 trails, you're in luck. Moab has multiple tracks with super steep inclines to get the heart racing.
You can experience the unique natural rock formations known as The Needles. They are situated in Dead Horse Point State Park. Not the best name, we'll admit. But still, a must-see if you're in the area. There is so much to do, including rock climbing, ice climbing, rafting tours, kayaking, and driving tours to visit some dinosaur tracks.
Best Accommodations in Moab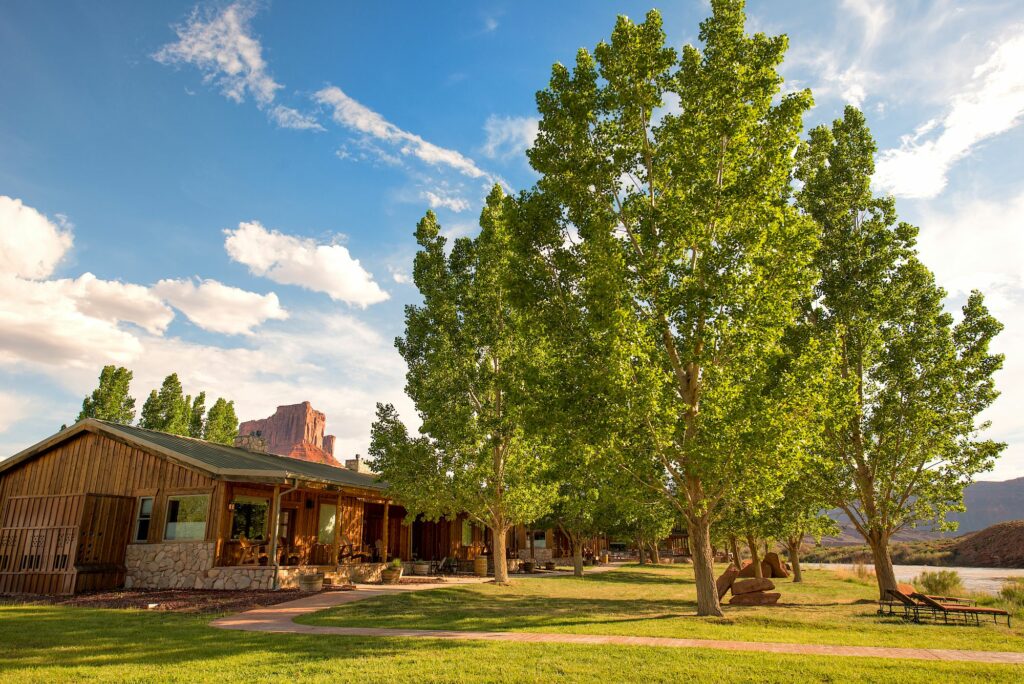 Price per Night: $965-$1,100
The Sorrel River Ranch Resort is a 240-acre romantic destination surrounded by stunning canyons.
This is it if you're looking for a place to explore the Utah desert formations. It's the perfect place to walk hand in hand while experiencing the vast landscapes ahead.
The custom-built cabins are intimate and secluded enough with everything you need to be comfortable. Including comfortable beds and private bathrooms.
The campfire is a beautiful place to relax and look at the stars after an exciting day exploring. But there is a fantastic onsite restaurant to visit first.
The outdoor pool, fitness center, and tennis courts will keep you busy when you aren't hiking, horseback riding, or river rafting.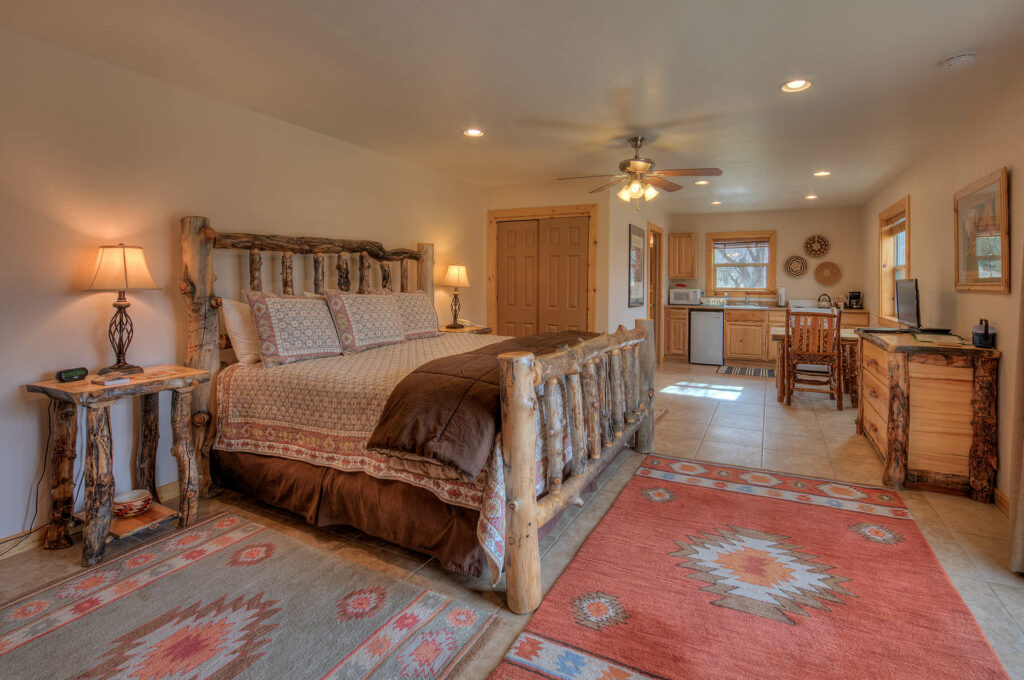 Price per Night: $190-$295
Castle Valley Inn offers cozy accommodations, including private rooms and bungalows. This is one of the romantic getaways in Utah without the frills.
For some, this is what it's all about when visiting areas with outdoor adventure. Each room has a private bathroom and access to Wi-Fi.
There are views of the expansive landscape and an outdoor hot tub to relax in after a long day. It is also situated close to two fine dining restaurants in Moab.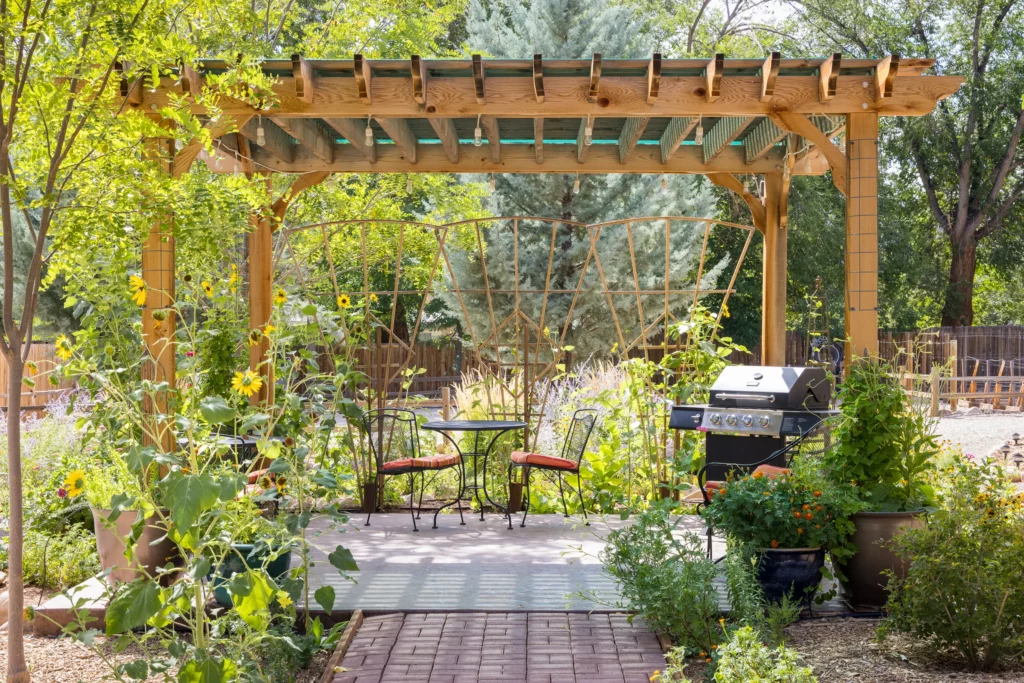 Price per Night: $170-$195
The Sunflower Hill Inn is a wonderful choice for a romantic weekend getaway. It has a rustic feel with modern amenities.
The private balconies and jetted tubs make this Bed and Breakfast an excellent little spot to soak in some of the beautiful surroundings.
It is situated nearby the national parks. Plus, the daily breakfast will have you energized and ready for the adventure ahead.
Zion National Park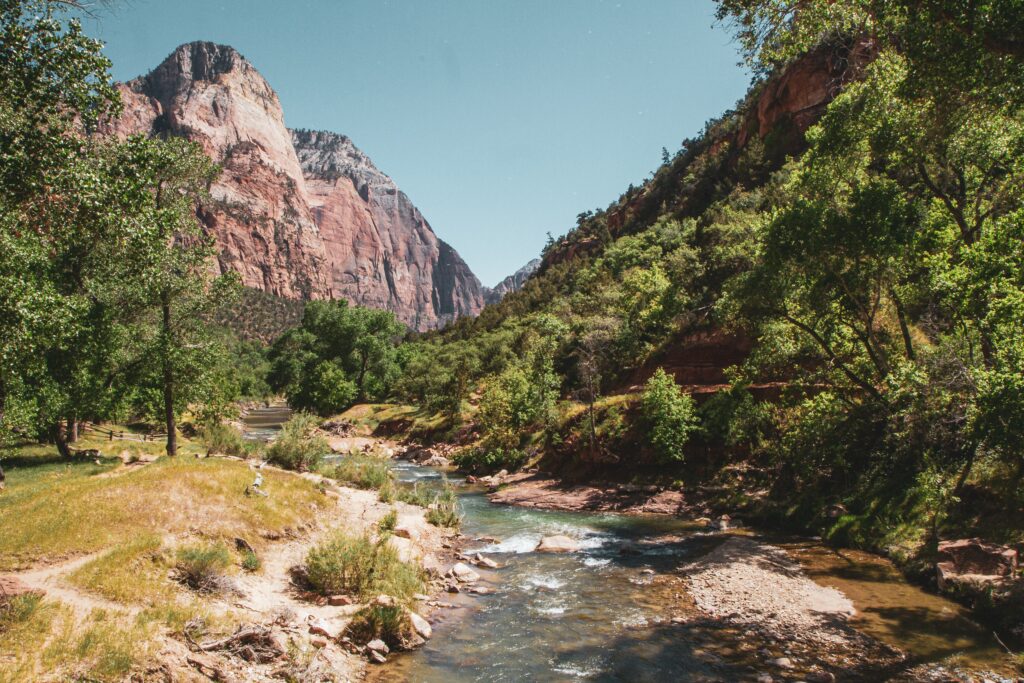 Zion National Park is situated in the southwest of Utah. It offers sandstone canyons, the Virgin River running through, and incredibly high cliffs.This gives this 229-square-mile area a fantastic backdrop to accompany the 18 hiking trails. Mountain bikers and hikers will fall in love with this area.
You can begin your adventure at the Visitors Center, where a guide will take you through all the National Park offers. The museum provides some fascinating insights into its history and development. The Zion Shuttle has nine stops to take you through the park to some of its most popular sites and areas.
If you're into nature, you'll love Zion National Park; it offers rock climbing, hiking, horseback riding, kayaking, bird watching, and more.
Best Accommodations in Zion Park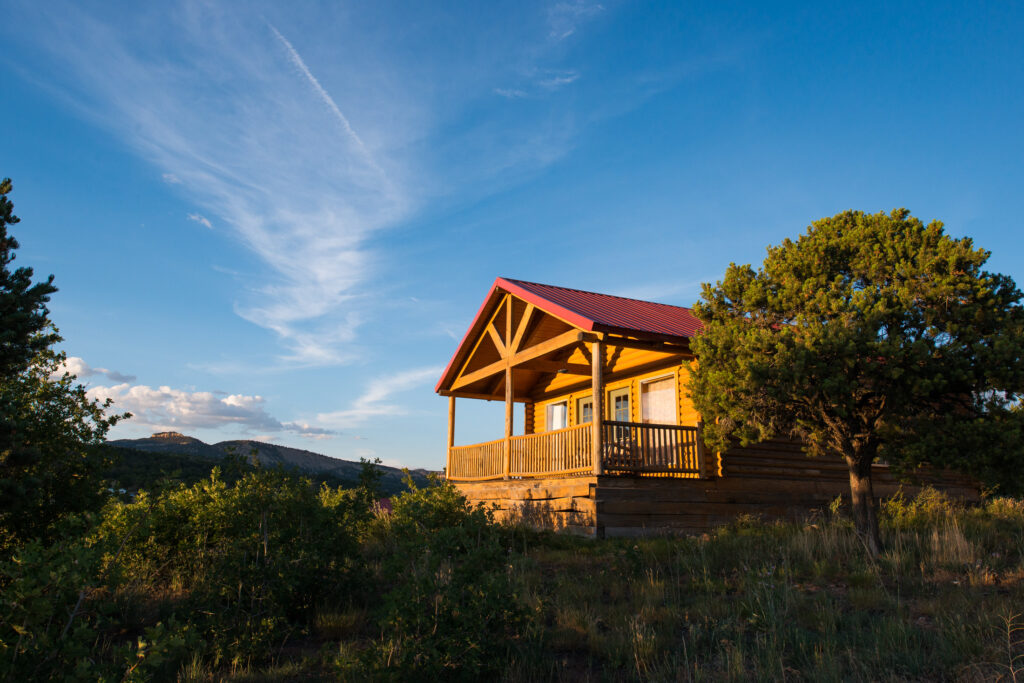 Price per Night: $149-$259
Zion Mountain Ranch is conveniently located three miles from the national park entrance. It is the perfect place to relax while experiencing all this gorgeous location has to offer.
You can rest and rejuvenate in the cabins before heading out on horseback on one of the many guided tours. A truly luxurious way to spend time with your partner on romantic getaways in Utah.
There are also guided hikes and jeep tours within Zion National Park for those looking for more of an adrenaline rush.
Provo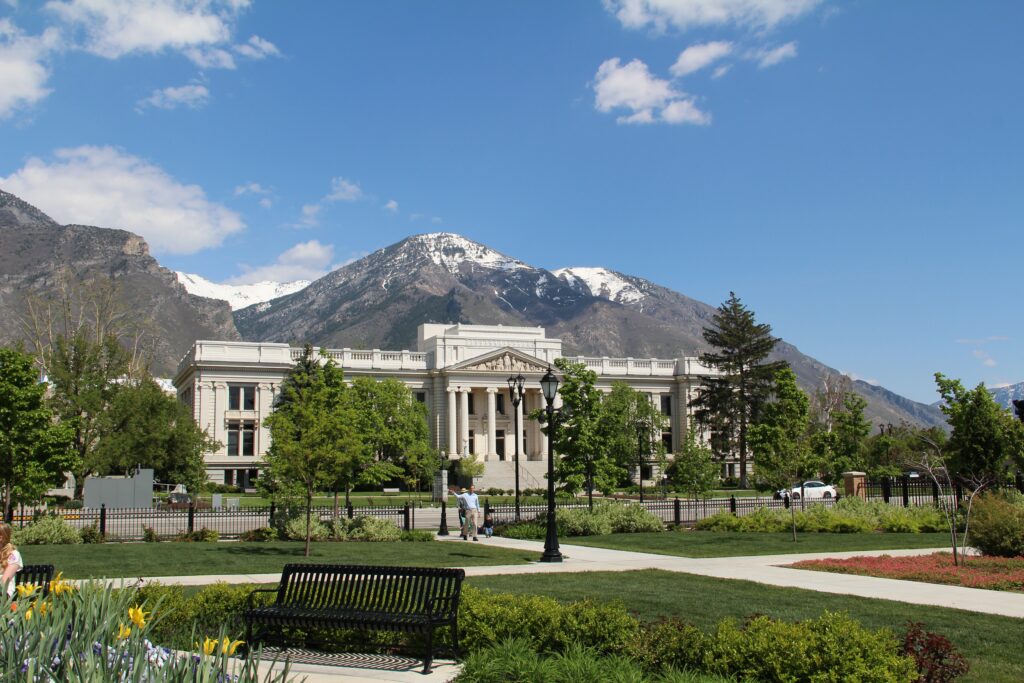 Situated about 45 miles south of Salt Lake City. Provo is the third largest city in Utah, offering all the lights, action, entertainment, and stunning landscapes.
The stunning Wasatch Mountain Range surrounds the city, with the calming Utah Lake running through it. It is the ultimate mix of nature and modern facilities. You can learn about the area at the Museum of Peoples and Cultures. Also, enjoy the fantastic hikes and driving trails up to Provo Canyon and Bridal Veil Falls.
Popular activities are primarily in the vast surrounding areas. Including canoeing, rock climbing, biking, and hiking. But you can also enjoy the city with many restaurants, bars, and a waterpark.
Best Accommodations in Provo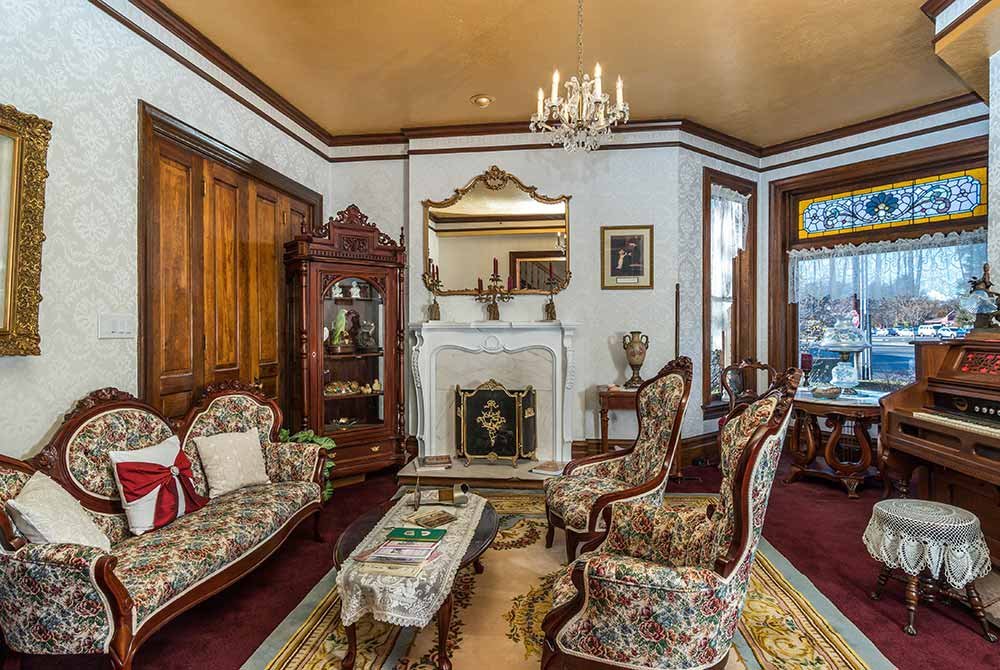 Price per Night: $165-$225
This nine-bedroom luxury guest house offers a fantastic step back in time. The Victorian-era finishings and feel are excellent for romantic getaways in Utah. You can enjoy the relaxing whirlpool tubs and included breakfast to help get the day started right.
The mansion is situated near Utah Lake, the perfect place to enjoy horseriding, boating, and hiking. Plus, if you're looking for a wedding venue or somewhere to celebrate your anniversary, Hines Mansion has you covered. The magical ambiance is something you won't find anywhere else in Utah.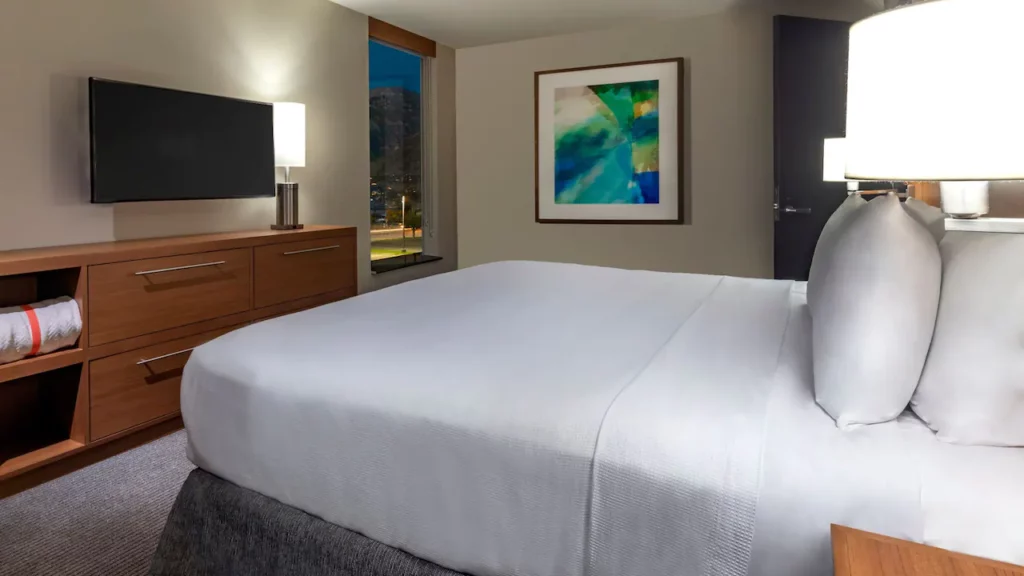 Price per Night: $108-$133
Situated 45 miles from Salt Lake City, Hyatt Place Provo offers a little romantic weekend getaway.
The onsite fitness center and an outdoor pool are lovely to head back to after a long day exploring Provo.
Plus, the onsite restaurant offers curated menus with some exciting dishes. But the market has some grab-and-go options if you're in a rush.
Salt Lake City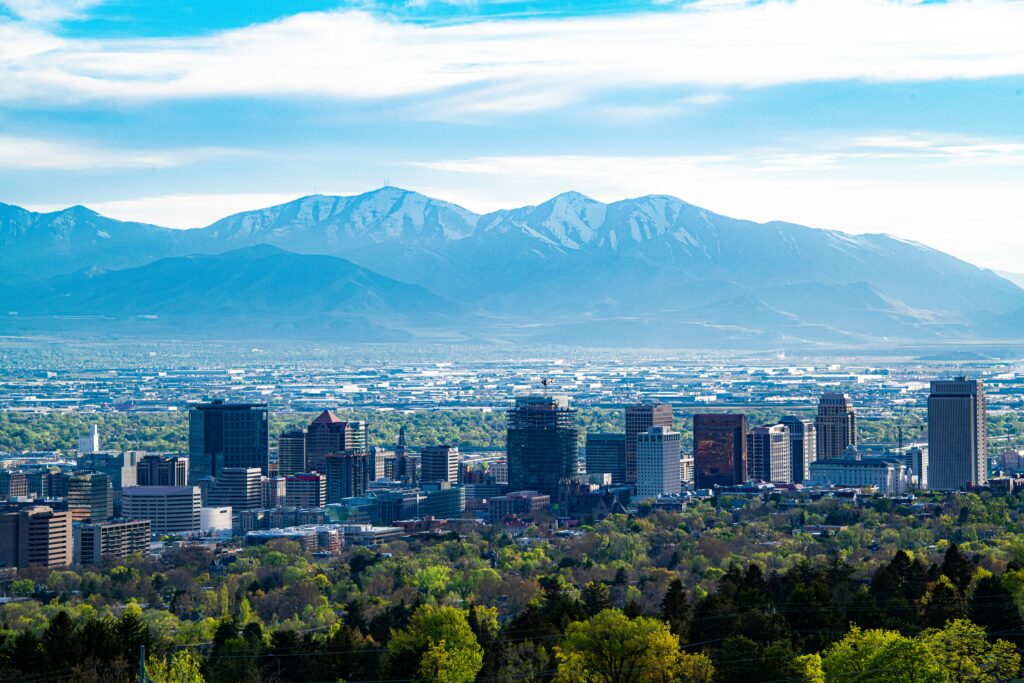 Salt Lake City is the hub of Utah, with loads of fun and interesting things to do inside and outdoors. Some popular excursions include the botanical Red Butte Garden, with walking trails to take in the local flora and small wildlife.
A range of museums will allow you to learn about Utah's unique geology and history. While not for everyone, these are fascinating tours with a wealth of information for those interested. Temple Square is another interesting place. It is the epicenter of the Mormon religion. But if you're looking for more outdoor activities, Sugar House Park is the place to go hiking and cycling.
If you're looking for the perfect place for a sunset stroll on your weekend getaway. Then a hike up Ensign Peak is where you want to be to see the sunset over the impressive Salt Lake Cty.
There are also many restaurants and bars throughout the city. It is also well known for its budding art scene, so a trip to one of the galleries is highly recommended.
Best Accommodations in Salt Lake City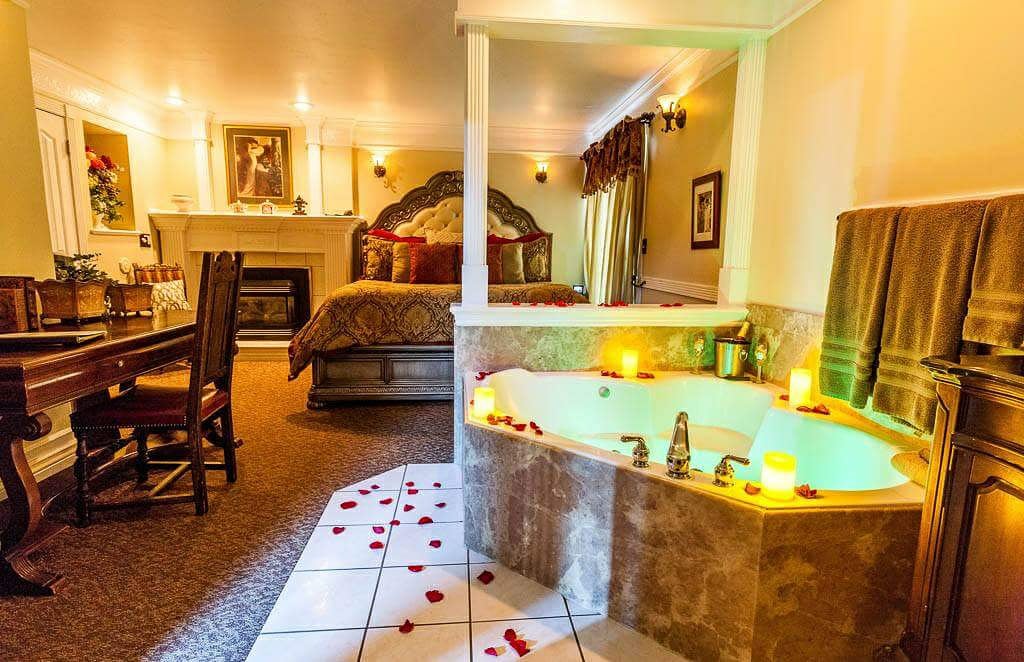 Price per Night: $159-$229
If you're a lover of fairy tales? Then this is one accommodation that you don't want to miss. Set in a castle, Castle Creek Inn offers romance and magic for your romantic getaways in Utah.
The two-person whirlpool tub and romantic dining room are all the cherry on top of your stunningly comfortable room.
While the finishing may look like something out of a storybook, you will still have access to all modern amenities at Castle Creek Inn. Including a TV and private bathroom.
This is an excellent spot for a weekend getaway.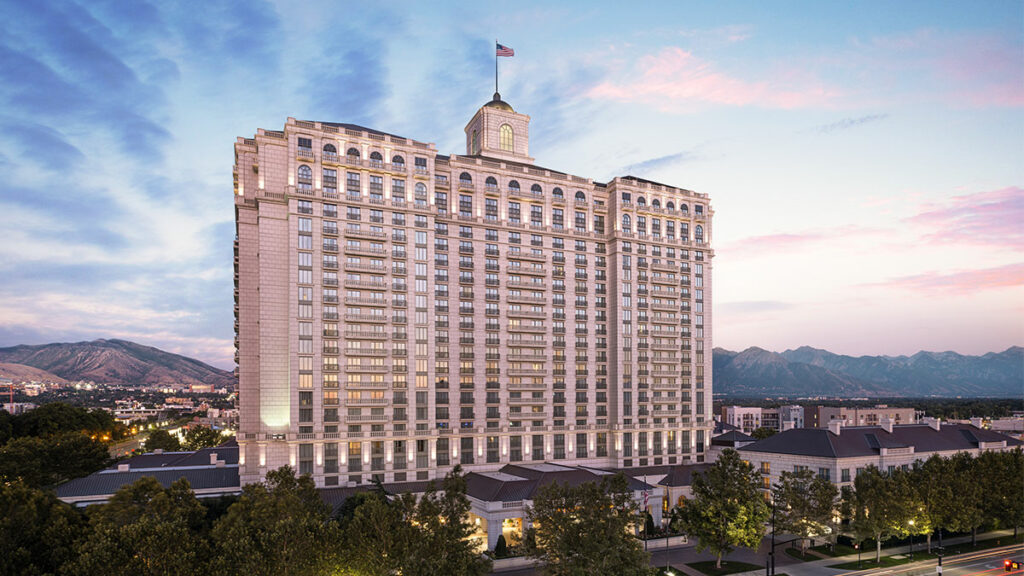 Price per Night:$299-$504
The Grand America Hotel is one of the most romantic getaways in Utah. The luxury hotel is stunning, with fine finishings, comfortable rooms, marble bathrooms, air conditioning, and free Wi-Fi.
There is a five-star spa to unwind after a day of visiting nearby outdoor activities like hiking, canoeing, or museum hopping. The hotel is situated in downtown Salt Lake City. It is ten minutes from the airport and close to many popular shops and restaurants in the area.
If you're venturing to a national park, it should only take between 40 minutes and one hour. Not bad going from the lap of luxury to adrenaline sports.
Top Excursions & Activities To Do On A Utah Romantic Getaway
Here are some activities and excursions on offer throughout Utah:
Horseback riding: This is one of the top activities on romantic getaways in Utah. It's best to do this in one of the national parks on a guided tour. They will take you to all the best spots.
Mountain biking: If you're an adrenaline junkie, you don't want to miss Utah's national parks' amazing biking trails.
River rafting: Utah is home to some fantastic rivers, including the Sorrel River, the Virgin River, and the Colorado River. All these are brilliant for river rafting and other water activities.
Skiing: By far the most popular activity in the winter. You can enjoy skiing in Park City along with any other snow-based activities.
Hiking: An absolute must for romantic getaways in Utah. The hiking trails offer breathtaking views over the expansive landscapes. Moab is a great choice for seeing the desert.
Head to the spa: After all this physical activity, a trip to the spa is in order. Many of our accommodation options above include spa treatments.
Museum hop: If you're visiting Salt Lake City, you don't want to miss the various museums.
Sample Itinerary & Budget For Your Romantic Getaway In Utah
We've broken down a simple itinerary to give you an idea of what romantic getaways in Utah might cost.
We will work off staying for a week and visiting different areas so that you can experience all this destination has to offer.
Prices will vary based on the length of stay and whether you are traveling in high or low season.
A weekend getaway will be a lot cheaper than a week's stay.
| | |
| --- | --- |
| Activity | Price |
| Accommodation | $108-$1,599 The pricing here varies considerably based on the type of accommodation you select. A cabin in the desert is very different from a luxury resort in the mountains. |
| Mode of travel | We recommend renting a car if you're traveling around the state. You can rent a car for between $19-$26 a day. However, this depends on how far you go and doesn't include the cost of gas. There are shuttles and public transport available in more prominent areas. Public transport will set you back about $10 a day per person.  |
| Food/beverage | Dinner in a mid-range restaurant in Salt Lake City will cost about $19. While an alcoholic drink will cost around $6.70.  |
| Horseback riding in Moab | $150 pp. |
| Skiing in Park City | $122 pp per day |
| River rafting in Provo | Starting at $35 pp.  |
| Museum entrance in Salt Lake City | $19.95 pp.  |
Frequently Asked Questions
How much do romantic getaways in Utah cost on average?
This depends on a lot, like where you're staying, what you're doing, and the type of holiday you're looking for. If we look at a mid-range romantic holiday for a week in Utah, you will spend around $4,000 for two people.
When is the best time to visit Utah?
If you're going skiing, February and March are best. If you want to avoid the hectic summer heat, then April, May, and June are good options.
How long do people typically spend in Utah on a romantic getaway?
Some prefer a weekend getaway. However, you will only have time to visit one area and enjoy the activities. We recommend a week so you can experience the outdoors and city life.
What is the best way to travel around Utah?
Public transport is available, but a rental car is your best bet. If you're heading to the outback, you'll want your freedom.
Start Planning The Ideal Romantic Getaway
If you've reached this part of our article, it's time to start planning your romantic holiday in Utah. A world of magnificent views, incredible outdoor activities, and luxuriously comfortable accommodations is waiting.
Don't miss what this gorgeous state has to offer. It's a once-in-a-lifetime trip that you won't regret.