As the saying goes, "Virginia is for lovers." We couldn't agree more. This state is the ultimate romantic destination for partners looking for an escape. Whether you're into the outdoors or want to relax and unwind with a glass of wine, Virginia is the place to be.
It offers expansive landscapes, lush wineries, stunning seaside accommodations, and everything in between. For history lovers, Virginia is the perfect getaway. The state is well-known for its history and has fantastic tours and experiences to get you involved.
Let's grab our sunnies and learn about what Virginia offers for the best romantic getaways.
What Makes Virginia Perfect For A Romantic Getaway?
Virginia has so much to offer, it's hard to know where to start. But let's give it a go.
The state is extremely popular with wine lovers. There are over 300 wineries to enjoy across the state, but wine country is where you want to be to make the most of it. Historically, Virginia is a treasure trove of events and experiences for those that want to learn more about this beautiful state. You might even run into a few historical figures.
Outdoor activities are a big plus for Virginia visitors. The Blue Ridge Mountains and Shenandoah Valley offer hundreds of hiking, mountain biking, and horseback riding trails.
But, most importantly, Virginia offers couples romantic scenery to enjoy these activities together. Whether taking a relaxed walk in town or going on a four-hour trail ride, it's all about experiencing this stunning area together.
Most Romantic Getaways in Virginia
Colonial Williamsburg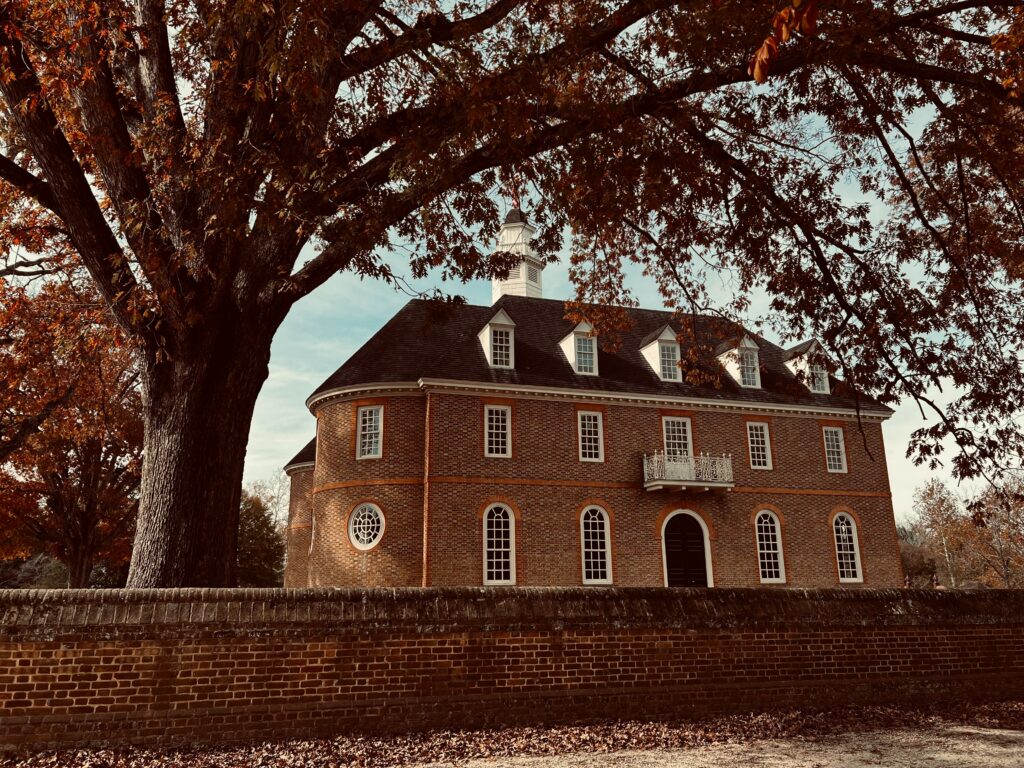 Colonial Williamsburg is quaint, with cobblestone streets, old buildings, and expansive green gardens. Founded in 1699, the city has remained a top tourist destination when visiting Virginia.
You can soak up the sites on a horse-drawn carriage or enjoy a romantic picnic at Sunken Garden. Another option is a nighttime ghost tour to see what lies in the "great beyond" of this historic place. Williamsburg is also home to fabulous wineries. They'll soon have you sipping a glass or two of the local blends, famous for their unique flavor profiles.
There are endless ways to spend your romantic holiday in Williamsburg, including getting a good night's rest at one of the wonderful accommodations.
Best Accommodations in Colonial Williamsburg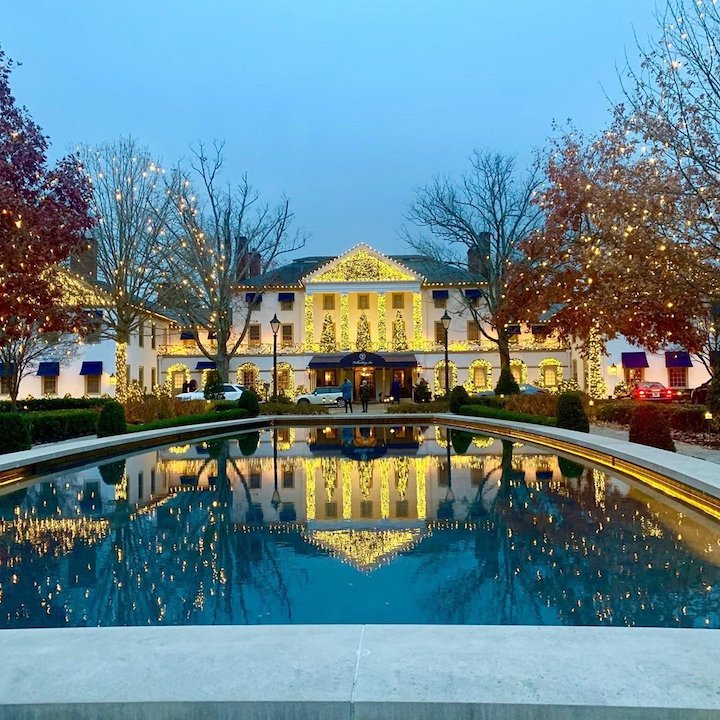 Price per Night: $99-$899.
The Historic Williamsburg Inn is one way to appreciate the historic city. While the finishings are all authentic in every way, you can still enjoy the modern, reimagined services. The onsite restaurant, swimming pool, fitness center, and full spa all add to this luxurious romantic destination.
All rooms have an old-time romantic atmosphere while still being comfortable and having all the comforts of modern life. But the best part of this accommodation is the historic area. You can meet and engage with historical figures from the colonial age.
Shops and a traditional tavern add to the authentic experience at the Williamsburg Inn.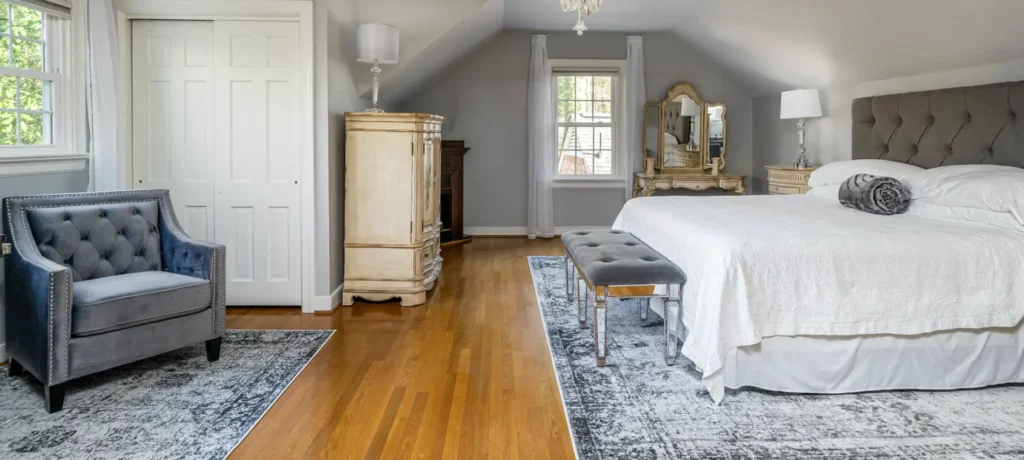 Price per Night: $185-$195
Colonial Gardens Bed & Breakfast is a luxurious accommodation situated in stunningly landscaped gardens.
The clean and comfortable rooms have plush spa towels, Wi-Fi, a refrigerator, and bath robes. That, along with the complimentary breakfast, ensures your romantic vacation will start off right each day.
Washington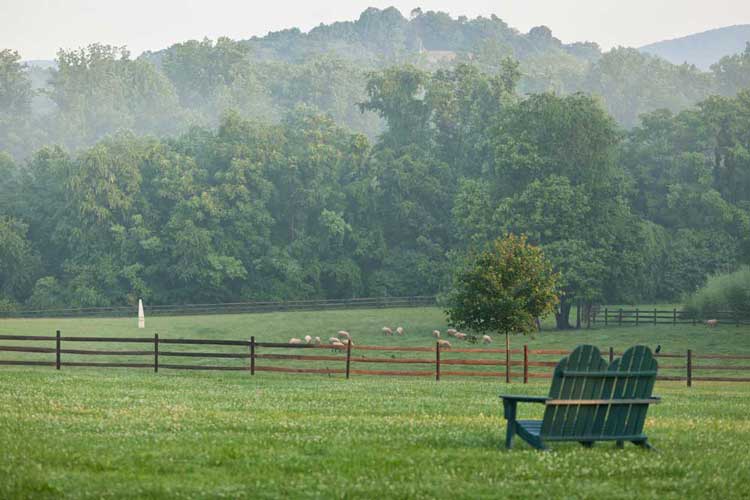 Known as Little Washington, this small historic village is situated at the bottom of the Blue Ridge Mountain range. The town is known for its fantastic dining options, but it is most famous for its five blocks set up and surveyed 250 years ago by George Washington.
Little Washington is a historical landmark in the US and has been since the 1800s. It got its name so as not to confuse visitors with the Capital of Washington, DC. This area is more of a European town than an American village. It has a beautiful old-town feel that is nearly impossible to recreate. This is the real deal.
The sunsets and views of Virginia's Blue Ridge Mountains and Shenandoah Valley from this town are out of this world. This area has everything, from a golf course and wineries to historical tours and antiquing. This makes it one of the most romantic getaways in Virginia.
Best Accommodations in Washington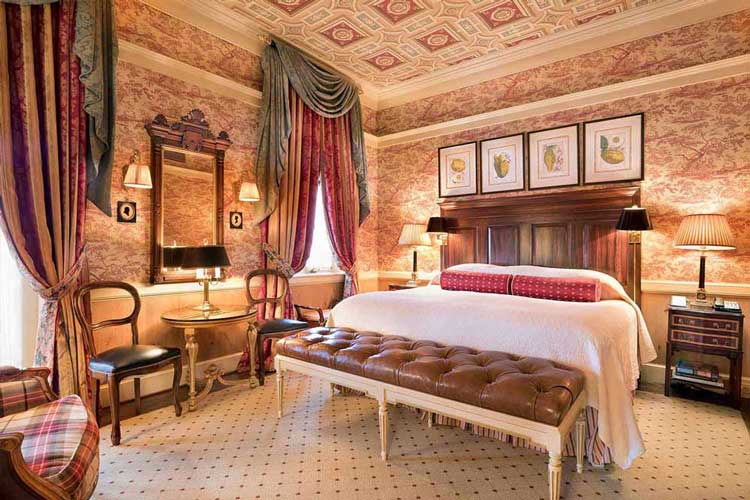 Price per Night: $936-$4715
The Inn at Little Washington began as a small inn in 1978 and has become a popular place for romantic weekend getaways. The three-star Michelin star restaurant brings visitors from near and far to enjoy the divine delectable cuisine in a comfortable setting.
Plus, the inn boasts a 14,000-bottle wine cellar, so there is more than enough to go around. The accommodations are luxurious and comfortable. Guests rave about the hospitality and fantastic amenities onsite.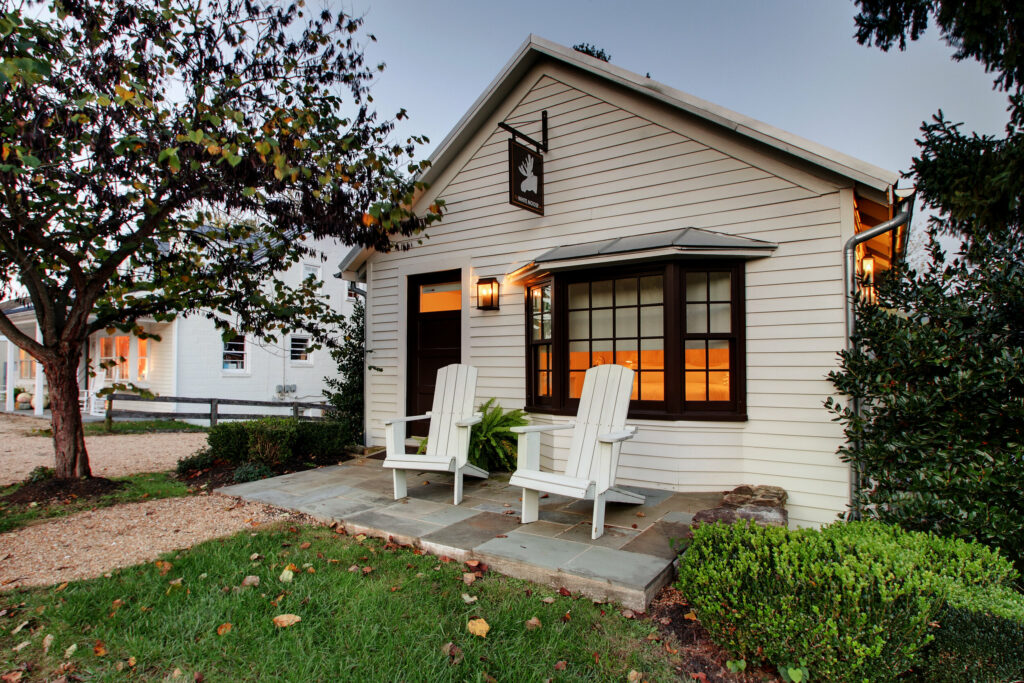 Price per Night: $324-$549
The White Moose Inn is situated only steps from The Inn at Little Washington. It is a quaint bed and breakfast. The accommodation is minutes from all the shopping, wineries, a golf course, and restaurants you want to try in the area. On top of that, it's just a short drive to Shenandoah National Park.
A locally sourced breakfast is served each morning, plus a sundowner each evening while watching the sun descend beyond the Blue Ridge Mountains and Shenandoah National Park.
Charlottesville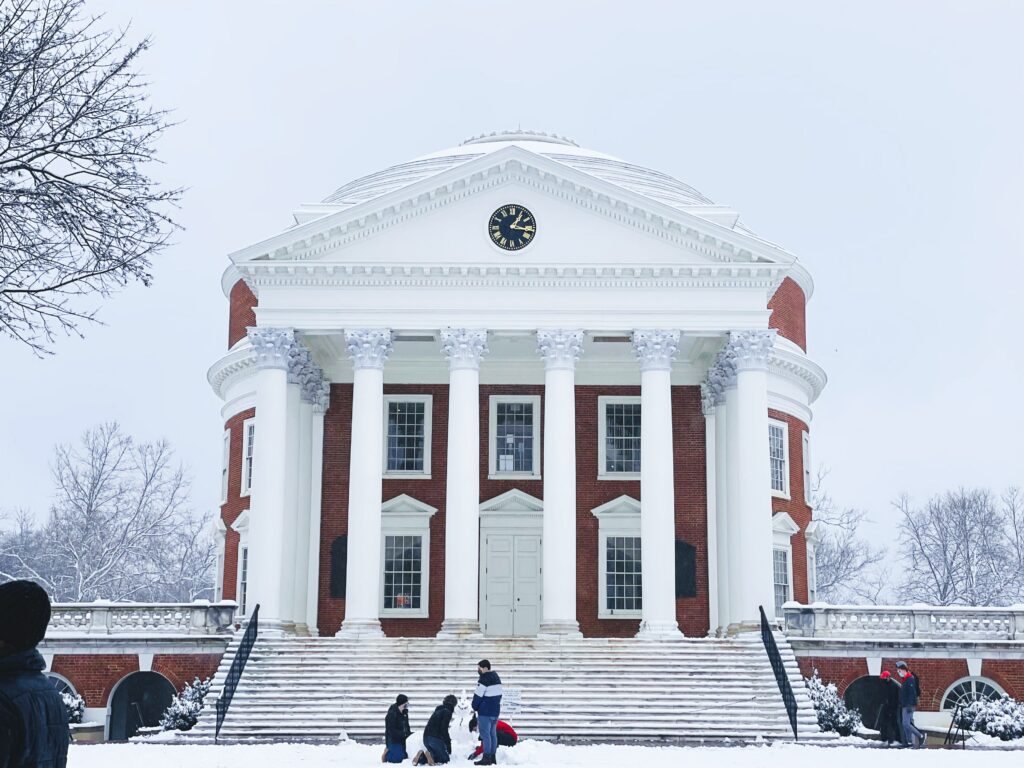 Charlottesville is the place to be for couples that are into history. It is situated about 70 miles from Richmond. The town is well known for Thomas Jefferson's previous residence and antique shops with some unique items.
There are over 40 wineries within 30 minutes of the town, making it a must-visit if you want to try some local wines.
A romantic stroll through the town square will make you feel like you've returned to an era full of wonder. We also recommend touring the University of Virginia. It has a unique history with many original buildings.
Best Accommodations in Charlottesville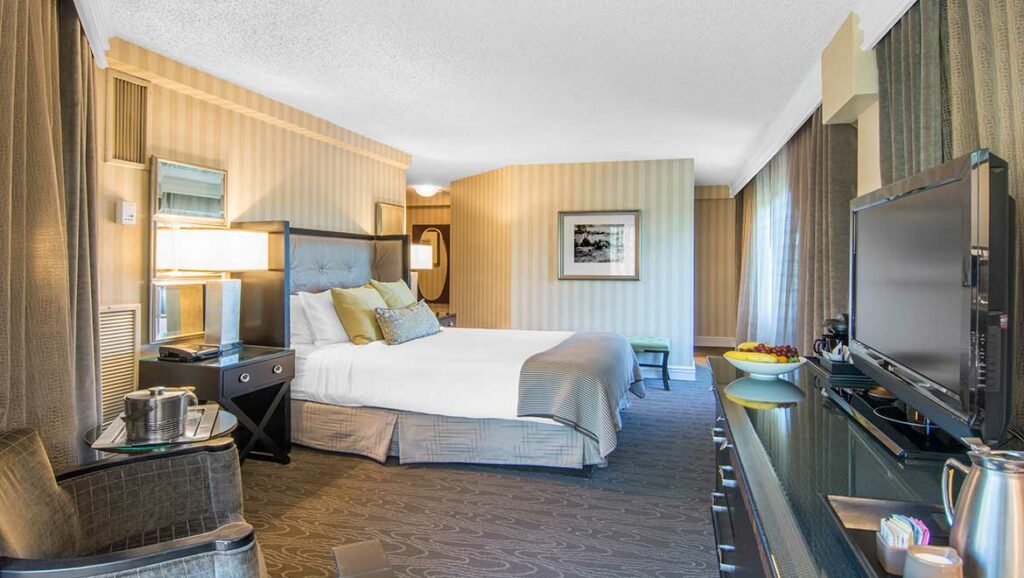 Price per Night: $159-$511
The Omni Charlottesville Hotel is situated in downtown Charlotte. It offers a mix of traditional historic finishings with modern amenities. The seven-story atrium in the lobby makes the space inviting. (But the heated pools are where you want to be on romantic getaways in Virginia!)
The modern rooms offer plush robes, Italian marble bathrooms, a TV, a work desk, and evening turndown service. Plus, the onsite restaurant keeps things super convenient.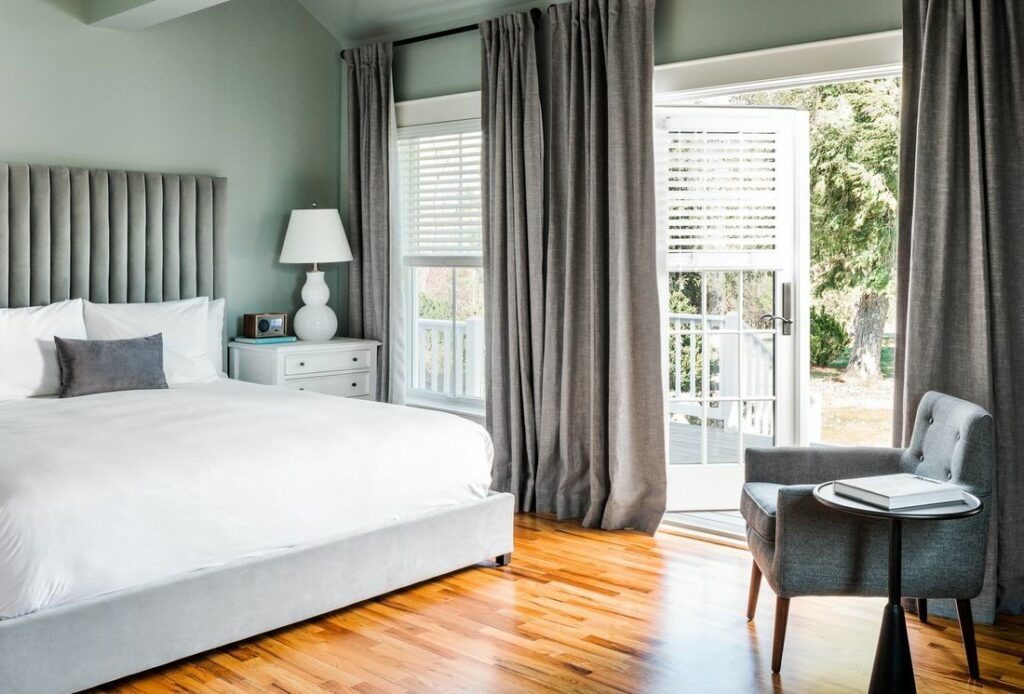 Price per Night: $224.80-$915
The Clifton Inn is the perfect accommodation for a romantic break in Virginia. It is a 17-room guesthouse centrally situated near all the Charlottesville hotspots.
The charming inn boasts an infinity outdoor pool, a hot tub, marked hiking paths, and a dock on the lake. You wouldn't need to leave your accommodation for anything. The onsite restaurant has award-winning dishes and wine pairings. The daily breakfast is served on the stunning veranda. This is the best place to soak up some sunshine before your day of exploring.
This inn is luxurious while still giving that old-time romantic atmosphere. You will enjoy the modern furnishings and amenities.
Middleburg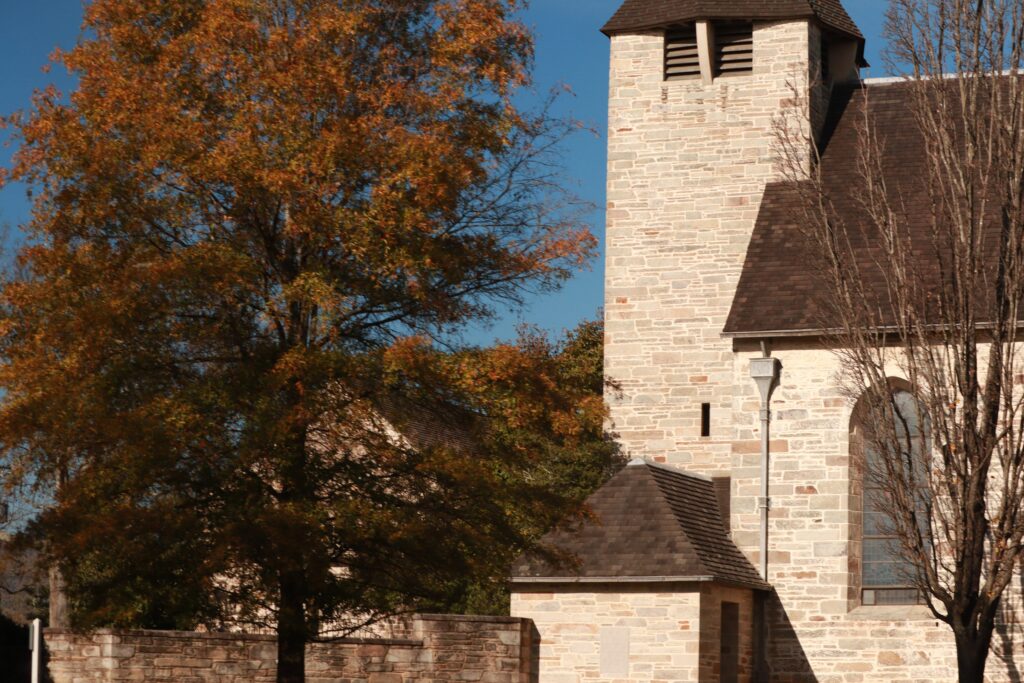 Located in Loudoun County, Virginia, Middleburg is an authentic old-style town that offers history lovers a wealth of knowledge and experiences. The town dates back to the 18th century and still has brick-lined streets. You'll find many stores, galleries, and restaurants in the town center.
You can experience the fantastic vineyards, farms, and breweries when heading out of town.
Best Accommodations in Middleburg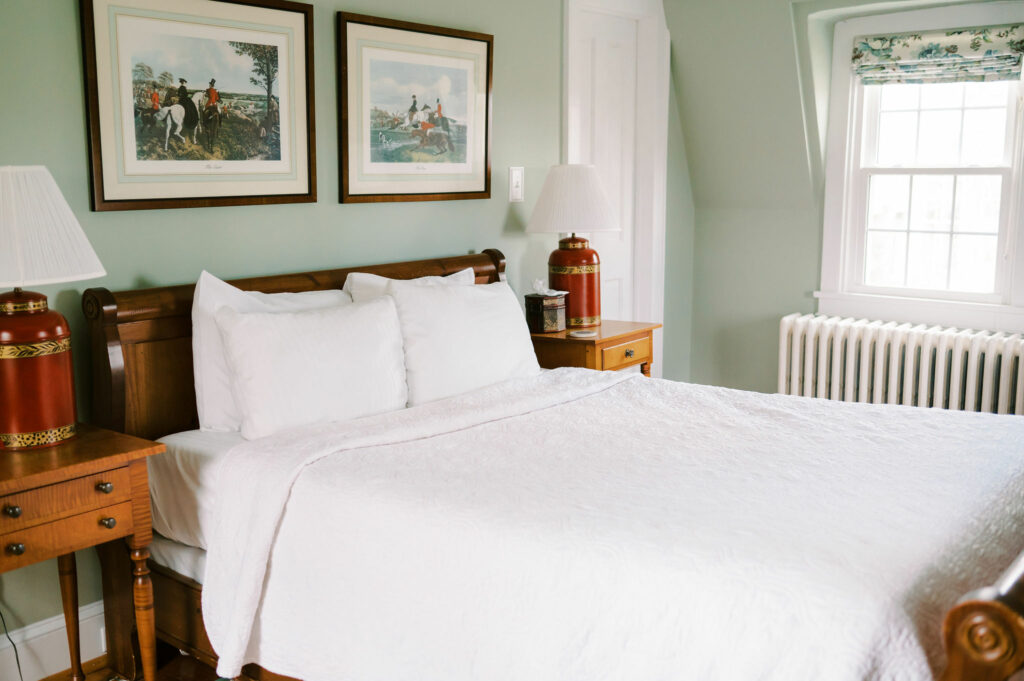 Price per Night: $300-$600
Situated on over 260 acres of countryside hills, the Goodstone Inn offers a romantic break in Virginia's wine and horse country. The country-style inn screams romance from the moment you enter. The open-air combined with the modern finishings is what the best romantic getaways in Virginia are all about.
A complimentary gourmet breakfast is served daily with ingredients sourced directly from the farm. If that's not farm-to-table, we don't know what is! The onsite restaurant has been voted in the top three restaurants in Virginia. So, you truly are getting the best this state has to offer.
You can also grab your partner and head out on the farm with a pre-made picnic basket from the inn. All this, in addition to the heated outdoor pool, yard games, hiking trails, and fire pit access, make this one romantic holiday you don't want to miss.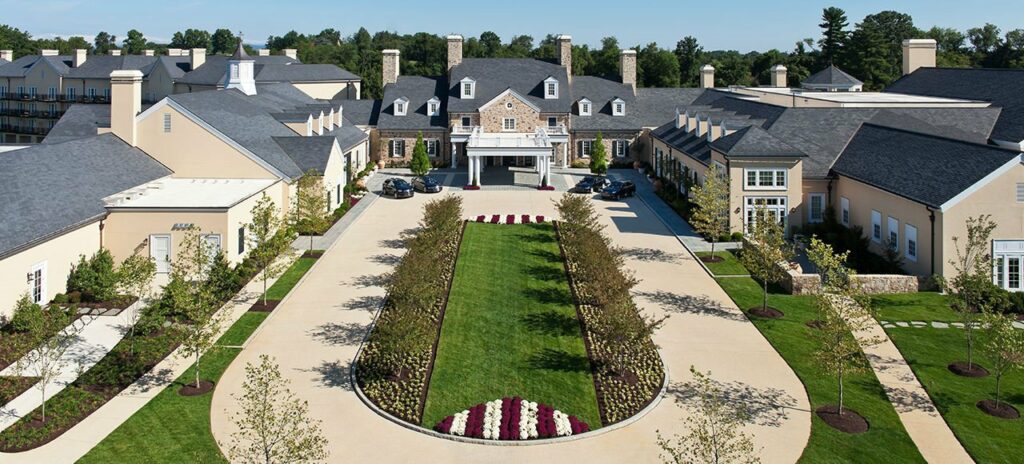 Price per Night: $499-$1,259
Located at the bottom of the Blue Ridge Mountains, The Salamander Resort & Spa offers 340 acres of peace, quiet, and open air. It certainly is a popular accommodation, and it is clear why. The grounds are incredibly spacious, providing the perfect backdrop to a romantic break.
There are many romantic activities to enjoy, including horseback riding, tennis, and cycling. More adventurous couples can try axe throwing. The wine country nearby makes this accommodation one of the best romantic holidays. You can go out and enjoy the Middleburg area and come back to your stunning room.
Each room in the Salamander Resort & Spa offers plush bathrobes and a private terrace. You won't find views like this straight from your room anywhere else. For a romantic spa treatment, the onsite spa is a great way to end the day of activities.
Richmond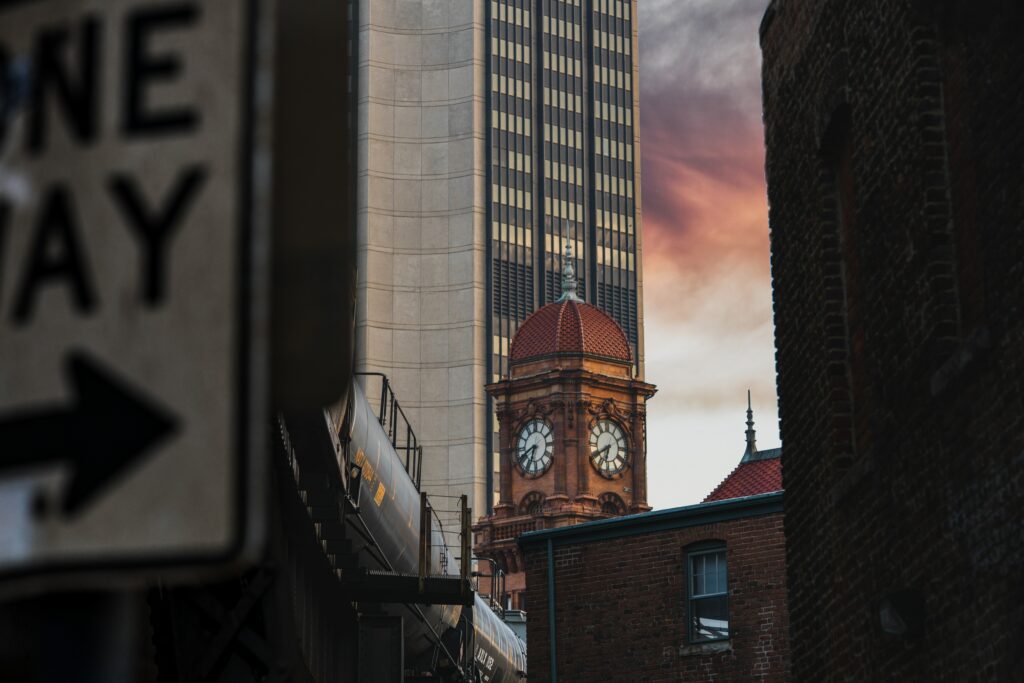 Richmond is the capital of Virginia and a must-visit for those looking for romantic getaways with loads of history. It is one of the oldest cities in America that was founded in 1775. The famous "Give me liberty or give me death" speech sparked the Revolutionary War from the city's St. John's Church.
You can enjoy the wealth of history by walking the streets or visiting museums. A trip to Court End is where you can explore the Federal-style mansions that still stand.
Best Accommodations in Richmond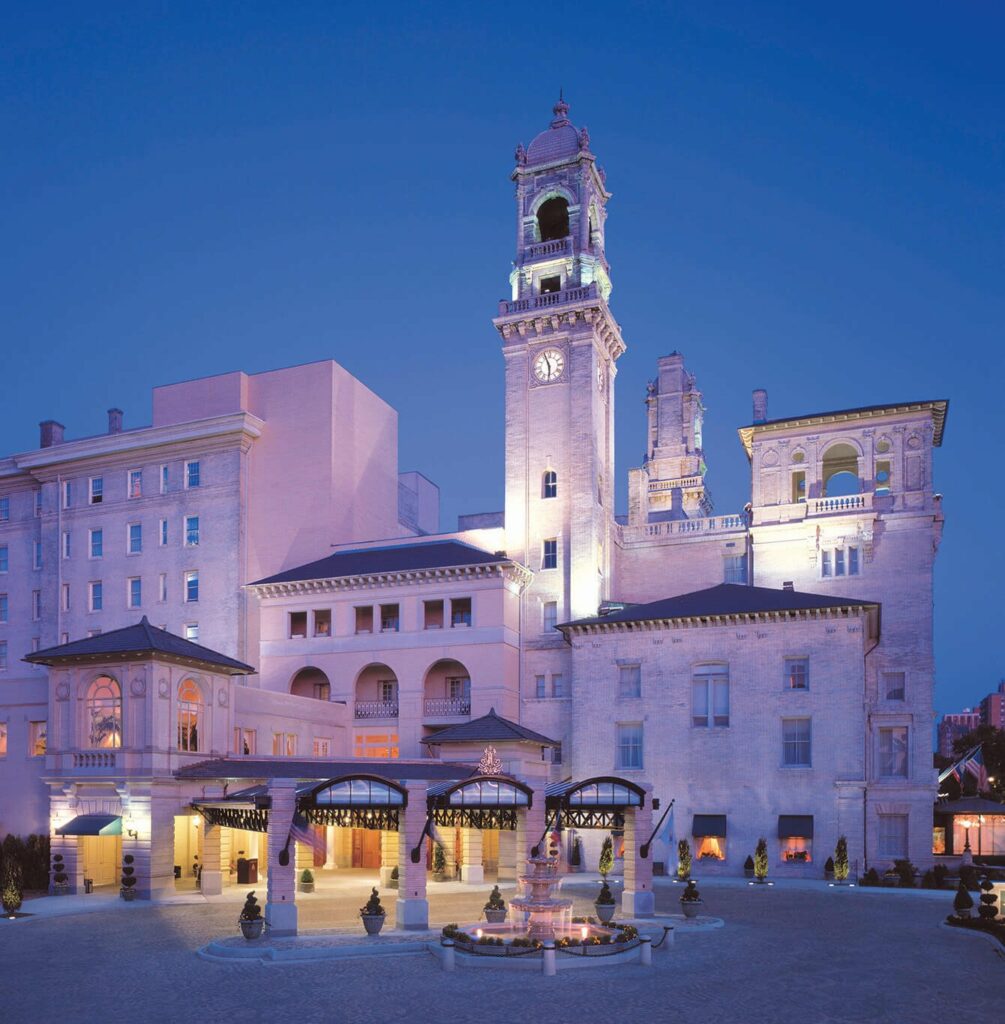 Price per Night: $355-$800
The Jefferson Hotel opened its doors in 1895. It provides visitors with a truly historical experience with its vintage decor. However, the modern amenities and facilities couldn't be further from the old wood finishings. Each room features gorgeous bathrooms, plush towels, and TVs.
The standard of service is out of this world. This, combined with the large tubs and plush bath robes, will make you feel cozy and well-looked after. The onsite restaurant offers afternoon tea with traditional cakes and pastries. The main meals are influenced by American cuisine but with a modern twist.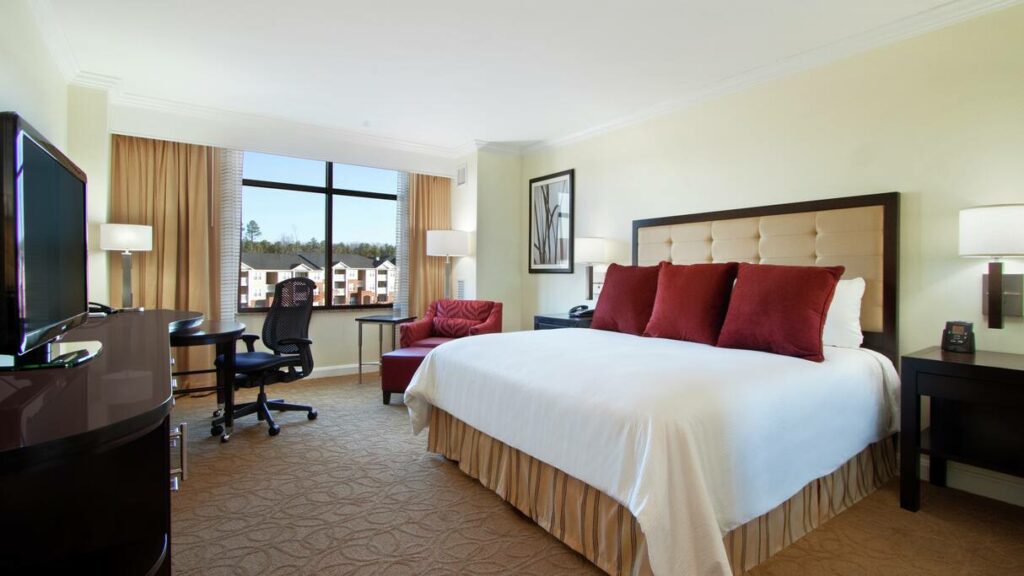 Price per Night: $179-$300
The Hilton Richmond Hotel & Spa is a superb hotel situated just 15 miles from downtown Richmond. It offers an indoor pool, beauty salon, spa, and outdoor patio for you and your loved one to enjoy during your romantic holiday in Virginia.
The rooms are super comfortable, with soft bedding, a TV, and bathroom amenities. The onsite restaurant and fitness center help make your stay that much more enjoyable.
Virginia Beach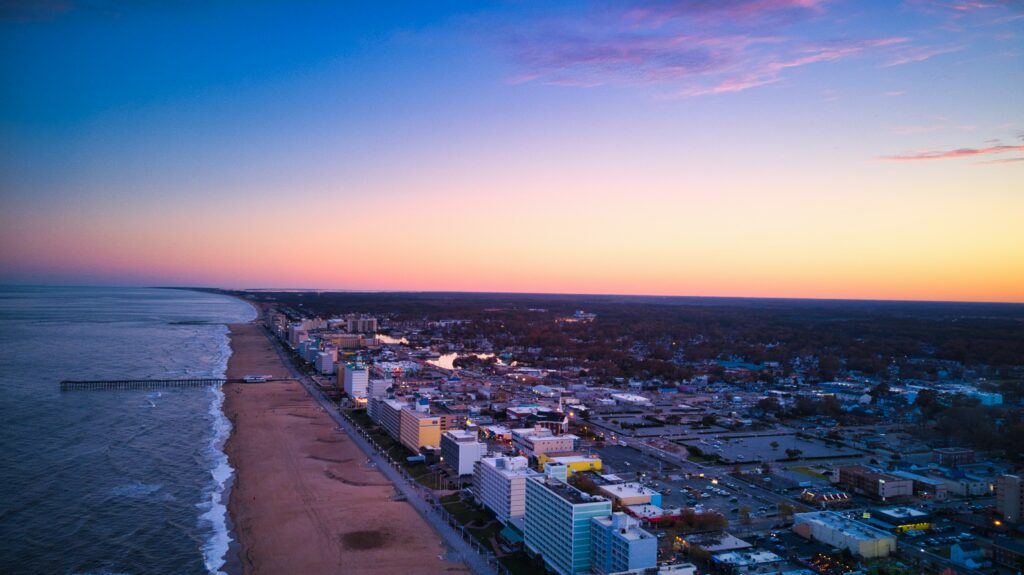 This is a destination for couples that enjoy the sand, sun, and sea. The oceanside city has a relaxed vibe and invites visitors to enjoy all it offers. Whether you're in the mood for excitement and a fast-paced experience or a laid-back, quiet, and relaxing romantic break, this spot has it all.
The city center is home to fabulous restaurants and bustling nightlife. The beachfront is more relaxed for those needing a quiet place to enjoy time with their loved ones.
Best Accommodations in Virginia Beach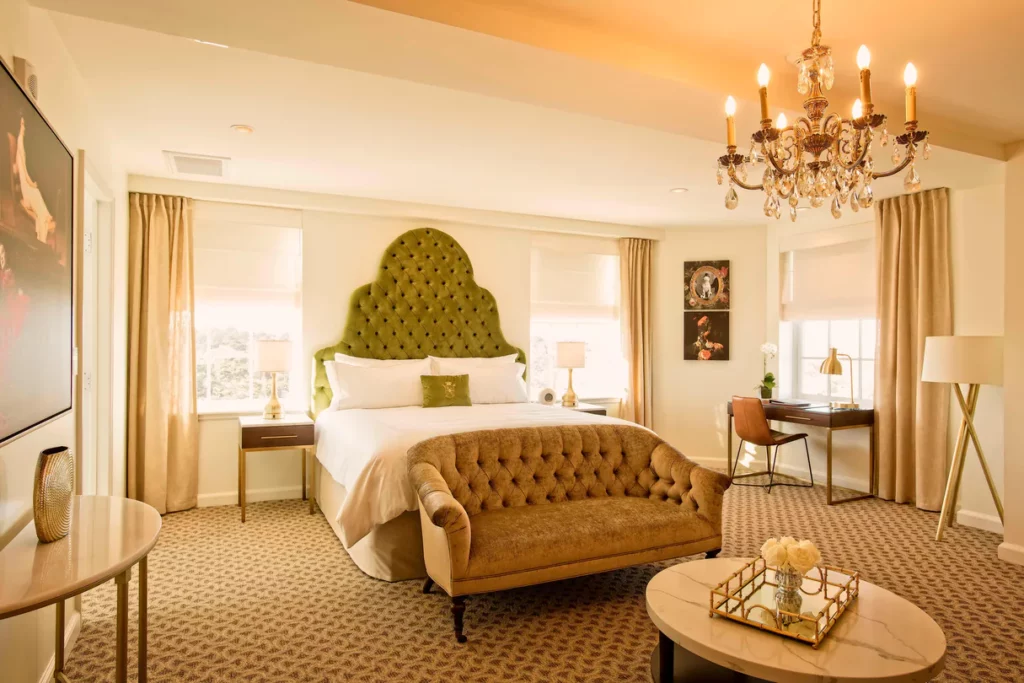 Price per Night: $254-$329
The Cavalier Virginia Beach Autograph Collection is a historic hotel with expansive views over the Atlantic Ocean. There is much to enjoy at this incredible venue, including a swimming pool, beach club, and a distillery.
You and your partner can relax by the seaside while enjoying the full-service spa. When you're done, the onsite restaurants are waiting to serve you delicious meals. This is an abundant romantic accommodation with first-class service to make sure you have the best time possible.
It is the perfect place to relax, soak in the sounds of the ocean, and enjoy being with the one you love most. There is a semi-private beach just off the hotel to give you the privacy you want while on vacation. This is a popular amenity that brings in US Presidents and celebs.
Price per Night: $89-$339
The Four Sails Resort is a coastal haven that will make any romantic holiday in Virginia one you won't soon forget.
Guestrooms face the ocean, providing undisturbed ocean views and picturesque sunsets daily. This little romantic hideout is situated on 28 miles of beautiful white sand that you and your partner can enjoy during the day.
After your sandy adventure, you can head up to the sun deck for a divine romantic dinner over the ocean. There's nothing quite like a meal with ocean sounds to relax you.
Each guestroom has a whirlpool bathtub that fits two people. Plus, the private balcony allows you to enjoy fresh air without leaving your room.
Top Excursions & Activities To Do On A Virginia Romantic Getaway
Here are some activities and excursions on offer throughout Virginia:
Horseback riding: The Blue Ridge Mountains along Shenandoah National Park are your backdrop at many of our accommodation options. You can explore the fauna, flora, and expansive outback on horseback.
Hiking: For couples that enjoy the outdoors, hiking is a great activity to do together. There are trails throughout Virginia in the wine country and up the mountains. Both offer unparalleled views.
Explore the towns: Virginia is home to some of the most historic towns in the US. Most have kept the buildings and infrastructure to allow visitors to explore Virginia in its original state. History lovers can truly appreciate the stunning historic landscapes and buildings.
Get your wine on: If you're a wine lover, the wine country in Virginia is not to be missed. The local wineries are stunning and provide the best opportunity to savor all this area offers in terms of wine.
Head to the spa: A few of our accommodations offer full spa services. This is one of the best ways to unwind and connect with your partner while visiting Virginia.
Museum hop: Virginia as a whole is very historic. This creates the perfect opportunity for museums to show visitors all the events that made this beautiful state what it is today. Museums are a great way to appreciate the area and understand how it came to be.
Visit a brewery: Virginia is home to many microbreweries. Many wineries and farms have started making their beer as craft beer and ale have become extremely popular. Trust us. You are in for a treat if you're a beer lover.
Sample Itinerary & Budget For Your Romantic Virginia Getaway
We've broken down a simple itinerary to give you an idea of what romantic getaways in Virginia might cost. We will work off staying for a week and visiting different areas so that you can experience all this destination has to offer.
Prices will vary based on the length of stay and whether you are traveling in high or low season.
Activity
Price
Accommodation
$89-$4,715, The pricing here varies considerably based on the type of accommodation you select. A bed and breakfast in a small town is very different from a luxury hotel on the beachfront.
Mode of Travel
You can rent a car for $29-$117 a day. However, this depends on how far you go and doesn't include the cost of gas. There is a train in Virginia, but it's more for heading out of state.
Food and Drink
Fine dining will be significantly more expensive than eating at a local take-out. You should budget on average $75 to $100 for two people per day.
Excursions
Horseback riding in Middleburg: $165 pp.
Historic Williamsburg Inn day excursion: $46.99 pp.
Museum entrance in Richmond: $13 pp.
Wine tasting: $17-$400.
Total
$2,000
Frequently Asked Questions
How much do romantic getaways in Virginia cost on average?
This depends on the type of romantic getaways you're looking at. For a middle-tier Virginia getaway, you're looking at $2,000-$4,000 for a week.
When is the best time to visit Virginia?
If you're looking for warmer weather, it's best to visit Virginia between April and October.
How long do people typically spend in Virginia on a romantic break?
Since many must-do activities are close to Washington, DC, Virginia is popular for romantic weekend getaways. A week is usually enough to see the popular areas.
What is the best way to travel around Virginia?
We recommend hiring a car. It is the best way to ensure you can fully explore the area and get to popular destinations without too much concern for changing timetables.
Start Planning The Ideal Romantic Getaway
After reading this, it's time to start planning your romantic break to Virginia.
Whether you're into the outdoors or want to relax on the beachside, Virginia has it all. You can enjoy exciting hiking trails, learn about the state's intriguing history, and soak in the sun on the beautiful beach. There is truly something for everyone in Virginia.
Don't forget, if you want information on a range of idyllic romantic breaks away, check out our website for many more holiday guides for you and your other half.