Wyoming may be without a beach and an exotic climate, but what it lacks in typical honeymoon necessities it makes up for with unique marvels of nature.
You and your partner don't have to traverse to the other side of the world for your post-wedding romantic getaway; instead, head to the state that boasts seven national parks, waterfalls, lakes, and mountains.
The dramatic scenery afforded by Wyoming is made even better by the exciting and romantic activities you can do throughout the state, including waterfall chasing, hiking, and hot air balloon riding. Several resorts fit the category of ultimate romantic break – but which to choose? We have picked the best accommodations in Wyoming for your convenience.
What Makes Wyoming Perfect For A Honeymoon?
After the stress of your wedding, doesn't escaping to the great outdoors sound ideal? The fresh pine needle scent will revive you, while the incomparable scenery will put your mind at ease.
Plus, after saying your vows, do you want to hop on a plane ahead of a day's worth of travel, jetlag included? Wyoming on the other hand may only be a three-hour flight away or a short drive away!
Jackson Hole is one of the most popular honeymoon destinations in the whole of the U.S., meaning you'll find plenty of amenities there suitable for your romantic break. And towns like Cody and Cheyenne have some unique stay options that would make your honeymoon one to remember!
Overall, Wyoming is the perfect honeymoon spot for couples who have spent too long in the city. Not only is it the 10th biggest state in the U.S., but it also holds the smallest state population, meaning it's still literally overrun with wildlife and nature. There's an unspoiled quality to Wyoming that makes it the perfect setting for love and romance.
9 Best Honeymoon Resorts, Hotels, and Other Stays in Wyoming
When picking Wyoming honeymoon accommodation, you'll most likely see results in and around the Jackson Hole Valley region. It's undeniable that this is the region where most honeymooners wind up, but it's also worth looking into resorts elsewhere, including nearby Yellowstone National Parks and the capital city of Cheyenne.
Across Wyoming, you'll find a range of different resort types, namely, ranches, opulent resorts, and log cabins. Here are our nine favorite honeymoon resorts picked from Jackson Hole and beyond: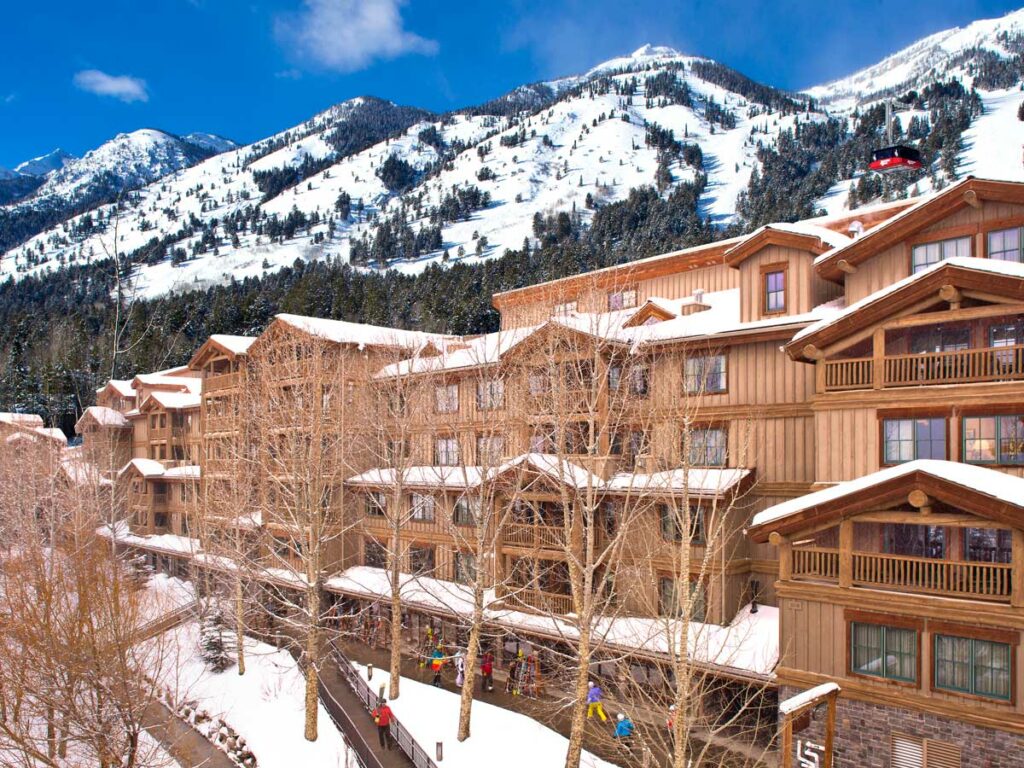 Price per Night: $395 – $1,080
Best For: Long stays, skiing
Availability: Easy to book
Teton Mountain Lodge & Spa has the vibe of a quaint European ski resort, poised right on the side of the legendary Teton mountains. The lifts are just a two-minute walk from the lodge, giving you direct access to the best skiing opportunities in the state. Skiing passes are also available from the resort. The location also makes embarking on hiking trails easy!
The luxury lodges on offer look rustic from the outside but are very plush on the inside. The Alpine Studio is a great choice for couples looking to cozy up by a fire after a long day on the slopes. Picture windows ensure that the mountains are always in view.
Onsite amenities at the Teton Mountain Lodge & Spa include SpaTerre, with its 10 separate treatment rooms, the Spur Restaurant & Bar, an indoor and outdoor pool, and a fitness center.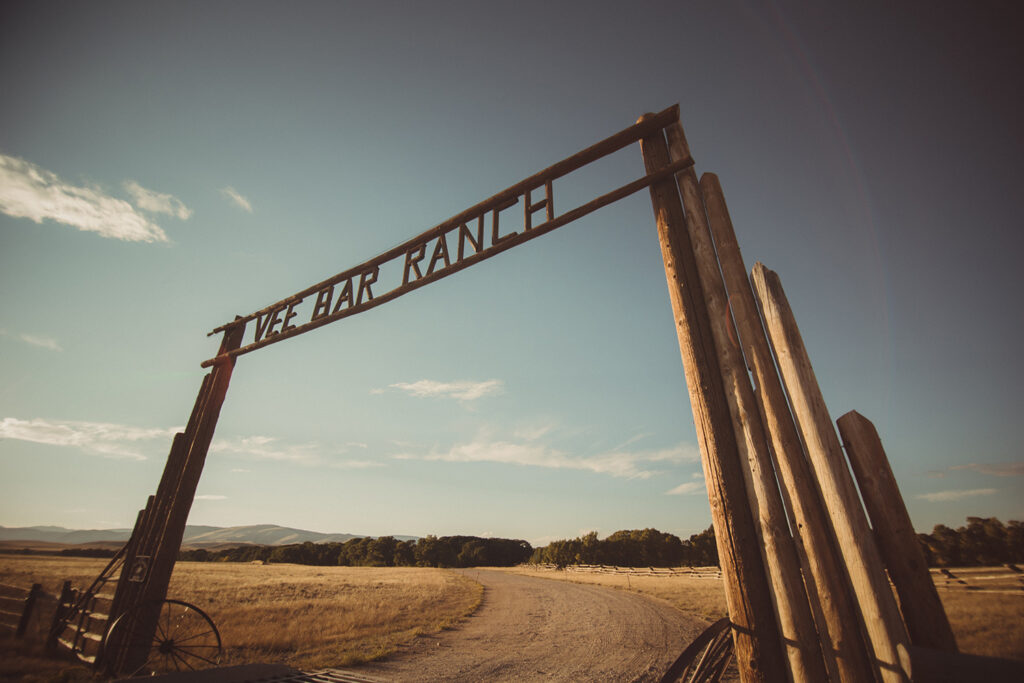 Price per Night: $2,850 – $3,070
Best For: Adults-only, dude ranch, all-inclusive
Availability: Limited
Vee Bar Guest Ranch is the best dude ranch option for honeymoons in Wyoming, as it offers a couples-only week during August. If you'd like to experience the charm of Western hospitality for your romantic getaway, definitely book Vee Bar Guest Ranch early! Riverside suites and cabins are available in 3-day, 6-day, and 7-day blocks.
Dude ranch vacations are a great idea if you want your honeymoon to be filled with nature, horseback riding, quaint living, and hiking. The main lodge dates back to 1891, and all residents are trained to take guests out fishing, hay riding, and trap shooting. With music and dancing also involved, could there be a more interesting and romantic resort?
Price per Night: $490 – $1,280
Best For: Luxury hotel
Availability: Easy to book
Hotel Jackson is by far the most luxurious resort in the whole of Jackson Hole and is located right on Jackson's town square. From the outside, Hotel Jackson looks futuristic, without distancing itself too far from the classic ski resort look. You'll find stylish soft leather, rustic wooden and stone walls, and lush furnishings throughout the rooms.
We'd recommend taking a Miller and Colter Suite for your honeymoon, which comes with a wrap-around decking area, complete with a gas fire. Warm and cozy, the hotel amenities include the Lebanese cuisine-serving FIGS restaurant and the tranquil Hotel Jackson Sacajawea Library.
Guests can also take advantage of the shuttle buses which run to and from the ski slopes and the hotel's positioning in the town of Jackson, which is perfect for a romantic stroll.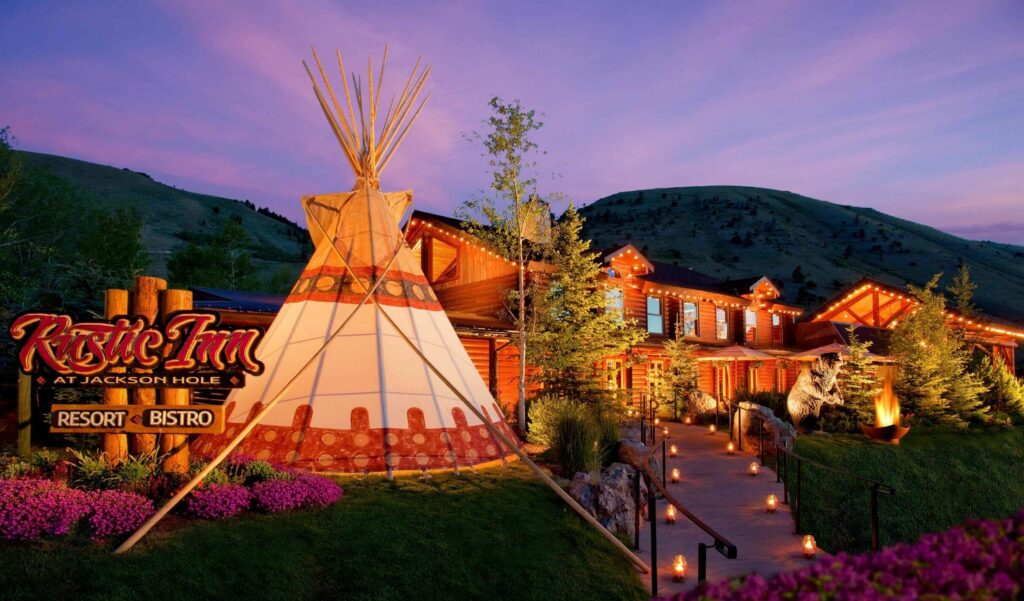 Price per Night: $170 – $550
Best For: Log cabins, young couples
Availability: Easy to book
Rustic Inn Creekside Resort is a 14-acre paradise, with luxurious log cabins that run alongside the creek. Most of the cabins are two-storied, with an upstairs terrace looking out onto the surrounding wildlife. In the summer, the surrounding verdant hills are unparalleled, while in the winter their snow-topped appearance really brings them to life.
The inside of the cabins truly is rustic, with a warm, old-Americana allure, complete with leather upholstery, muted lighting, and intriguing picture frames. Guests can enjoy lounging by the creek at the seating area that runs along the opposite side, as well as the outdoor pool and jacuzzi. The wine cellar and restaurant are always open and the firepit is used on occasion.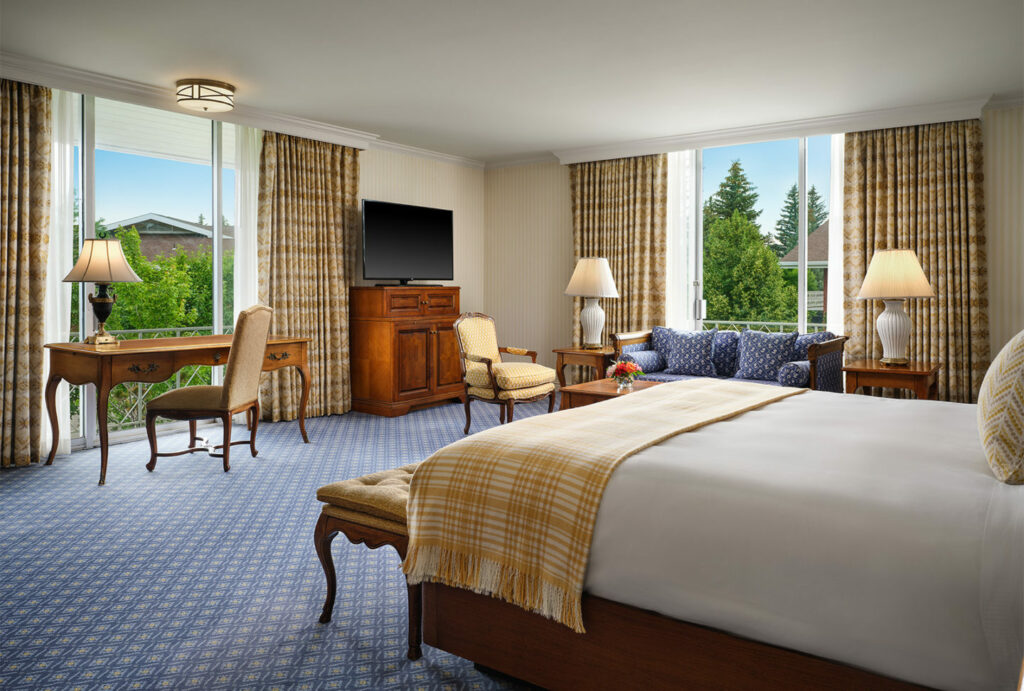 Price per Night: $130 – $285
Best For: Short stay, budget-friendly, older couples
Availability: Easy to book
Little America Hotel & Resort is perfect for those honeymooners who want to make a brief visit to the state capital during their honeymoon in Wyoming. This small, romantic resort is the perfect place to base yourself as you explore the surrounding ranches, nature, and the city center of Cheyenne. The town can be reached in under 10 minutes by car.
The rooms are decorated elegantly, with traditional furniture and romantic views of the surrounding ranches. Onsite amenities include an outdoor pool and seating area, shaded by big pine trees, a golf course, and Hathaway's Restaurant. Often used for weddings, Little America Hotel & Resort offers plenty of outdoor private land for romantic walks and even photoshoots!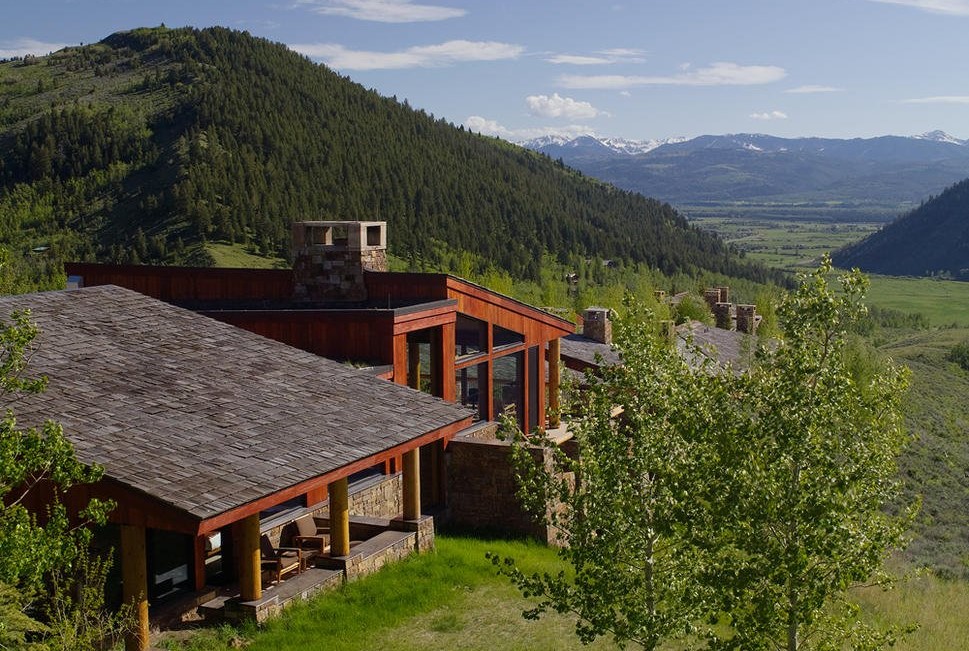 Price per Night: $800 – $2,350
Best For: Short stays, dining, views
Availability: Limited
Amangani arguably has the best views out of all the luxury resorts in Wyoming. Perched on top of East Gros Ventre Butte, this resort is 2,135 m above sea level and commands unbeatable views of the surrounding Grand Teton National Park and Snake River. Amangani means peaceful home, and this resort is exactly that – peaceful, mountain-top accommodation.
What's the best on-site location to admire the sweeping views? The rectangular outdoor swimming pool or from the Grand Teton Suite, which we recommend to honeymooners. The rooms have a minimal, contemporary look, with big nods to classic Americana. Chairs are woven with faux-wolf fabric and the gas fire stands as the centerpiece of the room.
This resort is suitable all year round and is particularly popular in the winter amongst avid skiers. The ski resort is located in Teton Village in Jackson Hole, which is easily reachable by car from the resort. In the summer, this resort is a base for exploring Yellowstone National Park and Grand Teton National Park.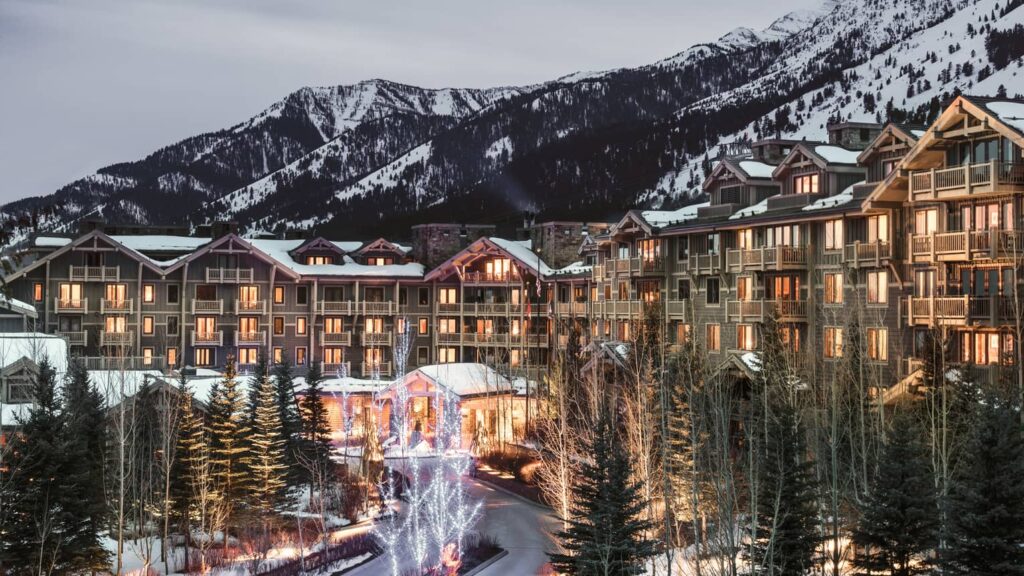 Price per night: $770 – $2,115
Best for: Spa, dining options
Availability: Easy to book
In the middle of Teton village, you'll find the Four Seasons Jackson Hole resort, one of the most sprawling resort complexes in Teton National Park. With 124 rooms available, guests can choose between mountain-side and valley-side rooms. We'd suggest the valley side rooms for honeymooners, which come complete with a private balcony, king bed, and fireplace.
Throughout the resort, you'll find several dining options, including Il Villaggio, which serves up impeccable Italian food, and Handle Bar by Michael Mina, which is another great foodie option. Elsewhere in the resort, you'll find a pool, spa, and fitness center. You can also book ski trips and horseback rides onsite. A tennis court and bowling alley can be found offsite, too.
The hotel's position in Teton National Park allows you to get out and explore the great outdoors any day you fancy. Plus, Yellowstone National Park is only a 2-hour drive away!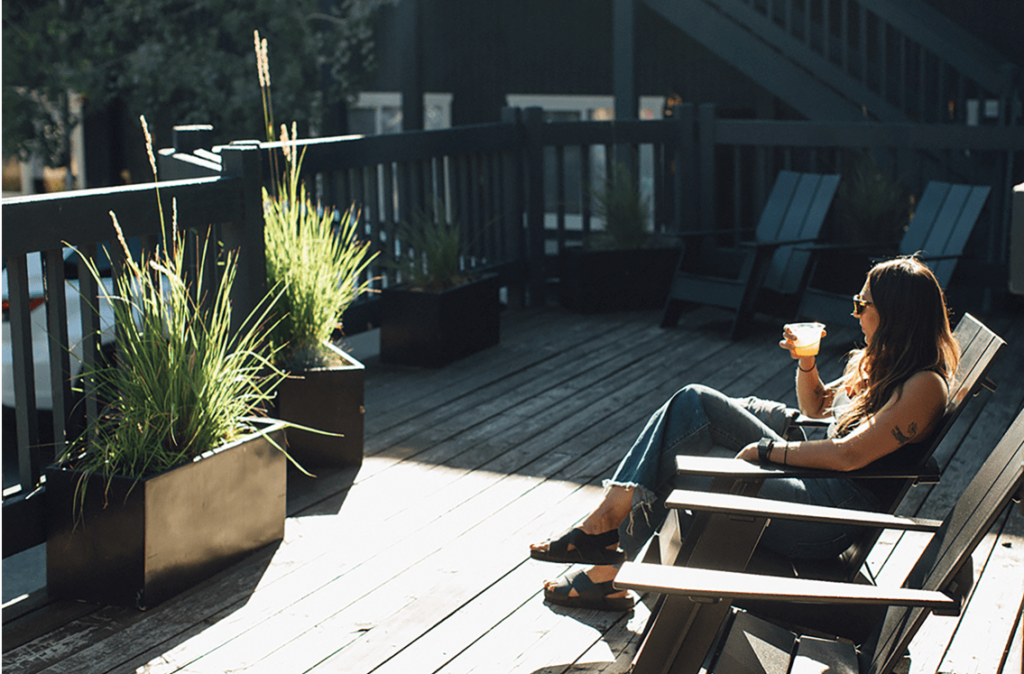 Price per Night: $140 – $390
Best For: Excursions, long stays
Availability: Easy to book
Found in Jackson Hole downtown, the Anvil Hotel is a cozy boutique hotel that's ideal if you want to soak up the atmosphere of the small valley town or explore the great national parks around you. Nearby you'll find Jackson's town square, which boasts bars, restaurants, and art galleries.
Inside the hotel suites, you'll find retro furnishings, comfortable king-sized beds, and a private porch area. The hotel contains little more than an alluring lobby, coffee shop, and a small general store. Most of the amenities are focused on the surrounding nature, with bike hire available and the Anvil Explorer's Program, which leads guests through the valley.
Grand Teton National Park surrounds the hotel, while Yellowstone National Park is about an hour's drive. If you visit in winter and are looking to ski, you'll find Jackson Hole Mountain Resort nearby.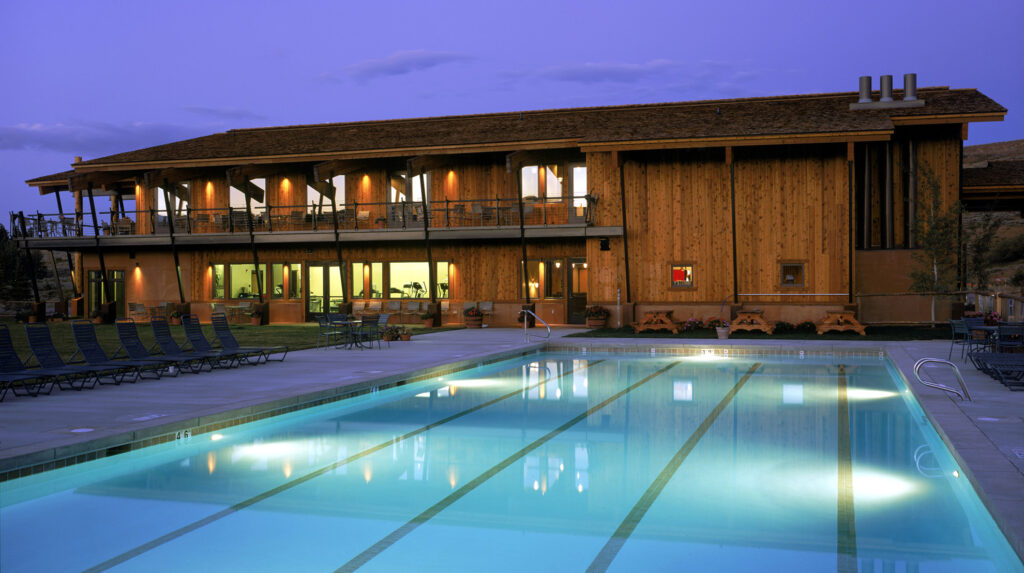 Price per Night: $200 – $400
Best For: Long stays, nature
Availability: Limited
If you'd like to experience the ranch way of life on your honeymoon, but also enjoy hotel amenities with your partner, then Spring Creek Ranch is the perfect option. Accommodation types are varied and include studios, inn rooms, townhomes, and mountain villas, each offering its own unique views. All villas can be found within the ranch's wildlife sanctuary.
The Spring Creek Ranch is very well equipped to keep you entertained while on-site, with such amenities as a bar, restaurant, pool, spa, and tennis courts. There are even onsite horseback riding opportunities, which give you and your partner the ultimate ranch experience!
Best Areas To Stay in Wyoming
As we've already stated, most honeymooners set their eyes on Jackson Hole, mainly thanks to the district's access to the state's main national parks. However, there are other areas that, although aren't recommended for staying in for the entirety of your honeymoon, are at least worth visiting.
The best areas to stay in Wyoming are as follows:
Jackson Hole Valley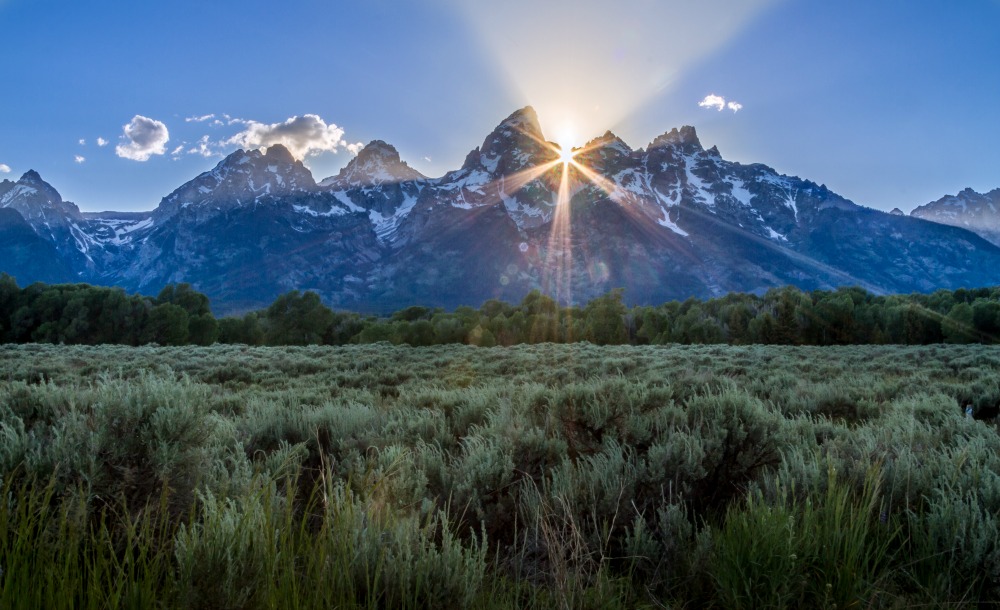 The Jackson Hole Valley encompasses many of Wyoming's top tourist destinations, including the quaint town of Jackson, The Gros Ventre Range of the Rocky Mountains, and part of the Grand Teton National Park. It's also home to the famous Jackson Hole Mountain Resort. On the whole, Jackson Hole Valley is the place to be for adventurous couples!
When not hiking or skiing, you and your partner could visit the region's hot springs, spend an evening at Jackson Hole Rodeo, or head out kayaking or whitewater rafting on Jackson Lake. You're definitely not short on places to stay in the Jackson Hole area, with most of the state's top hotels being located within the region.
Yellowstone National Park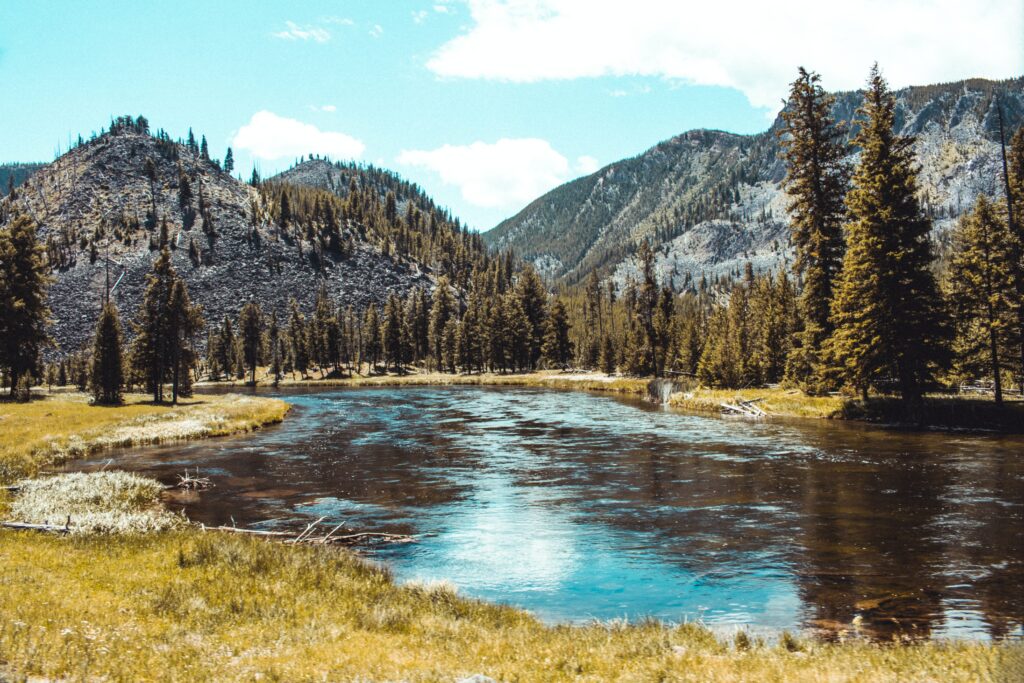 A couple of hours drive from Jackson and you'll reach the world's first-ever national park, the Yellowstone National Park. Many attractions put Yellowstone National Park on the map, from the iconic Old Faithful geyser to the Grand Canyon of the Yellowstone. Biking, hiking, or horseback riding between these attractions would sure make a romantic day out.
Throughout this boundless park (which spans 2.2 million acres), you'll find countless waterfalls, hot springs, and thermal baths. The grassy openings found in between are the perfect place to spend a romantic afternoon together, enjoying a picnic, admiring the view, and spotting wildlife.
If you feel like immersing yourself in Yellowstone National Park fully, you could opt to spend the night under the stars here and camp out at Grant Village Campground.
Cody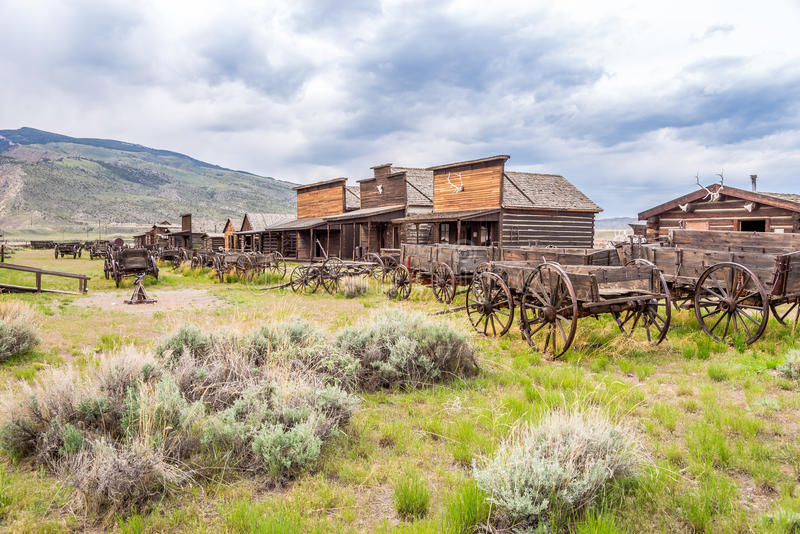 If you're looking for a good base for exploring Yellowstone National Park, the town of Cody, in Northwestern Wyoming, is a top choice. Cody is a true wild west experience, built by the legendary William "Buffalo Bill" Cody at the start of the 20th century.
His presence can very much be felt throughout the town, with many attractions dedicated to him. Starting with the Irma Hotel, which was opened by the man himself in 1902. Here, you can stay the night, dine at the restaurant, or enjoy a performance by the Wild Bunch theater group, who use the hotel to recreate scenes from the wild west.
You could also learn about the history of the town at the Buffalo Bill Center of the West or explore the Old Trail Town.
Cheyenne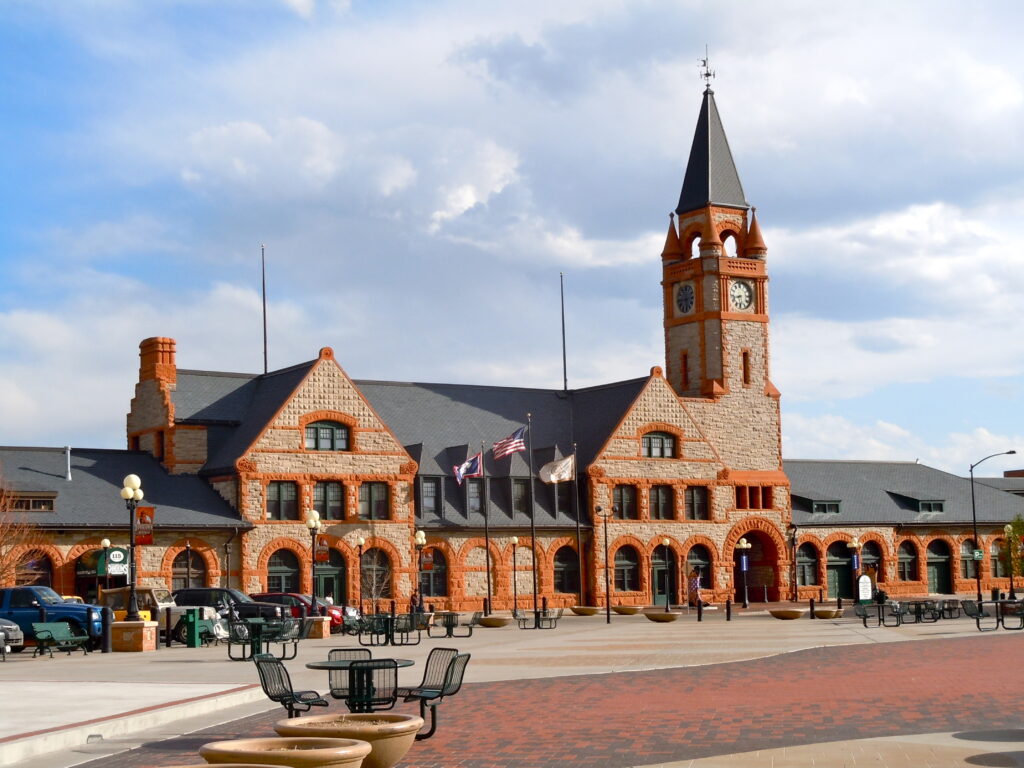 The capital city of Cheyenne is often overlooked by honeymooners but is full of fun and memorable activities. Although the main draw of Cheyenne is the cowboy culture that lingers around the town, there's something for everyone. The Cheyenne Botanic Gardens are full of medicinal herbs, trees, and flowers and perfect for a romantic stroll in the afternoon.
Alternatively, you could explore one of the city's main museums, which include the fascinating Wyoming State Museum. At night, you could catch a concert at Cheyenne Civic Center or a movie at the Capitol Stadium Theater. In between, check out the city's appetizing restaurants, including Napoli's and 2 Doors Down.
Top Excursions & Activities To Do On A Wyoming Honeymoon
No matter where you stay in Wyoming, you'll find plenty of excursions and activities nearby. Given that the state boasts seven national parks, nature is quite literally everywhere!
To make the most of your Wyoming romantic break, here are our top excursion and activity picks, with prices and links included:
Camp out in Yellowstone National Park
Throughout Wyoming's stretch of the Yellowstone National Park, there are plenty of campsites you could pitch up a tent at. Some of the best ones include Lewis Lake Campground and Grant Village Campground. If you're bringing your own tent, you could get a camping permit for the night in one of these campsites for as little as $15.
Generally, Yellowstone National Park campsites charge somewhere between the $20-$30 price range.
Ride a hot air balloon over Jackson Hole
There's no denying that Jackson Hole has one of the most impressive landscapes in the world and is best explored by hiking – but how about flying over this rugged land? Going on a hot air balloon trip over this region of Wyoming has become a popular activity amongst couples, and is one way to make your honeymoon really special.
Jackson Hole hot air balloon experiences start from $750 for couples.
Go horseback riding
Wyoming has kept the spirit of the Wild West alive, particularly in places like Cody and throughout the national parks. One way to fully immerse yourself in the culture of the state would be to go horseback riding.
Horseback riding experiences are available throughout Wyoming, with full-day trekking opportunities offered for $200 per person.
Sample Wyoming wine
One of the most interesting wine-tasting experiences on offer in Wyoming is at Jackson Hole Winery. This winery is located next to Spring Creek, 6,229 feet above sea level, which grants the wine quite a unique taste. Besides the vineyard, Jackson Hole Winery has an outdoor tasting area, which looks out onto the creek.
Wine tours and tastings are available at this winery, with prices starting from $30 per person.
Go rafting in Grand Teton National Park
Drift down Snake River on a raft with your loved one as you take in the surrounding Grand Teton National Park scenery on a whitewater rafting excursion. Whitewater rafting experiences start from $65 per person.
Take a snowmobile tour around the hot springs
If you're in Wyoming during the winter and you want to see the famous hot springs – fear not! You could book yourself and your partner for an exciting snowmobile tour of the best hot springs located around Jackson. Prices for this exciting snowmobile tour start from $285 per driver.
Visit the Jackson Hole Rodeo
A visit to Jackson isn't complete without visiting the Jackson Hole Rodeo. The entrance fee sometimes costs as little as $16!
Sample Itinerary & Budget For Your Honeymoon To Wyoming
To plan for your ultimate honeymoon in Wyoming, here's a rough estimate of how much you and your partner should budget for a week's stay:
| | |
| --- | --- |
| Activity | Weekly Cost |
| Accommodation | $910 (cheap hotel) – $21,490 (expensive hotel) |
| Flights | $120 – $190 |
| Wyoming car hire | $180 |
| Yellowstone National Park camping | $20 |
| Hot air balloon ride | $750 |
| Horseback ride | $400 (full day) |
| Vineyard tour and tasting | $60 |
| White water rafting | $130 |
| Hot springs snowmobile tour | $570 |
| Activity | $35 |
With so much to see and do, you may find it difficult to include all of the above excursions and activities into your week-long honeymoon in Wyoming and still find time to relax. To show you what's possible, here's our action-packed 7-day itinerary for you to take inspiration from:
1st day – Get settled into your accommodation. Explore the onsite amenities as well as the features of the nearby town. If there's an onsite restaurant, start your vacation off right by sharing a celebratory dinner and drinks. In the evening, enjoy the nighttime atmosphere of your resort or go to a bar in the local town.
2nd day – Head out on an easy hike in the surrounding wilderness to get you warmed up for a week of nature walks. If you're near Grand Teton National Park, walk along a stretch of the Snake River. If you're near Yellowstone National Park, see if there are any hot springs close by that you can walk to.
3rd day – Embark on a full-day horseback ride to find your bearings in the surrounding wilderness. Celebrate at the end of the day with some champagne at the resort bar.
4th day – Have a relaxing day spent poolside if it's summertime, or in the local sauna if it's winter. In the afternoon, explore a nearby town or go on a wine tour.
5th day – Having fully recovered from your horseback adventure, head out on a national park hike. Get around all the main sites of the national park, before camping out for a night spent under the stars.
6th day – Make your way back to the resort and spend the morning of the day regaining your energy. Do an easy task in the evening, such as heading out for a candle-lit dinner in the nearby town.
7th day – Make the most of your last day by going whitewater rafting or hot snowmobile cruising in the morning, and on a hot air balloon ride in the afternoon. Have one last romantic dinner at a nearby restaurant or your resort.
Frequently Asked Questions
How much does a Wyoming honeymoon cost?
A honeymoon in Wyoming should cost between $2,500 and $3,000, with resort, food, drink, and excursions included. Organized excursions and activities, such as horseback riding and hot air balloon trips, tend to be the biggest expense of a honeymoon in Wyoming.
Of course, you could reduce your budget significantly by only exploring the national parks which are mostly free!
When is the best time to visit Wyoming?
The best time to visit Wyoming depends on what you're looking for out of your romantic time away. If you're planning on going skiing, then you'll need to visit in the wintertime. Alternatively, if you want to hike through Yellowstone National Park, then the best time to visit would be between June and September.
What is the best way to travel around Wyoming?
We would recommend hiring a car for the duration of your stay in Wyoming. The national parks are quite far apart, so to get around it would make the most sense to have your car. In terms of getting into town from your resort, taxis are readily available.
Start Planning The Perfect Romantic Honeymoon Getaway
If you want to keep your honeymoon more local, and if you and your partner love nature, there's no better place to spend your honeymoon than in Wyoming. Its hot springs, national parks, and East Gros Ventre Butte backdrop make it the ideal setting for an intimate week away.
When planning your Wyoming trip, use the information presented in this article and check out our other resources for more romantic inspiration.